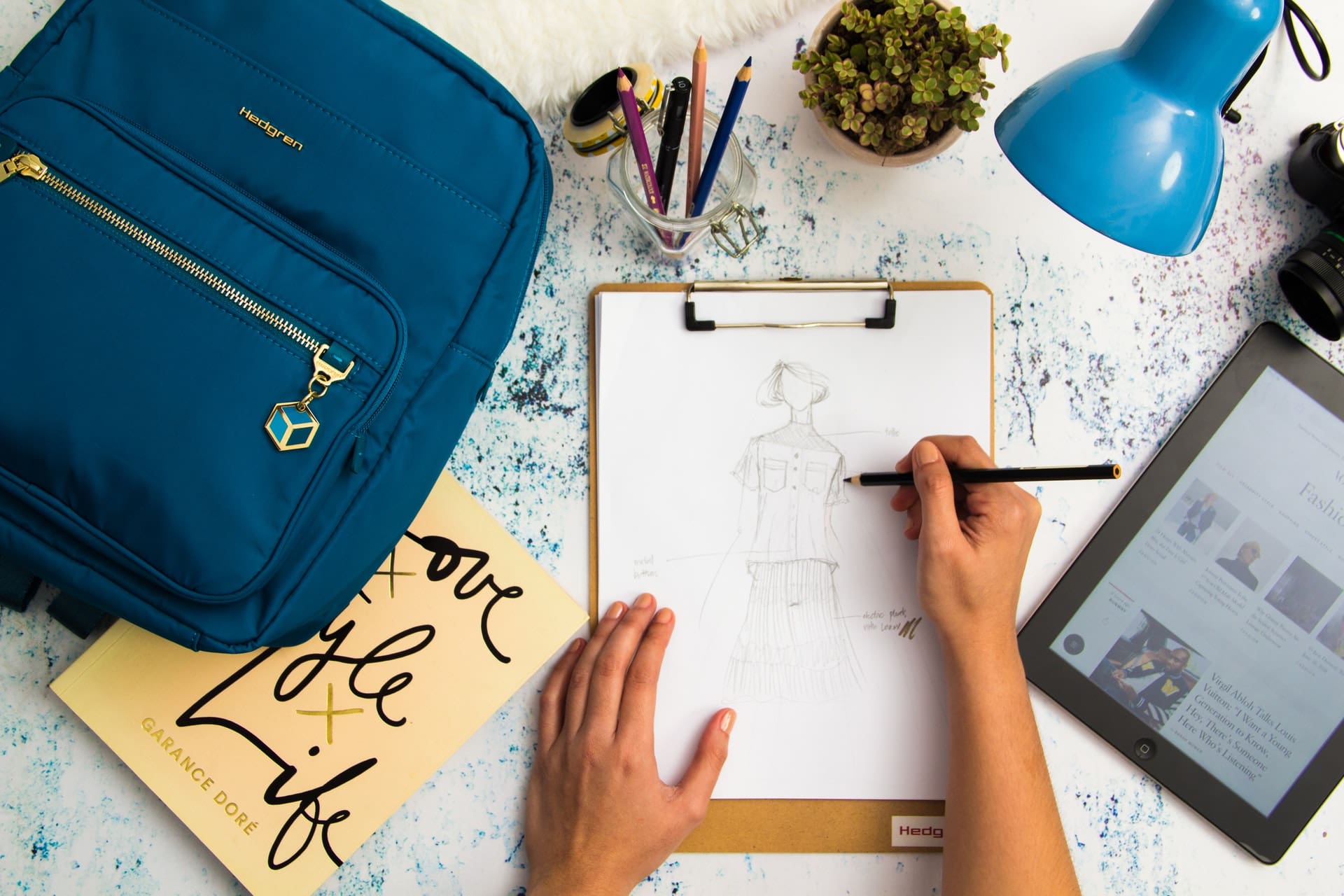 Fashion designing is always in demand. Fashion adapts and responds to the needs of the growing retail and design industry. It reacts to the trends and changes in society and has taken momentum in the past years.
Based on the U.S. Bureau of Labor Statistics, there is a 3% growth increase from 2016 to 2026 in fashion designing jobs. Most of these jobs will be under the retail trade industry and have an expected projection of 22%.
Moreover, the industry is still growing and changing. Thus, it needs people like you with creativity, passion, artistry, and grit to be part of the growth.
What is the future in fashion designing?
Your future in fashion designing is limitless. As a fashion designer, cultural and social changes will influence your work. It is necessary to study the market, consumer trends, and perception of society, too.
You will not only be a designer but a researcher as well. Being a researcher is a challenging aspect of fashion designing. You can be more than a designer, but a market researcher as well.
Your degree in fashion designing will open doors of opportunities in different paths. You can pursue fashion business, retail, brand management, media, and even journalism. Among the specific career with fashion designing background are the following:
Fashion Designer – being a designer is your ultimate goal. The theory and practical knowledge you gained has prepared you to pursue a career in fashion. You can choose to make garments for haute couture and ready-to-wear. You may opt to choose one specific area, depending on your preferences and skillsets.
Fashion Entrepreneur – every designer is an entrepreneur as well. This specialization is appropriate for you if you want to work on the business side of fashion. As a fashion entrepreneur, you create a network of individuals inside the fashion industry. You will deliver your expertise in retail, manufacturing, marketing, and even advertising. Writing business plans, managing finances, creating sales are your everyday work.
Creative Director – The creative director is responsible for the designs and themes of every fashion week. He collaborates with the team of designers and imparts his designs and concepts to the collection. His talent and vision are critical in the execution of the clothes and ensembles. The creative director is the mind of every collection seen on the runway.

As the creative director, you are responsible for formulating concepts and visualize designs. The theme of the next fashion show and collection will depend on you. Your decisions matter and everyone else will follow.

Fashion Brand Manager – a brand manager is the same as a fashion entrepreneur; but, they are more focused on advertising and marketing than sales. You are responsible for maximizing sales and increasing profit through campaigns. It is critical to give attention to areas that need improvement to meet the demand of the market.
Fashion journalist – another challenging career open for you is fashion journalism. It is a component of fashion media where you can write and become a photojournalist as well. Fashion journalists create news and content related to fashion trends and events. In the long run, you can be a Vogue editor when you pursue this path.
What major should I choose to be a fashion designer?
Your undergraduate degree is valuable if you want to pursue a career in fashion design. You decide whether you want a degree in fashion design or fashion merchandising. You will know about art, design, textile, fabrics, and computer-aided design technology.
There are fashion design schools across the globe that offer programs and courses. They will prepare you to adapt to the high demand in the fashion industry. You can consider the following top fashion design schools if you want to secure a spot in this industry.
Fashion Institute of Technology (New York) – FIT is a reputable school in fashion. It offers business and design programs founded in the principle of liberal arts. Their courses vary from fashion design, production management, and textile development.

There are over 40-degree programs that you can choose from the offerings of FIT. The students will be able to develop industry partnerships and collaboration. They can build a strong network in fashion. Almost 90 percent of its graduates were able to secure a work placement in the fashion world.

London College of Fashion (London) – the London College of Fashion, UAL is a leading school. It offers fashion designing and business education to the public. It trains students to be adaptive in both economic and social transformation. They examine the history of fashion and how they can create sustainability today.

The school has 70 undergraduate and postgraduate degrees. It also offers 165 short courses to the students. You can choose from these degree programs, and develop yourself as a designer. The London College of Fashion is up to date. They practice sustainability in their curriculum.

Istituto Marangoni International (Milan) – the school was founded in 1935. It is still growing and making its name in the world of fashion. Today, the school has seven international campuses and one of the biggest in the world. Istituto Marangoni International is a multicultural school. It accommodates 4,500 international students. The program offerings include:

Fashion design
Fashion styling
Fashion business
Interior design

ESMOD International (Paris) – ESMOD is known for providing quality and business management courses. It is the oldest running fashion design school in the world. It already has 20 schools in 13 different countries/locations. The school claims that the placement success rate is from 85% to 98% every year. They also accept international students from 70 different countries around the globe.
Is fashion design a good career?
Fashion design is a good and lucrative career. It requires you to be creative and business-oriented, all at the same time. You should put in art, passion, and creativity, while being business-oriented, as well.
But, the career path for a fashion designer is not linear. There is no standard formula to follow to become a successful fashion designer.
It is a competitive field. The three percent growth in the employment rate doesn't guarantee the security of employment. Not anyone with a bachelor's degree can make it to the elite industry. It is still about passion, hard work, experience, and an exceptional portfolio. These will make you stand in the crowd and break into the fashion industry.
Is fashion designing easy?
Fashion designing is a challenging and highly-demanding career. When you choose fashion design as your career, you have to be prepared. The creative and technical aspects of the profession will test and hone you to be better. Among these are the following:
Understanding trends and market demands based on the needs and wants of consumers.
Creating a theme for a specific season or collection.
Visit manufacturers or trade shows to find textiles and fabric for the collection.
Coordinate with other designers and team members involved in the design process.
Market your designs through runways and fashion shows to guarantee sales and profitability.
Ensure that your designs are up to date, respond to the demand of the market, and are profitable.
The work demand in this industry is endless. A great effort is vital to be able to create a name and build a brand in this demanding industry. The industry is tight and competitive. It will take courage and patience to break into the world.
Where do most fashion designers work?
Most of the fashion designers work in fashion houses and retailer companies. Paris, London, New York, and Milan are well-known fashion capitals. A novice designer will have an opportunity in these locations. You can get valuable job experiences when you choose to work in these locations. Here are some of the exposure that you can gain from different fashion work set-up:
Fashion house – you will be part of the creative team that specializes in haute couture. You will help construct high-end fashion by hand. You will get to know the process of making a high-end garment from start to finish. Most of the luxury brands like Chanel, Prada, Dior, and Valentino started as a fashion house. They create luxury designs for elite members of society. They use exclusive fabric, make a pattern, and sew it by hand. The beautiful fashion collection we saw on the runway is haute couture.
Retailer and manufacturing – you can explore the business side of fashion in this. The brands like Zara, H&M, Adidas, and Gap are fashion retailer companies that created a name in the industry. They are in the United States. The place where mass retailing originated.
How many years does it take to be a fashion designer?
You can choose from an undergraduate degree or associate degree in fashion designing. Both will give you a background and fundamentals of fashion. It depends on how much time you want to invest in working in your fashion designing career.
Bachelor's Degree Program – you will need four years to complete the program. The program will equip you with the fundamental and core principles of fashion designing. It will provide you with a comprehensive understanding of the field. It will also hone your technical expertise to break into the world of fashion. You will learn the importance of coursework, fashion drawing, 3-D design, color theory, and CAD-technology.
Associate degree program – an associate degree is shorter than a bachelor's degree. You need two years to complete the program. It covers the topics on tailoring, sewing, visual merchandising. A two-year program will give you the background of the fashion industry.
An internship is a must for your fashion designing career. Through this, you will gain exposure and experience in fashion designing. It will secure employment in the field. A lot of design firms, retail, and manufacturing companies offer internships for people like you. They are specializing in clothes and apparel. You can apply your knowledge and skills in your internship. Likewise, you can build your portfolio during the internship. You can get mentorship from industry experts and design executives. This will give you a cutting edge and will help you break into the industry.
What skills does a fashion designer need?
Being a fashion designer is both a personal and professional development. It requires creativity and technical skills to be successful. Here are some of the skills needed to become a fashion designer:
Creativity and artistic skills – an inherent sense of creativity is a consideration in this field. You can show your artistry, imagination, and vision in every design. The collection you make requires you to be creative and think outside the box. A lot of fashion designers who built names have the creativity and artistic skills. Their creativity and technical know-how are their capital in the industry.
Exceptional drawing ability – in fashion design, drawing is a fundamental skill to master. This skill is critical because you can translate your vision and imagination through drawing. It is a concrete representation of what you have in mind. It is a demonstration of your art and passion.
A keen eye for detail and beauty – every fashion designer has a creative and editing eye. You must have this unique skill to see both perfection and imperfection in an ensemble. This skill will help you in the long run and will progress as you advance your career in fashion.
Communication and interpersonal skills – you work with different types of people every day. They have varying personalities that you need to interact with. Your effective communication and interpersonal skills will help you get along with them. Moreover, you will be able to share your ideas effectively, too. The way you communicate has an impact on the kind of work your creative team produces.
Fashion designing is a complicated and challenging field. It takes a lot of guts and hard work to break into this world. The programs and courses may help you start your dream career. But the experience, exposure, network, talent, and passion will help you stand in the crowd.
The growth of 3% in the employment demand for fashion designers is low compared to the percentage who wants to get into the field. Yet, there will still be a progression of the demand rate in time as the fashion industry is fast evolving.