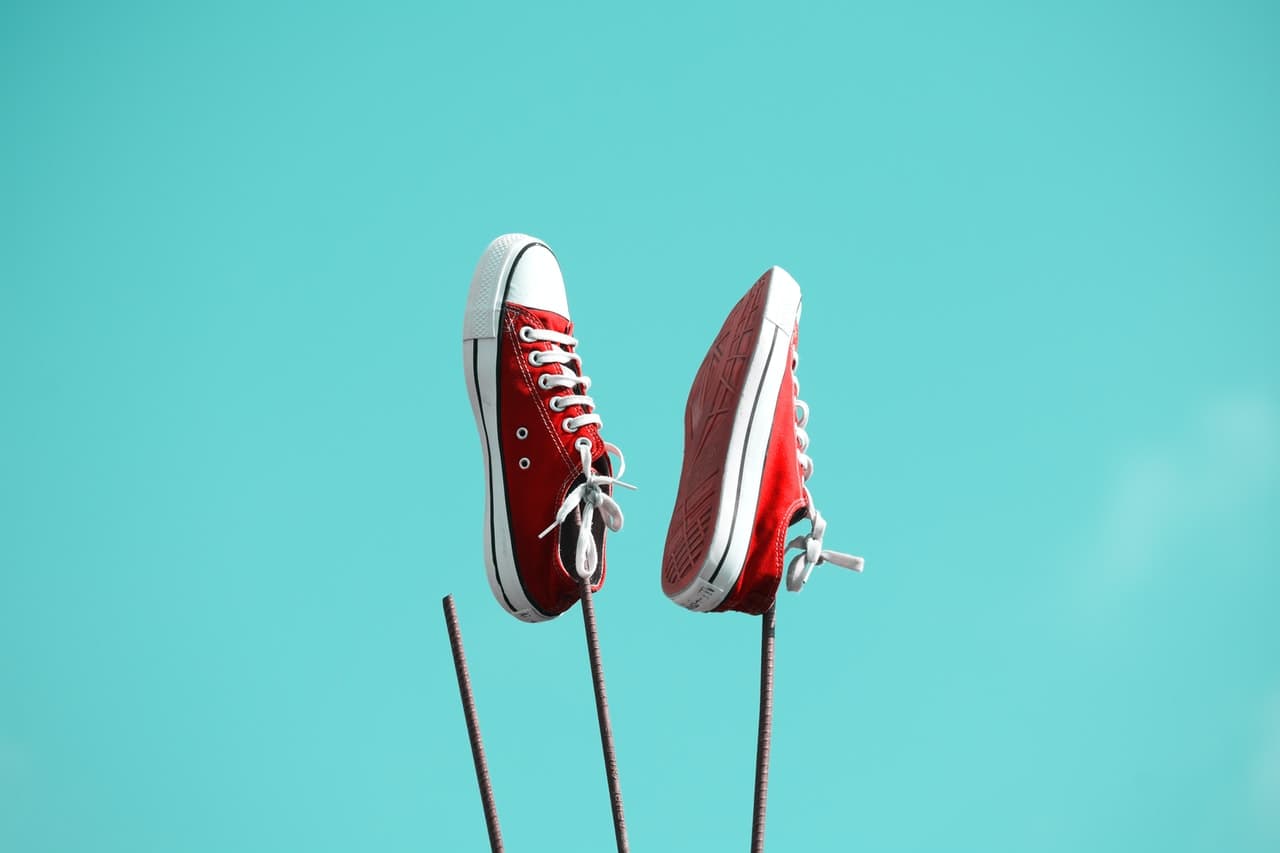 Converse advises their customers not to throw their shoes in the washing machine. Using mild soap and lukewarm water is the best way to clean your canvas sneakers.
At some point in your life, you have probably owned a Converse. This company has been around since 1908 so you will have never seen one, then you might be living in a different timeline. Converse is a classic sneaker that never goes out of style and goes well with almost anything. From the casual jeans and t-shirt to the formal wedding gown, if your one of those cool brides. Many people have worn it in the office (if you don't have a dress code), at school, and even on the red carpet (shoutout to Kristen Stewart!).
These shoes are versatile that it has become a crowd favorite for decades. With its variety of colors, styles, and designs, there's a Converse for every occasion! Even high-end fashion brands have collaborated with this brand to create limited-edition sneakers.
But like other everyday footwear, Converse is not immune to wear and tear. It's not an immortal shoe that will never get old, dirty, and worn out. Fortunately, there are ways for you to delay this grim future. It's bound to happen and the only thing you can do is slow down the process and keep them looking almost new. All you need is lukewarm water, soap, and a bit of elbow grease.
How to clean your Converse?
Step 1: Test before doing the rest.
When it's your first time cleaning any type of product, whether its shoes, bags, or others, it's always good to test a small part first before cleaning the whole thing. This way you'll see the effect of your cleaner or soap. In case it leaves a stain or it does some damage, you'll only have to deal with a small part. Converse suggests that you should test out your cleaner on a part of the sneakers that are not visible such as the side of the tongue that is hidden when laced up.
Step 2: Use soap and water.
Your washing machine is not an option to clean your Converse or any type of shoes per se. It's going to do more damage than what you expect it does. So, the company advises that you use mild soap and lukewarm water to clean your canvas sneakers. With a damp cloth, rub the shoes but not too hard or it may damage the material. For the toe cap and the rubber base, you can use a small brush or a toothbrush to clean them.
Step 3: Let it dry.
Even if you're in a hurry, the dryer is not an option as well. Converse advises its customers to leave their sneakers to air dry. Never use your hairdryer to speed up the process. Instead of slowing down the aging of your shoes, it might induce it. Before you let it dry, stuff your sneakers with paper to keep their shape. You may have to change it a few times when the paper gets wet.
How do I keep my Converse white?
The best way to keep your Converse white is before your first wear, spray it with stain and water repellant. Also, after every clean, spray a new coat.
White sneakers are taking the world by storm. We see them paired with everything and everyone is captivated by the trend. The only problem with white sneakers is if it does not stay white, you'll not look presentable. You often wonder, how do they keep their Converse white?
If you go through the internet, you'll see countless ways on how to maintain white sneakers. But some are a hoax and not effective at all. So how do you sift what works and what does not? Well, you don't have to do some trial and testing because we did it for you.
Here are some tips to help keep your Converse white and clean!
Tip No. 1: Plan the days that you'll wear them.
One of the most common reasons why your white sneakers become grey is because of the weather. Since your sneakers are canvas, it absorbs water and dirt well. So, if you go out when it's raining and puddles and mud are everywhere, you should not be shocked when your whites become brown. Before sporting your favorite white kicks, make sure that the weather is nice and you would not be doing something that will get your shoes dirty.
Tip No. 2: Wash the laces separately.
If you're cleaning your sneakers, make sure that you remove the laces and wash them separately. If you leave them on while cleaning, the laces may leave marks or that area of the shoes will not be clean. Also, don't forget to wash the laces. Imagine wearing a clean white shoe but your laces are muddy brown, it will stand out and may stain your shoes.
Tip No. 3: Use a bleach pend for tough stains.
If you're struggling to remove last night's wine stain on your white Converse, try using a bleach pen. Then wash it with mild soap and lukewarm water. Some would throw them in the washer after bleaching. It may be effective for them but as the manufacturer advises, don't throw them in the washing machine. Also, you can use a magic eraser for the rubber to clean them off.
Tip No. 4: Never run them through the dryer.
This is very important to remember and we also mentioned it before, don't use the dryer. Do you know how the dryer tends to shrink things? Well, if you use the dryer for your Converse, it will shrink the upper material and make it look shriveled. As mentioned before, after washing, stuff it in with paper, washcloth, or a shoe tree to help them regain their original shape. Then let it air dry. Remember, patience is a virtue. A little waiting won't hurt.
Tip No. 5: Apply water and stain repellant.
Before you wear your brand-new white Converse, spray some stain and water repellant. Those are the top reason why you can keep your sneakers white. So, if you address them early on, you'll be able to maintain the original look of your shoes. Also, after cleaning them, apply a new coat. This will help your shoes look squeaky clean!
Will Converse ever go out of style?
Converse All-Star Chuck Taylor has been around for a hundred years proving that it will never go out of style. It's a versatile shoe that goes well with everything. This may be one of the factors that why it stood the test of time.
If something lasts for almost a century, do you think its influence will suddenly wane? We doubt that will be the case since it already established a solid market and created so much memory with people. Yes, it can slowly decline but we're it won't be gone in a year.
Converse has been with us since 1917 and has continued to establish its throne up to now. It's been one of the leading brands in the shoe industry for years and it does a great job at maintaining and growing its market.
While brands like Vans, Adidas, and Jordan have built a solid reputation over the years, Converse has stayed relevant. From basketball sneakers to the staple kick of millennials, this brand managed to adapt to the new trends. Seeing how it stayed for almost a hundred years, this assures all Converse lovers that these shoes will never see to exist in our wardrobe.
Factors why Converse never goes out of style
Your Chucks goes with everything. From casual to formal (if you are cool), there's always a Converse to go with every occasion. You can wear them while walking your dog in a park. If you hate formal shoes and your office is not strict with the dress code, you can wear these sneakers with pants and a blazer.
These sneakers come in a variety of colors and styles. If you're one to match your top with your shoes, then having a variety will make your day. Since Convers have almost every color you could imagine, it gives more people the option to get what they want. Sometimes it can be a turn-off if the color or the style you want is not available. So, a broad selection will capture the attention of people. You can wear a pink high top for your best friend's debut or incorporate an orange low top into your Halloween costume!
Converse is very comfortable. If you like dressing up but prioritize comfort above everything else, then these shoes are made for you. You don't have to walk in pain just to be in style. As mentioned before these sneakers are versatile and go well with everything. If you don't like wearing heels for prom, then throw a pair of Converse and you'll look edgy and classy!
These kicks are lightweight. If you're going for long walks, it is important to have comfy and lightweight shoes. Fortunately, Converse was able to make a shoe that is not only comfortable and lightweight but is also chic and gorgeous. If that's not an A-plus, we don't know what is better. Well, some people complain that these sneakers don't give much support, unlike the others. But if you were to choose, would you sacrifice comfort and lightweight over support? If it were us, we rather get optimum comfort and a lightweight shoe. It is more beneficial for an everyday sneaker's wearer.
How long do Converse shoes last?
Your Converse can last a long time as long as you take care of them properly. There is no definite number of years because depending on the owner, it may last a few months or years.
For avid shoe collectors, they don't care how many hours they spend to maintain their collection. But, for most of us, whose only goal is to keep our new kick as fresh as possible for a long time, we don't have that dedication. So, to simplify this here's a few tips that you can try to make your sneakers last for a long time.
Tip 1: Get the real thing
Counterfeit is always subpar from the real deal. If you don't buy authentic Converse for a reputable store, you'll never make them last longer. Real Converse sneakers a known for their durability. If it's a fake, you can say goodbye to this feature.
Tip 2: Add baking soda when washing
If you have baking soda sitting on your cupboard and you don't know what to do with it, use it to clean your Converse. Mix a bit of baking soda with laundry detergent and warm water until you make a paste. Then use that to clean your sneakers. With a toothbrush, scrub off all the dirt and rinse it after. Same as the one mentioned above, stuff it with some paper and let it air dry.
Tip 3: Remove the laces
The laces can induce the deformation of your shoes. So, to keep them in shape, remove the laces and let your shoe breathe for a few minutes. This will only take you less than six minutes to remove and put them back on. Even though we're not extreme shoe lovers, a bit of TLC will help our shoes last long.
Tip 4: Air your sneakers
Your shoes can get smelly if you keep them in the box right after wearing them for an entire day. If you don't have to wear a pair of stinky shoes, air them out for an hour or less. If you don't do this, not only will your shoe stink but also your feet. Also, never forget to wear socks! If you mix your bare feet with shoes, you'll end up with a toxic spill. So, always wear socks with your shoes to protect your feet and the shoe itself.