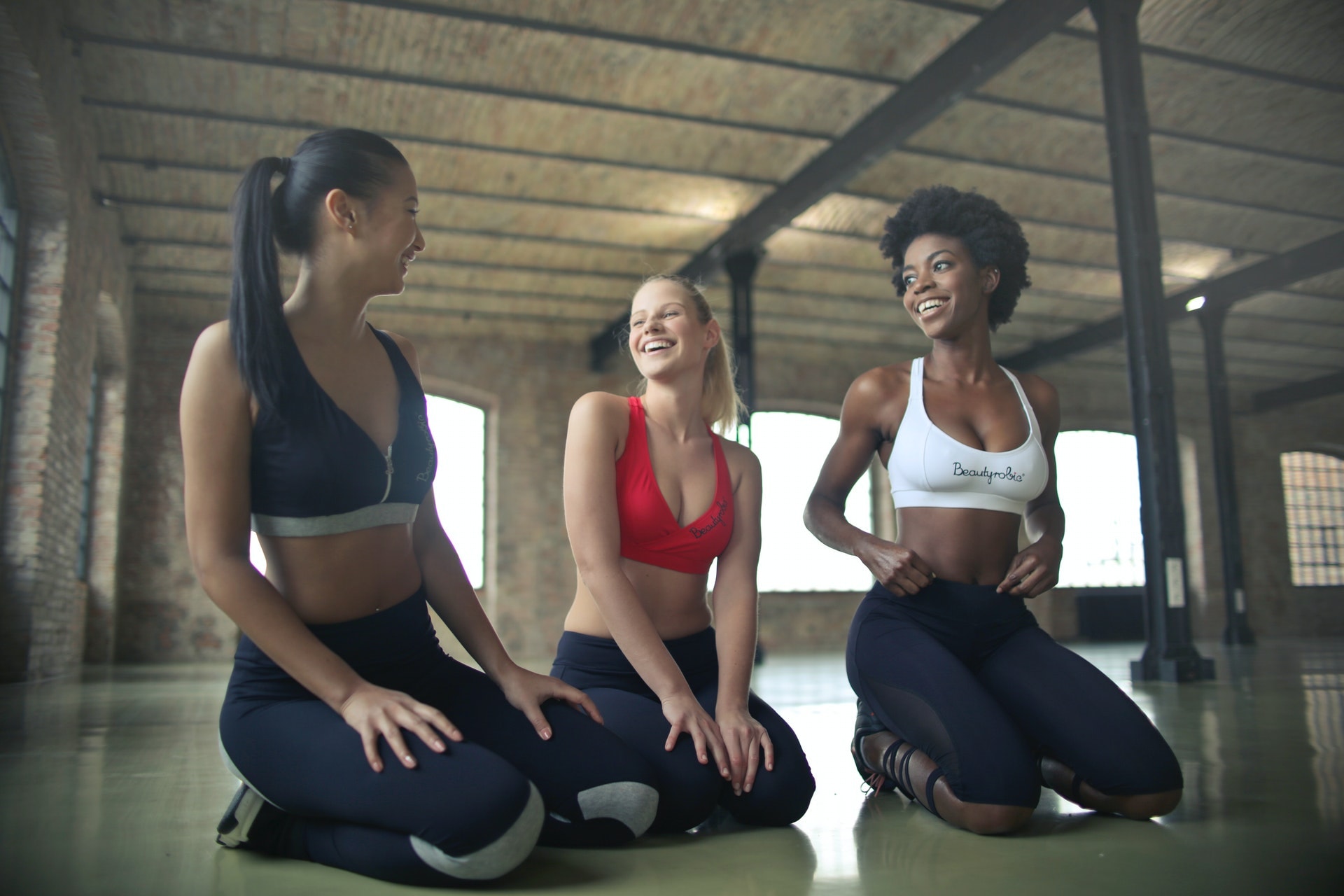 Everyone wants to try and experience the benefits of yoga pants. It makes exercising easy and comfortable. It gives you better circulation than jeans. It's versatile and cheap. So, should we exempt men from experiencing these benefits?
Yoga is an exercise that does not categorize between male and female. If it's open for all, so should the garment that is appropriate for it. Society has been open to seeing men wearing yoga pants. No one thinks that they are less of a man if they're wearing a pair of yoga pants.
If you're a guy and you're hesitant about trying yoga pants you need to check this out.
Yoga pants are very comfortable. It has a lightweight material that is good for working out.
Yoga pants do not hinder you while doing exercise. It also gives you the flexibility that you need when doing stretches or squats.
Yoga pants give you the right grip when doing certain poses. Your knees won't slip off from your elbows when doing the Crow Pose.
Yoga pants are breathable and moisture-wicking.
Yoga pants are not only good for yoga but also biking, running, CrossFit, and any types of sports.
Yoga pants are versatile and you can wear it anywhere, anytime.
Is it okay for guys to wear leggings?
In the 14th century, leggings are a unisex garment. In fact, during the Renaissance period, men are the ones who wore leggings the most. It was an undergarment and protective apparel for their military wear and cotehardies.
Today, women are more inclined to wear leggings than men. Is it okay for guys to wear leggings? Yes, guys are welcome to wear leggings and enjoy its amazing feeling. If you're not comfortable wearing it as it is, you can wear short over your leggings.
It's become socially acceptable for men to wear leggings and it's considered fashionable. If your too self-conscious, leggings alone would make you feel like your naked in public. You can always wear something over it.
Most men would still feel weird wearing leggings. Yet, many activewear brands have begun designing leggings and yoga pants for men. Leggings are very functional. Some of them include compression panels. It maintains the proper circulation of the blood. This also helps in preventing low blood pressure.
Leggings help to keep us warm during the cold season. If you're going for a run during winter, those shorts might not give you any heat. Leggings can give you an extra layer for warmth.
What should a man wear to yoga?
Yoga is a very popular fitness regimen. It practices patience, flexibility, strength, and discipline. For equipment, you'll only need the proper workout clothes and a yoga mat to do this.
Men do yoga for all its physical and health benefits. In this exercise, you would need comfortable clothes. It must give you freedom for movement and can absorb sweat. While some men think that their regular gym clothes would suffice, it doesn't make the cut. Yoga requires a lot of stretching and bending. Imagine wearing shorts, do you think that would make a nice sight?
You will need stretchable yoga clothes. It should not hinder you from doing different yoga poses. Many recommend that men should wear yoga pants that are lightweight and breathable. You can pair it with a loose shirt or a muscle tee. Make sure that your yoga pants are the right size. Don't get something that's too small or something that's too baggy. Go for something form-fitting.
Why do guys wear compression pants?
When your shopping for yoga pants, you'll come across a selection of compression pants. What are those? If you're an avid NBA fan, you might have seen some of the players wearing it. Stephen Curry and Russel Westbrook are some who use compression pants during games.
Popular brands like Under Armour and Nike have their line of compression pants. What does it do? How does it differ from yoga pants? There is not much noticeable difference between yoga pants and compression pants. They are both form-fitting and tight.
One factor that sets them apart is compression pants can provide graduated compression. This enhances blood circulation and reinforces muscle movement. It also increases the flow of oxygen in the body and reduces the strain in the muscles. Those are the reasons why many athletes are keen on wearing compression pants.
Yoga pants cannot provide this graduated compression. Yes, it gives you flexibility and ease of movements. But compression pants are more ideal for a workout. If you're going to your next yoga class, try wearing compression pants instead. It will still give you the flexibility but with the added benefits of better circulation.
Do guys have to wear shorts over leggings?
Imagine going to a yoga session with your friends and a guy comes in wearing only a pair of yoga pants and a shirt. How would you react? There is a negative stigma to a guy wearing legging without anything over it. We all know that when you wear yoga pants or leggings it's form-fitting and tight. For a guy to wear leggings alone, people view it as something unacceptable. But, should that be the case?
Most men wear shorts over their leggings for modesty or self-consciousness. It can be a bit awkward for first-timers to go out wearing leggings not accompanied but something over.
It's a long-running debate, whether guys should wear short over leggings or not. Pros would argue that wearing shorts adds warmth to the lower body during winter. It adds an extra buffer that will shield you while doing a run during the cold season.
Anti-shorts over leggings will say that there are pairs made to combat this problem. Why not invest in a pair of leggings for the same price as regular leggings and a pair of shorts.
Another point of discussion during this argument is modesty. Wearing shorts over leggings is right and modest says pros. It is only right because not everyone is okay with men wearing leggings.
At the end of the day, personal preference is what matters. If you have the confidence to pull it off, why not? If you feel that leggings alone are too much then there is nothing wrong with wearing shorts over it.
When did yoga pants become acceptable?
Do you know Lululemon? It's a famous brand that produces high grade athleisure wear. The yoga pants that are only seen in yoga studios became the new norm of today. People are beginning to substitute their jeans with leggings. It is now acceptable for some companies for their employees to wear yoga pants at work.
Yoga pants are the new jeans and people love it. Before we store them at the very back of our closets but now, they're our go-to pants. Athleisure is at the forefront of the fashion trend now. Yoga pants, sports bra, and leggings are the new "it" items of the season.
The sales of workout garments are increasing at a very fast rate. Even popular brands like Calvin Kline and Alexander Wang have entered the game. They have rolled out their lines of chic sportswear. Retailer giants Victoria Secret and Forever 21 also have their line of athleticwear.
The sweatpants and t-shirts look were the classics athleticwear before. With the invention of spandex in the 1980s, leotards, tights, and tracksuits became a hit. Now, famous brands in the sportswear industry continue to bask in the spotlight. This is because Lycra and Gore Tex continue to gain popularity because of its quality.
In the 1990s, Lululemon paved the way and became the pioneers of athleticwear couture. The brand has so many loyal customers who are willing to pay a hundred dollars for yoga pants. You can see the rise of athleisure. More and more people are attending Fashion Week wearing pieces in that category. This would not have been acceptable before. But fashion has evolved and this is the new direction that it is taking.
Who should not wear yoga pants?
We have been going on-and-on about yoga pants being for everyone. Yes, that is true. Men, women, children, and adults can enjoy wearing yoga pants. Have you seen your favorite celebrity rocking a pair of tight yoga pants? One of the reasons why yoga pants are becoming hype is because the A-lists are wearing them.
If you see NBA stars and cool celebrities wearing yoga pants, you become inclined to try them. It looks cool on them it might be cool for me too. Let us stop you right there. Not everything other people wear would also look good on you.
Do you know what tight yoga pants are? It's popular with women. Celebrities are walking down the streets in their skin-clad yoga pants. Tight yoga pants might work for them but might not work for you. Like everything in fashion, there are some unwritten rules that you should follow.
Unwritten Rule #1: When wearing yoga pants wear seamless underwear.
Yoga pants need to be tight. If you love wearing your yoga pants everywhere you need to consider this. You don't want the public to see the outline of your underwear. Some would tell you to wear thongs but if you're not comfortable with that seamless underwear is the best way to go.
Unwritten Rule #2: Before going out check how thin your yoga pants are.
If you bought cheap yoga pants, more so the fabrics would be thin. Before heading out, make sure that your pants are not see-through. It will be very embarrassing for you if people start making you a spectacle. Also, wear underwear that matches the color of your yoga pants in case anything happens.
Unwritten Rule #3: Make sure that your yoga pants are breathable.
Not all yoga pants come from the finest materials like Lululemon. Some of them use materials that do not give proper ventilation to the skin. Never go for unbreathable materials because that is bad for the skin. Another downside is it will make you sweat buckets.
Unwritten Rule #4: Don't go for yoga pants that will stress your love handles.
Okay, you want to wear tight yoga pants, fine. But never wear tight yoga pants that are three sizes smaller than your actual. If the waistband is too tight, it will compress your love handles. You'll look like a muffin and that's not a sight that you want. There are yoga pants that have wider waistbands. They work best in preventing this from happening.
Unwritten Rule #5: Tight yoga pants are not for men.
Yes, we said that yoga pants are good for men. That is still true. What we are saying here is tight yoga pants that will stress parts that you should not highlight. If you're a ballerina then it's normal. But if you're going to the supermarket to buy some groceries, then that is not a good idea. There are yoga pants that are suitable for guys but tight yoga pants are not one of them.
How do guys wear tights?
For women, wearing tights is normal. They have been wearing them for a long time and styling them is not a problem. It is only recently that men are catching up. With garments like compression pants, the tights game in the men's closet is rolling. So how do you style them?
Style Tip #1: Choose the right pair of tights
Make sure that it's form-fitting and is comfortable to move in. Go for something that has an adjustable waistband so you're sure that you have the perfect fit. It is also important that it provide support to your lower part.
Style Tip #2: Wear shorts over your tights
This is optional. Some would prefer to wear tights only. Some tights are thick enough that you can wear as-is. If you're not ready for tights only outfit, then you can wear shorts over it.
Style Tip #3: Wear a long shirt as an alternative to shorts
This is something that many women do. If you don't like to wear shorts then you can wear a long shirt. This will cover up your lower parts if your weary of it being too exposed.