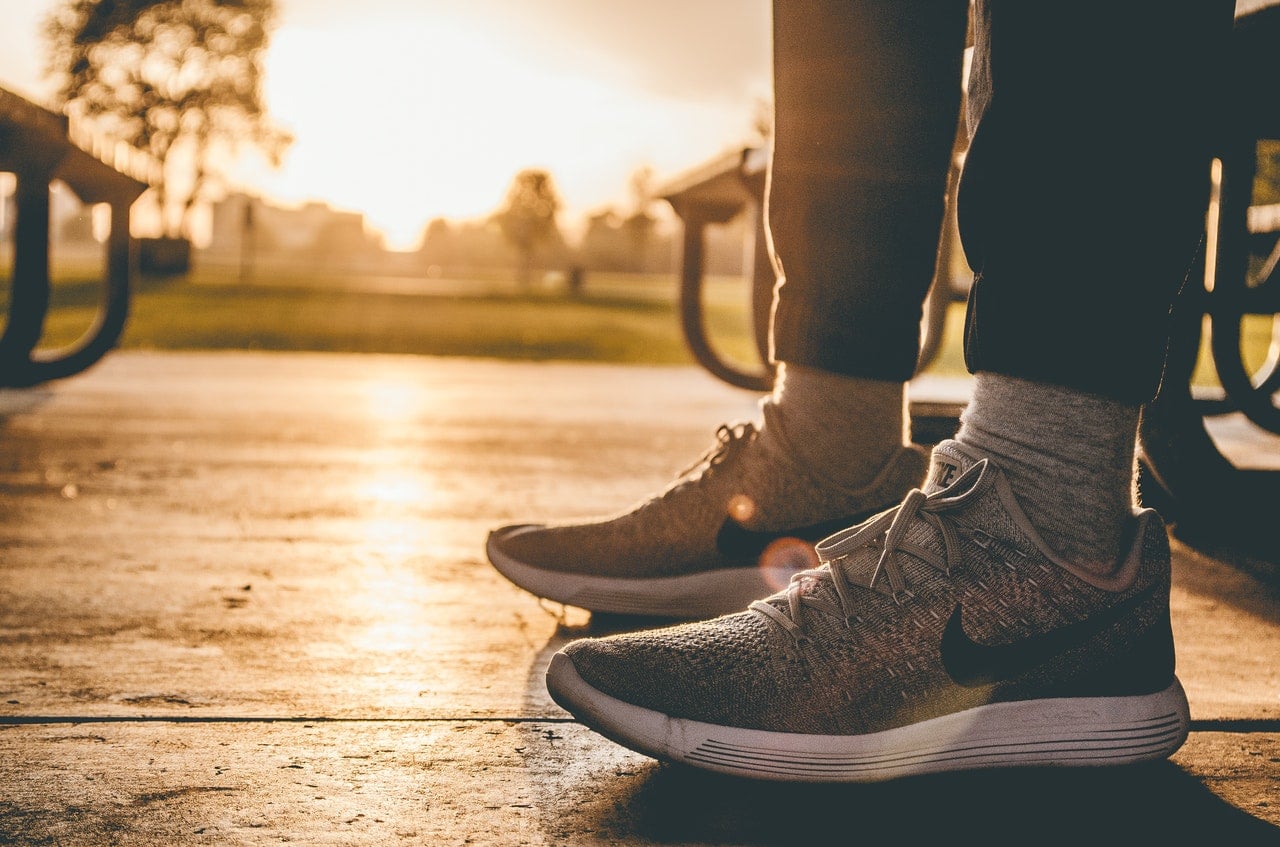 One can always wear any type of footwear when playing golf. This includes trail running shoes. The golfing performance, however, is a little bit compromised. Trail running shoes may not give the golf player enough grip like golf shoes do. This is especially true when the grass is wet. The shoes should provide for extra traction like the golf shoes bring. Even when one can wear any type of footwear during golf, it is highly recommended to wear golf shoes.
For anyone who plays golf at least a few times per year, golf shoes are always warranted. Either one owns a pair or two.
But the question remains. Is it a necessity to wear golf shoes when playing golf?
The answer is mostly a No. But remember that there are golf courses that require golf shoes. And most of the time, wearing golf shoes improves performance.
Courses and Cleats
Most golf courses, on certain levels, accept shoes other than golf shoes. But others do not. These are fancy courses and private clubs. These places always ban at least a specific type of footwear. Certain courses maintain policies relating to footwear when playing.
And so, if you are about to play golf in a course you have never been to before, it is advisable always to check. Usually, the course's website states such policies.
One can also go ahead and give the golf course a call before the game. This avoids one of embarrassing denial of entry for the sole reason of footwear.
The Benefit on the Game
As far as playing golf is concerned, golf shoes are actually preferred. It is, however, not required.
Some golfers play in tennis shoes. Others resort to wearing running shoes or cross-trainers. As long as the shoes do not damage the turf, these shoes can be used. Naturally, the kind of shoes one wears should be permitted by the golf course as well.
Interesting enough, but others even play barefoot.
But when one plays wearing golf shoes, the performance becomes different. Golf shoes are made to make sure your feet do not slide during swings.
This means that while swinging, a good pair of golf shoes prevent your feet from sliding inside the shoe. This should also mean that it prevents your shoes from sliding on the grass when you swing.
Golf shoes are actually engineered to keep feet firmly in place. Swings bring with them downward and lateral pressure on the feet. These movements tend to slide your feet around.
A pair of golf shoes avoid the possibility of sliding.
Golf Shoes and Designs
Golf shoes in the past suffered in their entirety because of bad aesthetics. Over the years, the looks of these shoes have actually improved in significant levels.
Yes, there are old-school golf shoes available. These are those with black and white wingtips. These are shoes with leather and tassels.
But the look of golf shoes improved dramatically. Golf shoes are now available in many styles and colors. Some shoes even appear in street styles.
Playing Without Golf Shoes
Not everyone owns a pair of golf shoes.
Should this be the case for you, you can still play golf wearing other types of shoes.
The possibilities of slipping or sliding may be higher than when one wears golf shoes. The ideal pair should be those with the most gripping soles.
These should be soles with many ridges and bumps. When choosing a pair of non-golf shoes to use in a course, one should go with as much texture as possible.
, one should also give the golf course a call to determine if non-golf shoes are actually allowed. Also, this is the perfect time to inquire whether the course offers shoe rentals. There are golf courses that offer such services.
What can I use if I don't have golf shoes?
Golf shoes have hard rubber or plastic spikes. When without golf shoes, running shoes or sneakers will do. One should only make sure, however, that the pair of shoes comes with a good grip.
There are new golfers. And some play frequently.
For beginners, investing in golf shoes may not sit well.
There are a lot of people with the impression that one can only play golf in golf shoes.
But this is not always the case.
Golf shoes can improve one's performance during the game. But golf shoes are actually not a requirement when playing golf.
Here, we talk of a few important things about substituting golf shoes with something else.
When it comes to substitutes, the perfect pair should be running shoes. Sneakers come in second after running shoes.
But when choosing the perfect substitute for golf shoes, one should look for a pair with a very good grip. Golf shoes are actually designed to help the wearer maintain balance during swings. The grip in your sneakers or running shoes would be able to provide one with this balance needed.
These shoes may be those that one wears during leisurely walks. But fashion sneakers or running shoes may not be the preferred types for golf.
The reason for this is because these pairs usually have bottoms that are a bit more slippery. And when one dons these types of shoes, there is a tendency for the wearer to slip during swings.
Most of the time, golf courses are wet. It is also usual to find hills in these courses. Naturally, shoes with flat or slippery bottoms will not work well here.
Here are a few things to note when sourcing for substitutes.
The Don'ts
When choosing a substitute, one should go with a certain balance when it comes to comfort and design.
A comfortable shoe is important. But if that pair comes with a sole that can damage the course, one should at least reconsider.
One such example is boots. Street shoes and sandals are also common examples of this footwear. They have soles that do not sit well with the turf on the course.
Some golf shoe sandals work well with the course. But these types should be those that golf courses allow.
Boots are heavy. When one wears boots, we see greens damaged. This comes about because of the weight of these boots.
Aside from these types of shoes, one should also remember not to wear shoes with metal spikes. The reason for this is because they cause too much damage to the greens.
But then professional golfers still wear footwear with spikes. This is still allowed on the PGA Tour. Professional golfers are actually adept at carrying themselves on the course. This, despite the spikes.
Professional golfers know better not to drag their feet on the greens. They do not step close to the holes either.
Amateur golfers are not allowed metal spikes in their footwear. Monitoring of the amateur players alone would take too much time. This would take a lot of effort from the golf course attendant. As such, only shoes with soft spikes and spike-less shoes get to enter the course.
The Dos
The very basic of choosing a substitute is on the bottom. One should always look for a bottom of hard rubber or plastic.
Before the purchase, one should always look at the sole of the shoe. Make sure that the sole brings with it a good grip. If without this grip, the feet will slide during swings. Not only that, but the wet grass in golf courses can also be slippery.
Shoes with a lesser grip can pose problems on safety.
The other consideration is fashion. One should always know the type of shoes that is appropriate in golf courses.
Between a leather boot and a pair of sneakers, sometimes, the latter would look well.
One should remain practical when choosing shoes to wear for golf.
As always, it would be advisable to give the golf course a call. The golf course can clarify the acceptable and the non-acceptable types of shoes.
Some golf courses require golf shoes. Should this be the case, you may need a few hours of shopping. But when the golf course allows non-golf shoes, one can easily refer to the suggestions above.
In cases when a pair of golf shoes is actually warranted, one should always go with spike-less shoes. Such types have uses beyond the golf course. It can, in fact, be something one can wear on other occasions.
Most would prefer not to get golf shoes because these are don't get used that much. But at least, with spike-less shoes, one can go to dinner on them.
These shoes can be handy in golf courses, too!
Are golf shoes worth it?
For individuals that foresee a year of frequent and regular golfing, golf shoes are worth it. But in cases when one plays golf once or twice a year, one should reconsider. In summary, golf shoes are worth it if one uses them as much.
When one plays golf frequently, golf shoes are good investments.
One should note that these shoes come at such a high price.
But with the hefty price comes great performance.
Below are a few considerations one should look into before getting a pair of golf shoes. Is it worth it?
You find out here.
The Frequency
Some people play golf once per week while others play about a couple of times each year.
If you are on the second group of people that plays once or twice per year, you may not need these shoes.
Suffice to say, the more you play, the more these shoes are worth it.
In fact, if golfing is more frequent than normal, you may even consider having two or more pairs of golf shoes.
Your Swing Speed
How fast is your swing speed?
One should know that the faster one's swing speed is, the more one needs golf shoes.
The bottom of golf shoes has spikes. These spikes provide the player with an extra grip. These spikes mean stability.
When used properly, these spikes can actually assist the player. These spikes assist in getting an extra boost in the swing speed. This gives the player more power and stability during games.
This is where the golf shoes come in.
Because if one has a slower swing speed, the spikes at the bottom of the shoe may not have that much effect.
Golfers with slower swings can use sneakers instead.
Your Balance
Are you the type that falls on most of your swings?
Golf shoes can help players that struggle with balance.
This is especially true with golf shoes that come with soft spikes. They bring with them great coverage on the bottom of the shoe.
The spikes would always differ depending on the shoe. Some golf shoes come with fewer spikes. Others would have the entire bottom covered with these spikes.
As we all understand, balance is something important for a golfer.
But it is hard to achieve.
And so, if you are not blessed with the skill of maintaining that balance, golf shoes can help.
The Golf Course
Finally, one should also consider the golf course one is playing at.
Some golf courses are actually sloped. Others can be flat.
If it is the former, golf shoes are actually needed. Golf shoes work well with sloped courses. Sneakers would likely slip on a slope.
With a golf shoe, the chances of slipping and sliding would be lower.
Unless, of course, one is playing in a flat golf course. In these courses, a pair of sneakers would be enough.
As a final note, if one is serious about golf, investing in golf shoes is wise.
—
For concerns about the types of shoes one can wear during golf, one can always get in touch with the golf course. This should clear up all concerns about which shoes they can allow and which shoes they cannot.
Plus, a call would also clarify all other protocols the golf course may have.
Through this call, one would be able to decide. It is a decision on whether sneakers or running shoes would suffice in today's game of golf.
And when substituting the golf shoes with another, calling is of great help. It lets the wearer figure out the issues before coming to the course.