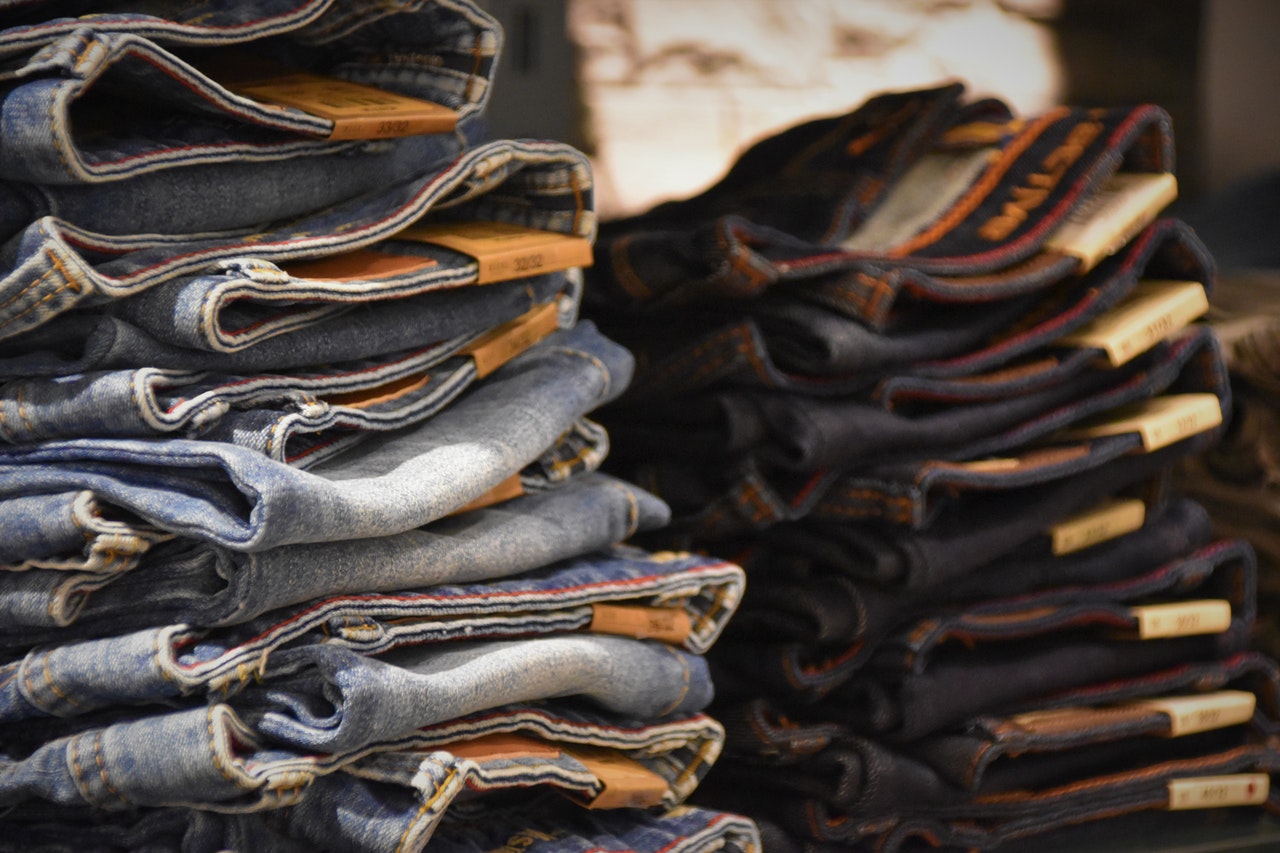 Before anything else, one should understand that denim is actually made from cotton. And we all know it, cotton is sensitive to heat. This is why denim, when overly ironed, gets damaged. When ironing denim, it would be great to give it a quick pass. If you iron it too long, it can result in the fabric being dried. Its colors will eventually fade.
Understand where denim came from.
It was initially a garment used for work. The first pair of denim jeans and jackets were actually created to be functional. Aside from this, it was supposed to be hardwearing.
From then, denim became popular. It has remained one of the most popular garments and go-to clothing no matter the fashion era.
There is, however, a common problem when it comes to denim.
Our parents may be familiar with the chores at home. But most of us are not.
This presents a problem with how we care for garments made of denim. One of these care issues is how we iron them.
Ironing Denim
We are not saying one should not iron denim. Yes, you still should.
But when ironing denim, one should always be careful.
Not being careful in ironing this fabric will result in its colors fading. This comes from the garment drying with too much heat.
As you already know by now, denim is actually made of cotton. As such, it may not be the best of friends with excessive heat.
When ironing denim, it is best not to spend so much time doing it. A quick pass would do.
Also, before starting with the chore, there are a few things you should know.
First of all, make sure to turn the pockets inside out. Gently press the iron to the material. Do this until it smoothens.
The fly should be unzipped (or unbuttoned) as you iron each side.
What setting should I use when ironing denim?
One of the most important things to know about denim is its make. Fabrics like denim hold wrinkles so well. They require heat to remove these wrinkles. Often, it takes about 150 to 200 degrees to take the wrinkles out. At times, it would also be helpful to spray water on it before ironing. Applying steam would also work before starting with the task of ironing. Spraying water (or steaming) helps in loosening fibers. This makes it easier to take the wrinkles out.
When one looks back to how it was in previous decades, it was hard to imagine ironing clothes. Compared to how we iron now, the chore in decades past seems like a hard task to do.
Besides, the fashion world these days may be a bit more accepting when it comes to wrinkles.
But it seems like there would always be occasions when one needs to take those wrinkles out. There would always be instances when wrinkles do not have room for wherever you're going.
For these specific occasions, we have these tips on how to level up your ironing skills.
Here's a guide.
Segregate the Closet
You can be successful in the ironing department. There is just one thing you need to do first. And that is to make sure to segregate your clothing.
This is something you should apply, especially if you plan on ironing more than one garment.
If you have a big pile of clothes that you need to iron, segregate them according to the fabric.
The reason for this is because each fabric needs different iron settings.
For example, one has to use a lower setting when ironing clothes made of polyester. Or that linen or cotton requires a higher setting.
There are a lot more that one should understand when ironing clothes. The type of fabric really matters.
If you are not sure of the fabric type, the label would always guide you.
In fact, the label can be extremely helpful. It can even provide you with instructions on how to iron this specific garment.
When checking the label, here are a few things you should know.
When you have seen an iron image with the letter X, the fabric does not need any ironing. Doing so would cause damage.
– An image of iron with one dot means that the garment needs low temperature. This also means you should not use steam.
– When the label has an image of iron with two dots, this requires you to use medium temperature. Also, you never should apply heavy pressure.
– If the label has iron and three dots, this means you need a high temperature. You can also use steam when you want to.
Iron Temperatures and Fabrics
There are also ways by which you can match the iron temperature with the fabric you are ironing.
You can start at the lowest possible temperature.
You now have already segregated your clothes according to the fabric. The next thing to do is to start with those that require the lowest temperature.
The Low-Temperature Fabrics
These are those that are made from acetate and acrylic. Nylon and beaded fabrics also belong to this category.
The reason for this is because these fabrics are those that easily burn. Beads damage easily as well.
Temperature settings for these fabrics are usually below 110 degrees. When ironing, do it on the other side of the fabric.
If you want a foolproof way of ironing it, you can also place a cotton cloth between the iron and the fabric. This should serve as a barrier.
The Medium Temperature Fabrics
Next in line would be fabrics like polyester, silk, and satin. Wool also belongs to this group.
These fabrics can go with medium iron temperatures. The temperature can run between 110 to 150 degrees.
As always, make sure to iron on the other side of the fabric. You can also use a cotton cloth as a barrier between the iron and the fabric.
For these types of fabric, it would also be advisable to avoid steam.
The High-Temperature Fabrics
The types of fabrics that can withstand high temperatures are linen, cotton, and denim.
When ironing these fabrics, you can use temperatures of about 150 to 200 degrees. And if you want to, you can also use steam or spray when ironing.
These would be able to help you loosen the fibers. As such, it disperses the wrinkles effectively.
When ironing these garments, however, it is important not to iron them too much. Doing so would dry out the fabric and eventually destroy them.
No Need to Iron at All
Now, some do not need any ironing at all.
These fabrics are those with sequins and velvet.
Your iron should not be able to touch these fabrics at all.
What you can do is steam them with your iron. But make sure that the iron does not touch the garments at all.
If you are not so sure about steaming them, consider this other hack.
You can hang garments made of these fabrics in the shower. Run your hot shower on. This should be able to rid your garments of wrinkles.
If there is one downfall to this method, it is that your clothes can easily get wet. Also, this should take about 15 minutes or more before the wrinkles go.
But it's effective.
Why does denim get wrinkled?
There are a lot of reasons why denim (or clothes) get wrinkled. One of these is if it's too big. Extra fabrics level up the possibility of wrinkles. Other reasons why denim gets wrinkles are because it may not be 100% denim. Some may also need fabric softeners. Or it could also be because you wore it without making sure it is completely dry.
Actually, there are a lot more reasons why denim gets wrinkles.
And when denim gets these, it is undeniably unacceptable. You still have to iron them because nobody wants to wear wrinkled garments.
So, how do you avoid these wrinkles?
Here are a few things to remember.
100% Denim
Some pieces of clothing, especially jeans, may not be 100% denim.
The popularity of stretch jeans is one example of this. It uses denim as well as another elastic material.
Because of such, denim clothing made of these can stretch without breaking the fiber. The only downfall, however, is that it can wrinkle. It can wrinkle.
If you would prefer a wrinkle-free pair of jeans, go with 100% pure denim. They won't fail you.
Wait and Dry
Now, every after washing our jeans and denim garments, we tend to toss these into the dryer right away. This should not be the case.
Denim is thick. It collects a lot of water.
Also, it tends to bunch up. This is especially true around the ankles. And when this happens, you will see wrinkles.
Fortunately, you can do something to avoid this. Once done washing, make sure that the denim is nice and straight. This means you straighten up any bunched-up parts. This is something that you do before tossing the garment into the dryer.
Doing this will ensure that you get dried and wrinkle-free denim garments.
Softeners
Fabric softeners are just that – softeners.
They make your garments softer. They result in your clothes being more comfortable to wear.
Unknown to all; however, it is not just this that a softener can do.
Your fabric softener ensures that your denim garments remain free from wrinkles.
And so, the next time you wash your denim garments, you can use fabric softeners. Take them out of the washing machine. You would notice that your denim garments have fewer wrinkles.
One word of caution, though. Use these fabric softeners sparingly.
Using lots of them would lead to additives being absorbed by the denim. And these additives can have adverse effects on your denim garments in the long run.
Following Instructions
Whether it is a denim jacket or a pair of jeans, we all know these come with care instructions. And while we, most of the time, read them, we don't necessarily follow them all the time.
And this is worth mentioning.
Read the care directions. And make sure to follow them.
The care label instructions would be able to give you instructions. These instructions come from the manufacturers themselves. These would involve the level of care you give to these garments.
When you follow these instructions, you prolong the life of your denim garments. At the same time, you also make sure that you retain the quality of your denim. This also ensures you rid them of wrinkles.
No Dryer Overstaying
We know you're busy.
But when washing and drying your denim, you must remove them from the dryer right away.
Most of the dryers these days remove the wrinkles or at least a few of them.
When the fabric gets warm in the dryer, the wrinkles get eliminated.
But when you let the denim stay longer in the dryer, these wrinkles may tend to come back.
It is thus important to remove the denim from the dryer at the soonest possible time.
Once you are done drying, remove the denim. Hang them on a hanger. Or you can also fold them and get them inside your cabinet.
This is a great way to ensure your denim garments remain wrinkle-free.
Never Compromise on Quality
Denim garments that are of high quality may often be expensive. When you settle for low-quality denim garments, chances are they may wrinkle easily.
This is to make sure that you always choose those that will require less maintenance. What's more, is that this high-quality denim clothing will also last longer.
When you buy one or two pieces of denim clothing of high quality, you get to use them for a long time. Not only that, but it also saves you from ironing out the wrinkles. These high-quality denim clothes do not wrinkle that easily.
Compare it with denim clothing that is cheaper but of low-quality. You may be able to buy ten of them for a lower price. But chances are you will still be spending a lot of time ironing them.
Not only that, but these low-quality denim clothing may also have the chance to get damaged easily. Give it a year or two, and then you start throwing them away one by one.
The mantra has always been right. Quality is always better than quantity.