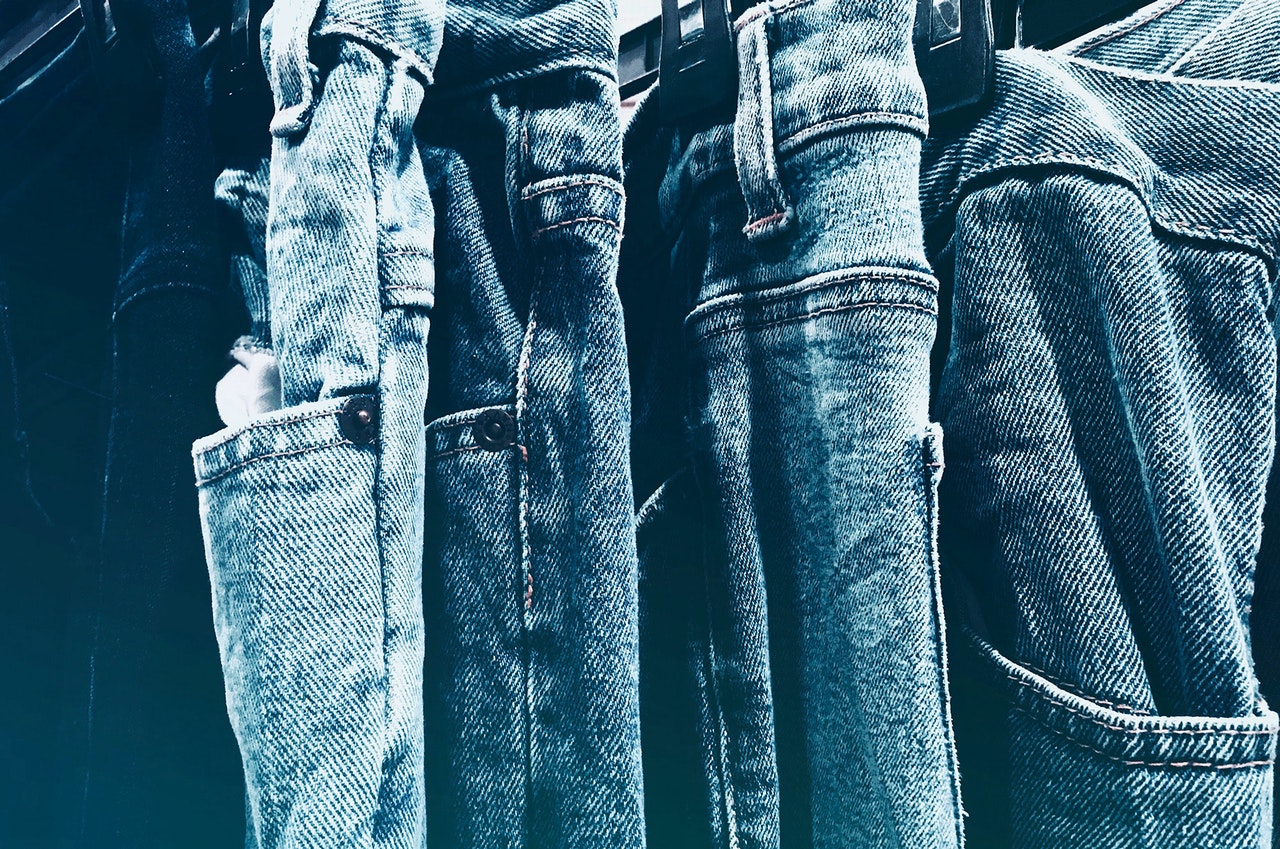 A pair of jeans will stretch over time. Most jeans will shrink only in length but never in their width. After the first wash, a pair of jeans will shrink for a bit. But this is the only time it does that. After that first wash, there is nothing more a pair of jeans can do but stretch.
If it is a question of whether a pair of jeans stretch or shrink, it is always the former.
But this would have to depend on the fabric.
A pair of jeans made of the denim will stretch after about a couple of days to three days of wearing. But this is something limited to pure denim.
Jeans made of synthetic material do not stretch. Instead, they tend to fit the wearer right away.
But why does it do that?
Here, we talk about that.
It is a Matter of Time
If what you have is pure denim, you may find that it is a bit tight at first. You may even have doubts if what you got is your exact size.
But over time, it will stretch.
How long, though?
Usually, it takes wearing of the jeans for about a week and a wash. This means that the usual time it stretches is once it's finally washed after a week of wearing it.
The moment you buy your jeans and wear them, they will stretch after about two to three days of wear. But the stretching will stop right there; until your first wash.
Wearing it for a week and washing it after will make it stretch some more.
This is Why it Shrinks.
You always get a pair of jeans, only to have it shrink in the laundry.
The way to avoid that is simple.
When washing your jeans, make sure to wash them in a delicate mode. Use cool water as well.
And when drying, make sure to hang dry them.
Washing denim in hot water will result in the fibers constricting. This is a natural reaction of pure denim to extreme heat.
Aside from the constricting fibers, the heat will eventually damage them as well. Washing your pair of jeans in delicate mode and cool water will extend its lifespan.
In summary, jeans will always stretch over time. But it will always shrink on the first wash. How you wash it and how you care for it will determine how much shrinking will happen. Aside from that, it will also be the basis of how long the jeans will last with you.
This is Why they stretch.
The reason why it stretches is simple. It is only because you wear them.
There is no other explanation other than that which can explain why pairs of jeans stretch. It's the fact that you wear it that it becomes stretched.
This is unlike the explanation for why it shrinks. Shrinking, as you already know, is because of the heat.
When your pair of jeans is of 100% pure cotton, they will stretch over time. Now, this may be bad news for some. It may be good news for the others.
What type of jeans would stretch the most?
There are different types of jeans. While there was only an option for pure cotton in the past, this is not the case these days. A pair of jeans we call the cotton stretch provides the most stretch. This fabric is a mix of denim and elastane. It may also feel like cotton, but it is actually not. It provides more stretch compared to cotton.
And when it comes to materials and their stretch capacity, read on below.
Cotton. This type of jeans is the most common. This is also the most timeless of them all. But when it comes to jeans that are 100% cotton, there is a concern. And that concern is that they can be too rigid and tight. If you are looking for a pair that will stretch the most, this is not your best bet.

Jeans made of cotton will be stiff and rigid when you buy them. They will remain the same after you wash them. And once you start wearing them for a few days, these jeans will hug your body according to their shape.
Cotton Stretch. This is the other option in the market. The cotton stretch style will stretch right after you wear them. These types of jeans are of denim and elastane mix.

These materials may feel like cotton. But they are not. The way it stretches will bring with it enough rigid feel. When you are looking for a pair of jeans with the right amount of stretch, this is your best option.
Should jeans be tight the moment you buy them?
One thing that you have to remember is that your pair of jeans should fit the waist. There should be no need for a belt. The jeans should fit right, close to your body but never be skin tight. If you have to wear a belt, this pair of jeans is not the right fit. It may be a bigger size. If you cannot button the jeans up, this means the pair of jeans is too tight.
If there is one fact we all should accept, it is that ill-fitting pairs of jeans make you look sloppy and bad.
You see, when it comes to personal styles, you only have to remember one important factor. And that is that your clothes should always have a perfect fit.
Here, we talk about how your pair of jeans should fit.
The Issue of Choosing to Be Big
Let's admit it.
Most of us, especially the guys, are actually afraid of wearing clothes that are way too tight. And we can't blame you.
Clothes that are too tight may not be comfortable. But the other option is always to wear something that perfectly fits.
The common mistake is that we tend to wear something too large in an effort to avoid tight clothes.
And this is a bad choice.
Going with jeans that are actually way too big will make your legs look bigger. They will look fatter than they actually are.
And when it comes to personal styles, this is never a good thing.
This brings us to discuss more of the perfect fit.
The Perfect Fit
For most individuals, wearing clothes that perfectly fit may not be common. This is because we are so used to wearing something bigger.
If there is one thing that we need to destroy, it is the idea that the larger sizes provide more comfort.
Remember that when your clothes fit you right, they will actually be more comfortable. They will become more functional than clothes that are way too big and clothes that are way too small.
These clothes that perfectly fit allow you to move easily.
Consider a pair of jeans.
When you have something bigger than your size, you may call it roomy. You may even consider it to be comfortable. But how well can you move in them without tripping on that extra fabric?
When the pair of jeans is too tight, it also comes with a few risks.
What you should look for is the perfect fit.
And here are a few things to remember:
– You don't need a belt to hold it. If you need a belt to hold up the jeans, it's bigger than your size. And this is not just with jeans; this is something you can apply to all types of pants.
– You should never be able to trace the outline of your butt. The same is true when it comes to the shape of your leg. If you can do this, the pair of jeans are way too tight.
The Fit
As previously mentioned, your pair of jeans should fit you without the need for a belt. It should always be close to your body. But be careful with this part. If it is skin-tight, that's a smaller size you have.
The jeans should not be too tight. You should never be able to trace the outline of your leg.
It should also not be too baggy enough to make your legs look too wide.
The fit should just be right.
The Waist
No need for belts – this is something you need to remember.
If you also cannot button it up, this only means one thing. And that is that the pair of jeans are way too tight.
When you can button it up and walk in belt-less without falling, the fit is perfect.
The Butt
The pair of jeans should hug your butt slightly. It should never be constricting.
Try to squat. Does it feel like your jeans will rip? If it does, then it's way too tight.
Test if you can squeeze a handful of fabric from the butt area. If you can, the pair of jeans is too big.
The Thigh
This is way too tricky.
But this is something you can confirm with a bit of a test.
This is what we call the pinch test.
Try standing relaxed with your jeans on. Pinch the fabric around your thigh. If you can pinch about half an inch to about an inch of fabric, the fit is just right.
If you can pinch less than half an inch, the pair of jeans are way too tight. If you can pinch more than an inch of fabric, it's a bigger size.
You can also pinch around your calves. The same rules would apply as that of the thigh.
The Length
When choosing the perfect pair of jeans, one should look for one that provides a break.
Most would prefer actually straight jeans. These do not bring with them breaks. And when one wears these types of jeans, they may look a bit sloppy.
When it comes to length, you need to choose that which provides an extra length of about ¼ of an inch. You can go to an extra of about an inch, but never more than that.
Anything more than an inch would look bad.
Looking for the Perfect Cut
When it comes to measurements, all those rules we discussed apply. These rules apply whether you are a 5 feet 4 inches-guy or a 6-footer.
But aside from the perfect fit, you also need to find out the perfect cut.
With this, you have to buy the one that fits your body type.
Otherwise, you would look sloppy, or worse, ridiculous.
Here are a few things you need to know.
Skinny Fit
If you have skinny calves and skinny legs, this should be the perfect cut for you.
Tapered
When you have a bit of thigh muscle, this is an option. This is especially perfect if you also have a few butt muscles.
If you have those but have smaller calves, go with this cut.
Straight Cut
This cut is actually perfect for those with a bit of leg muscle.
If you are the type with a bit of extra muscle and size in your butt, thigh, and calf area, this is perfect for you.
Athletic
This type of cut is actually new in the market.
Actually, this cut is similar to a tapered cut. But it provides more room in the butt and thigh parts.
This is, of course, great for those that have strong and muscled legs.
The Boot Cut
Do you wear boots?
This should be perfect for you.
These types of jeans are those that have extra room below the knee or calf area. The extra room should be for those pairs of cowboy boots.
Getting that Perfect Pair of Jeans
You have to remember that with these points discussed, you would already be guided.
But always keep in mind that each brand may have its own defined sizes. Levi's, for example, goes with regular straight and original straight cuts.
Know that when choosing the perfect pair of jeans, you can start by using sizing and labels.
Another tip is always to get three sizes. You bring with you something your size, one size larger, and one size smaller. This should save you time from going in and out of the fitting room.
If you are ordering online, read the return policy first. Otherwise, you would end up buying all three sizes. This is why we do not recommend doing this when shopping online.