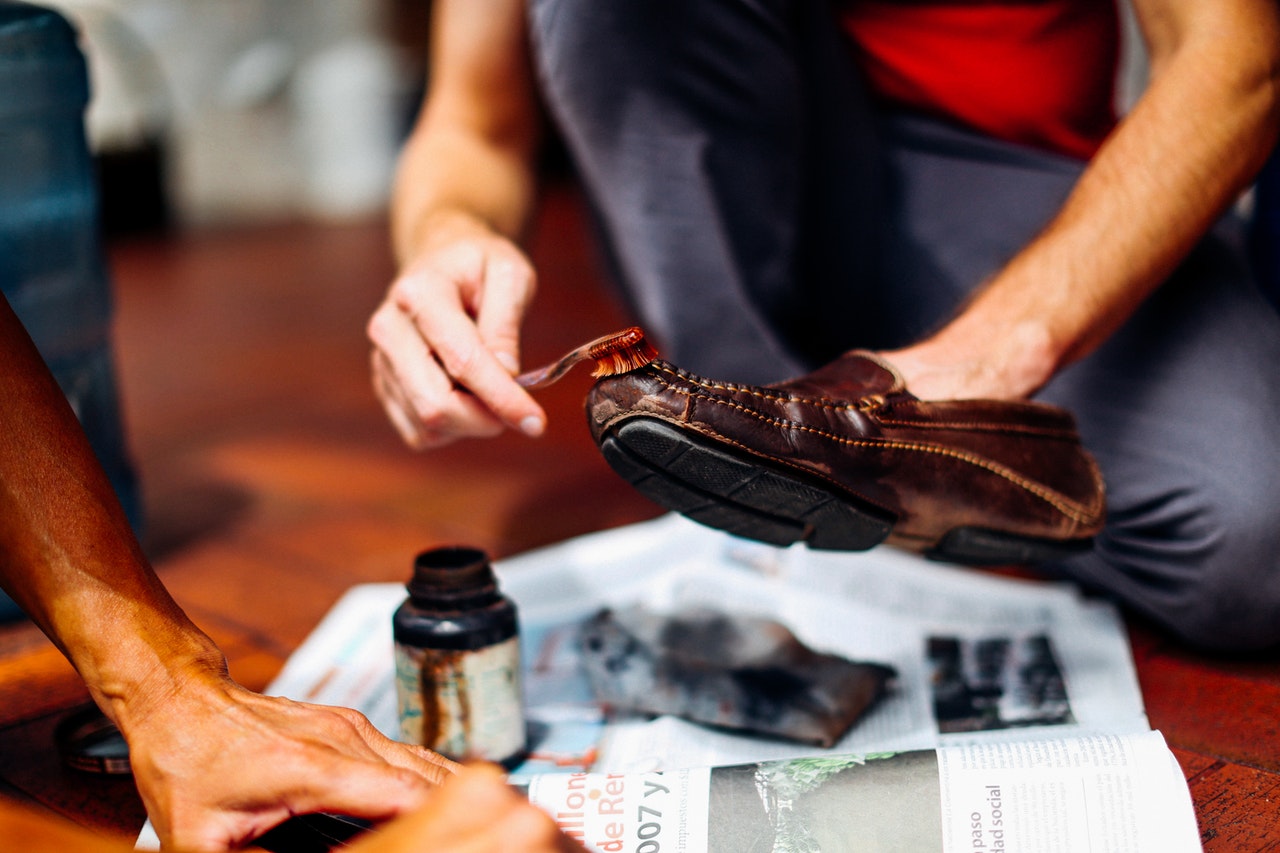 When it comes to reliable shoe cleaners, there are a few we can recommend. Jason Markk Essential Kit is first. Alloda also has a shoe cleaner worthy of your bucks. Plus, there is also Saphir Medaille d'Or Renovator. You would love these brands, for sure.
With thousands of options in the market, finding a reliable shoe cleaner can be daunting.
It would always be hard to set our sights on the one that does the job.
What makes it confusing is that everybody says they have the best shoe cleaner in the market.
Who would you believe?
Here, we tell you more about these shoe cleaners. We will help you sort these brands out and give you those we have tried and tested.
On this list, we have common and not-so-common ones.
And we are highlighting five (5) of them that do great when cleaning leather.
Aside from that, we also include a bit of a guide on cleaning your leather shoes.
Read on to find out the best leather shoe cleaners in the market today.
Jason Markk Essential Kit
It does not matter what shoes you have. It also does not matter what kind of stain your shoes have.
But when it comes to cleaning leather shoes, Jason Markk is here to save the day.
The brand has a premium shoe cleaner.
It works on all types of materials. It can be your sneakers, or it can be your leather shoes. No matter the type of shoe, this will work just fine.
Some of the materials this brand can work with are leather, suede, and canvas. It also works great with nylon, cotton, and mesh.
What keeps this above the others is its ingredients.
The brand uses natural and biodegradable ingredients. As such, you are actually assured your hands and shoes are safe.
The brand is environmentally friendly as well.
Most brands also come with a smell. This brand does not.
Once used on your leather shoes, the only smell you get is subtle and clean.
The brand is effective. It can easily clean your leather shoes. And what is more amazing is that one bottle (4 ounces) can clean as much as 100 leather shoes.
That is a feat to beat!
Finally, for every purchase, you also get a hog hairbrush. This should be gentle on your shoes and should provide you with the advantage. This should be advantageous when working with leather shoes.
Overall, you get to have a great product at an affordable price with Jason Markk.
Alloda Shoe Cleaner
Most users would usually associate this with white sneakers. Never does anyone know that this is one of the most versatile brands around.
Like our previous entry, this is also made of non-toxic ingredients.
And aside from leather, this also works well with canvas, sneakers, and mesh. It works great with nylon, rubber, and even suede as well.
The cleaner is of high quality. The kit has a cleaning serum and a polish. Plus, it also comes with a microfiber towel and a cleaning brush. The brush is something you can use for non-leather shoes.
With one purchase, you can easily clean anywhere from 25 to 35 pairs of leather shoes.
If you are using this for your sneakers, know that the kit also comes with a shoe whitener. The shoe whitener is not for leather.
Finally, using this is easy as well.
All one has to do is to press the sponge to the leather shoes. Make sure to apply evenly. And finally, remove the excess foam using the microfiber towel the kit comes with.
Saphir Medaille d'Or Renovator
This cleaner not only cleans. The brand also makes sure to condition your leather shoes.
This brand brings with it a horde of essential nutrients, oils, and waxes. All these are great at restoring leather. It can bring the leather back to its old luster and shine.
The cleaner comes in cream form.
And with one jar, one can clean, condition, and remove loose pigments in leather shoes. It can also smooth and polish your leather shoes to bring your leather shoes back to life.
Wipe the cream on your leather shoes with a cloth.
However, the downside of this is that it can be a little bit more expensive than the others. But with its level of performance, we know you wouldn't mind.
Sneaker LAB Shoe Wipes
The name may include the word "sneaker," but this is something you can use with leather as well.
Its innovative packaging makes this one of the most convenient options around.
It can take care of the stains on your leather shoes in an instant. It cleans, and it conditions leather shoes.
And just like our other choices, this is also versatile. One can easily use materials other than leather.
It is water-based and can hydrate your shoes. Not only that, but it also serves as protection against water and dirt.
The wipes are biodegradable. They are soap-free. Plus, no harsh chemical was actually used in the making of these wipes.
These wipes are travel-friendly and easy to carry everywhere.
A package comes with 12 wipes. Each one of these wipes gets its individual wrappings as well.
And finally, they're affordable.
Liquiproof LABS
Just like our other options, Liquiproof LABS only uses the most natural ingredients.
This ensures the cleaner does not harm the environment.
Like all of our other choices, this is also versatile.
You can use this not just on leather but on nubuck, suede, and sheepskin too. You can also use this on canvas and even on fabric.
Can you use toothpaste to clean leather shoes?
What you are reading is true. Toothpaste is something you can use to clean leather shoes. A little squeeze of the toothpaste on a soft cloth is all you need. A gentle rub on your leather shoes and a brush will finish the process. It cleans just as well as the others do.
Nothing looks better than a clean pair of leather shoes.
They immediately amplify your style and improve your look right away.
But just like anything else, there are always disadvantages. And that is the maintenance of these shoes.
We are not saying it can be high maintenance. But if you choose to, it can be high maintenance.
As you can see, a few times of wearing your leather shoes and you would notice things.
It can wrinkle. Your shoes can fade. The leather can get scuff marks.
And if you live in wet or wintry areas, you know it would be much harder for you.
But you see, not all maintenance can be hard.
In fact, there are even simple things at home that can be very helpful.
And the fun part is that you just see them lying around every day.
There is no need for some expensive cream. No need for some super soft towel either.
But before anything else, let's emphasize this.
This ingredient is harmless. But let's be very clear. If you don't want to risk a very expensive pair of shoes, try calling the store where you got them. They may be able to clarify a few things before you squeeze out that toothpaste.
This should put your apprehensions at rest.
And now, without further ado, here are a few simple steps. Once done, this should clean your leather shoes at home.
The Steps
We are all familiar with how toothpaste doubles up as a cleaning agent.
This is quite too common of a hack at home.
A little bit of a squeeze of toothpaste on a soft cloth can do the trick. Spread it on your shoes.
After this, rub your leather shoes with a shoe cleaning brush. You can use soft cloth as well.
Can I clean my leather shoes with soap and water?
Mild hand (or dish) soap and water can clean your leather. Try mixing a squirt or two of soap in warm water. Mix this together. This should clean some light dirt and dust from your shoe. Do not rinse. Use a damp cloth to take away extra soap. Then dry.
Leather garments, including shoes, need all your focus, care, and attention.
They look great all the time. But when cleaning them up, later on, they can be sensitive.
Harsh chemicals and cleaners can damage or even just discolor your leather shoes. Suffice to say; you cannot just pick the cleaner near you. You have to be careful when you choose.
Aside from toothpaste, there are also items at home that can help you clean your leather shoes. These items are those you can use to clean the shoes as a whole. You can also use them to spot clean specific parts of the shoe.
Not Just in the Kitchen
Some of the most common staples we find in our kitchens are bottles of olive oil and vinegar.
Now, they may work great in cooking. But in cleaning your leather shoes, these kitchen items can work well, too!
All you have to do is dab a vinegar-dipped cloth onto the soiled area. Once you can remove the dirt or the stain, all you need to do is to wait for it to dry.
Once dried, you can now dip a soft cloth in olive oil. Dab the olive oil-dipped soft cloth into the area you cleaned earlier.
This should help retain the material. It would keep your leather supple.
Another option that you can do is also to mix equal portions of olive oil and vinegar.
Whisk them in a bowl. You have to ensure that you can blend these two together.
What you need to do next is to grab a piece of plain paper towel. You can also use soft cloth.
Dab the paper towel (or soft cloth) into the mixture. Once done, you can now rub it on the leather shoes.
When you are already done wiping both shoes, you can wipe them with a fresh paper towel. As always, if you don't have a paper towel, you can always use a soft cloth to wipe the mixture off.
This should remove the excess oil from your shoes.
Soap and Water
As you already know, one option that you can take is cleaning your leather shoes with soap and water. It's that simple!
Mix a squirt or two of mild soap in warm water.
Make sure that you mix this together. As always, this should get rid of the usual dirt and dust on your shoes.
Before wiping your shoes with the soap and water mixture, make sure to wipe away all the dust from your shoes.
Before wiping the shoe with the cloth, make sure to wring out excess water. Once done wiping off the dirt, dip a soft cloth into the mixture. The cloth should only be damp, not overly wet.
Wipe the leather shoes.
Once the dirt, stains, and dust are gone, wipe the shoes with another soft cloth. This should rid you of any suds or soap and water mixture that remains.
Busting Stains
This may be a strong solution to your stains. But once you can master the use of alcohol, this is also one of the most effective methods around.
Spray a little bit of rubbing alcohol on a white cloth. Make sure not to get the cloth overly wet. It should only be damp enough to remove mildew stains from your shoes.
Also, rubbing alcohol is effective at taking ink stains from shoes.
Imagine yourself at work. A bottle of ink fell from the table and may have blotted your shoes with tiny ink dots.
Rubbing alcohol on a cotton ball can remove ink stains.
One word of caution, however.
Make sure that you do not rub alcohol on ink stains. If you do, the ink stains will spread.
Just make sure to dab on it until you can remove the ink from your leather shoes.
Another reminder is the compatibility of alcohol. Make sure to test the cotton ball on a not-so-discreet area of the shoe. This way, you ensure that the rubbing alcohol is compatible with the type of leather you are wearing.
Cold Clean
This is something you can do when you step on chewing gum, or for some reason, there is candle wax on your shoes.
All you need are ice cubes.
Put them inside a sandwich bag. Let the bag rest on the area with the gum. Do this for a few minutes.
This should be able to soften up the gum. It should be soft enough for you to pry it out of your shoes.
Do this until you are able to get rid of all the gum (or wax) from your shoes.