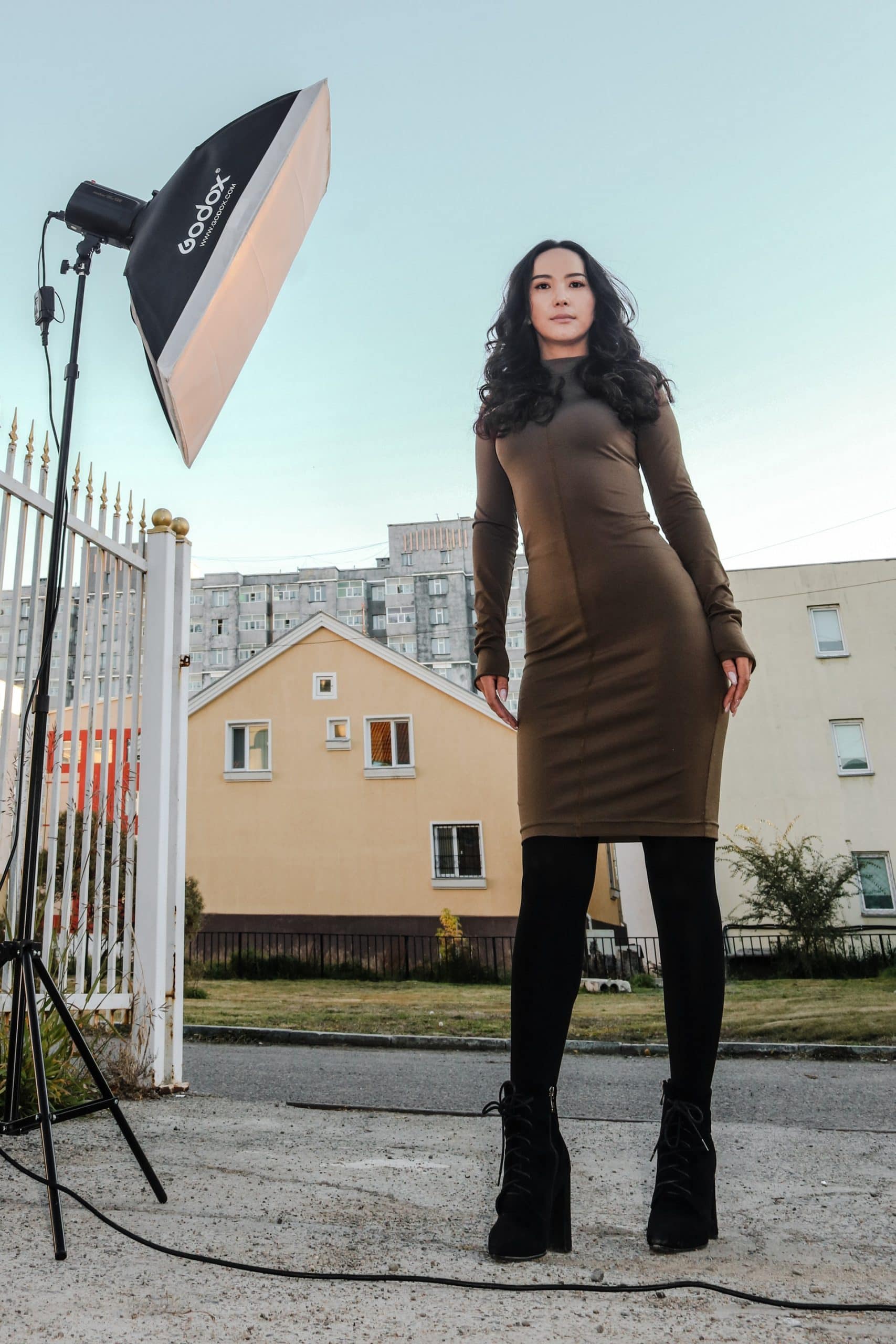 Full-length dresses have never gone out of style. We see them on the red carpets, on the runway, and the average women at the park or the grocery store.
Have you ever wondered why? These pieces are timeless for a reason. To get a clearer picture, we take a look back to those women we see in old renaissance paintings. Nothing quite says a "goddess" than a soft, flowy dress.
Dress designs have the goal of allowing women to feel feminine. Some styles are for comfort; others intend to make women well-packaged. It can also enhance your natural curves, proportion, and even height.
A full-length dress does all that. These dresses flatter women to the fullest. It makes you look taller. It also allows for the most movement to feel comfortable.
What dresses make you look taller?
For girls who look for an added emphasis for their height, some dresses work to their advantage.
Maxi dress. This type of dress emphasizes the chest and shoulders. It gives you the illusion of a heightened body type and length, covered legs. This dress allows that effortless, comfortable vibe.
Grecian-cut dresses. Similar in effect to the maxi dress, this type of dress gives you a flowy, "goddess-like" silhouette.
Vertical striped dress. Stripes can be flattering to your height. A vertical striped dress allows for a fluid look on your body. It tricks the eye into making the wearer look slim and tall.
Light-colored dresses. Specific colors work well for your height. Beige, cream, or light brown works well to make the person appear leaner and taller. They also make you look fresh.
Micro-printed dresses. Dresses with small prints also flatter your figure. They feature rather than steal the attention from the wearer. This type of dress not only adds up to your height, but it also makes you look dainty, sweet, and cute.
What should a short woman wear to look taller?
For short women who want to add a bit of height, a good pair of heels work best. Pair heels with a long maxi dress for that winning combination.
Other styles that add height are:
Black clothes. Wearing black is one of the easiest ways to look tall in an instant. Black articles of clothing are very slimming. It covers unnecessary bulges giving you a fluid look.
Column dressing. This style creates the illusion of a tall appearance. The best color to use for a column dressing is black. Pair a black shirt and black pants together. Layer with a blazer or any outerwear will make the wearer look tall and slim in an instant.
Slim pants. Wearing slim pants emphasizes a person's legs. When you highlight your leg in an outfit, it creates a tall silhouette in an instant.
Flared jeans. Flared jeans are another pair of pants that can help make your legs look longer. A nice pair of flared jeans and a sensible pair of heels go a long way.
V-neck. Shirts with v-necks highlight your neck. This type of neckline appears sexier and more stylish than a round neck shirt. The more the neck is visible, the taller you will look.
High waist. A high waist creates a longer torso. This may be a pair of pants or even a skirt. High-waisted clothes make a person look put together and tall.
Slim belts. Wearing a slim belt is an example of wearing accessories that help enhance a person's height. Slim belts highlight a person's waist. This creates an illusion of a long torso.
Ankle-length boots. These types of boots show more skin. This allows for a longer look of your legs which makes you look tall in an instant. One thing to avoid, go for lighter colored boots instead of black. It makes a huge difference in your height. Trust me.
What should you not wear if you're short?
Big prints. Big prints overwhelm a short person's tiny frame. They steal the attention away from your look and instead have the focus on the prints. Instead of making the person look taller, this would make the person appear even shorter.
Baggy clothes. Oversized silhouettes pull down your frame. Baggy clothes also make a person appear even shorter.
Shirtdress. Shirt dresses do not work well with a short person. Instead of elongating the torso, they tend to make a petite person look shorter.
Big belts. Big belts overwhelm your petite frame. Avoid using this accessory because this will make the torso look short.
Big necklaces. Big necklaces are not a flattering accessory for a small, short frame. Instead, wear accessories that are not proportionate to your frame. Examples are are watches, glasses, and minimal jewelry.
Black shoes. This color for shoes brings the attention of the onlooker straight down to your feet. Instead of choosing black shoes, opt for neutral colored shoes or skin tones. They elongate and flatter the legs.
What hair length makes you look taller?
Your hair length also helps a person look taller. Picking the right hair length and hairstyle works wonders for your appearance.
While it is hard to generalize, both long hair and short hair can make a person look tall. It all comes down to how the person carries her hair.
Some of the hairstyles that work best for this purpose are:
Long hair. A long wavy hair adds volume to your height. What you want to avoid is the pin-straight long hair that tends to weigh down your look.
Face framing layers. This hairstyle usually works to stress the neck. When this part is visible, it creates a slimming effect on the woman.
Deep side part. This trick works for long and short hair. An important point to take note of this style is that it exposes more skin on the forehead, neck, and shoulder area. These areas create a slimming effect that makes the person look taller.
Updo with face-framing pieces. When the hair is up, emphasis on the neck and shoulder allows for more exposure of the neck and shoulder.
Tall updo. This hairstyle gives you an added height because of the layer on top of your head. Also, the attention of the onlooker will start from your head down with the emphasis on your hair.
Soft waves. Soft waves add volume to your hair. It creates a carefree, flowy vibe with voluminous, taller hair silhouette.
Highlights. Strategic highlights create volume and add texture to your hair. Highlights have a way of framing and slimming your face.
Does short hair make you look shorter?
It may sound counterintuitive but short hair makes a person look taller. Why is this so?
Along with other hairstyles that flatter your height is the short hair. Short hair allows exposure for your neck. When the neck is visible this creates an illusion that a woman is taller than what's real. It has to do with the proportion of the neck to the body of the woman. Of course, when compared to the body, the neck will appear to be slimmer. This image then allows the person to look taller.
Asymmetrical bob and pixie cut work wonders to give women a taller silhouette.
What height is considered short for a girl?
While many women will argue with me, we are the vulnerable species for a reason. We are vulnerable because this balances with our child-bearing capability. The primitive women had to stay home to care for the little ones. Shorter women are thus common and expected.
The average height for a woman would depend on a woman's race. For example, Asian women are generally shorter than Caucasian women. The average height for Asian women falls between 5″ to 5″2′. Below 5″ would be considered short.
For Caucasians, the average height is at 5″8′ to 5″9′. Caucasian Girls with 5″6′ height are considered short.
What height do guys find attractive?
I'd like to believe that everyone is attractive. Yet, I have to admit that guys often have preferences on how they find girls attractive.
Height is one of them.
I've talked to guys who prefer short girls. I've also talked to guys who think they should go out with tall ladies. So, what then is the height that guys find attractive?
Let's go back to the basics. How do guys get attracted to girls in the first place? Of course, its human nature. I also believe that this preference comes from the primitive instinct of men. It's that instinct that they want to protect their women. Men like to feel powerful and capable. They like to think they can provide and keep women safe.
Because of all that, there is no specific height that men generally find women attractive. What men find attractive is when they are at least taller than the girl.
This theory explains then that if a guy is tall, he will pick a tall woman. But, he will remain taller than that girl. If a guy is short, he will also find a shorter girl. It all goes back to his caveman instinct of him being the protector and his woman under his care. Of course, the chemistry between should be the one that matters the most.
How can I look 2 inches taller?
While we can't change our DNA, there are ways on how we can work around our height issues and be more confident. Below are tips worth trying:
Dress slim. It's kind of hard to do this right now with the ongoing trend of comfort styles, but this tip works wonders. Dressing slim allows for a more streamlined silhouette. This type of dressing results in a leaner, more leggy look.
Dressing slim means picking clothes that stress the body's natural length. "Slim" jeans, fitted jackets work best for this scenario. This means no baggy items of clothing. A lean, athletic look should be the ultimate goal.
Correct your posture. Posture gives out our confidence more than we know. It is worth emphasizing how important this is if you intend to look taller than your actual height.
A correct posture should be one that exudes confidence. Chin up, shoulders back, stomach in is the standard rule for a good posture. This standard applies up to this day.
Wear shoes with slight heels. If you want to look taller, a nice heeled pair of shoes will not hurt. Make it a point to look for shoes with a little curve to the heel. Avoid shoes with flat heels.
Many brands offer this kind of shoe style. Athletic brands these days have that thicker, lighter pad on the heels. Go for it. When going out, choose dressy shoe styles. These types of shoes always have a natural heel on them.
Height boosting insoles. Why not? These are quite popular these days. Not only does it give added height, but this also protects your heels. You can find these life-savers at your local shoe store or online.
Start working out. Working out is the best option to help a person's height. This discipline of working out brings a lasting effect on the person's confidence.
Working out helps a person's posture. It gives a person much-needed confidence. Working out creates an aura of self-assuredness. This results in a commanding presence when you walk into a room.
How can short people look taller?
In general, your consideration should be on how to be the best version of yourself. It isn't so much about your height but more on your attitude for life. It is not so much on what's on the outside; it's more on what you have on the inside.
A person's inner confidence is the most attractive asset a person can possess. Work on boosting your inner confidence.
Tall or short, these heights will have their advantages and disadvantages. What is important is that you accept yourself for who you are. Walk with pride knowing who you are. You were born out of love and for a purpose. Own your height. It's not so bad.