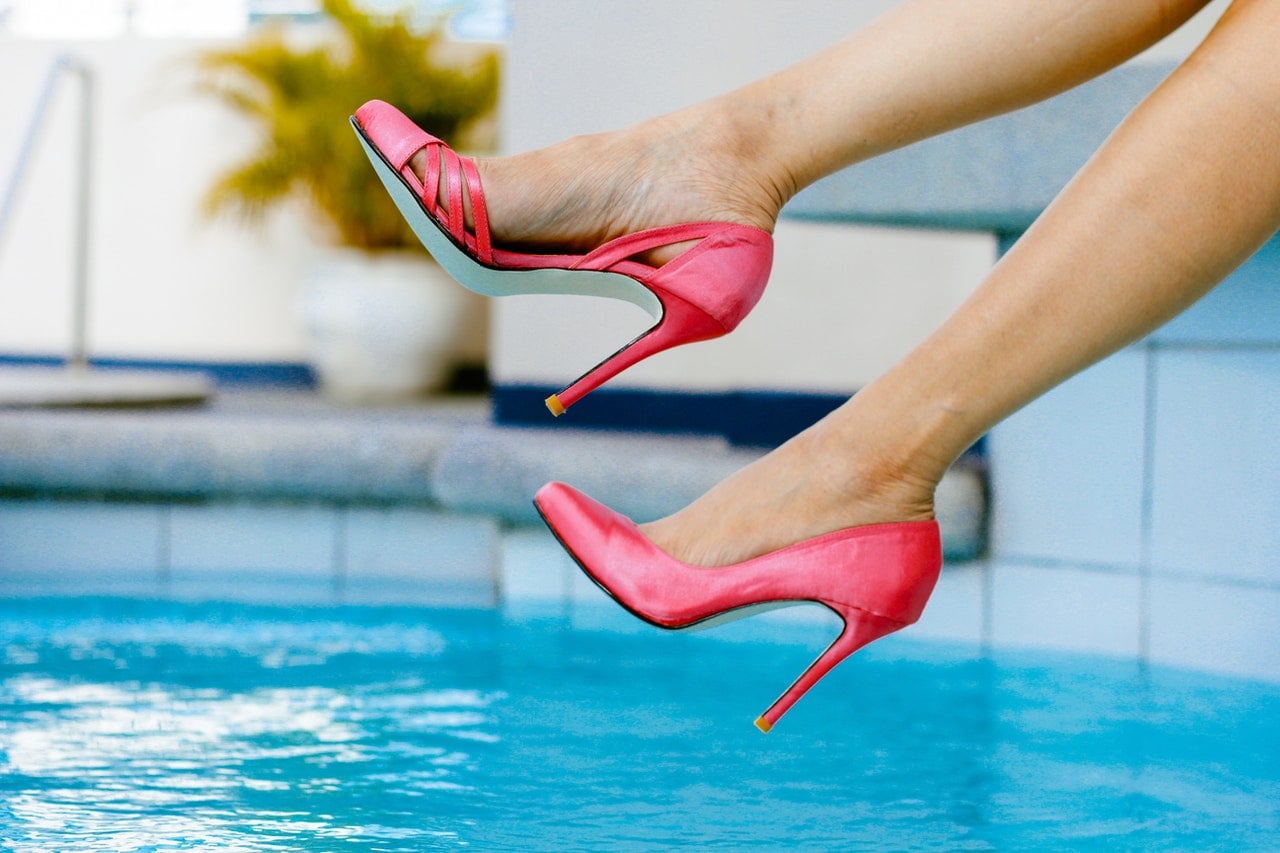 There are many ways by which to stop your heels from wearing down. You can invest in high-quality sole protectors, rubber taps, or even rotate your shoes. Well, this is aside from taking good care of your shoes, of course.
Most of the time, we tend to wear out our heels. And this leads to us buying a new one. The question always remains. How would you be able to stop your heels from wearing down that fast?
There are a few ways by which you can preserve your heels and lengthen their lifespan.
It is normal for shoe heels to wear down. Eventually, all heels will be worn down. Our goal here is to make sure that we lengthen its lifespan.
Because again, when you wear down your heels every other month, you should be alarmed!
Heels should never be worn down in a span of one or two months. While friction results in your heels' natural wear and tear, this should be a gradual process. This should not be as fast as one or two months. The rate by which heels should be worn down should last for a few more months.
It is thus important for you to understand a few things. First of all, you have to invest in quality shoes. We don't really mean to say you get the most expensive of the lot. Instead, here are a few things you need to look out for:
First off, you need to have a small amount of torque. For you to know whether your shoes have this or not, hold both ends in your hand. Slightly twist. If they can twist or bend easily, this means that the shoes are of good quality. The heels should work fine for many months.
Also, check if your shoes would easily bend around the toes. When you use your shoes for walking or running, your toes need enough space to bend. This is also true for when you need to relax your toes. The importance of this part is because it allows for enough mobility. It also provides for blood circulated for all parts of your feet. As such, you need a pair of shoes that display flexibility at the toes. It should be enough to bend when warranted easily.
Another thing that you would have to look for is a stiff back or heel. As you already know, the shoe should have enough torque. But the back of the heel should never shift from side to side. Be aware of that.
Your pair of shoes should be able to provide you with enough arch support. This should allow for a firm fit every time you put the shoes on. Actually, the good thing about this is that you can always add extra arch support. You can do this whenever you get a high-quality pair of shoes.
Naturally, you would need a pair of shoes that are comfortable to wear. It does not really matter whether it is expensive or not. The important thing is that it's comfortable. Because if it's not, stop wearing them. Your pair of shoes should be comfortable even after hours of wearing them.
Your toes should also have enough space. This part of your footwear should have enough width and length. If your toes are wider than most, you should never be squeezing them into your shoes. When determining the size of your shoes, use your toes. The entrance should be wide enough for you to slip your toes in easily.
And now that we already have that settled, we can proceed with the other things you need to know.
Read on to find out.
The Ways to Stop Your Heels from Wearing Down Quickly
One of the major problems we have encountered is heels that quickly wear down. And not only that, but the wearing down is uneven. This is a problem once it starts happening.
Your shoes will lose their luster. Your shoes will lose their shape. In fact, you would never even want to wear it again.
If you want to avoid this from happening to you, take note of the following:
The Right Walking Technique
When you walk, your step has two phases. One is the stance. The other is the swing.
The stance is when the leading foot makes heel contact with the pavement. After this, the heel-to-toe progression of the weight-bearing foot follows.
The other phase is the swing. This starts with the rapid hip, knee, and ankle flexion. It allows for your foot movement from the ground.
This needs a certain amount of body balance for you to sustain the swing.
We know walking is an act that the brain processes by instinct. In fact, who would ever consider how the brain dictates how we walk? We know we never even gave it a thought.
But what you can do is to stand upright whenever you are walking. This should help you minimize the pressure on one side of your shoes. The more pressure there is, the more wear the heels get.
When you maintain this type of posture while walking, you take care of your heels. You make your heels last long.
Not only that, but it also rids you of health problems.
Some of these health problems include back pains, higher risks of strokes, and a lot more.
Here's a tip.
When walking, keep your shoulders pulled back. But make sure to relax.
This would ensure that the weight is evenly distributed all over your body while you are walking.
Another tip is to make sure that you use all your muscle groups in your legs while walking. Make sure that you maintain even steps.
In the beginning, it would be hard to consciously walk while ensuring you make use of your muscle groups. But eventually, you will get used to it.
When you have already gotten used to this walking technique, you can now proceed to the next step.
High-Quality Sole Protectors
This is something that should be easy. And this should be able to help you extend the longevity of your heels.
Sole protectors are actually made for such a reason – to protect your soles.
You can easily cut them to make sure they fit the shape of your heels.
And the great thing about sole protectors is that you can easily fix them. They do not really require the expertise of shoe repairers.
Shoe protectors also wear out after a certain period. This would, of course, require you to change it again.
Rubber Taps
This is a job for most shoe repairers.
They can actually assist you in protecting your heels. One of the things they can do is to put rubber taps on your heels.
The rubber taps would be able to cover the surface of your shoes. The cover would make sure that they do not wear down easily.
When choosing rubber taps, always go with those that are of good quality. This would ensure that they last for a long time.
Rotate
Another thing to do in order to preserve your heels is to rotate your shoes.
We know we all have our favorite shoes. But always make sure to have an extra pair or two. Do not ever wear your favorite shoes for two to three days in a row.
This should ensure your shoes do not age that fast.
Can too much arch support hurt your feet?
When you place the arch support on the wrong part, this should bruise the muscles of that part of your foot. It could also cause blisters as well as calluses. And when the shoes are not the right size, you could trip.
Aside from wrongly-placed arch support, here are a few more things that could hurt your feet. Much worse, it can also hurt you.
Barefoot
We know you like the freedom of walking without your shoes on. And yes, going barefoot can occasionally let your feet breathe and stretch.
But do it all the time, and it can be bad.
Without the right arch support, your arches will flatten. This should cause flat feet, eventually leading to injury.
Flip Flops
These may be an ideal feeling of being free while still wearing something to protect your feet. But in actuality, they're not.
Flip flops do not offer your feet any arch support. And in the long run, this isn't good.
No cushion serves as a support to preserve your heel fat pad.
In the long run, this would flatten if without support. Also, your heel bone would start to grind into the tissue. This would cause you pain.
Exercise… or the Lack of It
Gaining weight is one of the worst possibilities that could result in harm to your feet.
When you gain an extra amount of weight, this will contribute to the flattened arches. When you get up, these can help you in more ways than one when you get busy.
Not only will exercise be good for your overall health. In the long run, it would also be good for your feet.
Smoking
When you smoke, you block the arteries. This would, in turn, cause bad circulation. Eventually, bad circulation can lead to painful nerve damages.
And when this happens, your feet would be the first to feel the effects.
When you quit smoking, you would improve your heart health. When this happens, you reduce the risks of lung cancer. What's more, is that you also improve your circulation.
When you have improved circulation, this means you are in good health, from head to foot.
The Narrow Shoes
We said this before – shoes that are too narrow are a big NO.
This could cause injuries. Aside from that, this could also lead to deformations. Some such examples are Morton's Neuroma and Hammertoe. Bunions are also great possibilities when you have narrow shoes.
And let us tell you. These are all painful.
We know you don't want that.
Too Wide Shoes
This is a much common mistake – people wearing shoes that are too wide.
When you think about it, this goes back to our childhoods. Most parents during our time would always get shoes that are too big. They have this idea that you will eventually grow into these shoes, anyway.
But hey, you're no longer a kid.
As an adult, the requirement is different. When you are an adult, you have to get shoes that perfectly fit.
An ideal fit would be to maintain a quarter of an inch between the tow and the front of your shoes. It should not be too wide. It should never be too tight.
One might contend that as long as you are comfortable, this is fine.
Well, this is not true. Shoes that are too big can cause a lot of problems. These could include:
– An arch support that is on the wrong part of your foot. This should result in the bruising of your muscles. This would also eventually result in an unnatural shape of your foot.
– This can also cause blisters as well as calluses.
– Shoes that are too big can cause clumsiness.
Socks… for Not Wearing Them
First of all, you must understand that socks protect your feet from friction. It helps your feet breathe. It helps your feet do that by wicking moisture from sweat. It also keeps your feet dry.
Aside from that, socks also protect your feet from debris like rocks.
Not wearing them can cause skin abrasions. The latter can expose you to bacteria and fungi, and that's not a good thing.
How can I make my heels easier to walk in?
The easiest way to wear your heels is to put your whole foot down. Like, do it all at once. Imagine yourself wearing flats. This should make it easier for you to talk in your heels.
They always say that with the right pair of shoes, a girl can always conquer the world. And we have a pretty good idea they're talking about heels.
But if you can't walk in them, how would you be able to conquer the world?
Here, we tell you how to make things easier with heels.
Actually, the easiest way is to put your whole foot down, just like when you are wearing flats. This should make everything look natural.
Also, it would be best to stroll. Especially if you are new to walking on heels, take it slow. Do this until you can gain your confidence.
You can even take smaller steps. But it should not be baby steps. It should be smaller than your usual stride.
And finally, draw an imaginary straight line. Walk that line. It would make it easier for you to maintain your balance. It makes walking in heels easier.