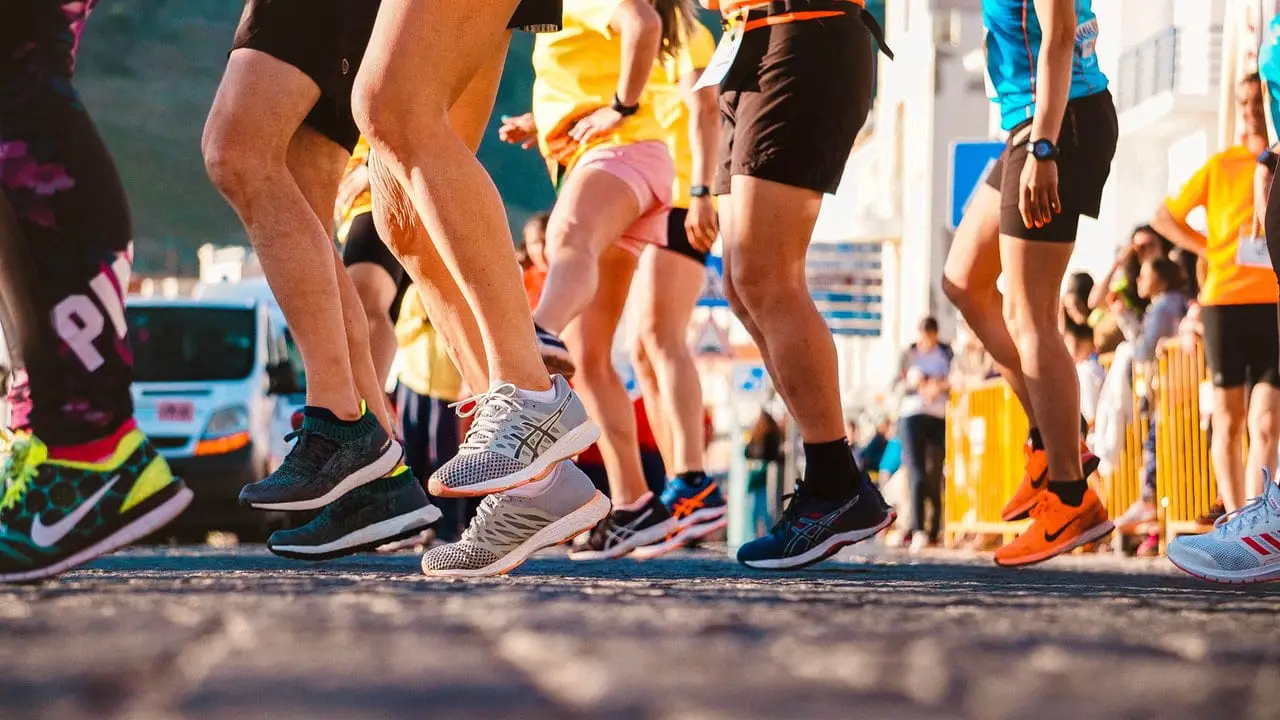 Running shoes are specifically made for running. It has features that help runners to perform well with the comfort that they need. Also, they are more lightweight compared to sneakers and have more shock-absorbing properties.
If you are a fitness junkie, you're probably in the gym four to five times a week. Do you notice the shoes of the other people working out? Some of them are wearing sneakers and some might be wearing running shoes. But, how do you distinguish between them? It can be confusing for some but running shoes and sneakers are way too different to be interchanged.
What can you consider as sneakers?
Sneakers are soft shoes that you can wear for sports and other physical activities. They are comfortable to wear and go well with casual attire. You can normally see them in the gym and others use them to play a sport like volleyball, badminton, or tennis.
What can you consider as running shoes?
As the name implies, running shoes are made for running. They are crafted to support runners and provide them with utmost comfort while doing a sprint. These shoes are incredibly lightweight so that the weight of the shoes does hinder the person's speed. Furthermore, running shoes have shock-absorbing properties of up to four-time of your body weight when your feet hit the ground.
Is there a difference between the two?
As we mentioned above, there is a difference between the two. To help you have a clear picture, here are a few points to help you understand.
Shock absorption and cushioning
When you run, there's an impact between your body and the ground. It's 3 times your body weight unlike when walking which is only about 1.5 of your weight. Because of the impact your legs, feet, and heels receive while running, your body needs appropriate padding to avoid any injuries. That sufficient padding necessary is provided more by running shoes than sneakers. If your walking, sneakers are sufficient, but if you're running or doing hardcore exercise that requires more shock absorption, running shoes is better.
Heel Height
If you will notice, running shoes have a different heel height compared to sneakers. This is necessary to give runners more stability. When your foot hits the ground while running, your heel takes all your weight and propels you to your next step. That is why runners require shoes that have a superior heel that will help them bounce freely. Alternatively, if your only walking, you don't need those kinds of heels. A flat shoe will work because your whole feet touch the ground almost at the same time.
Flare Heel
Some running shoes have a flared heel to provide optimum comfort for the runners. It's a safety net for athletes to avoid injuries. Walking shoes don't have these because while walking, your heel touches the ground relatively first. If you have flared heels while walking, it will act as the opposite and will cause more injuries than comfort.
Can I wear running shoes for everyday use?
Not all types of running shoes are suitable for everyday use. You need to know which is which or else you might end up hurting yourself.
Some shoes are made for a specific purpose. One good example is soccer shoes. While it does great performance while running the field, it won't be great while walking in the mall. Another kind of sports shoe that is made for a specific purpose is running shoes. There are many types of these shoes and not all are suitable to perform other functions than what it was meant. So, here's a few things you need to know.
Different Types of Running Shoes
Stability Running Shoes – ideal for runners with normal arches and provide good support for the ankles and foot arches.
Motion Control Running Shoes – ideal for runners with overpronation and improves support in the bridge areas and midsole.
Cushion Running Shoes – ideal for runners with no to little pronation. The added cushioning helps absorb shocks better particularly in the heel area.
Lightweight Running Shoes – Ideal for runners who needs a lot of speed. They have less cushioning to keep for less weight but this also means less shock absorption.
Trail Running Shoes – ideal for runners who run on surfaces that are not flat. For example, dirt tracks, off-road locations, and inclines of varying degrees.

Running Shoes That You Should Not Wear Everyday

Lightweight Shoes

Among the five running shoes that we mentioned, lightweight shoes are not ideal for everyday use. They may not have spikes like the usual track shoes but they are designed for racing. Since these shoes are made to weigh less than the average running shoes, they tend to have less padding and cushioning. In return, it sacrifices comfort and protection.

Trail Shoes

Another running shoe that you cannot wear every day is trail shoes. As mentioned above these shoes are meant to be worn on uneven surfaces. They provide ample grip to make your trekking enjoyable and safe. It's annoying and painful if you keep slipping so these shoes are meant to prevent that. Unfortunately, if you wear your trail shoes every day, there's a huge tendency that the gears will wear out. It will no longer provide you with the grip that you need. It going to make it useless for a trail in the long run.

Running Shoes That You Can Wear Everyday

Aside from the two that were mentioned earlier, the three other types, stability, motion, and cushion shoes, are okay for everyday use. If they fit you perfectly and you're comfortable with them, there's no reason for you to not wear them daily. Just know that the more you wear them, the faster that it gets worn out especially the grip and the insoles. You'll have to replace them more often and considering the price, it's much pricier than regular sneakers. So, if you're only planning to go for a walk in the mall, it's better to wear other types of shoes than your running shoes.

What shoes are good for everyday use?

Shoes that are comfortable, stylish, and functional are good for everyday use. If they are easy to wear, give ample support and cushioning, and fit you perfectly would be your ideal daily shoes.

Because the shoe industry has been over-saturated with options, it can become a bit overwhelming. You don't know anymore which is better and which is not. Finding your everyday shoe is becoming harder and harder since you are flooded with various options. So, to make it less of a hassle for you, we compiled some of the best shoes to wear for your daily walks.

Adidas Gazelle Shoes

The Adidas Gazelle Shoes is another case of a classic comeback. It was a diamond in the rough back in the 90s and is circling back today for a big revival. In terms of comfort and functionality, the specs of these shoes are re-engineered to fit the lifestyle of modern times. Styling this is easy since most retro-themed pieces go perfectly with any casual outfit.

Pros:

Very comfortable
Comes in several different colors
Retro-classic design
Versatile

Cons:

Merrell Men's Jungle Moc Slip-On Shoe

If you're looking for sturdy yet stylish shoes for your jungle adventures, this shoe is the one! It's simple, comfortable, and gives you all the protection your feet need. Plus, it has a slip-on-flip making them easy to wear. It's made of 100% Suede Leather, versatile, stain, and water-resistant. Since you need a good pair of shoes for a walk, the shock-absorbing soles of these shoes will help you walk for hours without experiencing any pain.

Pros:

M-Select technology (odor control)
100% suede leather (stain and water-resistant)
Mesh lining (breathable)
Rubber sole (friction and traction)
Heel air cushion (shock absorption)
M-grip (slip-resistance and durability)
EVA football (cushioning and compression resistance)
Nylon arch shank (support)

Cons:

Soles can be squeaky against tiled floors
Resilient plastic heel support

Adidas Women's Cloudfoam Pure Shoes

Just by looking at it, you'll know that the Adidas Women's Cloudfoam Pure Shoes is very comfortable. Do you know the feeling of walking on clouds? Well, wear them and you'll know. This may look like an exaggeration but if you know what it is like walking on them, we're sure you'll say the same. The upper part of the shoes is made of breathable and light fabric. Because of this, your feet get optimum air circulation making them easy to wear for hours. At the bottom, it has the Cloudfoam midsole which gives the walking-on-cloud feeling.

Pros:

The shoe's upper part provides ample comfort
Extremely meshed fabric (breathable)
Considered as one of the lightest sneakers available
Classic Adidas detail makes it sporty and chic
Available in various styles and colors

Cons:

Tends to be a weak design for everyday walking

New Balance Men's Mx608v4

If you're looking for a shoe that gives you balance and comfort for everyday walking, the New Balance Men's Mx608v4 will give you both. New Balance is the best in providing balance and support. These shoes have a distinct design that is perfect if you like incorporating colors into your everyday outfit. The suede exterior combines a padded mesh tongue and dual-density collar. Its rubber sole is suitable for traction and can resist the damage that comes with running and walking.

Pros:

Made of 100% suede leather (durable)
Rubber sole and outsole (water-resistance and traction)
EVA football (shock absorption and comfort)
Lace-up closure (tight fit)
Breathable textile lining
Pull tab at the heel (easy wear)
Padded mesh tongue and dual-density collar (support)
Perfect for running and walking

Cons:

Some materials in the shoes are not durable
The heel padding is less making them uncomfortable
Rear edges are sharp and can cause calluses.

Converse Chuck Taylor All Star High Top

Only those living under a rock would not have a single clue what Converse Chuck Taylor All-Star High Top is. They are one of the most versatile, stylish, and trendy shoes for decades. They never go out of style because the simplicity of their classic design transcends time. These shoes blend well with different outfits and are extremely comfortable. Also, they come in a variety of colors and designs. The high-top variant has a high-top ankle support shaft that adds extra support making each stride comfortable. Although the exterior is 100% textile and not leather compared with the others, it's still incredibly durable and sturdy. The rubber sole completes the look and prevents any type of wear and tear while providing enough grip. Plus, the textile upper has media eyelets that increase the breathability of the shoes.

Pros:

High top shaft (support)
100% textile upper (durability)
OrthoLite insole (cushioning)
Versatile style and comfortable
Media Eyelets (breathability)
Lace-up for secured fitting
Rubber outsole (wear resistance and good traction)
Lightweight

Cons:

Sizes tend to be big so opt for a size smaller

Crocs Men's and Women's Classic Fuzz Lined Clog Shoe

If you're a small business owner backing and making orders day-in and day out, having a pair of comfortable shoes to accompany you is important. Good thing Crocs Men's and Women's Classic Fuzz Lined Clog Shoe does an excellent job in providing comfort and adequate support. They are a classic favorite because of their simplicity and superior comfort. Available in different designs, sizes, and colors, you'll never run out of varieties to choose from! The outsole is made from Croslite foam that does not flatten out easily and offers enough traction and wears and tear resistance. The rubber sole offers enough support for the insole and midsole. Whether you have wide feet, flat feet, or orthotics, these shoes will provide the comfort, support, and balance that you'll need.
Plus, the dual comfort foam will give your feet the comfiest feeling. These shoes can be used as an outside shoe or an indoor shoe.

Pros:

Croslite foam in the insole and midsole (support and comfort)
Rubber sole (traction)
Croslite exterior
Shaft is 3-inch away from the arch (support)
Lightweight and dual footbed
Adjustable heel strap (secure fit)
Easy to maintain and furry insole

Cons:

Sizes are hard to determine