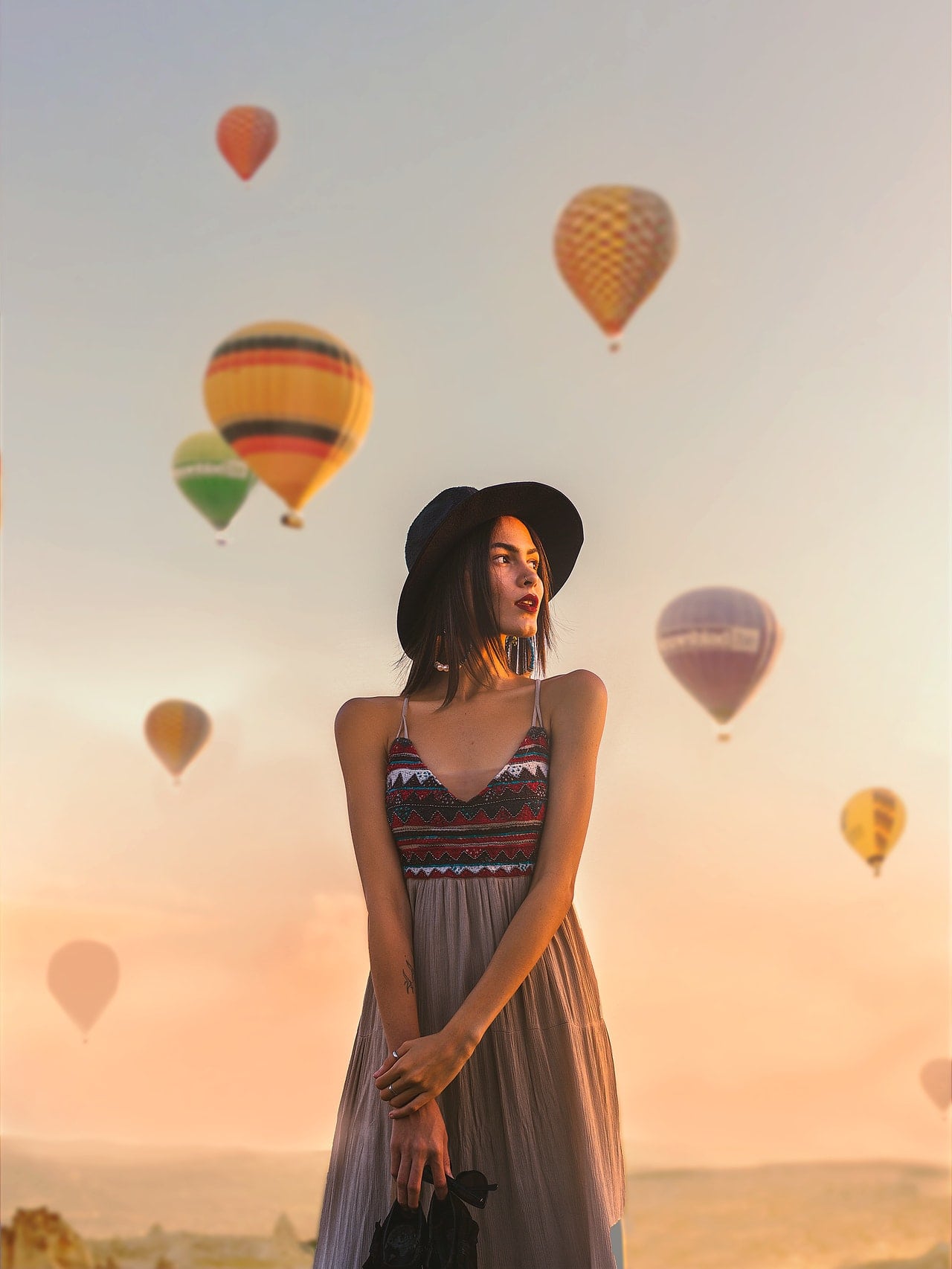 To achieve a hot but modest look, you need to have a balance between the two. The key is to look sexy but not too provocative and modest but not too boring.
Fashion has always been an avenue for self-expression. It's a form of art that no one can judge because you have a reason for looking that way. Everything is justified in fashion. Yes, there may be fashion dos and don'ts. But, rules in fashion are always meant to be broken. If designers continue to conform with the norms, trends will not be born.
So, the question is how can you look hot but modest? The trick is to find a middle ground between the two. You cannot be modest-looking if you're showing a lot of cleavage. On the flip side, you cannot look hot if you're wearing long sleeves and sweats.
Here are a few tips that you can check out:
Start with a play of colors
Bold colors, especially red, can make the wearer look attractive and sexy. A little black dress paired with red stiletto heels can make you look hot but not provocative. Just be careful of using this color, too much red can drown you. But, if you use it in moderation, you'll become a scene-stealer.
Many studies have shown that there is a biological factor that makes a woman look attractive when they're wearing something red. The same also applies to men. Women find men more dominant and attractive if they're wearing something in this color. Even a simple red shirt can make you look sexy. In this case, color is what matters, not the style.
Mix modest and sexy pieces
It's important to have a variety if you're going for a sexy modest look. Don't be afraid of mixing lengths, fits, and styles. Try to make a balance between sexy and casual. One of the basic principles that you can do is pairing tight with loose. If you're wearing baggy pants, pair them with a fitted-rib shirt. You can also try wearing a loose-knit crop sweater and pair it with a fitted skirt.
Emphasize one part at a time. You don't need to show everything all at once. If you want to highlight your legs, cover up your chest. If you want to highlight your neck, cover up your thighs. Mix and match and accessories. Soon, it'll be a breeze looking for clothes that combines these two opposing styles.
Combine two different textures
Different textures, when played right, can result in an elegant look. Try pairing leather pants and a lace blouse. Leather can make you look hot while lace gives you that see-through effect without being vulgar.
Accentuate your body figure
Clothes that show your body's silhouette makes you look sexy. Avoid wearing clothes that are too baggy and too tight. Instead of going for bulky sweaters, choose a slim dark turtle neck instead. Go away from baggy t-shirts and grab a fit V-neck shirt. Also, throw away the loose skirts and buy tight pencil skirts.
A long sleeve body-hugging knee-length dress is a good balance between sexy and modest. You're not showing off any skin but still highlighting your curves.
Go for clothes that fit you well
Make an effort to look for clothes that fit you perfectly. Get the right size and build a wardrobe that gives you both your wants and your needs. If you wear clothes that are too big or too small, it highlights the wrong areas. Wear clothes that are flattering to your figure.
For fancy events, dresses are not your only option to look sexy. You can go for modest trousers, a low-cut top, or a crop top and finish it off with a matching blazer and accessories. Sexy, modest, elegant, and chic!
How do you stay cool and modest in summer?
You can stay cool yet modest in summer by choosing the right fabrics and going for lighter colors. Also, consider the airflow in your outfit as well as covering up areas that are prone to sunburn.
During the hot summer season, we always prefer going less. We want to stay cool and sometimes modesty is left behind your cabinets because it too hot to wear. Well, don't lose your cool with modest clothes during the hot season. We'll give you some tips on how to look modest but stay cool in summer.
Tip #1: Select the right fabric
The next time you go out shopping, make sure that you check the tags. Natural fabrics are more breathable than synthetic fabrics. The only exception to this is workout fabrics like lycra and spandex. As well as wool which is naturally hot.
Cotton, linen, bamboo (in the form of rayon), and flax fabric allows air to pass through its weaves. This means that as sweat evaporates, your body would feel cool. Synthetic materials like acrylic and polyester block the airflow. They let sweat accumulate under your skin leaving an icky feeling.
Choosing clothes with the right fabric is important to regulate your body temperature. You should choose the right fabric that is appropriate for your climate.
Tip #2: Light colors instead of dark
Light colors can reflect light while dark colors absorb it. So, if you wear a black shirt in summer it'll absorb a lot of heat from the sun. But, if you wear a white shirt, most of it will be reflected. Pastel colors are best for summer while warm colors are best for winter.
Tip #3: Having fewer clothes is not always the answer
If you want to look modest in the summer, wearing fewer clothes may not be a comfortable option for you. Don't worry because it's better if you don't strip down.
The sun, as we know, emits harmful rays that can damage the skin. Keeping it covered is your best way to avoid it. You don't want to have skin cancer or other negative effects of sun exposure. So, it's better to cover up!
Your best options are lightweight fabrics. Not only does it act as a shield from the sun, but it also transfers the sweat off the body. Also, lightweight fabrics dry fast. You don't have to worry about being sweaty all day.
Tip #4: Make sure that air flows
Airflow is the key to make you feel cool during summer. If you're putting together an outfit make sure that you don't block it or else, you'll feel sweaty and hot. So, the best solution for this is to wear loose pieces. You'll notice that summer is the season for wide-legged pants and loose dresses and tops. Always consider this. Build your summer wardrobe with clothes that fit this category.
How can I dress more modestly?
To dress modestly, start by going for shorts and skirts that fall around the keen. As for tops, opt for necklines that are about 4 fingers down the collarbone or less.
Looking modest does not mean that you'll give up fashion. Those two are not enemies so don't brush off the idea of a modest style. Here are a few tips that you can try if you're going for that look.
Part 1: Selecting a Modest Top
– The neckline should be four fingers down the collarbone or less. To measure this, place your index finger in line with your collarbone. If you see that the neckline of your blouse or shirt is lower than your pinky, then that's too low. A scooped neck floral blouses will make you look modest and classy. For work, you can wear a high-scooped neck shirt paired with a blazer and trousers. If you're going to hang out with your friends, a loose button-down shirt paired with black jeans is a good outfit choice.
– Opt for shirts that cover your back and your shoulders. Dressing modestly means showing less skin. If you like wearing camisoles, throw over a long sleeve cardigan or a thin jacket. Another option is to pair a black long sleeve shirt with a knee-length denim skirt.
– For the summer, go for a lightweight maxi dress or tunic. These types of clothes are breathable and thin so you'll beat the heat with this. Classy, modest, and fresh!
– Adding layers makes a modest look more stylish. For warm seasons, go for thin and lightweight materials. For warmer seasons, go for thick but not too buffy materials.
Part 2: Selecting a Modest Bottom
– Stay away from see-through materials. When you buy leggings or athletic pants, look for a thicker and sturdier option. It's better to go for a safer option. If you're having second thoughts about the thickness of your leggings, pair it with a long top to conceal your bottom. Look for pants that are made from polyester, wool, or cotton blend. These will help you avoid unwanted flashing.
– Look for jeans that fit you properly. A tip for dressing modestly is to wear pants that fit you well but and not cling to your body too much. You need to make sure that you can move properly with the jeans that you're wearing.
– Choose skirts that are longer than your arm's length. A good rule that you need to remember for a modest look is to always keep shorts and skirts around the keens. If you put you stretch out your arms to your side and the hem of your skirt or shorts is shorter, then that's short. Try wearing maxi skirts. It's very stylish and elegant but still keeps a modest look.
Part 3: Modest Accessories
– Let your bags be the center of your outfit. A statement bag is a good way of styling up a modest look. Also, it changes your look every time you change out your bags. Totes and handbags can jazz up your outfit and enhance the entire look. You can pair a leather tote with a functional office bag. If you're going to the park, a rattan sling bag will give you a summer vibe.
– Layer with scarves for a stylish modest look. Scarves are a good way of adding dimension to your outfit whatever the season may be. Also, it helps cover up your neck, shoulders, and chest. For the summer season, accessorize your maxi dress with a floral scarf. Then, finish it with a strappy sandal. For the winter season, add a fringe scarf to a knit sweater and jeans.
– If you want to add some personality to your outfit, try wearing bold colored shoes. If your outfit looks too modest, statement shoes will add the glam that you need. Experiment with some burgundy ankle boots or some kitten heels and pair them with jeans and a slim turtle neck long sleeve shirt.
How do you wear jeans modestly?
To dress jeans modestly, you need to add some layers to cover parts that you don't want to be exposed. Also, it's better to go with pants that are not very tight-fitting.
When dressing moderately in pants here are three rules that you should consider.
Rule #1: Layering clothes
When you layer your clothes, it helps cover areas that you want to hide. So, you can do this by pairing tight fitted pants with a long blouse or shirt. Another option is to layer a long shirt underneath, wear a vest on top then pair it with pants. This is a good way to look stylish.
Rule #2: Opt for loose pants
Instead of wearing tight fitted pants that you need to layer, go for loose pants. It's a trend right now so you don't have to worry about standing out too much. Make sure that when you wear loose pants, wear heels and let your shoes be the center of your outfit.
Rule #3: Pair pants with short dresses
There are times when you see a cute dress but it's too short so you're not sure if you'll wear it. To eliminate this problem, you can wear leggings underneath. You don't have to worry about showing too much legs.