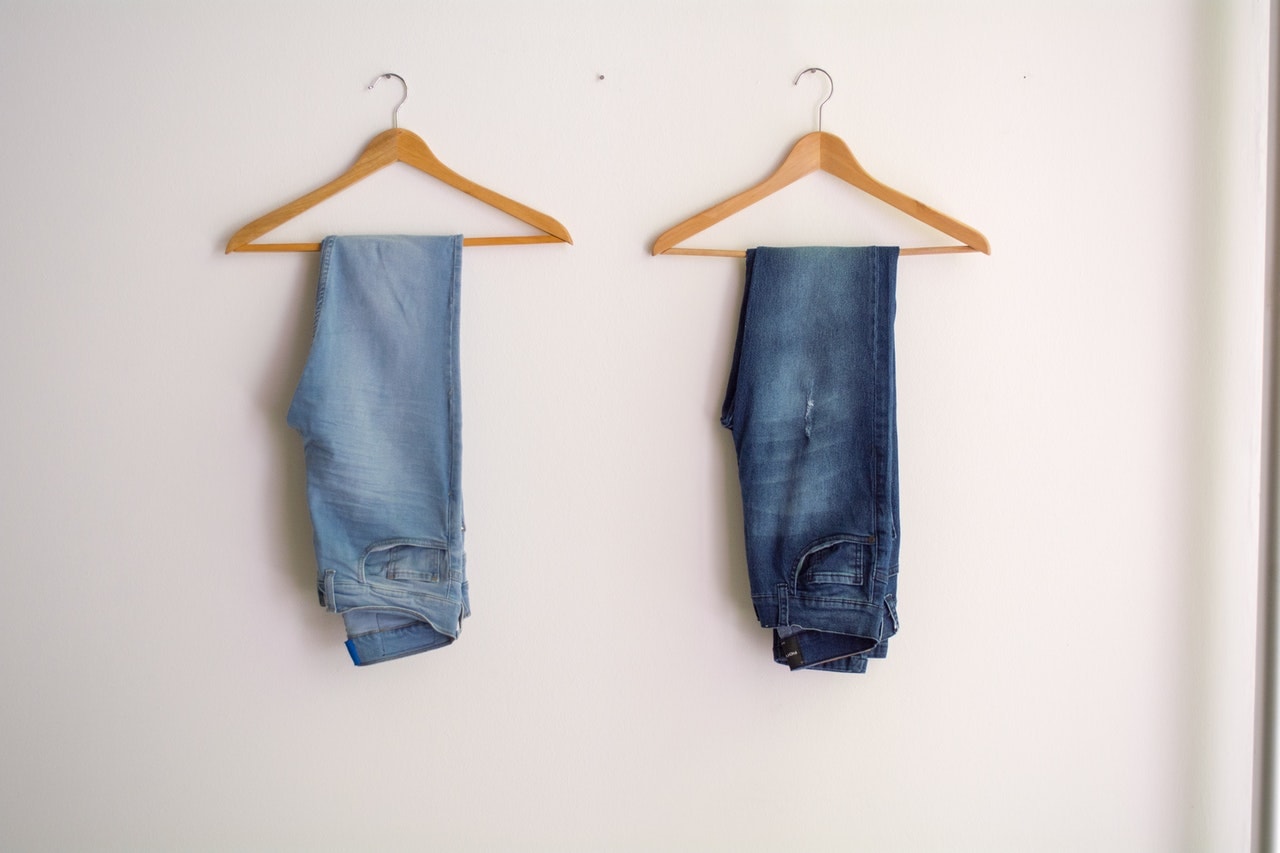 When painting on fabric like denim, oil paint is actually the most common type of paint. It may take a day or even a few days for it to dry, though. And when it does, the final output may be a bit stiff. But the advantage is great. The paint is actually durable. Plus, oil-based paint blends well with different colors. You can easily mix them to form different shades of colors. And because of their durability, oil-based paints do well when used on jeans.
Traditionally, artists usually use white house paint. Some would use gesso or even rabbit skin glue. Others use acrylic. This is always the sort of primer before using oil paints. And it does not matter which one you choose. All four do well.
Using these provides the artist with a smooth white background. While this is a common practice, some artists skip this step. Because if there is a negative effect to skipping this step, it will not show up until a matter of years.
Skipping this step means the paint and the cloth will deteriorate faster. But with the word "faster," it is not a matter of months. One would see the deterioration happen after years of use.
Because it takes years, anyway, most would prefer skipping this step instead.
Oil Paint and Denim
A lot of artists have been using oil-based paint for many years.
Even from the Renaissance period, artists have already been using oil-based paints. They would usually apply the paint to canvas on stretcher bars.
But if there is something about oil-based paints, it is that it deteriorates with time. This is the reason why some would prefer the white primer before the actual painting begins.
When one primes a canvas, there are about one or two layers of gesso applied. It is a white background. Artists also have a choice among the four options mentioned earlier.
If one is using oil-based paint on a fabric like denim, the paint will, in time, rot the fabric. Unless, of course, there is priming that happened before the actual painting.
While drying, the oil will become brittle. It is for this reason that the paint may sometimes crack.
The advantage of oil-based paint is because it is great when it comes to blending. The quality of its colors is also top-notch. This is why most artists prefer painting images using oil-based paint.
And to address the cracking issue, artists tend to apply a white gesso. This is before the painting process begins.
Prime it before you paint it.
How do you paint on jeans?
The very first thing to do is to tape the sides. This means that one should always ensure that the paint does not go beyond the painting area. Once done, one can apply the primer. Then sketch the design. And last, begin to paint. After everything is finally done, remove the tape. You're done!
Nowadays, we see budding artists painting not just on canvas. Some paint on garments. This includes clothes, denim jackets, and jeans. There are even others that paint on bags.
Now, when it comes to denim, how does one go about painting?
Acrylic is a very important factor. This is something one needs to have a good primer.
Using acrylic on denim is common.
Acrylic has that plastic-like texture when dried. It brings a little bit of malleability. And is it something that does not easily pull apart.
Acrylic dries on any surface you paint it on.
When used in denim, acrylic paint attaches itself to all the fibers it is actually painted on.
Plus, when it comes to painting with acrylic, this does not come off easily. Whether it is in clothes or any other fabric, this does not easily wash off.
We will discuss more this later on.
Meanwhile, how do you paint your jeans?
Here are a few steps to take note of.
Tape the Area
First of all, one must choose which pocket (or area) the painting should go to.
Once identified, tape around that specific pocket. What you are trying to achieve is to tape underneath the edges of the specific pocket. If it is not a pocket, the tape should be around the area you are painting on.
Doing so would ensure that the paint does not go beyond these parts.
Some artists would use painter'spainter's tape. Others would use an artist's tape. But it appears, based on experience, that the latter peels off easier than the former.
Aside from these two tapes, what else is there? White tape is also something one can use. This is useful, especially when one wants to see the paint colors being used.
Painting the Base
As discussed earlier, one should always have a primer. This should be before the actual painting begins.
This means that one should paint about a layer or two of white paint on denim. When one does this, one should always make sure that the blue of the denim is not showing.
Because of the primer, the colors will sure pop. The tendency with paint without the primer, the colors tend to blend with the blue of the denim.
For example, if you intend to paint red, it will show as a dark bluish-red color. Gone will you intend to paint it red.
The white primer serves as a barrier. This ensures that the colors you paint will not blend or soak with the denim colors.
Note, however, that there are transparent acrylic paints.
This means that when one uses transparent acrylic, the blue still shows through.
What's in it for the remaining colors if one uses transparent acrylic?
When this happens, the colors still tend to blend with the blue of the denim.
Imagine painting yellow on the transparent acrylic. This will not show as yellow. Instead, this will show up as a yellowish-green color. Remember the earlier example of red mixing with blue? It will be the same.
So, when it comes to using primer paint, never go with the transparent acrylic.
Sketch the Design
This is now the part when the artist draws or sketches the design. The sketch is always made on the white background of acrylic as soon as it dries.
One can always outline the white background.
Doing so would provide the artist with a guide before the actual painting begins. Most painters also find this to work better than going ahead with painting without a sketch.
In doing this step, most would use a thin black pen. This should be able to provide the artist with a nice enough sketch on a fully-dried acrylic. The sketch will serve as a guide.
There are different brands in the market. But when looking for the ideal pencil. One should always look for the one that glides well.
It is also an added advantage if the lead does not smear when painting over the sketch.
Start Painting
Now that you have all the lines drawn, you can start to paint.
One can always start with small amounts of paint. Squeeze a little bit of the needed color each time. Also, never forget to fill your paint cup. Water is essential in this process.
The same is true when it comes to a paper towel or a rag handy. These should help you when you need to dry your brushes.
It is quite helpful to ensure the primer is white. This should ensure that the colors pop when you start to paint.
When one paints from a reference photo, it would also be useful to print it out. If one cannot print it out, make sure that the photo is readily available. It can stay open on one's computer. This is just in case the artist needs it for reference.
Once in a while, one would have issues with the black lines that would show through.
When this happens, white is there to save the day—Mix white with any other color. The color mixed with white becomes opaquer. When done, one is always assured that the black pen will no longer show.
There are also moments when one gets carried away with painting. Once in a while, the paint will even go beyond the lines you've sketched.
This is also where the tape becomes useful.
When one goes beyond the lines, the tape is there to save your denim. Even if you paint beyond the lines, you will never worry about the other areas painted through. Because again, you have already taped it through.
Peel the Tape
This step takes more patience.
We understand one is actually excited after the painting is finally finished. Should the artwork be done, allow it to dry. And when we say dry, we mean completely dry.
Some would take about 24 hours for the paint to completely dry. Others will be longer.
Give it to the paint. Allow it to dry before pulling off the tape.
Aside from the excitement once the tape is finally peeled off, there is something else we'd like to tell you. Peeling off gives you that satisfying feeling.
In fact, if one is familiar with popping bubble wraps, this is the same thing.
Peeling it off is oddly satisfying.
How do you wash painted denim?
There are three ways by which to wash a pair of painted jeans. One way is to machine wash the denim, and the other option is to hand wash it. The other method is to spot clean the jeans, which is not technically washing them. This is just a method of targeting areas where you need further cleaning.
Now, this is the highly important part. Washing painted jeans are not as common as just washing your other pieces of garments.
Do this properly; otherwise, the painting may get washed off. If not, the painting may also be damaged.
Washing a painted pair of jeans may be daunting. In fact, it can be scary or worrying at times.
After endless hours spent on perfecting the artwork, one cannot afford to have it all washed off.
Here are ways by which one can wash and care for the painted jeans. This should ensure that the pair of jeans remain perfect. This should make sure the painted part is not damaged or washed off.
Machine Wash
The first option is to wash your painted jeans via the washing machine.
Before washing, make sure to turn the jeans inside out. Now, here is something important.
Make sure to wash your painted jeans on the delicate cycle.
Actually, it is not highly recommended to have the painted jeans machine washed. But should this be the case, always use the delicate cycle?
At some point, the machine washing of painted denim may cause the painting to get a bit rubbed off. The rubbing off may not be that significant. But there is a bit of rubbing off.
When washing through this method, use a mild detergent.
One should never use bleach when washing painted denim. Avoid using softeners as well. The same is true with alcohol-based cleaners. This is because all types of alcohol would sure damage the paint on your jeans.
Hand Wash
This is actually the perfect way to wash a painted pair of jeans.
This ensures that the paint is not damaged. Your jeans will also be thoroughly washed.
Hand washing is a gentle method. When washing, one can also scrub the areas that need scrubbing. And while doing so, one can also avoid scrubbing or putting too much pressure on the painted area.
This method is ideal on occasions when the painted area is not that dirty. Focus the scrubbing on the other parts of the painted jeans. Leave the painted area for some gentle cleaning.
Just like machine washing, use a small amount of detergent that is gentle and mild.
Also, make sure to wash your jeans in cold water.
Spot Clean
Now, this is the method that is technically not 100% washing.
Spot cleaning, as the term itself suggests, allows one to identify untidy spots. The focus then is to clean these spots.
This is ideal for jeans that have incurred stains. The pair of jeans may not need a full wash. Spot cleaning it would allow one to clean the affected area only.
In doing this method, one can use a wet cloth with mild detergent. Rub the cloth on the area that needs rubbing.
Finally, rinse with cold water.
We also provide you with tips on drying your recently-washed painted jeans.
Drying painted jeans is like drying the usual garments.
Use medium or high heat in the dryer. Another option is to hang-dry the painted jeans.
One other method is to lay flat the jeans on a surface to dry.