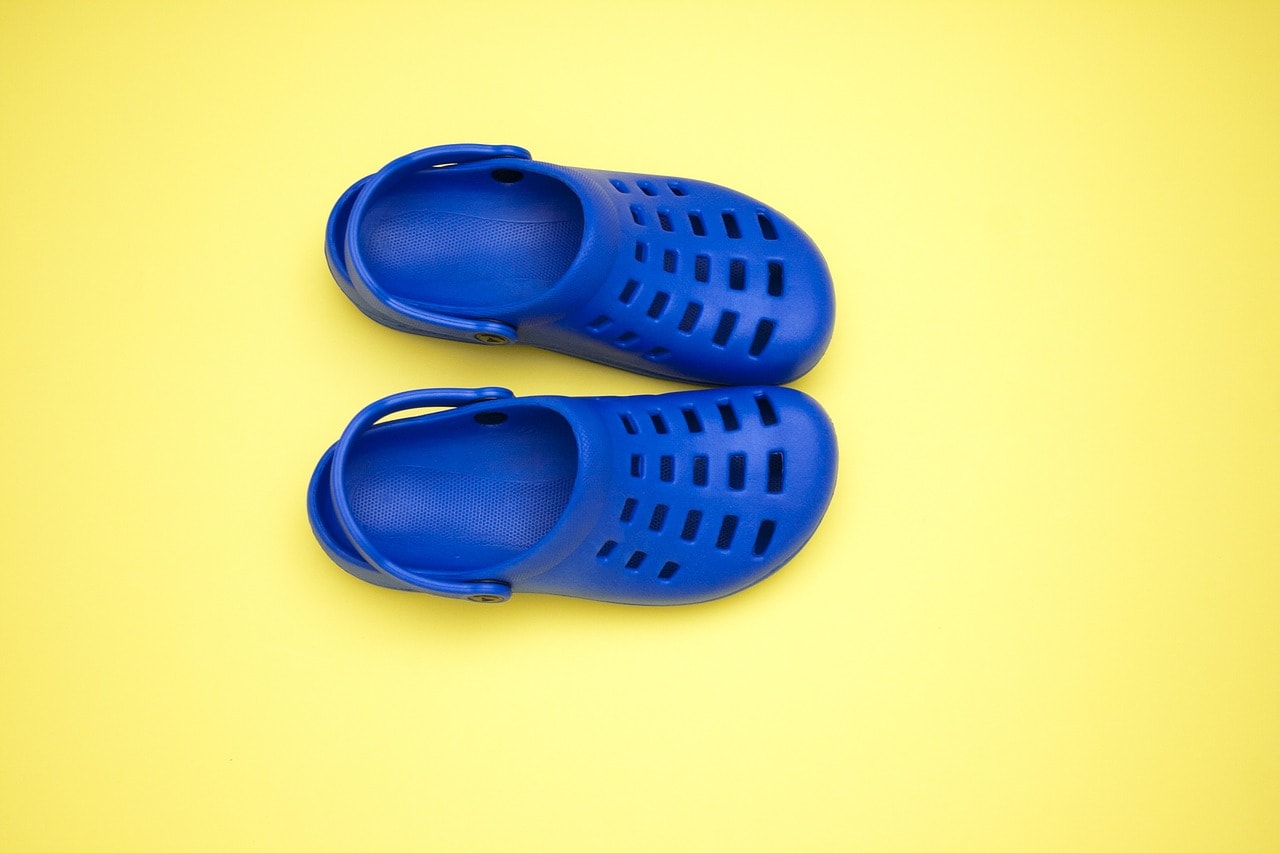 Crocs have bumps inside because it improves circulation. These bumps are not there for nothing. They come with that purpose. And that is to massage your feet and improve your circulation.
Some love them. Some of us hate them.
Crocs had their humble beginnings in 2002 as boater-floaters in Florida. These were usually famous with Jimmy Buffet types in the state.
But from there to now, Crocs have already sold more than 300 million pairs of footwear. This spans more than 90 countries to date. And should there be something obvious, it is that Crocs is here to stay.
A pair of Crocs provides comfort. Their rubbery and floatability make these footwears popular with just about anyone. In fact, even toddlers love Crocs.
They are ideal enough for a walk in the park. These pairs do well while lounging in the backyard. And what makes it convenient is that Crocs are also easy to clean off. One can step on something and easily hose or wipe it off from clogs, which is fair enough.
Crocs provide amazing protection to the toes. They're also great for travel to tropical destinations. And even aquatic activities pair well with Crocs.
Crocs also have these bumps inside them. These bumps are actually those that make one think about what they're for.
But good points and all, these bumps are there for the massage. They massage your feet and improve circulation.
This makes Crocs the preferred pair. This is amongst the many available footwear in the market.
They're affordable, classic, and they look great, too!
But what do the doctors have to say about its design?
Here, we also take a look at how the experts see Crocs from their point of view.
What Experts Have to Say
The doctors who exist to make our lives easier are actually not fans of the Crocs design.
Unfortunately, these pairs are those that one cannot use regularly. These pairs offer nice arch support, alright.
But doctors worry about people wearing Crocs for long periods of time. These shoes offer arch support. But the heel is actually not that secured.
Doctors fear that when the heel is unstable, the toes tend to grip. This would then lead to a condition called tendinitis.
Aside from this, wearing Crocs for long periods can also cause toe deformities. Plus, we have also listed nail problems and corns as potential problems. Even calluses are actually considered as possible conditions one can get.
These very same things can also happen with flip-flops. In fact, it can happen to any backless footwear. These footwears are those that do not have the heels secured.
Experts believe in the power of shank as the most powerful feature of a shoe. This part supports the structure between the heels and the toes.
When shoes bend in the shank area, the wearer tends to experience pain in the foot.
Crocs, as per their design, actually have flexible shanks. In other words, wearing these for about 8 to 10 hours per day can be dangerous.
Doing so can result in arch or heel pain. And this is just by wearing Crocs for that long regularly.
Some would benefit from Crocs. These are those with very high arches. Also, those with excessive edema of the legs and ankle can benefit from wearing Crocs.
But in no way should one wear these for very long periods, either.
Crocs are great for trips to the beach. They look great when lounging by the pool. But when going on long walks, these should not be in use. Aside from the lack of heel support, the wearer can trip in these. And tripping and falling are not just with children. Even adults can trip and fall in Crocs.
When one insists on using Crocs for a walk, these should not be for long. The walks should be short.
Otherwise, wearing it for a long time can possibly bring risks. You can have heel pain. Or you can trip and fall. And these are, unfortunately, incidents we don't want to happen.
With everything discussed, are Crocs then bad for my feet?
Crocs and other unsupportive shoes feel good. They're very comfortable. These types of shoes allow air to circulate. They also allow your feet to breathe. The risk, however, is that these shoes do not offer the support that the wearer needs. This is especially true when it comes to heel support. Crocs are great to wear on certain occasions. But one should never wear it regularly for long periods of time. Doing so can lead to heel pain. This can also lead to twisted ankles and irritated feet.
On shorter terms, wearing Crocs is comfortable. But even short hours, as long as one wears this regularly, can bring the wearer danger in the long run.
We know these shoes were fluctuating when it comes to their popularity in the market.
But recently, the market saw the rubber shoes coming back to their position. In fact, some would even question the shoes' being stylish. But then again, these have come back in style.
We have explained in detail the lack of heel support. But aside from that, what else is there to look out for?
Here are a few more reasons why one should think twice before buying a pair of Crocs.
Blisters
The feet tend to rub into that rubber when you are walking in Crocs. It is, in fact, impossible to walk in Crocs for an hour or so without getting blisters.
Crocs are actually made of these hard, plastic materials. Even the sides are of the same material. When walking, your feet would rub into this plastic material.
Wearing them for long will result in terrible blisters.
In summary, this is not worth it. Unless, of course, you feel like you have to wear them for one reason or another.
The Smell… and the Sweat Therein
We already know it. Crocs are of rubber material.
Even the insides are of rubber.
As such, this can cause your feet to sweat. And when the feet sweat, the feet smell.
Not all the time, of course. But for most, when the feet sweat, the feet smell. And if it does not smell, sweaty feet rubbing into that rubber material is most uncomfortable.
The Weather
For most of us, the weather can be quite unpredictable. One second you go on a walk on a sunny day. The next second, you feel the rain falling on your head.
And we know it. When it rains, these pairs will not be able to provide you with enough protection. Should you flee the rain in Crocs?
We know it does not provide the wearer with enough support. We know wearers tend to trip and fall when not careful.
Imagine fleeing the rain in these pairs.
The Clothes to Pair it With
Crocs these days come in many designs.
But no matter the design, any pair of Crocs simply do not pair well with any outfit.
Crocs are not formal enough. One cannot pair it with any dress. Crocs would also look bad with any pair of jeans.
When wearing sweatpants, Crocs will not suit well, too.
Crocs may look great with shorts. But aside from that, the options are actually limited.
The Risks
We mentioned this before. And we will repeat it.
Wearing Crocs may not be the safest option.
As discussed earlier, Crocs may not provide one with enough heel support. But aside from this, the holes on the top of each Croc shoe may be dangerous as well.
These holes can provide for ventilation, yes.
But these holes can also serve as openings for sharp objects to pass through.
The possibilities may be slighter. But no matter how little the chances are, sharp objects can still impale your foot. They can always pass through these holes.
The Activities… Or the Lack of It
Crocs seem to be ideal for fewer activities you can wear them to.
Aside from the beach and the pool, there seem to be no further options. Can you wear it to a business meeting? Certainly not.
You can never go running in it. Nor can you go biking or hiking wearing Crocs.
Most physical activities are out of the picture. Well, except of course for walking.
But even with walking, one can never walk fast in it, else you trip.
The Durability
Head into the Crocs website.
One is actually greeted with reviews when browsing through the site. Most of these reviews question the quality of Crocs. Most of those who bought are not as satisfied for long.
Straps tend to break after a few weeks of use. The shoes are actually not pictures of durability in themselves. Aside from the straps, of course.
he Price
The manufacturing costs of these shoes may be fairly cheap. But its price in the market is something that may be unreasonable.
For a price of more than $30 per pair, these are obviously overpriced.
The Image
Here's something to think about.
What do you think would people think of those that wear Crocs? This is not to say they're that bad. But for some, the image one portrays that important.
Will you take a person seriously when they wear brightly-colored rubber shoes? How about if these shoes have images of princesses and cartoon characters on them?
Some will never mind. But there will always be those who will.
The Style
As earlier mentioned, Crocs shoes now come in many styles.
But no matter which style comes out in the market, they just don't look as great as other shoes.
They're not ugly, no.
But these shoes do not pair well with most types of clothes. Plus, they are not the most beautiful to look at, either.
How long does a pair of Crocs last?
It stays for six years. This is considering that you do not wear them every day for long periods. How long it lasts has so much to do with how often one uses these shoes.
You already have your Crocs. No matter how less you should wear it, you decided to get one.
One can always wear them during warmer months—lounge into the pool. Walk a few minutes by the beach. A pair of Crocs would do just fine.
Most Crocs stay long.
The advice is not to wear it regularly. The recommendation is to wear it for shorter periods each time.
And should these recommendations be followed, your Crocs can last for about six years or so. Unless, of course, you decide to destroy it on a whim.
Over time, one would always notice the foam to get compressed first. When this happens, one feels comfortable to be a bit diminished. But these are still wearable. Only a little less comfortable.
But when one wears Crocs regularly, these can last for about two to three years.
Do Crocs stretch out after wearing?
The first time one wears Crocs, it may seem a bit tight. But this is only for a few times. Over time, these tend to stretch out a bit. Suppose one needs to stretch them out more, some resort to wearing thick socks. These socks, they wear into Crocs that are fresh out of the heat. But if one cannot wait for their Crocs to stretch out, there are ways. One of these is by putting the Crocs in the dryer.
Some of us can have a "hate it or love it" type of relationship with Crocs. But if you are one of those that love it, there is one thing to know.
And that is that the first time one wears Crocs, it may be a bit tight.
Here are a few things you can do to make your first try smoother.
– One option is to place the Crocs in the dryer. Put them with towels. These towels would ensure that the warmth is actually diffused uniformly. One should let the Crocs be for about 3 minutes or so.
– Take them out of the dryer while hot. The Crocs, by this time, would be more flexible. Put them on. Make sure to wear socks. The socks should make your feet bigger. Walk-in them for about 5 minutes or so, or until the Crocs cool down.
– Sometimes, even after taking the socks off, the Crocs can still be tight. Put them back in the dryer for an additional 3 minutes of spin. Then repeat the process.
—
Crocs won't always be for everyone. Some love it. Some hate it.
But no matter what, Crocs have made their way back to the market in recent years. And with its ever-increasing profits in the past few years, one this is for sure.
Crocs are here to stay.