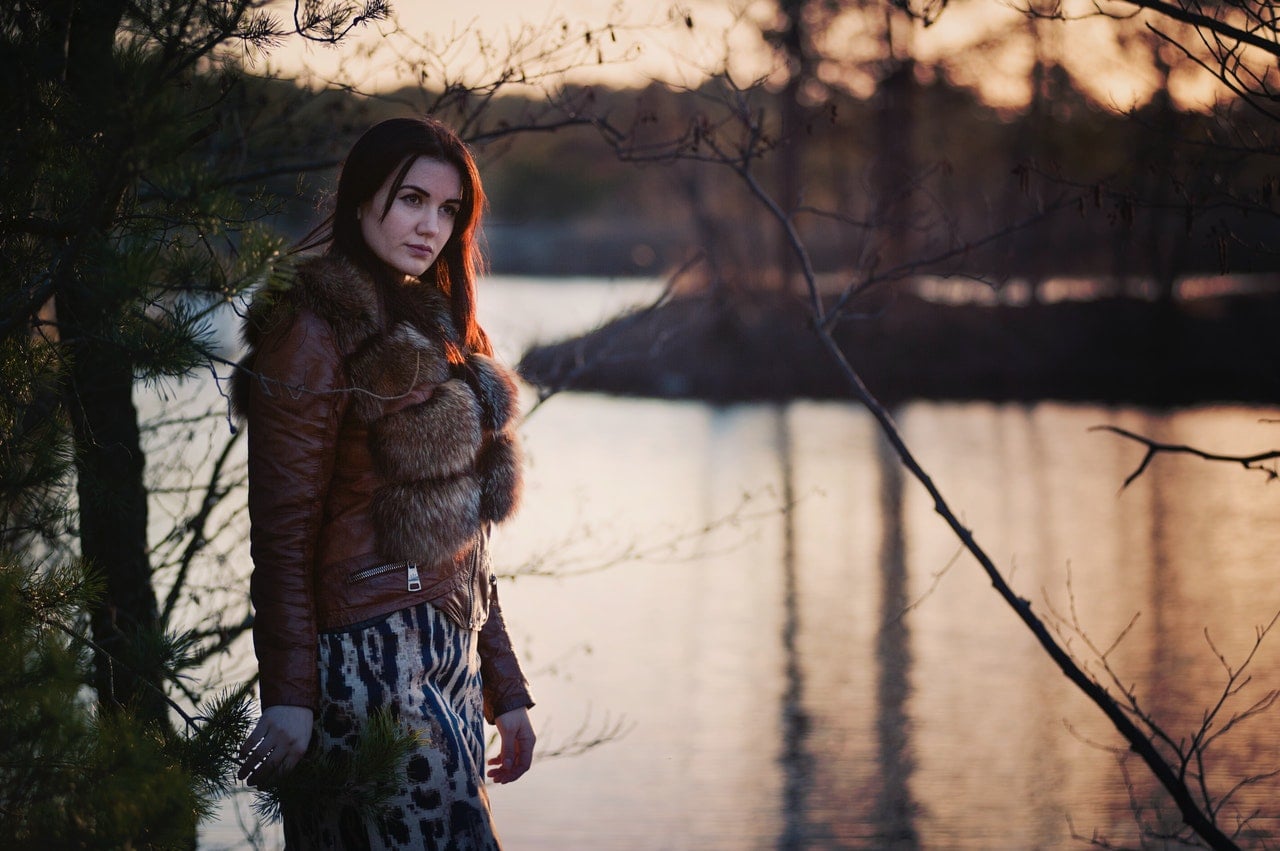 When the eather gets cold, there is nothing much to do but wrap himself/herself up in warm clothing. A leather jacket is one of those. It can absolutely keep one warm during the cold. This is for the reason that a leather jacket has a thick fabric. This acts to trap the body heat. The thick fabric prevents your body heat from escaping. While there are other options during winter, a leather jacket can certainly keep one warm.
Leather jackets are the epitome of coolness. It adds a semblance of appeal, especially for motorcyclists. Other than that, leather jackets avoid injuries in motor accidents.
But aside from these, is there something else?
Centuries ago, our ancestors relied on fur and leather for warmth. And even millions of years before that, the ice age saw the use of fur and such garments.
Over the years, we saw how fur and leather keep the warmth trapped inside.
Here are a few more things about leather jackets and keeping warm.
The Temperature
Versatility is a leather jacket's game. It can be cool during summer. It can also give you warmth during the winter.
On top of that, it is also one of the best survival gears around.
For example, it protects you from when you fall or skid. At the same time, it can protect you from when you brush.
The leather jacket also works well in varying temperatures.
Plus, it is actually easier to clean compared to most materials.
Its versatility does not end there. Leather jackets work with just about anything. You can pair it with a t-shirt or a tank top which is something common during warmer days. For warmer climates, lighter leather is actually preferred.
These are those that are thinner. They also come with thin liners. Some of them have vents.
Naturally, you wear these types of jackets open at the front.
When it comes to warm temperatures, jackets have limits as well.
When the weather becomes warmer, one should consider wearing a leather jacket. But it has its limitations. One cannot just wear a leather jacket in temperatures of about 70 to 80 degrees. Breathable cotton or linen would be more comfortable.
The Cooler Temps
Leather jackets work well during cooler weather, too.
During this time, you may prefer wearing it with something underneath. A medium-weight leather would be advisable; the liner denser.
All these should be able to keep you warm.
And of course, you need to zip up.
During winter, leather jackets should come with heavy-duty liners.
There are different styles with heavy interiors. These should be able to trap more heat inside. For winter, go with padded liners. The material should also be a lot thicker than your usual leather jacket.
You should know. Leather jackets take a while to get warmer. Upon putting on a leather jacket, you would be able to feel the cold still. However, after a few moments, the leather will be able to warm up.
This is just but natural with leather. But to avoid such concerns, one can actually put the leather jacket somewhere warm. When it is time to wear it, the jacket has already retained a bit of warmth.
But remember, too much heat will damage leather. Never toss this inside your dryer or anywhere that is extremely hot.
Layering
Leather jackets alone can keep one warm. Aside from this, you also need to put in the right number of layers to feel more comfortable.
Each layer is an additional buffer. The more layers there are, the warmer you get.
For most people, the trick is to have enough layers. It should be enough to keep yourself warm. And while doing that, one should also maintain comfort. The layers should also not impede your ability to move comfortably.
To do some layering, one can start with a smart thermal. Tank tops are not advisable. They would be a waste of space in this case. Instead, one can go with long-sleeved garments. The next layer should be a loose garment. A cotton t-shirt would do.
This should give you a lot of options when the weather warms up after a while.
Finally, flannel shirts go well as the next layer. This should be something you can easily remove and tie around your waist in case it gets warmer.
In addition, the flannel is lightweight. It is also easy to pack.
On top of that, you can add a sweater. A hoodie would also work well. All these layers you put in before the leather jacket.
Of course, everything would have to depend on how cold the weather is. If it is not extremely cold, you can skip a few layers.
What do you wear with a jacket during winter?
Leather jackets go well with a lot of other garments. Pairing should never be a problem at all. Leather jackets pair well with shirts and sweaters. Hoodies also go well with leather jackets. Aside from that, boots should also be helpful. Make sure it matches either the jacket or the undershirt. And for the ladies, a pair of leggings paired with a skirt and a leather jacket is fab. Finally, never forget to accessorize.
Staying comfortable while in style is easy.
Leather jackets can usually help. It is one of the ideal outer wears whether it is the cold or warm season.
It is also versatile. It can go well with a male or a female, whether you're young or old.
On what to wear leather with, here are a few tips.
One on Top of the Other
When the weather becomes colder, leather jackets are here to save the day. It is comfortable and can keep one warm.
But when the weather calls for it, leather jackets may also require layering.
The leather should be the outermost layer. Inside it, you can always wear a shirt. You can also add a sweater or a hoodie on top of the shirt.
When layering, there are a few things you must remember.
One is that you need to layer according to the weather. If it is too cold, You may need additional layers. When you can go about the day with a shirt and a leather jacket because it is not too cold, go ahead.
The other consideration is your comfort. When layering, you should be able to move despite the layers comfortably.
The Matching Boots
Leather jackets go well with boots.
They are rugged and keep you warm. Boots are also durable while making sure the wearer stays in style.
And the best thing about boots is that they pair well with a leather jacket.
The thing to remember is that this footwear should be of the same color as the jacket. This should ensure you maintain a consistent appearance.
Black leather jackets pair well with black boots. If it's a brown leather jacket, go with brown boots.
Leggings + Skirt
We see it too often—women wearing leather jackets paired with a skirt.
And should you go in this direction, wear a pair of leggings.
Perhaps at the start of winter, the leggings may be unnecessary. But as winter gets colder, you may need extra leg protection. And this is where the leggings come to save the day.
It should be able to keep you warm.
But remember, when wearing leggings, the word to remember is cohesive. This means the leggings should be consistent with the rest of the outfit. And this includes the leather jacket.
Scarf it Up
Accessorizing is important. It can either help or hurt your overall appearance.
Leather jackets are actually no exceptions. When you wear leather jackets, you can also accessorize.
A scarf is the safest accessory of all. Not only is it safe, but it serves another purpose.
It keeps you warm. But when you choose a scarf, choose a color that works well with your leather jacket.
Remember, not only is a scarf something to keep you warm. It is also an accessory.
Is a leather jacket warmer than wool?
If you are wondering whether the leather is warmer than wool, the answer is no. Leather is not warmer than wool. But to emphasize, leather has a great heat absorption capacity. This keeps you warm. But compared to wool, leather is not as warm.
This concern is common.
People always ask which of the two is warmer. Do I get leather? Or do I go with wool?
Here, we talk about leather and wool. We talk about their differences. Plus, we talk about their alternatives.
Read on.
Leather and Wool Defined
We can start from the beginning.
Before comparing the two, let's differentiate a bit. What is leather, and what is wool?
What do they have in common?
The only common denominator between the two is that they both come from animals.
Leather is something from the hide or skin of animals. This goes through a process that includes tanning and dyeing.
The most popular type of leather is those from cattle. This is because this type of readily available at all times.
Aside from cattle, leather can also be from snakes and crocodiles. The hide or skin of other animals like pigs, goats, and sheep can also be used as leather. These, however, are not as popular as those from cattle, snakes, and crocodiles.
On the other hand, wool is also from animals.
Wool is a fine fiber. This is something you get from the wool of goats and sheep.
The material easily blends with any synthetic fabric. This makes wool more popular.
The sheep or goat gets sheared off. This happens about once per year. The process is to collect the wool.
Once collected, the sheared material goes through a tedious process. This goes on until we get the wool that we see.
When it comes to wool, the material from sheep is the most preferred.
The Demand for Leather Jackets During Winter
The leather alone is not an insulating material.
But leather garments like jackets have insulating layers sewn inside them. This serves as an added layer.
The outer layer is the jacket. The inner layer is of another material. This then ensures the wearer gets enough protection from the cold.
The inner layer is usually of fleece or wool.
Whatever material it is, it should be enough to keep the body warm.
100% Leather and the Help from Wool
A garment made of 100% leather does not do much when it comes to keeping you warm. As you already know, the added inner material traps most of the heat.
What traps the heat the most is the inner material. Most of the time, wool is actually used for this purpose. They are great in dry and snowy conditions.
The issue, however, is when it gets wet.
Leather and Alternatives
For the longest time, leather has always been the most preferred fabric for cold weather.
But with all the innovations recently, even the textile industry has many alternatives.
One of these is synthetic leather. Most synthetic leather jackets come with fleece lining. This innovation can provide the wearer with waterproof outerwear.
It can also be insulating. It comes with a warm inner layer. And these synthetic jackets are perfect for when you crave outdoor activities.
It dries easily. Synthetic leather is also lighter.
100% leather comes with a waterproof membrane. Despite that, 100% leather still needs regular waxing. Plus, when they get wet, they take longer to dry.
In short, synthetic leather requires less maintenance compared to 100% leather. And this comes to you without harming any crocodile or any animal out there.
—
Leather jackets can keep you warm. And when one pairs the perfect leather jacket with suitable garments, it can look great.
In general, leather jackets have a level of versatility most people underestimate.
It keeps you warm.
It is comfortable.
All these, while remaining stylish throughout.