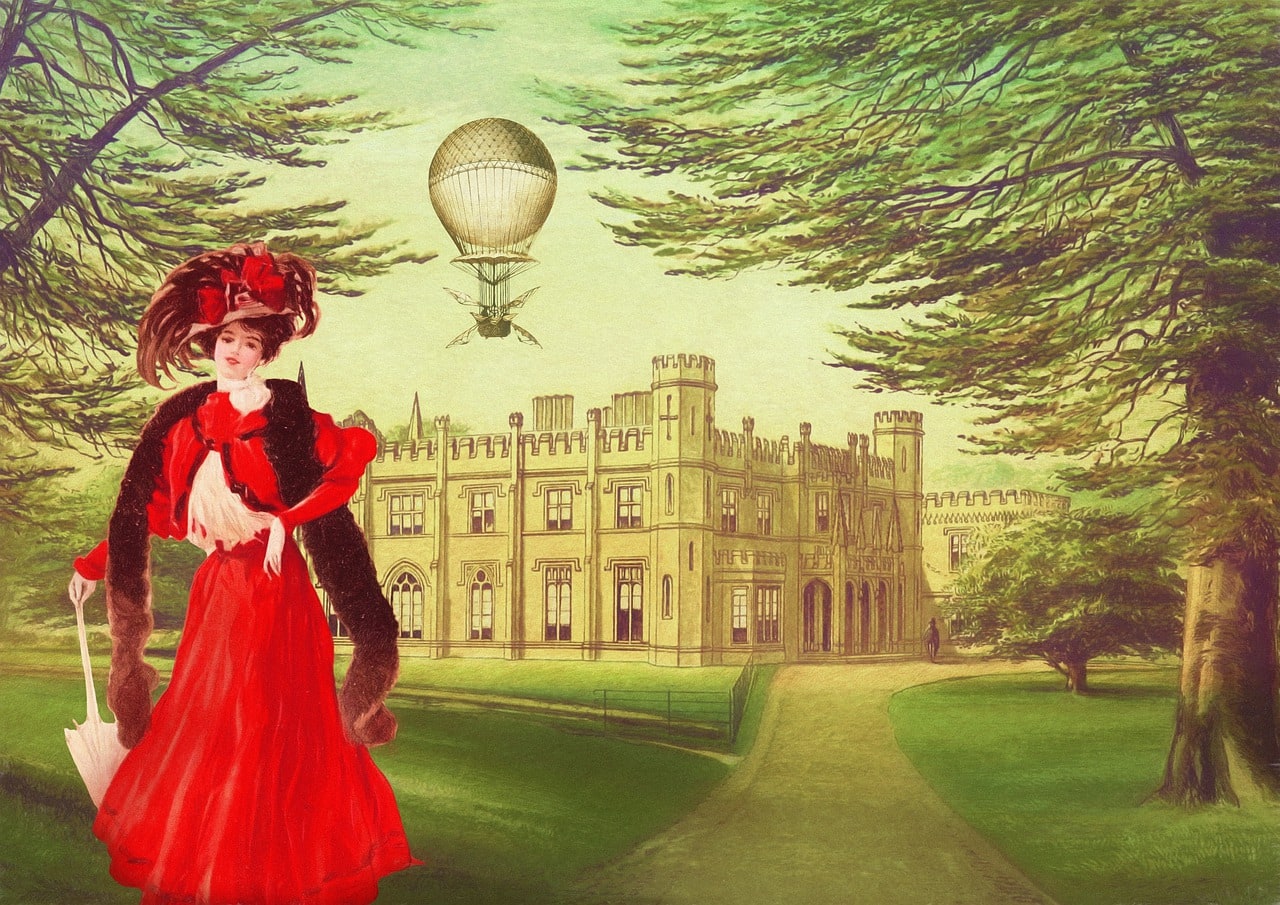 British hats are called Fascinators. It's a tiny elaborately designed hat that is clipped to the head of the wearer. It is a popular fashion accessory among the women of the royal family.
Have you watched the wedding of Prince William and Kate Middleton? Did you notice all the fancy-looking hats some of the attendees wore? Even if you are not a member of the royal family, you would be familiar with those fancy-looking hats. But what are they called?
What are Fascinators?
These tiny elaborate hats are called fascinators. It is smaller than the usual hat and is clipped on the wearer's head. Additionally, this headgear is very famous for royal family women. The name fits the stunning design, right? I will leave you mesmerizes especially if you're in an event filled with this kind of hat. While it may be called fascinators now, in the 1960s it goes by a different name.
The word fascinator first swept through the fashion industry during the 17th century in Europe. During that time, this word was used for a lacy scarf which women use around their heads. Contrary to how attention-drawing fascinators are today, the 17th-century version aims to create a mysterious allure in the air. When the mid-20th century arrived, a new line of hat styles hit the market. That is why fascinators and the apparel it describes were left to fall out of fashion.
The Comeback of Fascinators
In the 1960s, John P. John, a New York milliner, thought that the ear of fascinators should resume. Instead of keeping the original design of this headpiece, he did an overhaul and a complete reconstruction. He used the name to rebrand the small cocktail hats that were known at the time as half-hats or clip-hats. This new name, helped the already-famous design become a bigger hit.
While fascinators are not common in the US and some parts of the world, they are a staple of high-profile royal gatherings in the UK. Princess Beatrice understood the full potential of the said accessory when she debuted her now-legendary fascinator during the royal wedding of Prince William and Kate Middleton in 2011. Eventually, she auctioned it off on eBay for a charity and was able to sell it at 130,000 dollars! That is why, people were on the lookout for her arrival during the wedding of her cousin, Prince Harry.
Fascinators: Etiquette and Tradition
If you try wearing a fascinator for an afternoon tea in a café, you might end up looking out of place. But for royals and weddings, it is only proper to wear them. Why, though? According to an etiquette tutor, it is proper etiquette for women to wear hats at royal weddings. It is not considered proper for ladies to show their hair in public.
Aside from this, fascinators are a part of British culture. For every special occasion, a hat completes it. Furthermore, some women wear fascinators to show off their wealth and social status. Others, wear it to follow British traditions. Some find it an avenue of self-expression.
What is the difference between a hat and a fascinator?
A fascinator is smaller than a hat. Some people in the fashion world would even point out that if it's over 4 inches wide, it's not a fascinator anymore but a hat. In other words, fascinators are decorated small hats that do not have a crown or a brim.
Did you know that those fancy-looking headpieces that British people wear during special events are not considered hats? Don't worry, most of us thought that fascinators are hats. But you need to know what sets them apart. Knowing this will help you decide which of which is better for a certain occasion. Here are some guidelines to help differentiate the two.
What are Hats?
We all know what a hat is. We're sure that most of you if not all have one at home. We recognize it easily and are familiar with its various styles and designs. By nature, hats are designed to cover the whole head and will always have a brim. You'll also notice that they are by far larger than fascinators. Also, they would require more materials to make them. A hat is not only a fashion accessory but it's always been a part of our culture. As you know, hats are first worn as part of various kinds of uniforms.
While most hats are made to shield our heads from the harsh sun, others are made to keep us warm during the cold days. Although hats have proven their worth and functionality, it's mainly worn as a fashion piece. Do you wear a hat to complete the vibe that you're going for or do you wear it because of its use? Either way, hats are accessories with function.
What are Fascinators?
As mentioned earlier, fascinators, as we know them today, were first worn during the 19th century. It has a long history from when it was known before and how it became the fancy headgear, we are familiar with now. Unfortunately, unlike hats, fascinators did not become that popular with the masses. But after its comeback in the 1900s, more women got interested and started fancying it. Although, instead of being referred to as hats, people call them headbands.
There is no clear background as to where the term "fascinator" came from. Yet some people speculate that it may be related to the Latin word "fascinatus". It means casting a spell on something or someone.
What is the difference between the two?
One of the main things which they differ from is that fascinators cannot stand on their own. Generally, fascinators need to be attached to a clip, comb, or headband. Furthermore, fascinators are decorated with flowers, feathers, and beads.
As described above, fascinators are smaller than hats and are not more than 4 inches wide. Once it exceeds, it's already considered a hat. To summarize, fascinators are tiny and heavily decorated. Furthermore, it does not have the usual parts of a hat like a crown and a brim.
Why do the British royals wear hats?
During the 1950s, an etiquette rule states that as part of the royal protocol, women must wear hats to all formal royal occasions. During this time, it was considered improper for women to show their hair in public.
If you have a keen interest in the British monarchy, one of the things that you've might take into account is their fashion and style. A common accessory for the women of the British monarchy is hats and fascinators. Although fascinators are not usually seen on the streets, it's always present amongst the monarch.
If you have been following Meghan, Duchess of Sussex even before she became part of the royal family, then you might notice the evolution of her style. Now that she became a member of the royal household, most of her outfits are complemented with hats. It makes you wonder, why do the royals wear fascinators and hats most of the time?
While it may be mandatory back in the mid-century, women are not obligated to wear fascinators and hats anymore. Now, they can decide whether they want to complete their outfit with a hat rather than being a compulsory dress code.
Fascinators and Women in the Royal Family
Compared to the general public, royals wear fascinators more often. You'll see this through Meghan Markel and Kate Middleton as well as the Queen herself. Why, though? It turns out that wearing fascinators and hats is part of the royal protocol. This protocol was stimulated by traditional rules that oversee decorum back in the mid-century. It states that women are required to wear hats to all forms of royal occasions. This dates back to the 1950s wherein women who are members of the upper class and royal family is not allowed to show their hair in public.
Until the 1950s ladies are seldomly seen without a hat in public. But as time pass by, all were changed. Now, hats are set aside for more formal events. This is the reason why you've probably seen Kate and Meghan wear hats during formal and special occasions. But for smaller events, you'll see that they have their hair down.
Fascinators: Status Symbol and Culture
Another thing about hats and fascinators, it is a symbol of status and wealth. If you're wearing one, it's like a visual mark that you're an elite and you're following the gentry rules. Aside from abiding by the rules by completing your outfit with a fascinator and a hat, people know that you're in a different class. Why? Simply because a good quality hat is very hard to fake, that is why it makes a classist line.
On a lighter note, fascinators and hats are not only used by royals to distinguish themselves from the public. Also, it is not only due to etiquette they have to observe. Fascinators and hats are also a part of British tradition and culture. Additionally, it adds an exciting air when dressing up for a special occasion.
During that time people are very frivolous and serious when it comes to the hats and fascinators they wear. It's the icing on a cake. But if your part of the royal household, you cannot just wear any hat with any outfit. For an A-line dress, they must pair it with a hat that has a wide brim to balance the skirt's column. If the outfit they are wearing is more tailored fitting, a simple fascinator will be chosen.
Whether it's a wedding, baptismal, special royal event, or a formal anniversary, you'll always see royals adorned with fascinators and hats. Yes, it's not a norm in most countries but it's fascinating to see all the creative fascinators people come up with.
Should I wear my hair up or down with a fascinator?
If you style your hair up and loose, opt for a medium-sized fascinator. If you're wearing your hair down, you can go for a bigger fascinator. In the instance that the fascinator has elastics, which you should avoid at all times, never wear it on your chin.
Have you seen the Netflix series, The Crown? If you did, or if you simply are a fan of the royals, you might have wanted to try wearing fascinators. What type of fascinator are you interested in? Would you prefer the simple sophisticated ones or would you rather wear the fancy luxurious ones? Either way, one of the questions you might have thought of is how to wear this accessory?
Before we diver right to it, here are some tips that you need to consider:
Go classic. Instead of getting the oversized types that will make you look like an artifact instead of a guest, opt for the classics. A simple brimmed hat or a mini pillbox does not draw too much attention.
Study the material. A perfect type of fascinator for the summer is those made of straws. It's airy, lightweight, and not too fuzzy.
Turn down the dazzle. A few gems are okay but too many glitters are over. Also, be cautious of the feathers. A few long-looped plums are attractive. But too much will make you look like a stage performer.
How to Wear a Fascinator?
Choose a side. A fascinator must always be worn to the sides. Although recently, some are wearing them in from of their heads, it's harder to pull off. Unless you're a seasoned hat wearer, stick with the side.
Balance the proportions. If you have straight sleek hair, go for a smaller fascinator. If your hair is in an up and loose style, pair it with a medium-sized fascinator. If you are letting your hair down, go for the bigger fascinators.
Get rid of the elastic. If ever your fascinator has an elastic strap, never wear it on your chin. It's not a children's party and you're not wearing a party hat. This is a major faux pas. You can wear the strap at the nape of your neck, behind your ears, and secure it with a pin.