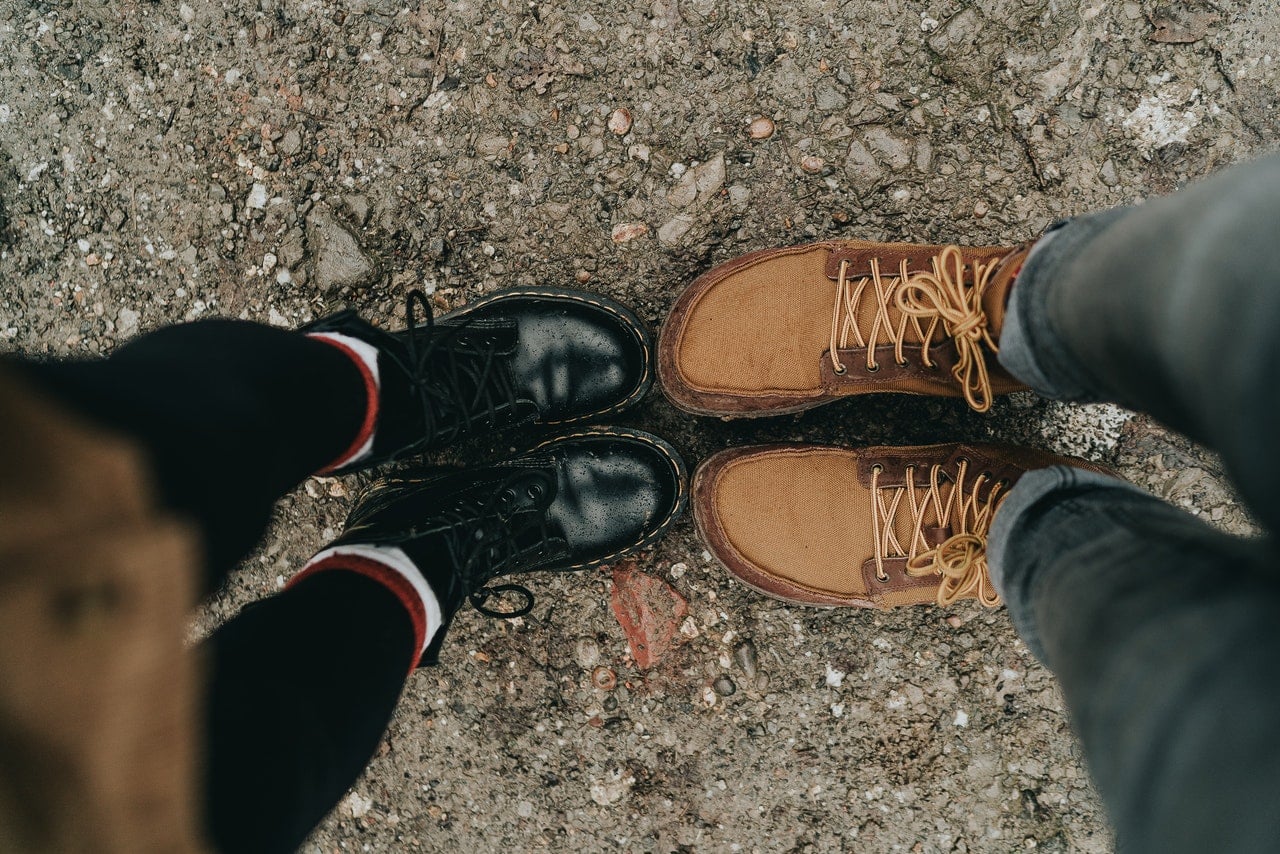 Is Doc Martens tempting? Would you like to have one?
You're not the only one.
But if there's one thing to know, it's that you can explore other options. Yes, there are options. These may not be Doc Martens, but they can easily pass as one. And the best thing about it is that you don't have to pay such a price!
Doc Martens is a popular brand when it comes to shoes. They are famous for their durable leather boots. They also have these soft and air-cushioned soles that play well with almost everyone.
To be honest, Doc Martens are some of the most comfortable shoes around.
Doc Martens: The Beginning
Dr. Klaus Martens, a German army doctor, was the guy behind the brand of Doc Martens.
This came about when he was looking for comfortable subs to hard leather soles.
At first, the advertising was for gardening shoes. And dig this, the advertising was that this is for older women. It was like this until around the 1960s, when marketing took a quick turn. There was a shift from gardening to targeting factory workers in England.
In the coming years, there was an expansion to the brand's associations. From gardening to factory workers, it now includes punks, goths, and even the grunge. It was the start of the brand's rise to popularity.
The boots have humble beginnings. In the brand's infancy, the cost was only $3 per pair. As the years' pass, the footwear's transformation includes subtle changes. It was in the shoes' designs, mostly. But for the price itself, it went from $3 per pair to more than $140.
In the beginning, Doc Martens would only produce about 7 million pairs every year. As of this writing, the styles can reach about 250 per year, with millions of pairs produced.
As of this writing, the brand's popularity grew. Its customer base now includes celebrities like Kanye West and Cardi B.
When people see that trademark yellow stitching, Doc Martens comes to mind. The brand also associates with superiority when it comes to fashion and comfort.
But let's be honest about this. They're expensive!
A pair now can be anywhere from $150 to $250. And that's too much!
And what do you do now?
The answer would be to look for alternatives.
As of this writing, many other brands have designs similar to Doc Martens. And the good thing about this is that these brands are not as expensive as a pair of Docs.
Here are six of them you may want to consider.
1. Koask Women's Round Toe Lase-Up Ankle Boots
When you hear the words "combat boots," one of the things that come to mind is masculine. There seems always to be nothing that could work well with the feminine side of things. But this pair of boots is something different. It is very female in all sense of the word.
At first glance, it sure looks like a pair of Doc Martens. This is, perhaps, because of the trademark yellow stitching as well as the heel loop. This brings to mind a 1960 pair.
The boots are round-toed. This provides your toes enough room. It also has a soft and flexible upper part. Plus, the pair comes with a cushioned footbed. This provides you with the same comfort as an original Doc Martens.
The material is cowhide. This is quite popular when it comes to the type of leather that they use for shoes. It is flexible. It is nice. And it also gives that nice spring to the user's walk.
Aside from that, this brand also brings with it the corrugated sole that is common in Doc Martens. These types of soles would prevent the wearer from skidding. There is also no chance of slipping when walking on slippery surfaces.
In summary, this is a great pair of boots. This is ideal for when you are camping or trekking. Or this is perfect just when you need something to wear for Instagram content!
2. Resonda Fashion Leather Ankle Bootie
This pair has great advantages similar to a pair of Doc Martens. They are quite similar when it comes to height. They go slightly above the ankles. Plus, they also have a heavy bottom part similar to a pair of Docs.
When it comes to its designs, you will find that this may have a few minor differences. One of such differences is the top. The Serena boots from Doc Martens come with a furry border. This pair does not have that.
Another difference would be in the body of the shoe. A pair of Docs would be of soft leather. A pair of Redonda boots are of high-quality leather that may not be as soft.
All others would be similar, especially on the stitch and the design. One of those would be the yellow stitching. Then, there's also the heel loop that is common in Doc Martens.
The pair is comfortable to wear. It is plush, in fact. This may be due to the ankle region being roomier than other brands. And if there is one thing about this pair, it is that it takes care of your ankles pretty well. It makes sure that your ankles do not get blisters from too much rubbing against the inner walls.
You should know, by the way, what's in the bottom of the shoe. It says, "made in China."
But trust me. Your friends will never look under the shoe anyway. So, it doesn't matter one bit.
3. Bruno Marc Combat Oxford Boots
Low ankle leather boots that look exactly like a pair of Doc Martens 8761. The only difference is that the Docs have steel toes while Bruno Marc's is round.
It is popular as winter boots. Each pair ensures warm and dry feet. It also brings with it some good traction, keeping the wearer steady and safe.
The original Doc Martens may come with higher ankle, 10-eyelet boots. The Bruno Marc, on the other hand, only comes with six eyelets. The original pair is of real leather, while this brand is of faux leather. But who cares? This one is also as comfortable, but not as expensive.
The Bruno Marc brand also comes in 7 looks. It has different shades of either black or brown. And it is durable.
And the most important thing of all is that you don't have to pay such a hefty price for a pair.
4. Treesolo Combat Boots
If you are on a tight budget and would like to have a pair that looks like a Doc, this one is a good option. The pair is pretty classy. And for such an affordable price, this one here is also durable.
First of all, let's talk about the quality. The shoes are of high-quality leather. The bottom of each pair comes with a durable rubber sole. This makes the shoes resistant to slipping. It also helps protect the shoes from immediate wearing and tearing.
What's in it for you, then?
This only means that you have a durable pair with you. Even when you use it on muddy roads, there is a lesser chance for you to slip. The shoes are also durable and will not easily damage. Plus, this one here is waterproof.
The lace-ups are front-faced and also come with metal eyelets. This makes it easier for you to tie the boots firmly.
What we also like about this pair is its round-toe design. This makes it more comfortable for the wearer. Plus, it looks very stylish.
And of course, this shoe won't ever miss the yellow stitching in black background.
This pair has a striking resemblance to Doc Martens. And as such, one can wear this pair in comfort and confidence.
Don your coat, jeans, or shorts. Whatever you wear, these unique combat boots will pair well.
5. Dadawen Ankle Bootie Casual Lace-Up Short Boots
When it comes to looking like a Doc Martens, this one here may not really be at the top of the list. But when it comes to style and durability, this pair comes pretty close to the real thing.
The pair comes with anti-skid rubber outsoles. This means you can easily wear them even in muddy areas without fear of accidents. And if there is one very important thing, it is that this pair is water-resistant. In fact, you can call this a weather-friendly pair of boots.
It doesn't matter whether it's the rain, snow, or the heat of the sun. You can readily wear the pair, whatever the weather may be.
The pair comes in two colors. You can have your choice between black and cherry red. Aside from its two colors, you can also choose from amongst many sizes.
The pair is of pure leather. This is durable and should last you for many years. Aside from its durability, the pair also comes with a cushioned footbed. This gives you the ultimate comfort while wearing the boots.
What we like about this is its design. It can easily pair well with any outfit you feel like wearing. Whether you're wearing pants, skirts, or jeans, this pair really go well.
6. Allonsi ALG2001 Leather Chelsea Boots
And finally, last but not the least is a jaw-dropping pair, Allonsi ALG2001.
This is a pair that has it all. It is durable, comfortable, and flexible. Add to that; this is also a stylish pair of shoes that will not put you to shame, no matter the occasion.
The upper part of the shoes is from high-quality leather. This adds to the overall look of the pair.
Its sole is also from leather. This makes the sole much stronger than the usual soles made of plastic. This also enables the wearer to walk with ease, no matter how slippery or uneven the terrain is. Plus, it comes with an anti-skid design. This should put your fears of falling to rest.
It comes in different sizes and colors. You can easily pick whatever suits you best.
The model comes with a classic round-toe make. This is perfect for any outfit, any occasion.
The one thing you should know about this pair, though, is that the price may be a bit higher. This should not be as expensive as a Doc Martens. But this is more expensive than other Doc Martens alternatives.
Another thing you should know is that the cleaning may be a bit tedious. But there's nothing that a gut lather of leather shampoo cannot get.
Air dry after washing. That should keep your shoes ready for your next adventure.
FAQs
Now that you have a list of alternatives to a pair of Doc Martens, things may be a bit clearer than before. But should you still have questions about the brand, we're here to answer them.
Here are a few things about Doc Martens that may be bothering you right now.
How long does a Doc Martens' sole last?

If there is one thing about Doc Martens, it is always about quality and durability.

Most users contend that their pairs could last for many years. Some even say they lasted for ten years.

A pair of Doc Martens is a great investment. Any pair can withstand any weather, terrain, and condition. Just make sure to clean and care for the boots, and you're all good.

Will my pair of Doc Martens, be good with the rain?

Doc Martens are sturdy. But they are not resistant to water.

But as the company has been producing a lot of designs over the years, some are waterproof. This means that not all Doc Martens are ideal for wearing on rainy days.

Are Dr. Martens and Doc Martens the same thing?

Yes, they are.

—

So, there you have it.

While these six brands may look like a pair of Doc Martens, we are not saying these are the same. There are parts of each pair that may look like a Doc Martens. But this does not mean that the whole design is the same.

Docs may still be sturdier at some point. But these 6 are great alternatives if you are looking for one.

Not everyone can afford a pair of Docs. If you are not so sure of getting a pair of Docs, for now, try on any of these 6. We assure you, they can be just like the real thing.

And what's more, they won't break the bank.