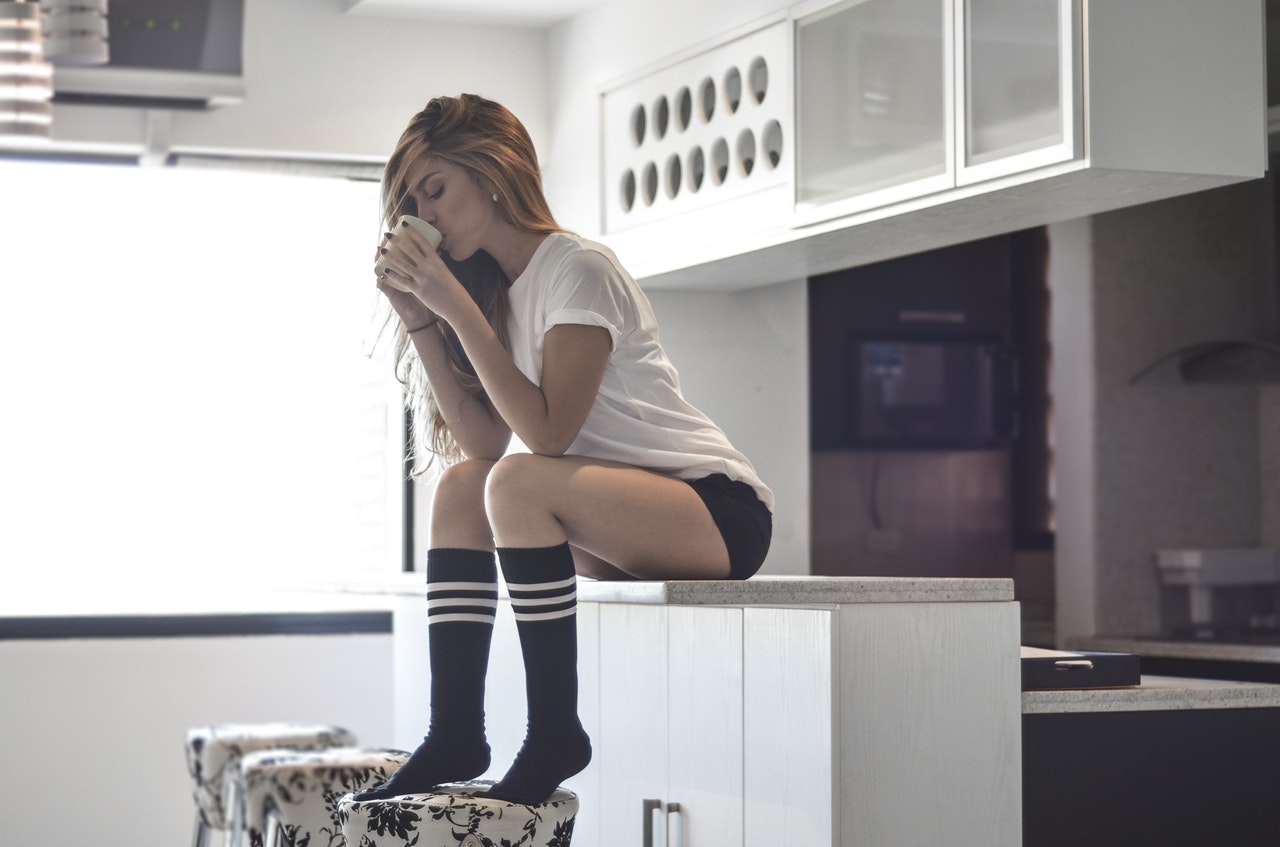 Others prefer black socks as they are easier to clean. Some prefer white because they go well with sneakers. But when it comes to what is better, black is better than white. It goes well with many colors. Plus, when it comes to stains, they do not show much in black socks.
There are a lot of reasons why most ditch white socks. For starters, white socks provide a great backdrop for stains. Aside from that, they make you look like you're about to go to school.
With these taken aside, what else are the advantages of black socks over white ones?
Read on to find out.
For Easier Transition to Evening Wear
If you wear white socks during the day, it would be hard to transition to evening wear.
This is because you can never wear white socks with your tux. They will never match. And even if you do wear white socks for your evening wear, they will never look as elegant as a black pair.
Now, when you wear black socks during the day, the transition to evening wear will be smoother.
This is because, with black socks, you can wear them with anything. White socks pair with few styles of clothing. And no, they do not pair well with evening wear.
Unless, of course, you are wearing all white for an elegant night out in town. But if you are wearing colors other than white, you'd be safer with a black pair of socks.
White Socks and Jeans are Not Friends
Consider your pair of jeans.
They are some of the most popular garments around. At some point in everybody's lives, all must have worn or owned a pair of jeans at least once.
A pair of jeans go well with almost anything you have in your closet. They pair well with anything except white socks.
Can you imagine wearing skinny jeans and pair them with white socks?
Black may not always be the best option, but they at least pair well with jeans. For the case of white socks, they're just not friends. They should never go together.
Easy Dirty
White socks look great. This is especially when you wear them lounging at home.
But when you need to go out for coffee or just get the mail, they don't remain that white anymore.
These white socks seem to be magnets for dirt and stains. When you go out with friends in your white socks, it would sometimes appear like you're careless because you get stains on them easily.
Black socks don't do this to you.
Because of the color, it hides stains well.
This, of course, does not mean you should not wash your black socks for eternity. You still should, for reasons of health and hygiene.
But when wearing black socks for lunch with friends, you don't spend much of your time checking for stains or dirt. They can easily hide them well.
They Never Work with Work Clothes
As a manager or director of your department, imagine yourself wearing white socks and a suit. They just don't work!
People will never take you seriously at work. One look at your white socks, and their overall impression of you is negatively affected.
Manage perceptions.
Wear black socks to work instead.
Sweaty Images
And speaking of managing perceptions, this next discussion is somehow related.
You see, white socks are always found at the gym. You wear your gym shoes and tennis shoes with white socks.
And so, even if you sport your white socks well to work, the impression is different.
No matter how good you look in them, these white socks may remind those around you of the gym. Your white socks will bring to mind sports, the gym, and sweaty feet.
The Lazy Image
When you wear socks of other colors, it takes time.
The socks should match your overall getup. This means that you need to pay attention to detail.
For you to pick a pair of white socks can project a different image. It could make you look like you picked the socks on a whim. It could even make you look like you ignore detail. This could give them the impression that you chose white because you don't want to think much about it.
This could give out an impression that you are too lazy to pay attention to yourself.
White Socks and Shoes
Except for sneakers, white socks do not seem to go well with other pairs of shoes.
Imagine wearing white socks and pair them with loafers. How about white socks and boat shoes? They just don't look great together! In fact, when you pair your other shoes with white socks, most of the time, you'd look absurd.
And this is the disadvantage of white socks.
They don't pair well with most shoes.
And unless you only wear sneakers, white socks should have limited space in your closet.
When do you not wear black socks?
Black socks pair well with just about anything in your closet. In fact, it is one of those that is universally compatible with any clothes you wear. The only time we do not recommend wearing black socks is when it breaks the visual line. For example, you were wearing light chinos and paired them with brown shoes. Wearing black socks may not be the best option. It does not mean you cannot wear black socks in this ensemble. It is just not the best option there is.
Black is something that everyone considers universal.
And yes, it pairs well with almost everything.
This begs the question. When do you not wear it?
Well, there are a few instances when one cannot wear black. And the reason is that it is not the best option in these instances.
You can still wear them, alright. But there are better ones out there.
Here's one example. If you are wearing light chinos and a melon shirt, you may want to pair them with brown shoes.
You can wear black socks in this ensemble. But the black jump out of the overall look. This will look okay, but not great.
When wearing this type of ensemble, you can go with beige socks. Tan-colored socks would also work well. The reason for this is because it creates an unbroken visual line. The beige (or tan) socks will provide that continuity with the chinos that you are wearing.
Remember, when you choose beige, it does not have to be bland. Beige-colored socks may also come with patterns and different styles. They can come in many designs.
You aim to make sure the beige blends well with your pants. Your other goal is to make sure it pairs well with your brown shoes.
It is during these instances that black may not be the best option.
And we still do not disregard black socks. It is something you can wear with brown shoes. If you are wearing chinos or some other light material for your bottom, go with beige or tan-colored socks
But should you not have any other option but black, it is still acceptable.
We won't judge you.
How do I choose which sock color to wear?
When it comes to choosing the color of your socks, there is one rule to remember. Your socks should be a few shades darker than the pants. One such example is if you are wearing navy-colored pants. Should this be the case, go with dark blue socks. When you are wearing beige pants, go with light brown socks.
When putting together your look, socks are usually those that we pay the least attention to. This may be a small piece of garment. Some may consider this as unimportant.
But paying attention to this small detail would complete your overall look. Aside from that, it puts together a touch of fashion for your ensemble.
But how do you choose the right color? How long should your socks be?
And which material should you choose?
There are unwritten rules when it comes to choosing socks. And these rules are those that work well, especially when it comes to offices and dinner parties.
We'll discuss all of these.
Plus, we will also let you know how you can pair your socks with the rest of your outfit.
Read on to find out.
The Types of Socks
Most of the time, we see socks worn with closed shoes.
The reason for this is leaning towards a more hygienic approach. Aesthetics may be one of the considerations. But this is more of a hygiene concern than aesthetics.
One such example is when you wear shoes during summer.
You cannot just wear shoes without socks by this time. You would be getting sweaty feet. Plus, you will see a lot of moisture in the shoe. This would result in a bad odor.
There are a lot of socks on the market.
Some socks are for men, while there are those exclusively for women.
Each occasion calls for a specific pair of socks. Each sock may also differ from the other when it comes to materials used, design, and color.
There are trainer socks, and there are socks that are up to your calf. There are also socks for sports and even socks for hiking.
The Material
When getting socks for winter, it would be reasonable to get those made from wool or cashmere. These would be able to keep your feet warm throughout.
During summer, your feet need to breathe. And so, one should be able to choose breathable socks. In this case, silk or blended fabrics, especially cotton, are much preferred.
There are also socks from synthetic fibers. These are more durable and perfectly fits.
When it comes to how thick socks should be, remember that they should be opaque. These socks should never be too thin.
Imagine wearing socks that are too thin that your ankles and legs show through the fabric. These types of socks should never have a place in your closet.
Over time, socks get torn. A hole will show up. No matter how durable the material is, holes will eventually appear.
When they do, replace them. They will never be able to provide you with the protection your feet need.
Throw them away.
Get a new pair.
The Ideal Color
When it comes to socks, black is always the safest bet. But this can also be boring when it comes to styling.
What you can do is match the color of your socks to the rest of your look.
Now, when it comes to colors, there are single-colored socks. When going for single-colored socks, go with the muted shades. These are always safe choices.
When you choose socks of extravagant colors, make sure that the colors are not too loud.
These socks should also be good for when you are outside the office.
But speaking of offices, you can still wear bolder-colored socks. This should only be if you hold a job that fosters creativity. This is also applicable to offices with dress codes that are a bit more relaxed than most.
One, however, should always be careful with the choices when it comes to clothes.
There are colorful socks, and there are colorful socks with designs. Some can be dotted, and some can be striped.
Be careful when choosing these socks.
They can go well with a suit, yes. But these patterns tend to always be out of place. It appears that there seems to be a lot going on with the designs. This is the reason why one should always be careful when going with these types of socks.
Socks and Pants
There is one thing we should emphasize. It is that the color of your socks and shoes should complement each other. Aside from that, it should also connect to the color of your pants.
As you already know, the color of your socks should be a shade darker than the color of your pants.
—
Choosing socks can be fun.
There are a lot of socks that come with patterns and designs. Some come in many colors.
The sky's the limit when it comes to socks and their styles. But if there is one thing to remember, it is that you should never overdo it.
And when you choose, remember to always match it with whatever occasion you are going to.