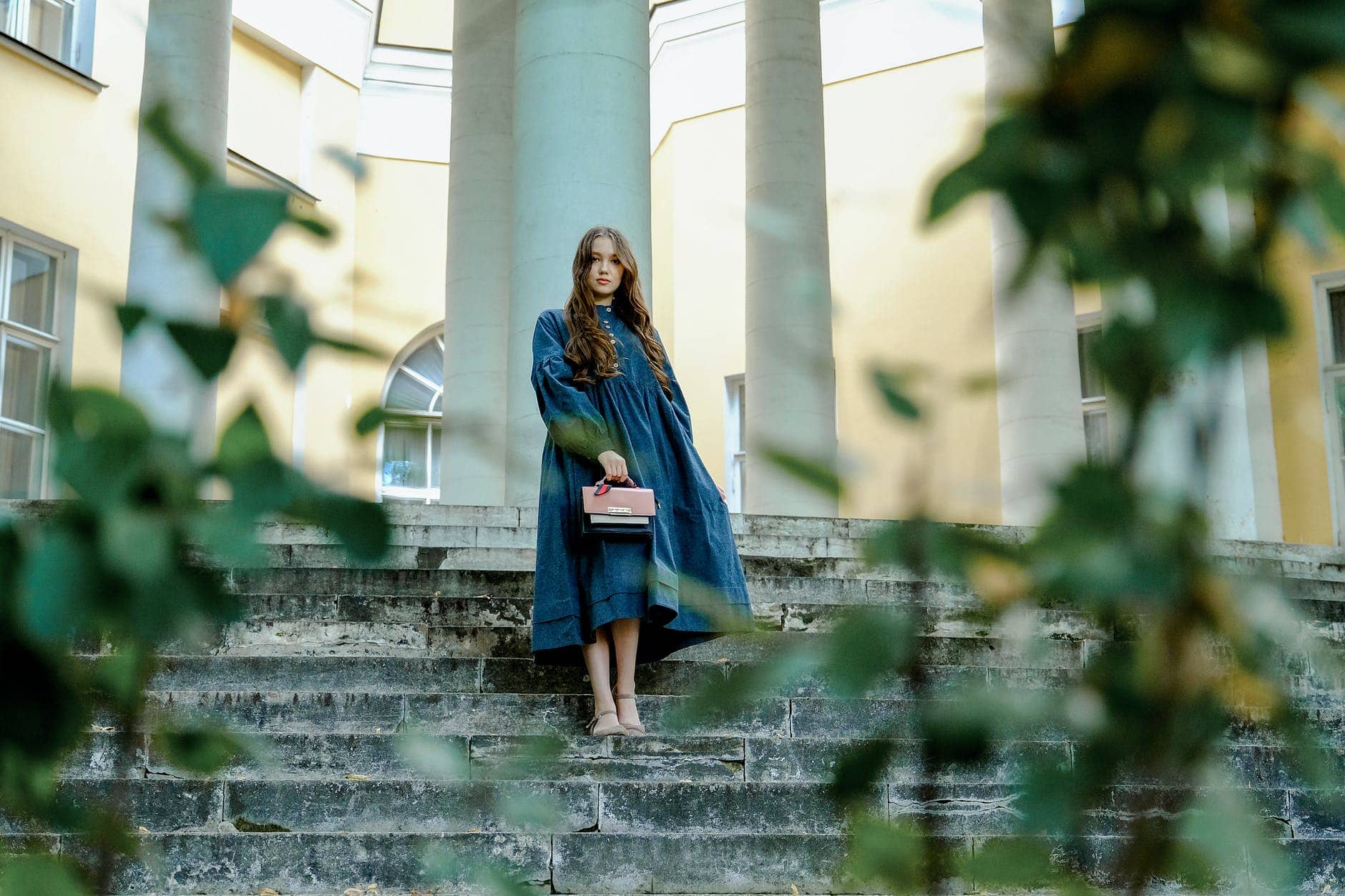 Big belly problems? Yep, we can relate. Women go through the different stages of their lives. As this happens, several physical changes also occur. A particularly unpleasant one is the big belly.
That's right. That thing that was far-fetched in most of our teenage life creeps in on us; and, I hate to say this, stays. When I was young, how I look now would give me the worst possible nightmares.
Now, I realize it is pretty normal. I even consider myself pretty for my age. Lol.
I don't want to generalize though. Some women even in their 40s or 50s don't get it. They can still choose to dress how they want. Good for them.
For us mere mortals, whose time seems to elude us, there are ways to make fashion work to your advantage as well.
What causes a big stomach in females?
Reasons vary for different women, for sure. But the most common culprit of this problem is weight gain and yes, child-birth.
Excessive belly fat causes women to have a big stomach. This has to do with a person's lifestyle. In other words, how you spend your time and how you live your life matters. Do you exercise? Eat the right kind of food? Sleep enough? These are the major factors that contribute to a weight gain resulting in a big belly.
Another is child-birth. 90% of women who go through child-birth go through body changes. We get stretch marks, curves at the wrong places, and yes, a bigger stomach. It is the price we pay for bringing a tiny human being into this world.
It doesn't matter over time because as time passes, we can accept the changes. We come to realize that these changes are not so bad. We develop ways to work around this reality. Ways such as wearing clothes that cover those parts that we don't want to expose.
How can I make my big belly look smaller?
If you want to find ways to work around your big belly, then this is the article for you. Lucky for us, there are ways to make our belly look smaller.
Drinking water. Drinking water is the cheapest and most accessible way to lose our big belly. It might be a little boring but mind you, it works. Drinking water makes you full and allows you to drain toxins from your body. It also results to clear skin and a hydrated look.
Make sure to bring water with you. A few sips can become more without you noticing it. Try bringing water from your home so you can save up and save the environment from more plastic bottles.
Drinking 7-8 glasses a day is still best for our weight and our skin. If you can consume more liquids, the better.
Eating healthy foods. Eating healthy should always be on top of our list. To lose weight, you need a 90% diet, 10% exercise. If you want to make your belly smaller, pay attention to that.
A high sodium diet causes bloating. This is because sodium retains water. Where sodium goes, water follows. The same principle applies to sugar and sugary products.
Sensitivity to certain foods can also cause you to bloat. Foods that can cause inflammation are best avoided. Examples are processed foods, unhealthful oils, processed carbs such as white bread. Others are processed snack foods such as chips and crackers. Pre-made desserts such as ice cream, candy, and cookies.
Food intolerance can also cause bloating. This is true for lactose intolerant individuals. Dairy and dairy products are best avoided. Dairy alternatives are some that also cause bloating.
Certain foods make you bloat. Cruciferous foods such as cabbages, cauliflower, and Brussels sprouts are some.
Fruits such as watermelons, apples, pears also cause bloating. Even dried fruits can have the same effect.
Onions, garlic, mushrooms can also cause you to gas up or bloat.
Beans and lentils are also culprits to this problem.
Even protein bars can cause bloating. Barley and rye can also do this to your body.
Large amounts of alcohol may also cause you to bloat. Beer can give you a "beer belly". Take note that this bloat will not go away once you reach a certain age.
Carbonated drinks and diet soda are also culprits to this problem.
This doesn't mean that you shouldn't eat them. What this means is that you might want to taper your intake. Opt to tone them down if you plan if you are aiming to wear that tiny bodycon for a night out.
While we can't rule out eating these types of food, it is good to know which ones they are so that we are aware of. Having a better alternative to these foods can serve you well in the long run.
Yogurt, ginger, fennel, bananas, lemons, cantaloupe, avocado do not cause bloating.
Cucumber, asparagus, kiwi, papaya, white beans, pineapples, beets, kimchi are also some. Celery root, tomatoes, coconut water, artichokes, zucchini, oatmeal work to debloat your stomach.
Raspberries and blueberries also good options
Exercise. That's right. It's painful, it's a hassle, but it is also very much worth it. Working out is the most natural and healthy way of losing these unwanted belly pooch.
With the ongoing pandemic, we have to find creative ways of how we can carve out ways to exercise. The good thing is, everything now has become digital. Working out with professionals can in the comfort of your home is easy.
I recommend downloading exercise apps and working out using digital instructors. These apps allow you to work out in the utmost comfort. It also allows you to connect to the communities of women who are fighting for the same goal as yours.
Adequate sleep. Sleep contributes to our health. We need adequate rest to function. If we don't our brain and our whole body becomes affected and may result in actions that can be harmful to us.
These actions may be late cravings, fatigue, depression. Late cravings cause us to not have time to digest our food. Fatigue is common when we don't have enough rest. Depression can result if these actions are happening often. These wreak havoc on our health.
Sleeping 7-8 hours a day benefits our body. You should maintain this if you want to lose your belly pooch.
How can I hide my belly pooch?
If you must want to hide your belly pooch, here are some ways to achieve a smaller belly:
Choose loose clothes over tight ones. Loose clothes give the illusion of a fit, covered body. While it won't as effective as losing it, at least this gives the onlookers the benefit of a doubt. You might have a pooch, you might not. Wink, wink.
Pay attention to clothes with vertical stripes. Vertical stripes slim down your figure. It guides the eyes to skim through your whole figure without pausing in the stomach area.
Choose clothes a little longer than the knees or a maxi length. Clothes in this length hide a belly well. It elongates your body as well as hiding your tummy.
Use one color blouses and pants (monochromatic). Monochromatic clothes are a good investment for hiding big bellies. These clothes look elegant and expensive. They also take unwanted attention from onlookers away from your stomach.
Wear dark and solid-colored clothes from top to bottom. Dark colored-clothes work well in hiding big bellies as well. Dark colors have a way of making you look slim, streamlined, and toned.
Wear loose tops, t-shirts, and tunics. Tops are also a convenient way to lose the attention of your belly. It gives you a relaxed, comfortable silhouette and covers your stomach well.
Wear skirts. Skirts can also hide a big tummy. Skirts were my favorite go-to-style when I did not want attention to my stomach when I gave birth. To do this, tuck your shirt in your stomach and viola, your stomach disappears.
Wear cardigans. Cardigans are also a smart way to hide your stomach. It doesn't only make you feel comfy, it can also add more style to your ensemble.
How should I dress if I have a fat stomach?
If you want to have options on how you can best dress for a fat stomach, below are some useful tips you might want to keep:
Wrap dresses
Wrap dresses flatter women's curves without highlighting the unnecessary bulges. This cut is flattering to all body types making this style a classic closet staple.
Empire line
This dress allows for a higher waist. This cut accentuates the chest more than it does the waist. Usually the preferred style for pregnant women.
Bold prints
Bold prints have a way of playing tricks to your eyes. It diverts the attention of the beholder creating the focus on the prints rather than the curves.
Sleeve Detail
This is another style that diverts focus from the curves or the belly fat to the sleeve details instead. Sleeves offset the attention from the stomach to the sleeves. This makes your tummy less noticeable.
Pleated dresses
Pleated dresses can be forgiving. It is because it doesn't hug the body; it allows for more space for the body to expand in an elegant tailored way.
Trapeze dresses
This type of dress emphasizes the shoulders while creating a roomy bottom skirt. This dress is also called the "tent" dress. This is especially great for pregnant women.
How can I hide my belly fat in leggings?
Firm but stretchy leggings are a good choice. They keep the tummy in without being too tight or uncomfortable. They work jeans are a great choice as bottom wear.
Leggings tuck the tummy in and hide an unwanted bulge. To make this work, make sure you buy the leggings with the right materials.
Lightweight, breathable fabric should be your focus. These types of leggings are easy to wear for a longer time. They also do a good job hiding your stomach.
For leggings that offer full support, spandex materials are a good option. Some brands give these features. Brands that also offer spandex products are a good investment for you.
How can I hide my belly in a bodycon dress?
Yes, we all love wearing bodycons. It is my personal favorite. To me, nothing makes me feel more feminine than wearing a bodycon. It's alluring, it's flattering, and it's youthful.
But what if you have a big belly? A bodycon is a bodycon. One must deserve to wear it. Or one must sacrifice so one can wear it.
The answer I'm afraid calls for a drastic measure.
Yes, use a tummy shaper.
I'm sorry. This is desperate times and so we have to have some desperate measures.
To avoid a big stomach I told you to avoid anything tight around the waistline. But this doesn't include a waist shaper – the corset of modern times. A tight waist shaper belt inside your dress can make the waistline look slimmer by many inches.
Sometimes called a waist trimmer, a body shaper. Other times tummy shaper, tummy control belt, smoothening shaper briefs, & shaping tights. They all have the same function. They all flatten your tummy and contour your waist to look slim and shapely, under your clothes.
Conclusion
Having a big belly is not the nicest thing to have. Yet, you shouldn't worry because fashion is far too advanced to not be able to keep up.
It is fashion's job to take care of these little problems for us.
These tips when followed can work to your advantage. They make the stomach and usually accompanying love handles look less prominent. They will help flatten your tummy and flatter your figure.
Women should remember that we are goddesses. We owe it to ourselves to make us feel our best. May it be fashion, beauty, health. We need to invest in ourselves. Because in the end, this investment is worth it.
We must remember that we are queens in our own right. We deserve to look and feel good.