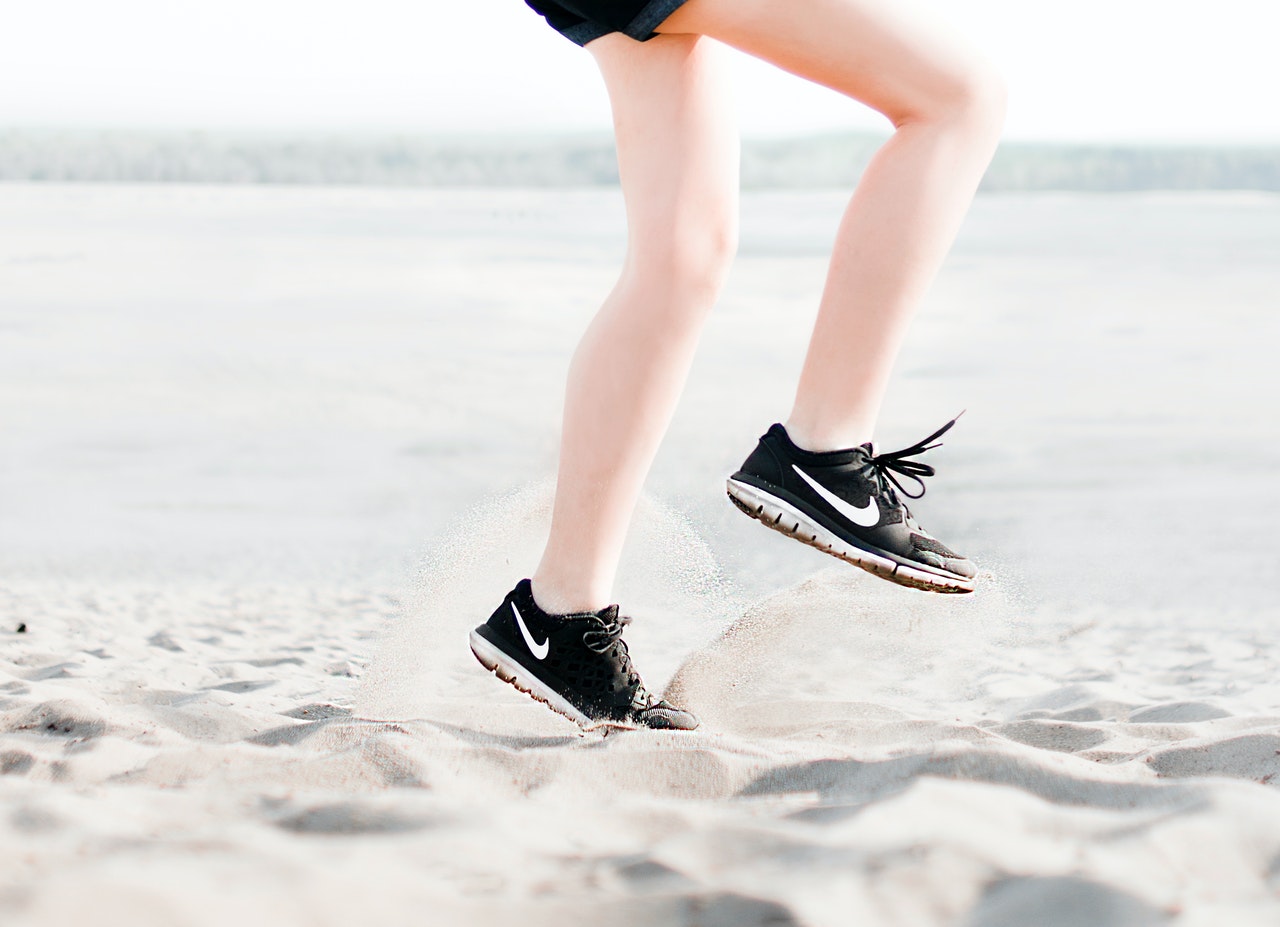 A day at the beach is always fun except when you worry too much about your shoes. Naturally, the worry comes from if sand and all the other beach elements can ruin your shoes. When it comes to the sand, the answer is simple. Sand will not ruin your shoes. Saltwater can. But not sand, unless you have suede shoes with you. A quick wipe-down of wet cloth will do the trick. A little brushing of the welt and shoe trees as well will do miracles in protecting your shoes.
A quick trip by the beach is always a good thing. You can never go wrong with the beach… always.
But when it comes to footwear, there may be a little problem.
Some shoes can withstand the sand and all its other elements. Some shoes cannot.
Let's start by saying that suede shoes do not hold a place in a beach's heart. Both suede and the beach don't do well together.
Your other types of shoes will be safe with sand. Unless, of course, you dip them in water. That's a totally different story.
Anyway, how do you protect your shoes from sand?
Here are a few things to remember.
Wipe
Sand is not just sand.
It always comes with a little bit of salt water in it. And as we all know, saltwater may be bad for your shoes.
When it comes to sand, it can be a bit hygroscopic. What this means is that it partly absorbs water from the air. This, when not attended to right away, can damage shoes, especially leather or suede.
This is why, whether the shoes got into a little dip in saltwater or not, it is always a good thing to wipe them.
Once you are done with your day at the beach, wipe your shoes. This is because while you walk in the sand, some of them may get lodged into your shoes.
A few grains of them may even get inside your shoes and stay in between your toes.
It would be helpful to get them out the soonest that you can.
You can shake your shoes off to get the sand out. Or you can wipe your shoes as well.
Wipe your shoes with fresh water. Not doing so results in your shoes retaining sand and a little bit of saltwater. This can make the material go brittle. In the long run, this can damage your shoes.
Once done wiping with fresh water, let your shoes air dry.
When air drying, leave them in an open space. Do not just let it dry in a beach bag or some confined space. This should promote the growth of must and molds.
Never Soak
Now, when you are at the beach, it would always be tempting to go near the water.
Yes, you can wet your shoes if you want to, but we don't advise it.
Wetting your shoes will be uncomfortable. It will become mushy and squishy.
You don't have to worry about your shoes getting in touch with saltwater. As long as you wipe the saltwater off right after, you are safe.
Just don't soak it for too long.
Leaving it in saltwater for a long time will damage the material.
Brush
Now, some grains of sand may get inside your shoes. Some may get lodged inside the soles.
But some will stay in the outsoles.
When it comes to protecting your shoes from sand, the goal is always to take the sand out.
As soon as you get home, brush the outsole of your shoe. Be careful, though. Being rough would eventually destroy the material.
Your goal is to take the sand out of the outsole.
You can be gentle and achieve this goal.
A few gentle brushes here and there would dislodge them from where they are.
Choose the Material
Finally, you have to choose the best material to start with.
As you already know, you can't just go to the beach in your suede shoes.
This is why choosing the most suitable material is always the safest thing that you can do. Sand or no sand, when you have the right shoes, there will always be no worries.
Shoes of faux leather usually do well with sand and saltwater. The same is true with vegan leather and other synthetic materials.
These can always withstand water.
And when they can withstand saltwater, they can, of course, go well with sand.
How do you get sand out of your shoes?
There are many ways by which to take sand away from your shoes. It can be as simple as shaking the shoes or knocking them on the wall. Or it may need some equipment like a vacuum. At times, the shoes may need to go into the wash. In general, one should not worry when sand gets in contact with your shoes. They're so easy to get rid of unless you have suede shoes, which we don't recommend.
You can never go wrong with being at the beach.
And when in paradise, there seems to be nothing bound to go wrong unless you are wearing shoes.
The sand just gets stuck everywhere. In fact, once the sand comes in, it would always be impossible to get them out.
It would always be tempting just to throw the shoes away. But hey, don't.
We know how to get them out.
Because you see, when you were at the beach, you never cared much about the sand in your shoes. But if you wear the same pair of shoes to lunch with friends, you would know it's uncomfortable with sand inside them.
Not only that, but it may look dirty as well.
But there's no need to worry.
Here are a few simple ways by which you can get rid of all that sand.
Upside Down and Shake
Turning the shoe upside down and shaking it is the most common way of all.
This is helpful, especially if you have a lot of sand in there.
Such a method would help get rid of most of the sand. But there will always be a few that will stay.
But that's better than having all that sand in there.
Also, one word of caution: do it outside. You can't afford to have all that sand inside your house.
Knock Knock
You see, if the first one did not work, you could knock your shoes on a wall. Well, not always a wall. It can be a counter or something hard.
As long as it dislodges the sand from the shoe, that will do.
Wash Them
Well, this is something you cannot do with all types of shoes. Leather is one of them.
But if you have a pair of sneakers, cold washing them would do some good.
And don't forget to air dry them.
Vacuum
Get a vacuum with a removable nozzle.
This should be useful, especially with the sand in hard-to-reach corners.
The Soles
Some shoes come with soles that you can easily remove. Should this be the case, try taking the soles out. This should make removing the sand underneath easy.
Should I wear water shoes then to the beach?
Are you at the beach with your friends? Or are you down by the river? Wherever you may be, one thing is certain. You have to wear your water shoes. These should be enough to protect your feet. These should make your feet dry and comfortable.
Water shoes are pretty important.
For whatever activity, you need the perfect footwear.
This should be able to help you boost your performance, whether it is sports or any other activity. This, while it protects your feet.
You should know that you don't wear just about any type of shoe when wading into the beach. You need something that can protect your feet from sharp rocks. You need a pair of shoes that can prevent you from slipping.
And these are those that water shoes can provide.
Protection
Water shoes can help protect the whole foot. Their soles are thick. As such, these shoes can protect your feet from sharp objects. Imagine stepping on shells and rocks. That would be too bad.
Traction
It protects from rocks and shells. Aside from that, water shoes can also provide you with enough traction. Say goodbye to slipping on slippery surfaces with these shoes.
Water shoes come with rubber outsoles. These materials bring you a better grip, especially when walking on wet surfaces.,
These shoes come in slip-on styles. And they are great when at the beach. Whether you are walking by the beach or wading through the waters, water shoes are perfect. They provide you with enough ankle support, making them ideal when wading as well as walking.
Lightweight
When walking in water or by the beach, all you need is comfort.
You cannot walk by the beach feeling like you're carrying the whole world by your feet.
This can happen with other types of shoes. They can get waterlogged. And such can disrupt the fluid movement you are aiming for when walking.
Water shoes were actually made with that purpose in mind – for use in water. And not only that, but one can also walk in them on dry surfaces.
Aside from the fluid movements, water shoes also dry fast.
Other types of shoes retain water. And the bad thing is that these shoes do not drain easily. As such, you spend many hours with squishy and uncomfortable feet.
All these are equations that can result in bad odor, blisters, as well as mold growing in your shoes.
With water shoes, they dry easily. And that's reason enough.
Comfort
One of the best things about water shoes is their comfort.
Each shoe is actually crafted from mesh materials. This provides for great breathability. This also keeps your feet cool.
This would also allow the water to flow, especially when under the water. Imagine a drain. That's how it works. It drains the water out of the shoe.
Shoe Styles
When one mentions water shoes, we always think of a single-style type of shoe. But no, it is not.
Water shoes now come in many styles. There are slip-on water shoes. These are those you can wear on a day at the beach. These are those you can wear when you have plans to swim.
There are also lace-up water shoes. These types are those you wear when hiking and wading through rivers.
Certainly, these shoes do not come in just one style. They come in a variety of colors and styles, accommodating your personal style, no matter what it is.
Water Shoes and Your Activities
Now, you can wear water shoes on different occasions.
Water shoes are perfect for water sports. They also look great with other activities like kayaking, tubing, and boating. The same is true when fishing or even hiking on wet terrains.
Or you can wear them when you are lounging by the pool.
And of course, who can ever forget the beach?
Yes, water shoes are perfect for a day at the beach.
Is walking barefoot in the sand great for the feet?
While one can easily walk in water shoes by the beach, walking barefoot has its advantages. Walking barefoot in the sand can have exfoliating advantages. Not only that, but it also massages your feet and keeps the stress away. And yes, walking barefoot in the sand also burns calories!
Sand by the beach brings with their resistance. This type of resistance is good for the arches. It strengthens the arches and ankles. Not only that, but it also brings advantages to your leg muscles.
The reason why walking in the sand burns calories is because of the amount of effort you exert. Every time your foot sinks into the sand, you exert an extra effort for your leg muscles to push up and move forward. Hence, you burn more calories than walking on the pavement.
Walking barefoot by the beach has many advantages. It is not just something a romantic would do with his or her partner. But it also has health benefits you should be aware of.
Aside from you burning more calories, walking in sand is also a free foot massage.
Walking barefoot results in the sand massaging the soles of your feet. This type of motion will activate circulation.
After walking barefoot in the sand for quite some time, you will feel good. You will feel nice. You will feel relaxed.
Walking barefoot will also exfoliate your feet.
Of course, you can always get to the spa.
But you can also walk barefoot in the sand. There's no need to go to some spa for a foot scrub. That would be more expensive.
This is because walking on sand will result in the sand exfoliating your feet. It exfoliates the dead skin cells on your foot.
This should result in feet that feel soft to the touch.
Minimizes Stress
Walking barefoot by the beach can relax your senses. Listen to the sounds of the water.
Feel the sand on your bare feet.
When you want to, you can actually leave your shoes in the car and walk barefoot by the beach.
This should allow you to destress. This should also make sure you don't have tons of sand getting into your shoes.
A Few More Reminders
When walking by the beach, whether barefoot or in shoes, remember to walk in the morning. You can also walk as the sunsets. The reason for this is because you need to avoid the sun from burning your skin.
And aside from sunburns, think of heatstroke. You don't want that happening to you.
When walking, you can also consider walking with another person. This should be able to motivate you to walk more. It is less lonely. Plus, if you need help with anything, you have somebody with you.
Don't forget the sunscreen.
Whether it is cloudy or sunny, you need to apply sunscreen. Doing so would protect your skin from the harsh rays of the sun.
Also, bring a bottle of water. You never know when you need it.