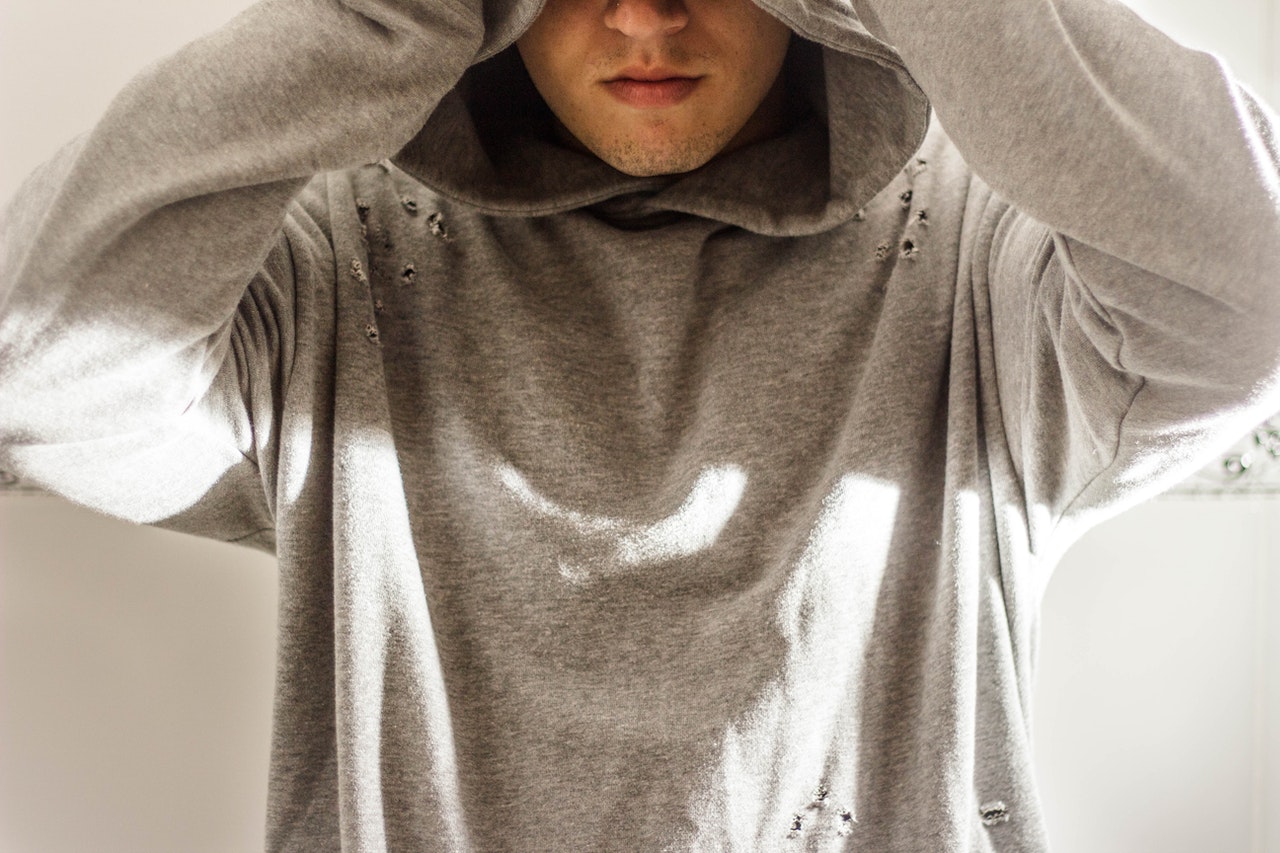 Hoodies shrink. And it may be fine if you intend to shrink it. But if the shrinking was something you never intended to do, it can be disastrous. Not unless you know what to do. When you accidentally shrunk your hoodie, the fix is simple. You just need a lukewarm tub of water and baby shampoo. Once ready, soak the shrunk hoodie. That's it!
So, yeah.
You accidentally shrunk your hoodie.
This should never be cause for worry because fixing it is simple enough.
And what's more, is that the things you need are simple. They are common enough for you to find in your bathroom or your local grocery.
Here are a few simple steps to unshrink that shrunk hoodie.
How to Unshrink a Hoodie
It happens to almost everyone.
You only intended to wash the hoodie. Accidentally, you dried the hoodie with the rest of the laundry.
Once pulled out of the dryer, you find yourself with a hoodie small enough to fit a 7-year old you. The problem is, you are no longer 7.
Shrinking happens because of the heat. You may have put the dryer too hot, or it could have been in the dryer for far too long.
Finding your hoodie shrunk can be devastating. But when you accidentally shrunk your hoodie, this does not mean you bring it to the next donation drive. You can still do something about it.
And the steps are simple. The things that you need are common.
You only need to learn the trick.
But Why?
The first thing you have to understand is why hoodies shrink.
Our garments are from natural fibers. When you weave together these natural fibers, you get yourself a cloth. The cloth is something you use to make shirts, jeans, and hoodies.
During the manufacturing process, they stretch the garment. But when you expose such a garment to water and heat, they shrink back. They go back to their normal state before the stretching happens.
So, how do you unshrink the shrunk hoodie?
Here's how.
Steps to Unshrink a Hoodie
Step 1. The first thing you have to do is to fill a tub with lukewarm water. The tub should be full enough for you to be able to drown your hoodie later on.
Together with the lukewarm water, you would also need a bottle of gentle baby shampoo. Or, if you don't have it, you can opt for gentle liquid soap or a hair conditioner.
When using baby shampoo, you don't have to use the whole bottle. You only need a capful of baby shampoo. The same amount is also followed when you are using liquid soap or a hair conditioner.
Pour the baby shampoo (or soap/hair conditioner) into the tub of lukewarm water.
Step 2. Mix the baby shampoo (or gentle soap/hair conditioner) with lukewarm water. Soak the hoodie.
Drown the hoodie in the tub of water and baby shampoo.
Leave the hoodie for about half an hour.
This is when the fibers begin to loosen up.
Step 3. Once the time is up, gently take the hoodie out of the tub of water.
The next step is critical. This is when you start to squeeze the water out of the hoodie. But remember that when doing so, you have to be gentle.
Another thing you have to remember is never to rinse.
Do not rinse the hoodie.
Step 4. In this step, you would need a towel.
Lay the towel flat on the surface. Once you have the towel ready, lay the hoodie flat on the towel as well.
Start by rolling the towel. When rolling the towel, the hoodie should be gently squeezed inside. This should squeeze some water out of the hoodie.
Continue doing this until the hoodie is no longer wet.
What you are aiming for is a damp towel. It may not be completely dry. But it should not be wet. It should be damp.
Step 5. In this step, you would again need another dry towel.
Lay the towel flat on the surface. Once done, lay the hoodie on top of the towel. At this time, you start to stretch the hoodie gently. Stretch it gently until you get its original size before it shrunk.
Leave the hoodie to dry.
If there is something you need to remember, this is not just for hoodies. You can also do this with a shrunk shirt or a pair of jeans.
The next time you accidentally shrink your hoodie, you know what to do.
What causes hoodies to shrink?
Hoodies shrink for a lot of reasons. One of the reasons is its exposure to heat. Too much of it or too long of an exposure to heat causes hoodies to shrink. But some reasons may also involve excess moisture or even agitation. Some fibers also shrink more than others.
We see clothes that shrink, and we see those that don't.
One of those that commonly shrink is hoodies. The feeling can be terrifying upon seeing your hoodie already two sizes smaller.
Why do they shrink?
How do you avoid shrinking?
One of the first things you have to do is always check the labels. The act may be simple enough. But this is something of utmost importance.
This is because doing laundry may seem like an easy task. But in all honesty, this is an easy task with a lot of potentials for disastrous mistakes.
And these mistakes can even do a lot of harm to your favorite hoodies.
If we may say it, we think you already have clothes in your closet you accidentally shrunk. And it's not a good feeling to find it smaller than when you started doing the laundry.
Accidental shrinking is something you can avoid. And if you see yourself in such a situation, this is something that you can fix. You should already know that in the earlier discussion.
Here, we talk about why they shrink. We also discuss the tips to prevent your hoodies from shrinking.
The Reasons Why
There are a lot of reasons why hoodies shrink in the laundry.
Some of the most common examples would be fiber content, heat, and excess moisture. In other instances, hoodies shrink because of agitation.
Let's talk about each of them.
Fiber Content
The first thing that you have to understand is that some fibers shrink more than others. Those that shrink easily are always natural fibers. Some examples are cotton and wool.
When you have a garment made of wool, you should understand something. And that is that its fibers are actually covered in scales. These scales mesh together when they get in contact with water as well as with heat.
When they mesh, they shrink.
Such is something they call felting shrinkage.
Also, you should know that natural fibers like cotton and wool can absorb lots of water. And when they do, they start to shrink more.
Moisture
Another type of shrinkage is relaxation shrinkage.
This is something that usually happens to natural fibers. As you may already know, examples of natural fibers are cotton and silk. Linen is also a common example.
When it comes to hoodies, cotton is the only type of fiber that we commonly use.
These natural fibers react to excessive moisture.
When they are actually exposed to water, these fibers begin to swell.
And when these fibers swell, the size of your hoodie decreases.
Heat/Agitation
The last reason why hoodies shrink is heat and agitation.
This happens when you expose your hoodies to both. When combined with the agitation caused by the washer and the dryer, hot water can lead to shrinkage.
When you expose hoodies to heat and agitation, the fibers stretch out.
During the manufacturing process, the fibers are actually made to be tightly woven. Heat and agitation release the tension from these fibers.
When the tension is finally released, the fibers go back to their natural state. And this state is usually smaller and shorter than its earlier size.
How to Stop Hoodies from Shrinking
You should never forget that accidentally shrinking hoodies is easy.
In fact, you may have already experienced this in the past.
But there are ways for you to prevent this.
We taught you how to unshrink your hoodies. But we believe prevention is better than cure.
Here are a few things you need to remember.
The Labels
Upon purchase of the hoodie, there is something you need to read. And that is the garment label.
Garment labels provide you with two essential pieces of information. The first is on the hoodie's fiber type. The second is on how to care for such a hoodie.
One of the most important things to avoid shrinking is to read the labels. This should give you an idea of the proper care of your hoodie. This should also give you an idea of how to avoid shrinking or stretching.
Another thing you have to note is the manufacturer's instructions.
Most hoodies come with these instructions. These should involve tips on how to wash and dry the hoodies.
Will it be great with handwashing? Can you dry clean the hoodie?
You will get these details from the manufacturer's instructions.
Just Right
When you expose your hoodies to hot water, you release the tension in their fibers.
This should result in the hoodie shrinking.
When what you have is a pure cotton hoodie, you got yourself a garment in natural fibers. As such, you can only wash that with cold water.
Over-Drying
As you already know, too much heat will shrink the hoodie.
When you have the hoodie stay too long in the dryer, chances are you will get a hoodie two sizes smaller.
Check the labels. This should be able to give you a hint on how to dry the hoodie.
Some are fine with low heat. Others prefer air drying.
The labels give you tips that can make your hoodies last. Not only that, but the tips ensure your hoodies remain in the same size for a long period of time.
How do you enlarge a hoodie to make it bigger?
Sometimes, you get a hoodie a size or two too small. You can enlarge it to make it fit. All you have to do is to lay the hoodie on bath towels. Hold the hoodie on the neck part. Work your way down, stretching gently as you go along. Do this until you get the size perfect for your body type.
There are many times when we find a perfect hoodie that's not our size. And it hurts just to leave the hoodie behind because it's too small for your body type.
This should not happen to you.
You cannot allow it.
You can actually enlarge that hoodie by doing a few simple steps.
All you need to do is to involve moisture, heat, and a little bit of stretching. This should also work well, especially if you get a bit bigger than the hoodie you had last year.
Here's how.
Method 1: Water, Conditioner, and Towels
As discussed earlier, you only need lukewarm water and baby shampoo. This should stretch your hoodie.
That method works with a hoodie you accidentally shrunk. The same method will also work with a hoodie you want to stretch.
When doing so, we emphasize the stretching step towards the end.
Gently stretch the garment.
Work your way from one side to the other side until you get a perfect size.
Method 2: Ironing
But aside from the first method, there is another way by which to stretch a hoodie.
This makes use of a few steps from the first method.
First, soak the hoodie just like in the first method.
But after you are done wringing out the hoodie, the next step would be to iron. And while ironing, make sure to stretch the hoodie as well.
Once you can attain the ideal size, allow the hoodie to air dry.
Method 3: The Mannequin
Our last method involves a mannequin if you have it.
Naturally, you will be using a mannequin the same size as the hoodie you want.
After soaking the hoodie in warm water, wring it dry.
This should make the hoodie a little bit damp.
Have the mannequin wear the hoodie.
Allow it to air dry.
After about 24 hours, check the hoodie. Is it the perfect size? If not, you can stretch it again until you get the size that you want.