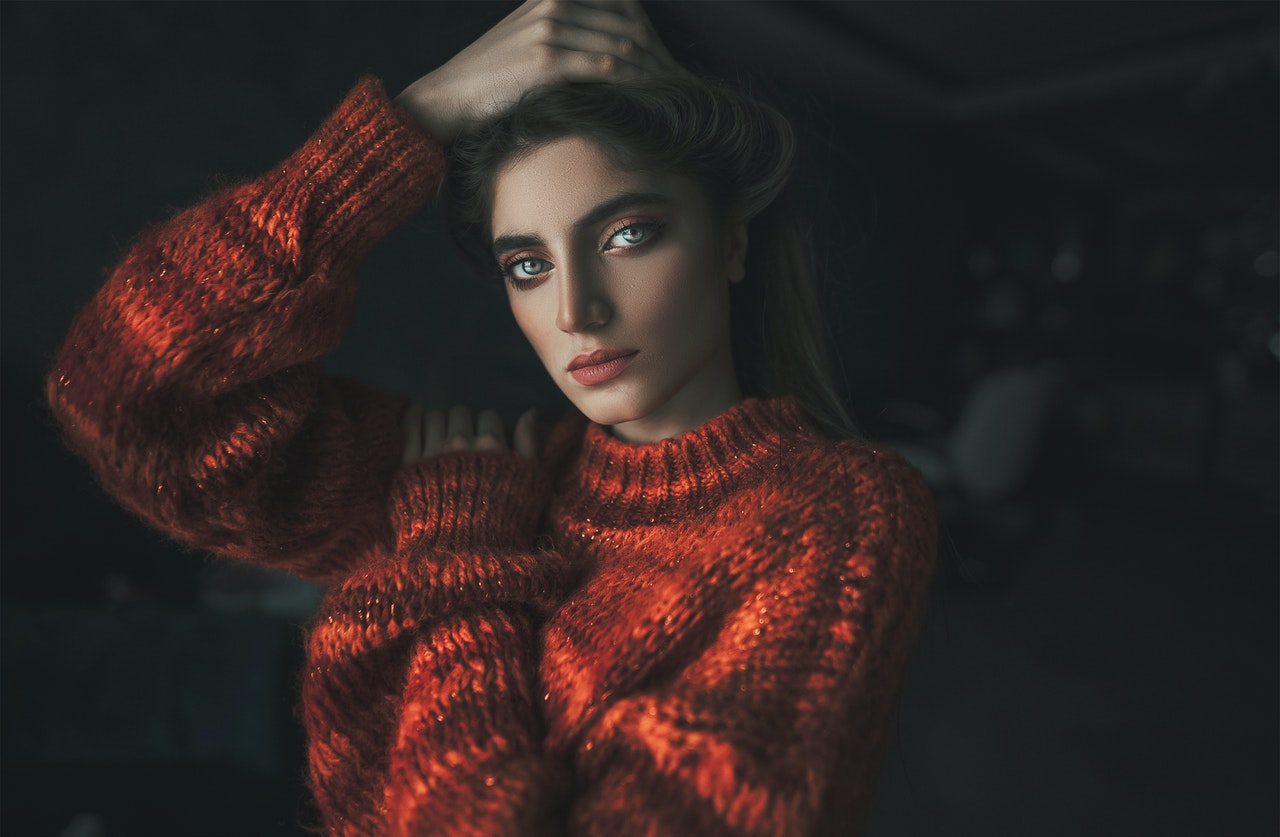 First of all, one should know that a sweatshirt is a type of sweater. A sweatshirt comes with a front pouch and pockets. There are also times when sweatshirts come with a hood. This, they call hoodies. On the other hand, a sweater that is not a sweatshirt comes with linked stitches. The shape and pattern align with its structure. Take away the stitches, and you take away the form. This type of sweater cannot have a hood.
For clarification, a sweatshirt is a type of sweater. And only sweatshirts can have hoods. All other types of sweaters cannot have hoods.
So, technically, not all sweaters can have hoods.
Only a select few, in the case of sweatshirts, can have them. Otherwise, putting hoods in most types of sweaters would destroy the sweater.
These other types of sweaters have complex makeup. Its design is more complicated yet beautiful.
Let's take a closer look at the difference between sweaters and sweatshirts.
The Difference
It is actually easy to identify which garment is a sweatshirt and which is a sweater.
The most basic way is to check on how they are made.
When it comes to sweaters, they are usually crocheted. Another common way by which they make sweaters is through knitting.
On the other hand, sweatshirts are made differently.
When it comes to its make, a sweatshirt is of heavy cotton.
The other difference is its use.
Both are actually worn to make one warm during the cold weather. This is especially true with sweaters.
A sweatshirt, on the other hand, has the same purpose. The other difference is that sweatshirts also absorb your sweat.
This makes sweatshirts the ideal garment for athletes and fitness aficionados.
The reason for this is because sweaters are lightweight materials. For this reason, the garment cannot absorb sweat as much as sweatshirts do. Sweaters are for you to stay warm.
The seams are also a bit different. A sweater's seams have that perfect finish. Its seams are actually weaved together. This is to ensure that it does not unravel in time.
A sweatshirt's back and insides are brushed. This is actually done to make the back and inside softer and more comfortable.
On the other hand, there is no need for this to be done to a sweater. This is because, in the first place, a sweater is already that – soft and comfortable. It is already in its design and the way it was constructed.
Most sweatshirts that are of good quality have two layers of fabrics. One is on the inside, and there is another one on the outside. One can easily pull these apart.
When it comes to sweaters, one will find out that there is only one layer. Despite this, a sweater is as comfortable as a sweatshirt. In fact, sweaters are more comfortable most of the time.
Finally, sweatshirts do not have an opening at the front. Sweaters may or may not have it. This would have to depend on its style and design.
How do I choose a sweater that can be flattering?
Before getting a sweater from the rack, there are a few considerations one should look at. Consider first the clothing you wear underneath the sweater. You should also consider your body type. Check the materials. What design do you intend to buy? Would you be mixing your fabrics? These and more are important before setting your sights on a sweater to buy.
It is at that time of the year again when you need to don the heavier garments.
When doing so, one runs the risk of looking chunky. One can easily look bulky. This is especially true when one goes by a wrong sweater, which does not go well with your body type.
And so, to help you out on that, here are a few things to know before buying that sweater.
Where the Sweater Ends

Before buying a sweater, one should always look at where the sweater ends.

Does it end on your hips? Does it cling too much?

If it ends just above your hips, don't buy it. These types of sweaters can add up to your thickness. Instead, go with something that is a bit longer. Go with a sweater that falls in the middle of your hip.

Also, remember that when you are a bit curvy in the stomach area, check the clinginess of the sweater. If it clings too much, this is not the right fit.

Choose a sweater that is a bit draped. This should not emphasize your belly.

Underneath the Sweater

When choosing what to wear underneath the sweater, choose thin or light layers. Never do something like wearing a puffy dress inside your sweater.

It will balloon you up like you never wanted it to.

What you can do is settle for something lightweight. You can go with sleeveless pieces as well.

The Pear-Shaped Body

Check your body type.

Do you have a pear-shaped body?

If so, you may want to go with sweaters with larger necklines. A sweater with a wide V-neck would work well. The same goes for sweaters that have large cowls. Boat necks and sweetheart's necks also work well with this body type.

The reason for this is because these can create an impression of broader shoulders. Doing so would balance out your hips.

Remember that in choosing a V-neck, the deeper the V is, the slimmer you look.

Hiding Behind that Sweater

Sweaters should never be to hide your body.

There are many solutions for this. But sweaters are not one of them. Never use a sweater to hide those unwanted curves.

What you need to do is to find something that fits you well.

Also, while we're at it, never match an oversized sweater with a bottom that is also oversized. This would have an overwhelming effect on you, making you look larger than you really are.

If your sweater is actually oversized, go with a slimmer bottom. Try skinny pants. Or you can pair it with a pencil skirt.

This should have an effect that would make you look elongated, hence, the slimming effect.

Crewneck Revamped

You can level up your crewnecks too.

When you have a necklace or a brooch, crewnecks can be great backdrops for these accessories.

Doing this will draw their attention to your hair and face and not somewhere else.

Mixing Fabrics

When wearing heavy sweaters, know that you can pair them with a silk skirt. You can also wear it with pants. You can also wear it with jeans.

Or do you have a lace skirt lying around? Pair it with a crew neck or a turtleneck. Make sure the colors match.

This ensemble would level up your look.

Rectangle-Shaped Body

If you happen to have a rectangle-shaped body, try doing some cinching in the waist.

Use your belt.

Doing so would create a more defined figure.

Give them that illusion of a waist. Show them an illusion of a curve.

All these would ensure that they see a womanly figure with the help of that belt.

White Sweaters

When wearing a white sweater, pair it with a black bottom.

If this is the ensemble you would go for, make it clean. There is no need for a necklace, a scarf, or any accessory. There is no need for any other accessory to steal the spotlight from your clean, white sweater.

Let the sweater do its magic.

Turtlenecks

Turtlenecks are something that can flatter just about anyone.

This has the effect of making one more elongated, especially in the torso area.

When you have a long face and neck, this can emphasize it well. Turtlenecks can also make shorter women appear taller.

And when you look taller than you actually are, you tend to look slimmer as well.

When donning turtlenecks, go with a lightweight knit. Otherwise, you will be bulkier to look at.

Cashmere

We all know it.

When it comes to sweater materials, cashmere is the best there is. Other materials work well with sweaters. But cashmere should be gold when it comes to sweaters.

Out of the many materials out there, cashmere is one of the warmest. It is also one of those that provides comfort.

Another advantage of cashmere is that it drapes well. It also does not itch, unlike other materials.

The only downfall is its price. Cashmere can be pricey.

One of the ways by which you can cut down on cost is to find cashmere blends. These are those that have cashmere blended with other materials like wool or silk.

Should you choose a sweater one size bigger?

Going up a size bigger is fine when it comes to sweaters. You can get a sweater one size bigger. But more than that will make you look baggy. You can also get a sweater one size smaller, although doing so would be a closer fit. If you prefer a size that's actually tailored, this does not give you an extra room. But this is the perfect fit.

Sweaters are really some of those garments that provide the utmost comfort.

And we all love sweaters.

The only concern that runs through most minds is the size. The perfect size would make or break the sweater you choose. Choosing a size that does not perfectly fit will result in an ignored sweater that rots in the closet.

When it comes to sweaters, the sizes would mostly be based on your body measurements. These are the bust and chest sizes.

For you to identify these numbers, make sure that you measure the fullest part of your bust. The same goes for the fullest part of your chest.

When measuring, also make sure to wear something lightweight. Never take your measurements in thick clothing. This would not be as accurate.

Once you have the numbers, it is high time to choose the perfect sweater size.

Choosing the size depends on the sweater pattern. Your choice would also, of course, depend on the kind of fit you prefer.

The Numbers

Here, we find the importance of the numbers. This is because you can use these measurements and compare them with whatever is in the rack.

For example, let's say your bust measures 50 inches. Your chest, for example, is at 125 cm.

When you find a size that measures 52 inches/130 cm, this means that you have an ease room of about two inches/5cm.

With this, the sweater will come with a nice and comfortable fit. This is not too loose as well.

The Small, Medium and Large Sizes

Some brands do not list the measurements. Instead of measurements, it only states S, M, L or 1, 2, and 3 sizes.

You would have to decide through these measurements.

What you can do is compare your measurements with the ones provided on the garment. The schematic shows a picture of the measurements for the sweater.

Compare your measurements with the ones provided.

And If you Want More?

What if you want more room? Or what if you want a smaller room?

Going up one size is fine. But if you want it bigger than that, it would look baggy on you. But if looking baggy is what you want, you can go for it.

If it is a size smaller, it will result in a closer fit.

This is where a perfect fit comes in. This is when you would appreciate the beauty that comes with the measurements.

—

Choosing an ideal sweater may be a bit tricky. This does not mean that you go with a size to go with just anything you find in the racks.

Make sure that you get the right fit. Ensure that you have that extra room. And remember to choose the size that matches your measurements.