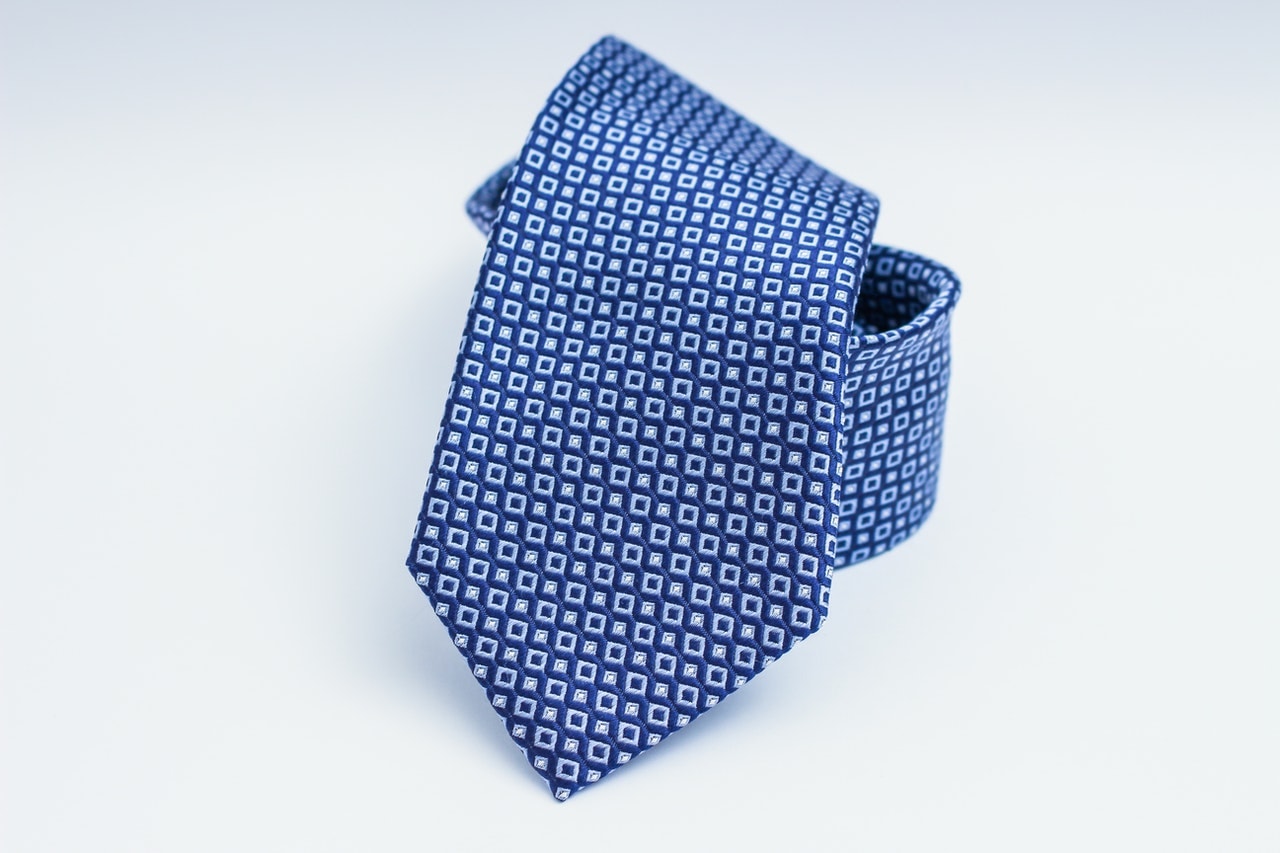 A solid gray shirt goes well with a navy blue tie. The shade of the tie may vary depending on the shade of the shirt. Whatever the color of the tie may be, it should promote a contrast to the gray shirt you are wearing.
Aside from suits, shirts complete a man's formal attire. Suits and shirts are men's staples.
One may ask the reason why. A high-quality suit, when paired well with a shirt and tie, provides for a professional look.
In general, gray is a great shirt color. It comes in different shades that can be used on other occasions. One such example is when a dark gray can be used during winter. The lighter shades of gray can be great for summer.
Here are a few samples:
Charcoal Gray
The most formal of them all, charcoal gray, is first on our list.
This shade is dark enough to blend well in most functions and events. In fact, even in black-tie events, a charcoal gray suit can easily pass for being compliant. These events are usually funerals, a business event, or even plays and musicals.
A charcoal gray suit is as dark as most navy suits. The only difference, though, is that navy suits tend to make one look younger. A charcoal gray suit adds a bit of maturity to the wearer.
Medium Gray
As should be noted, the lighter the shade of the suit, the less formal it is.
As such, we take a look at a medium gray suit. It is good enough for the office and most other events we mentioned. The only exception is on funerals, where black (or charcoal gray) is required).
A medium gray suit is a bit more casual. Is this a bad thing? We think not. A medium gray suit just provides you with a lot more options for shirts and ties. You can go for formal to a little bit less formal options with this one.
Light Gray
Because this is even lighter than the medium gray, this is even more casual. With this lighter shade of gray, the color (and its fabric) is perfect for summer. It provides the wearer with a breezy feel.
At times when one is wearing a light gray shirt, ties can be bolder. It can come in summer colors.
With this color of shirt in hand, you can always play around and experiment with the types of colors that you can use.
How should you pair your shirt and tie?
When you want to sport a classic and conservative look, make sure that the tie is darker than your shirt. The color may be the same, but one should ensure that the tie is darker.
White Dress Shirt
The classic of all dress shirts is white. A white shirt provides for a more formal look. Charcoal suits pair well with white dress shirts.
The dress shirt should be a medium-spread collar. Avoid the breast pocket as much as possible. And don some French cuffs with cufflinks.
To be very honest, a white dress shirt pairs well with any gray suit. Whether it is dark, medium gray, or a light gray suit, a white dress shirt is always perfect. There just seems to be something about a white dress shirt that provides for a nice contrast with gray.
Should you be wearing a medium or light gray suit, you can do away with the cuffs. You can perhaps choose a more textured fabric. Or go for a more relaxed collar style.
If it's a solid gray suit and a solid white dress shirt, this is where the playful tie comes in. Infuse some colors with your tie or your pocket square.
One very good pairing that works is a gray suit, a solid white shirt, and a red tie. If red is too glaring for you, go with navy blue or a blue tie.
The one great thing about this combination is that it allows for more options for your tie. You can even don a forest green, plum, or a bronze orange tie with this suit and dress shirt pairing.
In general, when wearing a gray suit and a white dress shirt, your tie should be in darker tones. This sets the mood for a cocktail and even black-tie events.
But when what you have are lighter-toned ties, they work well with light gray suits.
And oh, before we forget, let's discuss the patterns for a bit. When it comes to the patterns, there is just one small thing you have to remember. The smaller the patterns are, the more formal it is.
What NOT to Do when Wearing Dark Colored Dress Shirts?
Here, we talk about influencers. You see, influencers online may talk about wearing a black shirt is the IN thing these days.
It may be so. If you want, you can be "fashionable" as they say it and wear a black dress shirt and a gray suit.
But when it comes to dressing up in classic menswear, black dress shirts are simply not the right choice. But then again, if you want to try it, go ahead.
We, however, believe that the best pairing is a lighter dress shirt against a darker-toned suit. This would provide more contrast.
The same is true when it comes to other bold colors. This includes dark colors in tones of red, blue, green, and a lot more. These are tones worn by men who have yet to learn a lot when dressing up.
These colors are too bold and take away the class in dressing up.
Light Blue Dress Shirts
When white is the safest of all colors in dress shirts, light blue is the second safest. When wearing light blue dress shirts, you can be sure to combine this with any gray suit.
Well, it looks great with medium and light gray suits. But even if you have a charcoal suit, wearing it with a light blue dress shirt would still do.
But there are different shades of blue! Plus, there would be a lot of patterns and textures to choose from. Is it a complicated task to choose just one shirt? The answer is no.
This is not caused for panic. When choosing something to pair with your suit, always go with the one that gives you great contrast.
And if you have a light blue shirt paired with a medium gray suit, try on some barrel cuffs. It provides a more casual vibe.
And when it comes to what tie you should wear, try a solid navy tie. A gray suit, light blue shirt, and a solid navy tie are classic. But it can also be a bit boring. Other than that, colors like red, plum, or green would also do.
When it comes to a blue dress shirt, one can always experiment.
Pink Dress Shirts
Well, this can be something unconventional. Pink is a nice change from the usual white and light blue hues. But pink dress shirts work well with shades of gray.
The reason for this is because the color pink provides a subtle contrast with gray. But while it does provide a contrast, it also serves to warm up the shade of gray.
Would this be the reason why Fred Astaire loves pairing charcoal suits with pink shirts? He was a very well-dressed man, that's for sure.
And when adding a tie, purple might be an interesting choice. Not as popular as any other color, but it sure provides that harmony when it comes to color combinations.
Burgundy is another choice when it comes to tie. While burgundy is a nice choice, be careful not to go to too much red. Bright red would not look good with a pink dress shirt. It just does not blend well with a pink background.
Pastel Dress Shirts
Aside from the colors white, light blue, and pink, dress shirts can also come in pastel colors. While not as common, pastel shirts also work well with gray suits.
It can be light yellow or a pastel orange shade, but these look good with gray.
Once you have decided to go with a pastel-colored dress shirt, choosing the tie would be easy. As a rule, always use a tie that is a darker shade of a color from the same family.
For example, if you are wearing a light green dress shirt, a darker green tie would do. Or if you have a light orange shirt, use an orange-colored tie. That should be easy to remember.
Dress Shirts with Patterns
Not all dress shirts should be in solid colors. Some dress shirts come with patterns as well. There are those with patterns, and there are those with stripes.
When it comes to stripes, the larger the stripes are, the less formal it is. As such, it would make sense to pair larger stripes with lighter gray suits. Checked shirts are also common. They're more casual than the striped ones. Also, they look great with gray.
Now, which tie would suit well with patterned shirts?
If there is one thing to remember with patterned shirts and ties, it should be this word: densities. One should make sure that the relative spacings (or densities) of the patterns are not the same.
Here's an example. You have a suit that looks almost solid in color. You wear a striped shirt. Your tie should be something with a pattern with a different density compared to that of the shirt. The tie should show a micropattern. Such a tie would ensure that the patterns all go harmoniously.
They should never be of the same size and width. Otherwise, your pairing should be confusing to the eye.
Should your tie match your shirt?
Whenever it comes to choosing a tie, the rule is simple. The tie should be in a darker shade than your dress shirt. Another thing to remember is that the tie should be around the same hue as your jacket and trousers.
There are a large number of possible combinations when it comes to suits, shirts, and ties. One can always play around with color and pattern combinations. But should one choose to be safe, the rules are simple.
It is already known that the color of the tie should be darker than the suit. So if, for example, you have a blue suit, you can choose between a navy blue tie or a green one. Should your suit be gray, you can go in a black-tie.
The colors of your tie, suit, and dress shirt should always compliment each other. They should never clash against each other.
The Problem of Many Patterns
We have already discussed the matter of colors. But what if your tie comes with a pattern? Should your tie have a pattern like dots or stripes, think about not overdoing it. For example, a tie you want comes with dots, stripes, and prints. That could be very complicated!
There are times when one would be able to sport multiple patterns and sport it well. But while possible, it is always difficult.
This brings us to a safer bet when dressing up.
The rule with patterns is that you should stick to the number two. What does this mean? This means that when you wear a suit, shirt, and tie that are all patterned, it can be too busy to look at. There seems to be a lot going on in there.
Make sure not to go beyond two patterned garments. whatever patterns you chose, make sure they don't fight for attention. If you have a striped suit, go with a striped tie.
Choosing a tie can be very simple. It is only made confusing because of the emerging patterns and colors.
When choosing a tie, always go with something darker than the shirt. And should it be a patterned tie, make sure it blends well with your other pieces. Otherwise, your ensemble should be so busy and unharmonious to look at.
And we don't want that, right?