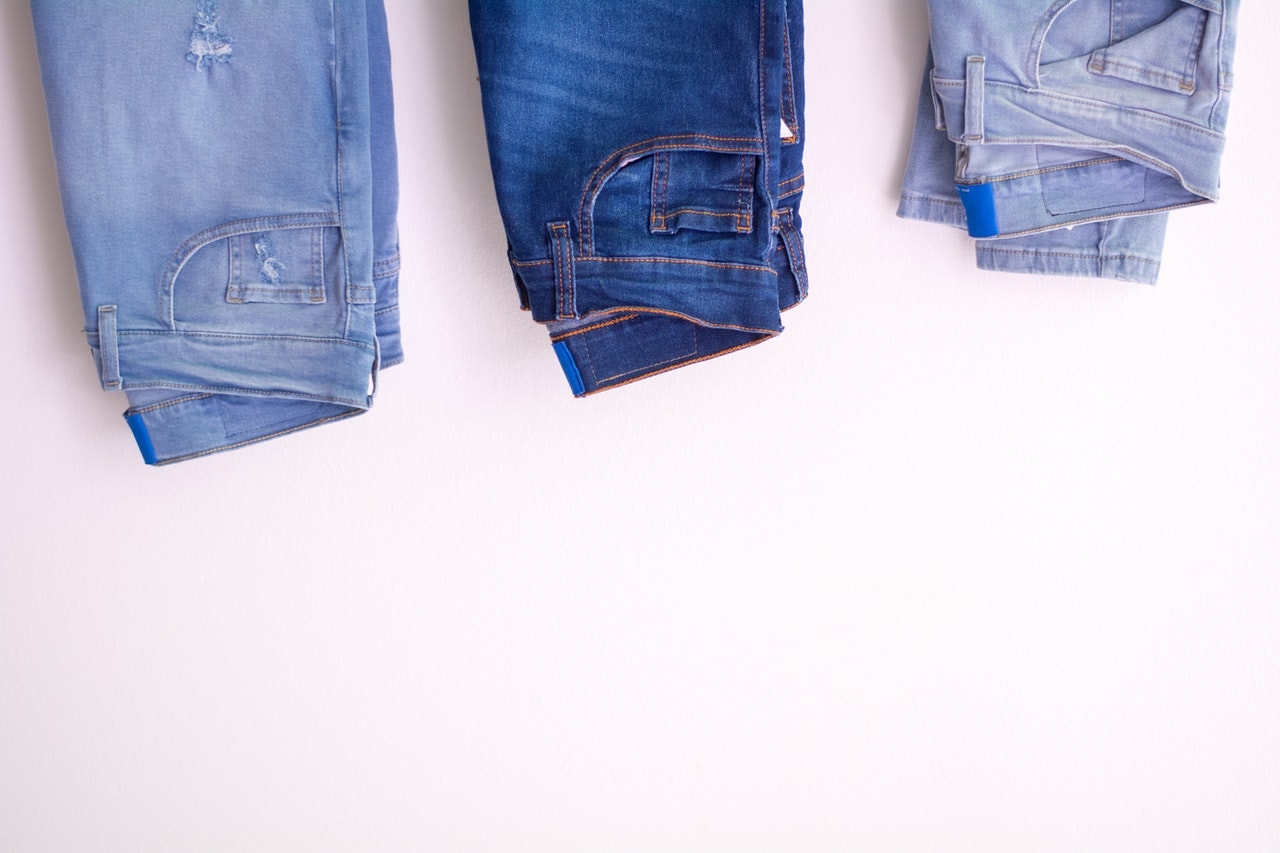 No, pants should never be baggy. In fact, dress pants should always fit around the waist perfectly. The ideal fit sees no need for belts even to hold the pants up. This means that baggy pants should never be an option.
In summary, dress pants should perfectly fit as they should. This is the same for everything else – slacks, trousers, whatever you call them.
But since our discussion is more on fit, we will let go of the discussion on materials and fabric for now. Although we should say, the fabric is also an important aspect when choosing your pair of pants.
Anyway, how do you know when the pants perfectly fit?
Here are a few important things.
The Waist and the Seat
As you already know by now, the pants should be able to hold up without the need for a belt. Your pants, when worn, should hit the hip bone area. It can be a bit higher but not too high.
This is quite different from when wearing jeans. A pair of jeans should be a bit lower than the hip bone. When it comes to dress pants, it should be a bit higher than that.
Saggy pants? It's a big NO.
When worn, the pants should slightly hug your butt. It should never be too tight. It should also never be saggy.
When wearing your pants and it feels like the pants are going split, think again. You're wearing it too tight.
If, when wearing your pants, you find that there seems to be more extra fabric around the butt, that's too saggy. You should avoid that pair of pants as much as you can.
Should this be the case, get a tailor. A tailor would be able to fix this for you.
A tailor, however, would cost a lot. This would be fine if you can afford a tailor. But when you find a tailor expensive, just imagine the need for a perfect fit.
Invest in it. This should be a one-time fix, nothing more.
Besides, if the pants are too tight, you run the risk and tearing them eventually in the future.
Legs
When wearing your pants, there's one thing you should know about the thigh part. You should be able to pinch about a half-inch or one inch of the fabric on any side of the thigh.
If it is less than half an inch, it's too tight. If it is more than an inch, it's too loose.
The Knees to the Ankles
Now, this here has something to do with one's build. When you are thinner or have a regular build, the pants should ideally have a taper. This ensures that as it goes down the ankle, it gets narrower. Such would have a great effect, especially with this body type.
Should you be on the heavier side, the cut should be straight down. This should balance your proportions well.
How should the dress pants fit when I am sitting?
The waistband should sit at the mid to high hip level when sitting. This should be a little bit below the belly button. When sitting, the waistband should be snug enough. Also, remember that the waistband should perfectly fit. There should never be a need for a belt or suspenders.
Getting perfectly-fitted dress pants is important. But even fashion masters can fail in this category. Once in a while, there would always be mishaps with the pants. It can sometimes be minor, but even minor mistakes can have dire consequences.
The most important thing about dress pants is always the fit. And so, to make sure you get the perfect fit for your pants, whether standing up or sitting down, here are a few tips.
But before we delve into that, let's first get into a few definitions. In order to determine the fit around the waist, there is a need to find out what "rise" means.
Rise here is the total length of material that travels from the front to the back hem.
Let's talk about it some more.
The Rise
If there is one thing to know, it is that not all pants should be like your low-rise jeans. A perfect fit, as we already know, is just below the belly button.
It should be snug around the waist. And we need to emphasize; there should be no need for a belt. If you choose to wear one, it should be because you wear the belt as an accessory.
If the rise is too short, you run the risk of a wedgie effect. The pulling from the back is because the waist part sits quite low.
If the rise is too long, the opposite should happen. Either way, it would be a bad fit.
The Waist
Now that we already have the rise defined, we must again emphasize the perfect fit.
When the fit is too tight, this should affect the circulation. You also run the risk of a muffin top silhouette.
If the pair of pants are too loose, there is a need for a belt to hold it up. But when using a belt, something ugly happens. The belt produces that ugly bunching which you can see along the waistline. And we don't want this showing.
Now, the seat of the pants is the part your butt should sit on. When talking about a perfect fit, we always focus on the back of the hips. But if there is something that we need to highlight, it is the circumference of the hips.
Your fit and comfort should depend on that circumference.
Imagine a saggy or too tight fit of a pair of dress pants. That should destroy your overall look.
In order for you to avoid a poorly-fitted pair of pants, try these.
Put your hands inside your front pocket. Try to pull the fabric away from your body. By this time, the hands should fit comfortably inside the pocket.
If you can still extend the space for more than an inch, this only means one thing. The seat of your pants is loose.
Another way to test the fit is this. Try to check if zipping up is a challenge. Is the crotch too tight? That's something to worry about if it is.
Exaggerate your strides. Can you feel the pull of the material? If you can, the seat part of the pants is too tight.
How do you know if your pants are too small?
If the waistband feels super tight on your waist, then your pants are too tight. Another way to determine is if you feel like the waistband is already digging into your hip bones. The same is true if it digs into your stomach. That's too tight. Or is the fly area pulling open? It's too tight.
We know ready to wear, right off the rack types of pants don't usually fit perfectly. This is the reason why we have the following reminders to help you decide on which pair of pants to choose.
Read on.
Kiss your Waist
We already mentioned this earlier, and we will repeat it. The waistband is too tight when it digs into your hip bones. It is also too tight when the fly opens up by itself without you moving it. Aside from the tight fit, an open fly should be too awkward in public as well.
The right fit is when the waistband feels secure on your waist. It should feel like the waistband is kissing your waist. No need for a belt. No need for suspenders to keep it up.
Just snug enough. That's perfect.
The Proper Length
Dress pants are different when it comes to length.
When you are wearing, for example, skinny jeans, the length should always be just above the ankle bone. A straight-cut pair of jeans also have different measurements.
For dress pants, it should be until about 2 or 3 inches above the shoe. It should never be more than 3 inches.
Baggy Pants
A perfect fit should not be baggy. There should be no extra amounts of fabric that gather just above your shoe. This is a major turn-off.
One of the things to always mind is the calf area. If the measurements are too big, it should look baggy on you. The perfect fit should never have that awkward bunching of fabric above your shoe.
No Smiling Pants
What do we mean by smiling pants?
When we say "smiling pants," we talk about that horizontal drag line across your hips. This goes through your hips and reaches your front crotch area of the pants.
In general, the fitting problem happens when the hip area is very tight. Another reason why this happens is when the crotch part does not fit you right.
As such, we should emphasize that one of the most important things to know is that there should be enough room. The hip area should have sufficient room.
Also, note that your pair of pants should not dig into your crotch part of the pants.
If you have enough room at the hip area, your pants do not smile.
The Back Rise
This problem should be easy to identify. The reason for its easy identification is because you, the wearer, would feel it first hand.
If the back part feels like pulled down upon wearing the pants, this only means one thing. And that is that the rise is not long enough. Another thing to note is that if the pants start digging into your crotch or thighs. If this is happening, the rise is not long enough.
So, you might ask. What should be the perfect pair be? How should it look?
If there is one thing about a fit, it is this. The back rise should be long enough. The waistband should come up to your waist on the back.
And finally, there should never be a feeling of something pulling down your pants. Aside from the pants not being a perfect fit, this should be creepy.
The Lesser the Drag Lines, the Better
This one here should be hard to recognize.
The reason for this is because you really have to pay much attention to the back of your pants. And who does that?
Well, you can do this if you have a full-length mirror. Or, you can also spot this by having a friend help you out.
There are a couple of important reasons why draglines exist at the back of your thigh.
One of these reasons is that the waist of your pants may be too loose. If this is the case, your pants should sag down. There would also be excess amounts of fabric that gather at the bottom of your pants.
The other reason for these rags lines is when the pants are too tight.
For me, it would be tough to get a pair of pants that would perfectly fit. These two instances, either pants too loose or too fit, are common in us. This is especially true in pants that we buy off the rack.
But not all of us can also afford a tailored-pair of pants. This is why, when getting pants off the rack, there should be minimal issues when it comes to sizing.
The issue of the ill-fitted pants should be at a minimum.
—
We always tend to ignore the fit of the pants we wear. Little do we know that a perfect fit is a picture of elegance.
This is why men and women alike strive to get a pair of pants closest to perfect when it comes to their fit. People now pay attention, especially if the pair of pants is off the rack.
How about you? What are your pants fit problems and issues?
Let us know.