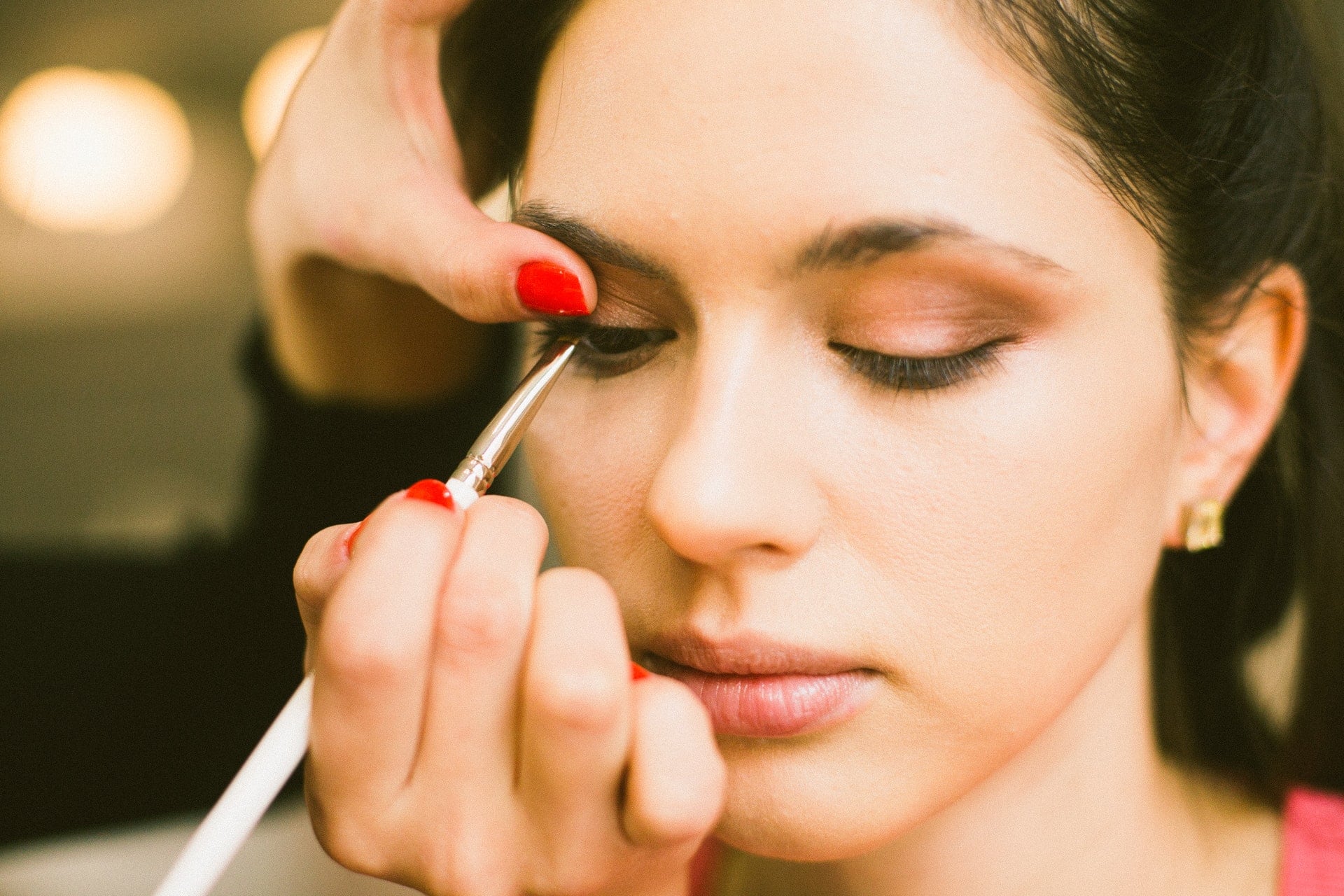 Eye make-up can make or break your entire look. With the correct application, you'll be the belle of the ball. But eye make-up gone wrong would make you look like you're from another planet.
There's no appropriate age to start wearing make-up. You don't need to complete a right of passage ceremony. No handbook will tell you that you can wear make-up when you start middle school. Make sure that if you're starting young, it won't go against your school regulations.
Eyeliners are one of the most used eye make-ups because its best in defining your features. When we start to grow old, one of the quickest ways in reversing our years is to use an eyeliner. Pop it on your lids and you'll see that your eyes look alive.
As a parent, you want to know the reasonable age for wearing eyeliner. Our estimate would be around 14 or 15 years old. Kids this age attend school dance and other occasions that would need them to glam up. Be there to guide them so they don't end up having two black eyes. Also, make sure that the eyeliners or any other make-up they're using will not damage their skin. It's puberty age so too much make-up can aggravate acne and can cause breakouts.
At what age is it OK to wear makeup?
We use make-up for a lot of different reasons. Some use it to hide blemishes while others use it to gain confidence. Kids whose parents are in the beauty industry becomes exposed to make-up earlier. They become curious about the pretty packaging mommy has on her vanity.
It's a big deal for some parents to see their kids wearing make-up. It's like a warning signal that their kid is transitioning to a teen. Imagine seeing your 13-year-old sporting a bright red lipstick. How did that make you feel?
Most parents would not want their kids to wear make-up. If it were up to them, they'd want them to wait until they start working. Most of the time, that is not the case. Kids would be curious and if they see their friends do it, they'll want to do it. If you stop them it will start a heated discussion of why is my friend okay to wear make-up but I'm not.
The million-dollar question is when is it okay for kids to wear make-up? Here are a few questions that you need to think about before you give the go signal.
As a parent, are you ready for your kids to wear make-up?
Starting their make-up journey, kids are bound to make mistakes. They can end up with apple cheeks, extreme smokey eye, or super couture. Are you ready for this? If you think you're okay with that then go. But don't forget to set some rules on when and how much make-up they can wear.
Does your kid recognize what make-up can do?
If your kids think that wearing make-up will make them look like a celebrity, stop them. Help them understand that make-up is there to enhance their natural features. It will not give them permanent results.
Why does your kid want to wear make-up?
If your kid has the same fascination for make-up as paints or crayons, then that is alright. They see it as a medium for creativity. But if your kids want to wear make-up so their crush would notice or they want to hide their flaws, then have a chat. Tell them that they are beautiful the way they are.
Can your kid handle what comes with wearing make-up?
It is important to remove your make-up before going to bed. Make sure that if you allow your kids to wear make-up, they need to remove it before sleeping. If their reason for using foundation is to cover blemishes, teach them an alternative. Proper skincare is one.
What brand of makeup is good for a teenager?
As a teenager, the number one issue that you are dealing with is puberty. Puberty is like a double-edged sword. Some kids would undergo incredible glow-ups while others suffer from an extreme acne breakout.
This is one of the main reasons why kids want to use make-up, to hide blemishes. But you need to be careful when using make-up, especially during those years. Some brands have chemicals that can irritate the skin. You don't want to make it wore while trying to make it better, right?
Here are some brands that are good for teens:
Glossier
This brand is quite new in the market. Their minimalist packaging and light colors make Glossier trendy to young people. All their products are easy to apply and give a no-make-up-glow-up look.
E.L.F.
E.L.F is an affordable high-quality drugstore brand. They have a full range of cosmetics and make-up tools. This brand is budget-friendly especially to teenagers who are starting with make-up.
Wet N Wild
Wet N Wild is another budget-friendly and affordable cosmetic brand that teens love. They have liquid matt lipsticks that can compete with luxury brands.
The Balm
The Balm believes that one product should have a lot of use. You don't need to buy different face makeup because The Balm already created a three-in-one face kit.
Clinique
Clinique is famous for products that are fragrance-free and allergy-tested. They formulated their cosmetics in a way that will not damage the sensitive skin of teens.
NYX
NYX is another affordable cosmetic brand that offers a wide range of products. They have almost everything. From the basics to the finishing touches, they got you covered.
What kind of makeup should 12-year-old wear?
12 years old is still a bit young to start wearing make-up. But if you got your parents' permission then go, glam up! By this age, you'll do a lot of exploring. What products work for me? What brushes should I use? How far can I go with these products?
Testing the waters is good. You won't get it right the first time unless you're a beauty genius. Here's a tip, your young so make sure you don't overdo it. It's best to go for a natural subtle look that will amplify your youthful glow. You shouldn't be aiming for a Kylie Jenner look. You're too young for that.
Here is an easy step-by-step tutorial for a perfect natural make-up look.
Step 1: Use a gentle cleanser and wash your face every day. It is important to keep your face clean when you start wearing make-up.
Step 2: After cleansing, use a toner. Toners help remove dirt, oil, and products that were not removed by the cleanser.
Step 3: Moisturize.Before you start with your make up make sure that your skin is hydrated.
Step 4: Start your make-up with a primer. Primer locks in all the products that you apply during your skincare routine. It also helps in making your make-up last during the day.
Step 5: Don't use foundation. A heavy foundation will break the whole natural look. If you need coverage, use a light tinted moisturizer or BB cream instead.
Step 6: Use concealer only when necessary. Break-out is common to teens. Cover it up by dabbing some concealer.
Step 7: Set your make-up with powered. Remove the shine caused by oil.
Step 8: Use clear brow gel. You don't need to fill in your brows if you want a natural look.
Step 9: Use nude eyeshadow. It's unnecessary to use eyeshadow in a natural look. But if you want a little color, go for soft nude tones.
Step 10: No need for eyeliners. Eyeliners are another product that can veer you away from the natural look.
Step 11: Finish your eye make-up with a mascara. For a more natural look, go for brown or clear mascara.
Step 12: Dust your cheeks with a light blush. You'll look healthier and bright if you have a hint of color in your face.
Step 13: Use bronzer if you don't want blush. Apply bronzer on your cheekbones, jawline, temples, and nose if you prefer a sun-kissed look. Don't go overboard or it will not look natural.
Step 14: Tie-up your look with lip gloss. Don't use strong colored lipstick. Go with a soft colored lip gloss or a tinted lip balm.
What kind of makeup should 13-year-old wear?
At thirteen, you're at the level one stage of your teenage years. You transitioned from being a tween to being a teenager. Speaking of which, you're not a kid anymore so you have a little bit more freedom than when your 10.
You need to remember that you are still in middle school at thirteen. You need to make sure that your glam game is in check and not going haywire. Thirteen is still young to try Ariana Grande's latest VMA look. Also, full glam while sitting in class can be uncomfortable and heavy.
Go for a natural make-up look like how you do it as a twelve-year-old. Less is more especially for you who have healthy young skin. Go for those fancy looks when you're older.
What type of makeup should 14-year-old wear?
Fourteen. Congratulations, you have entered the threshold of high school! Brace yourself because you're in it for a ride. In high school, the beauty game turns up several notches high than when you're in middle school. You'll see different kinds of styles and make-up. From spring queen to gothic chic, they have it all.
Fourteen-year-olds can do a little upgrade from their tween look and add eyeliners and brow pencils in the mix. You can fill in your brows with a brown brow pencil and apply a soft eyeliner.
What you need to remember during these years is that make-up is there to boost your confidence. It gives you the freedom to express yourself. You don't need to hide behind it. It's still important to make your natural beauty shine.
What age is good to start wearing makeup?
Some parents are very open about the concept of make-up. As long as the kids follow the rules then they can use makeup as young as 12 years old. The best scenario here is to not wear make-up until college. Why? Because even the most natural make-up formulas can damage the skin.
Make-up is not the only thing that can enhance your beauty. Developing a proper skincare routine at a young age will make a big difference. Taking care of the skin by making sure it's clean and healthy can improve your look better than wearing make-up.
Why do kids as young as 12 years old want to wear make-up? Reasons may include peer pressure, excitement to grow-up, or attract attention from people. Whatever your reasons are make sure that you would follow what your parents tell you to do and not to do. Also, don't let your make-up cover who you are.
What is the best foundation for teenage skin?
Teenagers are prone to acne that is why using foundations that cater to their needs is important. Here are some product recommendations on the best foundations for acne-prone skin.
Maybelline Fit Me Matte + Poreless Liquid Foundation
Pros:
Good for oily skin and controls shine
Lasts long
Blurs the pores and has buildable coverage
Affordable and available in 40 shades
Non-irritating and tested by dermatologist
Cons:
L'Oréal Paris Infallible Pro-Matte Liquid Foundation
Pros:
Affordable and available in 22 shades
Lightweight and offers medium coverage
Good for oily skin and gentle on sensitive skin
Lasts long
Has a demi-matte finish
Cons:
Neutrogena skin clearing Oil-Free Make-up
Pro:
Lightweight and controls oil
Hypoallergenic and does not clog the pores
Natural coverage and has oil free-formula
Available in 14 shades
Can treat blemishes
Cons:
Can irritate sensitive skin
May not provide a proper coverage
Revlon Colorstay Liquid Foundation
Pros:
Buildable coverage and has an oil-free formula
Affordable and available in 43 shades
Lightweight and lasts long
Contains salicylic acid and SPF 15
Good for combination and oily skin
Cons:
Estee Lauder Double Wear Stay-in-Place Makeup
Pros:
Super-lightweight and lasts long
Non-comedogenic and good for all skin types
Transfer-resistant and waterproof
Tested by dermatologists
Buildable coverage
Cons:
Is makeup bad for teenage skin?
The main purpose of make-up is to beautify. But what if instead of making you beautiful, it produces the opposite effect? A lot of make-up in the market have a harmful substance that can damage the skin. For teenagers, makeup can aggravate acne. Even if your foundation can counter acne, it can still offset your hormones.
Also, some kids share lip gloss and other cosmetic products. That is a big no, no. Sharing certain beauty products is unhygienic and can spread bacteria. Worst-case scenarios are infections, cold sores, colds, and more.
Preventing the harmful effect of make-up is easy. Stop wearing them. But if you must, make sure to wash your face. Have a skincare routine that will help your skin to repair and rejuvenate.