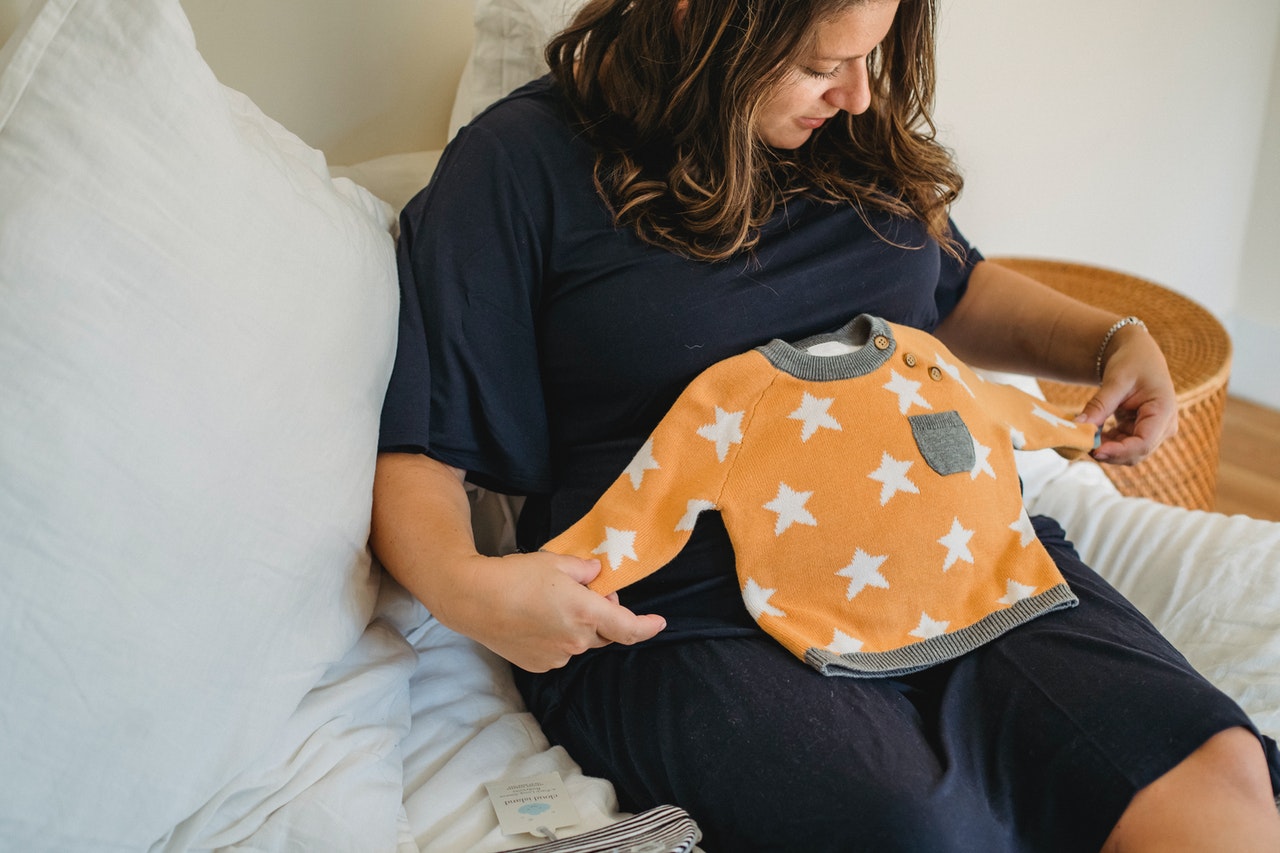 When you are at that stage where the pregnancy bump starts to show, it is time to buy maternity clothes. Remember that no matter how tempting, never buy non-maternity clothes sizes larger. This is because maternity clothes are different from non-maternity clothes. Maternity clothes are actually made to accommodate the growing belly. This, they do and still make you look great. These clothes are really designed for your comfort. Regular clothes two sizes larger do not have that benefit. Plus, it would be ill-fitting as well.
If choosing the size of your maternity clothes intimidates you, remember this rule.
Maternity sizes are just the same as regular sizes. For example, let's say you are a size small before the pregnancy. You will still go with a size small when choosing maternity clothes.
The same is true when choosing numbered sizes.
If you are a size nine (9)before the pregnancy, you will still be a size nine (9) during your pregnancy.
How about the pants and the jeans?
The rule will still be the same.
If you are a size 29 before the pregnancy, you will still be a size 29 during the pregnancy.
Of course, the waist of a size 29 during pregnancy will no longer be the same. It will be larger. But designers and manufacturers wanted to make it easier for you. This is why they stick to the regular sizes, only a little bigger to accommodate the bump.
Never think about buying regular clothes that size bigger than you normally are.
You will end up in really ill-fitting clothes. It will not be as flattering as maternity clothes.
The difference with maternity clothes is in the details. The extra fabric keeps you comfortable throughout your pregnancy. The designs took into consideration the growing belly. And so, maternity dresses have belly panels or empire waistlines.
These considerations eventually flatter the shape of your body.
If, for example, you wanted to buy maternity clothes early on in your pregnancy, it would still be easy.
Most of the maternity stores have mannequins with fake bellies.
This way, you would see how it should look on the 8th month of your pregnancy. This should be able to guide you in choosing the best maternity clothes for you.
When should you buy maternity clothes?
The most common time when women buy maternity clothes is during their 3rd or 4th month. But this should not be a rule of thumb. When your non-maternity clothes still fit you in your 4th month, you can postpone buying. As long as you are still comfortable, you can hold off shopping for maternity clothes for now.
Most women wonder when to buy maternity clothes.
Do not just make that decision.
Assess yourself and see whether you are still comfortable in your non-maternity clothes. If you are not, you can go ahead and shop.
Most women hesitate to buy maternity clothes way too soon. Most considerations would be on whether she is already showing or looking huge.
But if there is one thing aside from looking good during pregnancy, it is your comfort.
The goal is to look good while feeling great throughout your pregnancy.
When to Buy
Most women would buy on their 3rd to 4th month. This is because this stage is usually when the bump starts to show.
During the first few months, what you can do is to take a look at your closet.
If you can find something stretchy, you can make use of them. A pair of yoga pants is a good starting point. Remember that the lower the rise, the better it is for you.
As you go along with your pregnancy, you may also consider a few more items. These can be long tank tops and wrap dresses. Leggings would also be handy during your pregnancy. The same is true with tunics.
These are the types of clothes you can wear at the early stage of your pregnancy.
When it would already be too impossible to button up your jeans, it is time to shop.
You don't have to worry about maternity clothes not fitting you in your 8th month. Maternity clothes are actually designed to fit you up until you give birth.
Also, you have to remember that your second or third pregnancy will be different. You will start to get bigger earlier compared to your first pregnancy.
This brings us to another tip.
A tip that has something to do with quality.
The Quality
Maternity clothes are those you can wear from the moment you start to show until you give birth. Some women tend to wear these clothes for a few more months after delivery.
After this period, you will no longer need these maternity clothes.
Up until you have your second pregnancy.
As such, we would like to emphasize that when getting maternity clothes, go with quality.
You need maternity clothes that will last you up until your second or even third pregnancy. At the end of the day, you have to consider the cost.
Giving birth and raising a child is never cheap.
It would always be useful to get maternity dresses that can last you for more than just one pregnancy.
How do you save on maternity dresses?
Pregnancy is costly. As such, it would be helpful to save up on a few pregnancy-related things. One of these is on maternity dresses. When you want to save on maternity dresses, your closet has the answer. Secondhand stores or even thrift stores can also help. If you can even swap clothes with some friends, go ahead. Maternity clothes should never always be expensive. The trick is to go for quality and comfort.
At the time when you can no longer button up your pants, you will start wearing maternity clothes.
But the cause of hesitation is always this – is it worth it?
You will be wearing maternity clothes up until you give birth. And with everything happening in the world right now, is it worth it to buy maternity clothes?
Well, the answer is yes. You still need maternity clothes.
Think of your comfort as you go along with the pregnancy.
And thankfully enough, you don't have to shell out that much cash for maternity clothes. There are ways to save up on these items.
Here, we talk about ways to get maternity clothes without breaking the bank.
Your Closet
You may find in your closet clothes that you no longer wear.
At the start of your pregnancy, there is still the need for you to wear maternity clothes. Not at this time anyway.
Check out your closet.
As your belly is starting to grow, you can adjust your clothing. Leggings and yoga pants are extremely helpful during this stage.
The same is true with wrap dresses as well as blousy shirts.
You will be surprised at how many pieces of clothing can still fit you despite the bump.
Your Man's Closet
You don't limit yourself to just your closet.
Your partner may also have pieces of clothing that are worth checking.
Consider button-down men's shirts. They can be useful.
Wear them unbuttoned. Underneath that can be a stretchy shirt. Or you can put on a belt for a shirt dress effect. Pair it with your favorite leggings, and you're good to go.
Or when you are just lounging at home, his boxer shorts can be a great option, too.
Secondhand
There are a lot of websites and apps that sell secondhand items. And yes, there are secondhand maternity clothes as well.
Check out Craigslist. Or how about eBay? There are also other platforms you can check out. Examples are OfferUp and Poshmark that sell secondhand maternity dresses. They're quite affordable too.
There are apps that even sell secondhand branded clothes. Poshmark is one of these platforms, and they have a wide array of brands from Gap to H&M Mama. And most of the time, the price is always slashed in half.
eBay also has a lot of secondhand items for sale. You can even buy the best deals through this platform.
The thing about eBay, however, is that you should not be too picky. But if you search hard enough, you would be able to find maternity clothes that are worth your cash.
Once you start shopping for secondhand maternity dresses, you will start to enjoy them.
You will see leggings and shirts. There are maternity bras, although we hesitate on this a bit.
There are even belly bands that are so useful.
Some platforms even have a complete set of maternity clothes. It can be a dress, a pair of jeans, or even a holiday maternity dress.
When shopping for secondhand maternity clothes, make sure to wash them first.
Go with hot water and soap. Or you can also opt to dry clean these clothes before using them. This should clean the clothes up before use.
Aside from hygiene, this is for your peace of mind.
Swap
You may already have things in your home you no longer need.
Why not try swapping?
This is a great way of ridding your home of items you no longer use.
And when you swap, you not only get rid of those not in use. You also get to have things you might need.
There are a lot of online swap groups that you can join in.
Social media platforms like Facebook have a lot of swap groups. Just look it up by searching your city. Pair it with keywords like "buy, sell, or trade." You can also use keywords like "swap" or "parents."
Some groups may be closed. You just need to click on the join button to become a member.
They may ask a few questions, but these questions are nothing to worry about.
Moms' Groups are also amazing sources of maternity stuff.
Take note that mommies love passing things around. In fact, one mom would be extremely helpful to another. She would be helpful enough to provide another mom with all the maternity clothes needed.
And this is common.
Moms' Groups are like that.
Or, if you cannot find anything, you can organize your neighborhood for a swap group.
You may find something handy from one of your neighbors.
And when you cannot find anyone posting maternity dresses for swapping, initiate yourself. Try posting on the page your need for maternity clothes.
This could remind somebody that they have unused maternity clothes they can get rid of.
Not only will this save you a lot of cash. Swapping is also fun!
Thrift Stores
With everything happening right now, this may not always be a great option.
Some cities have been on lockdown, and it would be impossible to get into thrift stores. But if your town has this, why not visit them?
Your local thrift store may not have maternity clothes for you. But if you just let the owner know what you need, he or she may look into it. After a few days or so, he or she may give you a call to tell you it's already available.
Sale Events
Check out the baby stores in your area.
Or if not the baby stores, why not try department stores?
These stores may have the maternity clothes that you need.
And when you find the stores, take note of their websites. Most of the time, these stores may have a sale or two already scheduled during the year.
Most of the time, sales happen twice a year per store.
Take note of these stores. They may come in handy one of these days.
Garage Sales
When the weather is just right, some families may also opt to conduct garage sales. This should clear up a lot of things they no longer use.
And some of these things may include maternity clothes.
We already know it. Garage sales are always great sources of amazing items. It can be an antique clock, or it can be a kitchen set.
Or it can be a horde of maternity clothes.
And they come at much lower prices, too!