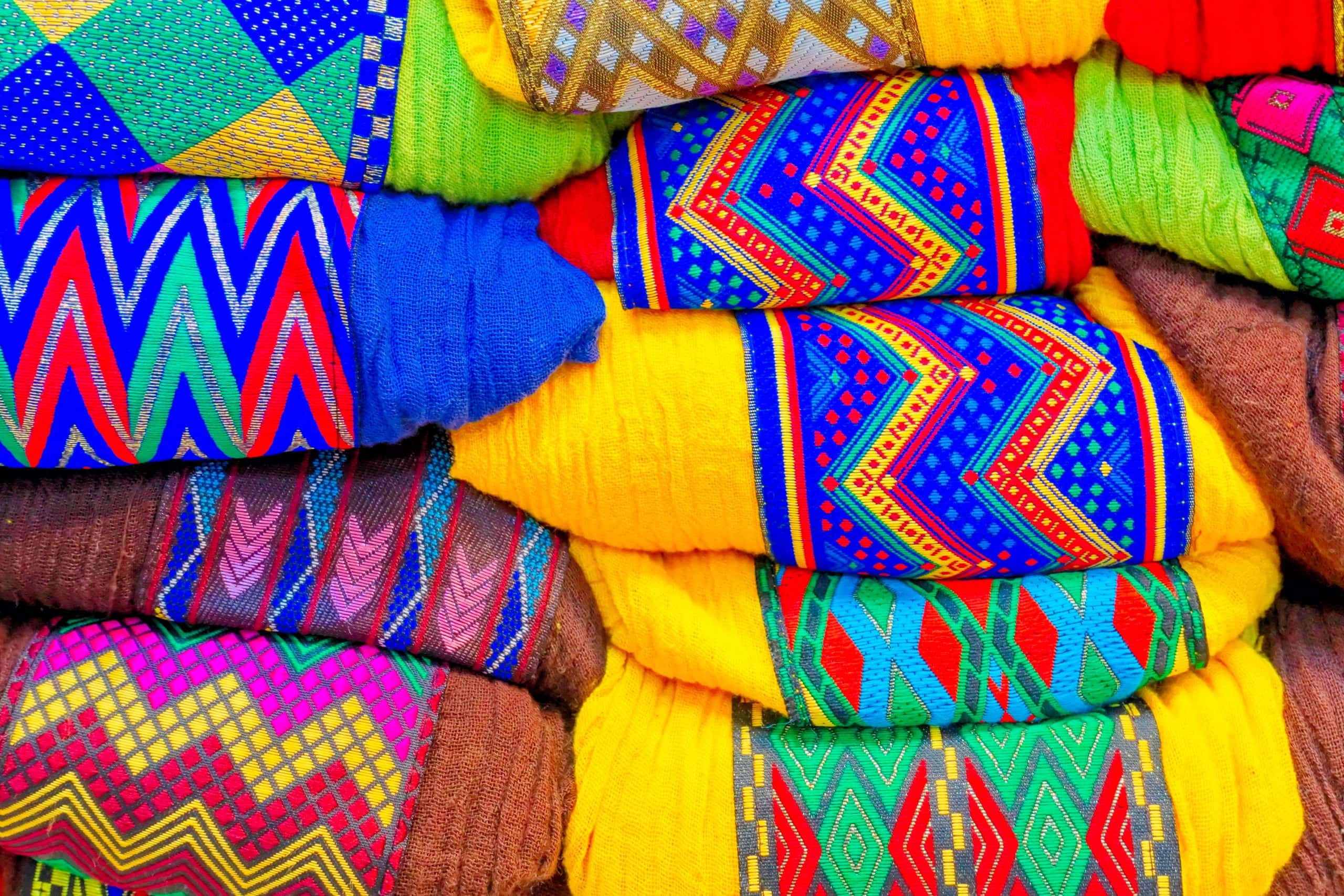 Do you know what a stencil is? It's a thin sheet of cardboard or metal that has patters or letters cut out from it. You use it by placing the stencil on top of a sheet of paper then painting or shading through the holes. The main purpose of a stencil is to guide you on how to make the design.
Dress patterns are like stencils for dressmaking. They are templates used for creating the part of the clothes. You place it on top of the fabric, mark the pattern then cut. Usually, they make dress patterns using heavy-duty material like paper board or cardboard. This is because sewers use most dress patterns many times.
Patternmaking is the process of making the pattern itself. There are two methods of patternmaking: flat-pattern and draping.
The flat-pattern method is when you sketch the entire pattern on a flat surface. It including all the measurements. In this method, you'll use a lot of devices like straight and curve rulers, drill, notch, and more. Flat-pattern starts with a sloper. A sloper is a basic pattern with the measurements of the wearer. After a series of mock-ups, the refined sloper is now ready. You can use it for making different patterns for different styles.
Contrary to the flat-pattern method, the draping method does not use a sloper. In this method, dressmakers make the pattern by pinning the fabric onto the dress form. Then they put the outline on the paper pattern. Sometimes, they skip the part of the paper pattern and use the mock-ups only. You can use this method for sculptured gowns.
How do dress patterns work?
If you want to pursue a career in fashion design, one of the most basic things you'll learn is patternmaking. So how does it work? How do you use it? Here are some things that you need to know.
Sewing Patterns and Its Use
A sewing pattern serves as a guide on how you will cut the fabric to your desired shape and size. It is a set of flat-patterns with instructions on how you will put the pieces together in the right order. A sewing pattern for a shirt includes four pieces: front and back, sleeves, and collar band. Each pattern has different guidelines for the sizes. Each line has a distinct pattern so it's easier to identify.
Sewing Patterns That You Can Buy
Making your sewing pattern can be confusing. If you are having a hard time, you can always buy it. There are two kinds of sewing patterns available in the market: paper and digital/PDF. Paper patterns are printed on a large paper together with its instructions. While digital/PDF patterns are available for download online. You can tile print the pattern at home on an A4 paper and piece it together. Another option is having it printed in an A0 paper.
Seam Allowance
A seam allowance is very important. It's the 1 – 1.5 cm space from the edge of the sewing pattern. You need this to still be able to get the correct size after you sew the pieces together. Some sewing patterns do not have seam allowance. You need to check first before you start cutting. You can never sew anything without seam allowance. If you disregard this, you'll end up with the wrong size.
Cutting Sewing Patterns
One way of extending the life of your sewing pattern is by not cutting the pattern from the original. You can trace it on a different paper then cut that instead. Well, other sewing patterns do require you to trace it because you cannot cut the pattern itself.
Cutting the Fabric
The sewing pattern set also includes instructions on how you will cut the fabric. Make sure to follow it and you are done!
How do you read a dress pattern?
Reading sewing patterns is difficult especially if you're a beginner. You need to mentally prepare yourself because there will be a lot of reading involved. Make sure before you buy or download, you've read through the specifications. Think of it as buying a gadget. Get the specs that you need.
Here is a simple step-by-step guide that you can follow when deciphering your sewing guide.
Step 1: Look for the pattern number. The pattern number indicates the pattern design and size.
Step 2: Identify the size. Sewing patterns does not have one standard size. You need to check if the size range indicated in the pattern suits what you need.
Step 3: Go through the pictures one by one. It shows which fabrics go well with the design. How the clothing is to fit. Also, it will show design variations. As well as the essential pieces to make those variations.
Step 4: Browse the drawings of the design. Views is another term for design variations which can you can see at the back of the sewing pattern set. Every view has a corresponding symbol. You can use the symbols to navigate the chart and the patterns for more details about that specific view.
Step 5: Consider the fabric suggestions. The sewing pattern set also includes a prescription of fabrics that is ideal for the design. Read it, consider the suggestions, and choose a fabric that you can work with.
Step 6: Skim through the notion and trim requirements. Your patter may have specific notions and trim requirements. The notions will show all the other pieces that you'll need for the article.
Step 7: Learn the body measurements and size chart. You need to be accurate when you determine your size before you start cutting. The size of the pattern and the size of ready to wear clothes are different.
Step 8: Check the fabric requirements. You'll see this listed below the body measurement and the size chart.
Step 9: Take note of the measurements of the finished article. Your finished product is larger than your actual measurements for ease of movement. You can find the size of the finished garment in the last section of the chart.
Step 10: Study the line drawings. The line drawings depict the front and the back of the clothing. Under each, you'll be able to see corresponding symbols of the garment.
Step 11: Digest all the information on each pattern piece. Every image has a label with a descriptive list of information below the drawings.
Step 12: Go through the sewing instructions. Before you start cutting the sewing pattern, read through the sewing instructions. There you'll see details about inserting zippers and seam allowance.
Step 13: View the cutting layout. There is a cutting diagram that will guide you on the number of pieces that will fit the specific size of the fabric.
Step 14: Look for the pattern pieces required for your clothing. Get your cutting layout guide and use it to identify the pieces that you'll need.
Step 15: Iron the pattern before cutting. To remove the wrinkles from the paper, iron it out. After, you can start cutting.
Step 16: Familiarize yourself with the symbols. There are different kinds of symbols in a pattern. You need to learn so you won't have a hard time following through.
Step 17: Wash, dry, and, iron the fabric. Like the pattern, make sure to prep your fabric before you start cutting. Fold the fabric based on the instruction given before cutting.
Step 18: Pin the pieces on the fabric. After cutting your pattern, secure it on the fabric. Look through your cutting diagram again before cutting the fabric.
What are the best sewing patterns?
When you're only at the beginning of your sewing journey don't go for complex patterns. It will be overwhelming and you'll end up frustrated. There are a lot of sewing patterns that are simple and suitable for beginners. Here are a few that you can check out.
Tilly and the Button: Stevie Tunic
This pattern is simple and easy to make. It's a boxy dress with a round neckline and kimono style sleeves. The instructions are foolproof so this is ideal for beginners.
True Bias: Ogden Cami
This is another cult favorite in the sewing community. It's a simple cami top with a soft-curve V-neck neckline and thin straps.
Liesl and Co: Everyday Skirt
If you're into skirts, try this out. Is a simple and easy everyday skirt. You don't need to struggle attaching zippers or buttons since the back is elastic.
Merchant and Mills: 101 Trousers
If you want to try making trousers try this pattern. You don't need to worry about zippers and buttons since its drawstring.
How do you make your clothing patterns?
Patternmaking has a lot of facets that you need to follow before diving into the drawing. Before you start shopping for tools and materials you need to consider the following:
Mastering the Foundation
How will you start if you don't know the basics? Patternmaking has a lot of math and critical thinking involved. You need to juggle different measurements and analyze shapes. If you don't like math and analysis better work with an existing pattern instead. You can also start with manipulating pattern blocks. This can be your training before going to the drafting process.
Process, Aptitude, Investments
Patternmakers are critical thinkers. Once they see the design their brains will start churning. What will be the measurements? How will we translate the design in drafting? How will they sew this design? How will they explain it to the sewers?
When you start making the basic block you'll see if you have the aptitude for this kind of work. You need precision when using rulers and taking measurements. You also need to be good at fractions and can follow instructions.
There is a lot of investments involved in patternmaking. Books and reference materials are important. The more knowledge you have the more you can develop techniques. Books can be pricy but the return of investments from it is worth it. Time is also an investment patternmaker needs to give. Making blocks are a trial and error and you'll be spending a lot of time perfecting it.
Manipulating Existing Patterns
It's a form of stealing if you make your designs using commercial patterns then sell it. If you're aspiring to be a designer, you need to hire a patternmaker or study patternmaking. One of the most important things that you need before proceeding is a production pattern.
If patternmaking is not your strong suit then try altering existing patterns. There are a lot of resources that will teach you how to alter patterns.
What paper do you use for pattern making?
Fashion designers use different types of patternmaking papers depending on their needs. Here are a few that the industry uses:
Tissue Paper
Tissue paper provides a slippery barrier. This helps when your working with fabrics like vinyl or oilcloth. It prevents the fabric from sticking between the presser footer and throatplate. It also gives stability for fabrics that are thinner like silk.
Brown Craft Paper
You can buy a 48" – 66" wide brown craft paper which is the best for patternmaking. Shops use this paper to guarantee correct stitching. It is sturdier than tissue paper and is ideal for making patterns out of existing articles.
Manila Paper
Most sewers will say that the best paper to use for patternmaking is manila paper. This paper allows for accurate marking and is sturdier yet flexible. Many production patterns use manila paper.
What can I do with old dress patterns?
If you think you've already accumulated so many sewing patterns, then its time to let some of them go. Look through your pile and sort which will you keep, donate, and sell.
There are a lot of websites where you can sell your vintage sewing patterns. Old Patterns buys vintage patterns in bulk. But if you want to sell them per piece or in a bundle, try eBay or Etsy. Did you know that vintage sewing patterns can cost hundreds of dollars? In 2013, in the 1940s there is a mail-order pattern sold for $2,025.00! Not all sewing patterns worth much but some do.
If you want to donate your sewing patterns instead then try Goodwill or Salvation Army. Thrift shops accept pre-loved sewing patterns. If you prefer donating to organizations and clubs try 4-H Sewing Club. They teach children how to sew and your sewing patterns will be a big help.