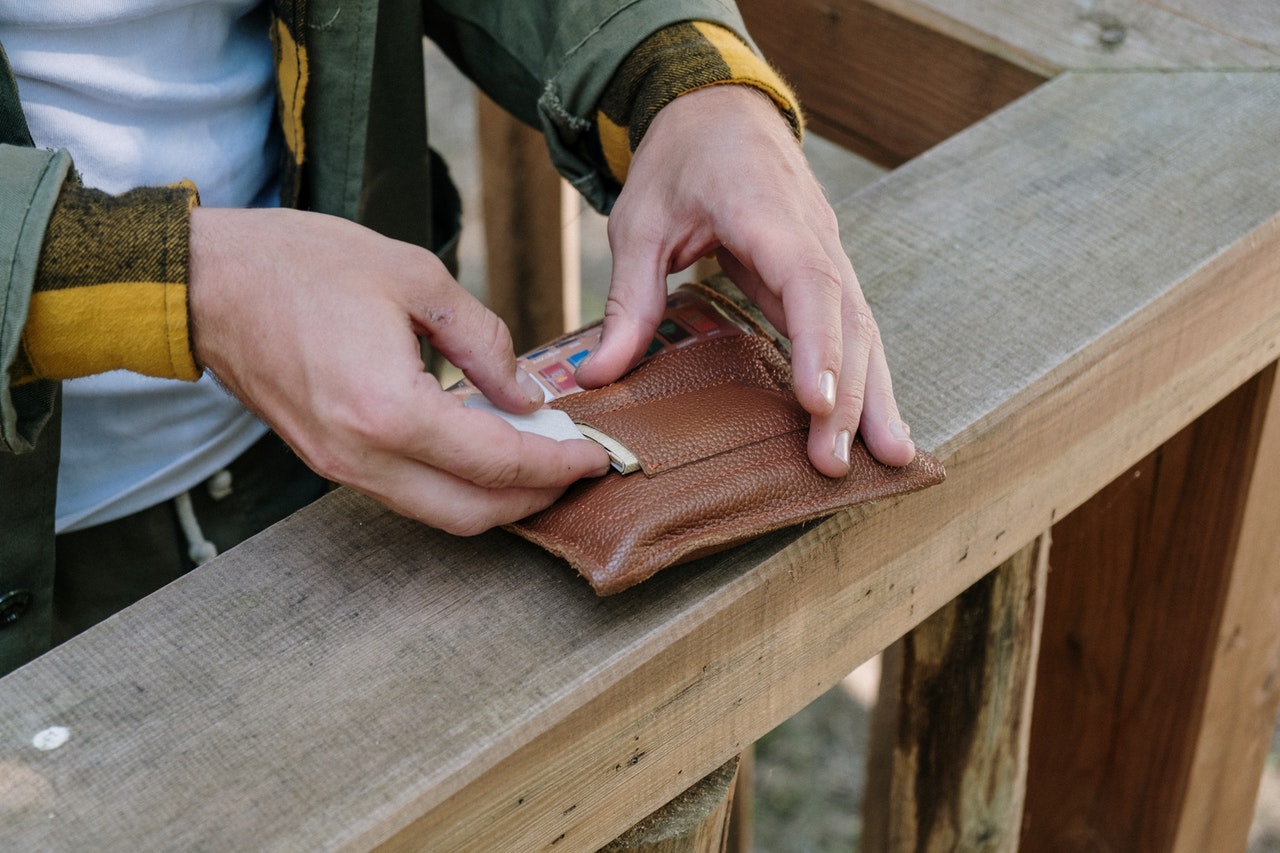 Leather wallets can be engraved and there are several other ways on how you can personalize them. Just know that if you're doing it yourself you should be careful and test it out on a different material before going for the actual leather wallet. If you can't do it on your own, there's plenty of shops that do wallet engraving.
Personalized gifts are a hit for almost every type of occasion, who wouldn't want to receive a leather journal with your initials debossed on the cover or a keychain with your favorite quote on it. Having a personalized gift shows your affection for the person receiving it.
Aside from notebooks, pens, keychains, shirts, and mugs, another item that you usually get engraved is wallets. Before asking, what should you engrave to your wallets, you need to know first if could do it. For cloth wallets, it's easy to embroider to add that personal touch but with other materials like leather, is it possible?
The short answer is yes, you can. Actually, it's easy to engrave in almost everything for as long as you have the right tools that would suit the material and intricacy of the design. However, here's another question that you should be asking, can I do it by myself? That we don't know for sure. It's going down to how dexterous and experienced you are.
Here are some types of engravings that you can do:
Scratch Engraving
This is not the official name for this type of engraving. But this pretty much sums up the process done here. If you're thinking that you can just get a sharp object of a knife and start scratching your initials into your leather wallets, you're going in the wrong direction. The engraving is done using a diamond-drag bit that is integrated with a CNC-type machine. So, it's not a DIY job. The bit has a diamond in a cone shape and the machine uses enough pressure to create a precise straight engraving.
Pros:
It's relatively expensive for a not DIY engraving
Perfect for metal and wood
The fastest type of application
Cons:
Not ideal for leather or plastic materials
The width of the bit can only accommodate basic lettering and simple designs
Rotary Engraving
This is considered a permanent form of engraving. This method is similar to the one above but the bit or the tip rotates at a high speed and removes some parts of the material itself. The design is dependent on the size of the bit so you can go as plain or as intricate as you want. Rotary engraving is perfect for DIY and the tools are not that expensive. Just make sure that you get a good quality tool or your project might become a mess.
Pros:
The best method to engrave in almost any type of material including leather
Offers the most flexibility in terms of design, size, and shapes.
Cons
More expensive initial investment than paying a shop to do it
You'll do some clean up afterward (minimal)
Laser Engraving
Laser engraving is also another popular option but you would be required to buy a laser engraving machine. If you're worried that it's going to be too big, don't worry since there are mini versions that can fit on your tabletop. It's actually nice to have especially if you like DIYing and arts ad crafts.
Pros:
Works on any wallet material (leather, canvas, metal, wood, etc.)
Cons:
Your initial investment is much higher compared to other options.
Leather Stamping
Leather stamping is also another great method of engraving wallets. There are several ways that you can apply this including, manual press, hammer, and heating (pressing and burning the letters onto the leather).
The last two are a cheaper option for DIY. When it comes to manual press, you'll have to buy the equipment, though it's not super expensive, which requires an initial investment. Well, leather stamping is limited to combining pretty numbers and letters and you're limited with the fonts of the stamps.
If you want something really complex, better go with the laser engraving or the other methods above.
How can you personalize leather?
There are several leather engraving techniques that you can use to personalize your leather including, branding, pyrography, carving, and perforation.
Since we're talking about leather wallets, let's focus on the engraving techniques made for leather. Aside from laser engraving as mentioned above, there are many types of leather engraving techniques that you can check out. Maybe with this, you'll be able to find the engraving style you want for your personalized gifts to your family, relatives, and friends.
Leather Engraving Techniques:
Branding
This is one of the most straightforward ways of engraving. With this, you get a hot piece of metal and press it hard against the leather to burn the pattern onto it. The heavy pressure applied plus the hot metal will leave the area with a dark and slightly sunken mark.
If you want to do branding, you need to have the right tools especially the branding iron. You can buy this online as either pre-made or customized depending on the store you're buying from.
Aside from the tools, you'll also need a safe way to heat the branding iron. If the one you bought does not have a handle, you'll need a metal tong or a heat-safe instrument to hold them.
The branding iron can be heated through different means including direct fire. Just make sure that you're cautious when doing the heating to avoid any accidents.
Pyrography
Same with branding, pyrography also used fire so you should be wary of any fire hazards. Pyrography is like drawing using a special pen that burns the leather to create the design you like. This method is loved by beginners since it's easier for them to manipulate the design since it's like writing and drawing. There are many in-depth tutorials on this method on the internet so make sure you check them out before diving into it.
Embossing
This method is the process of stamping a pattern into a material using a heavy steel plate or a rolling wheel. With this, you choose any pattern that you want to be pressed onto your leather. Embossing keeps the original texture of the material because you only touch the surface and do not carve out or burn it.
There are two main types of embossing including color printing and blind printing. With color printing, a thin layer of film is placed between the leather and the plate so sections of the film will be cut out and imprinted on the material with the weight of the plate. With blind printing, the steel plates are directly pressed onto the material.
Embossing is an easy way of decorating leather but over time the design can fade away. What you can do is apply some oil to the leather and re-roll the pattern whenever it starts to fade. It's very simple, especially you just need to press the pattern. The only setback is that it's not as detailed as the other types of engraving.
Carving
Yes, just like with woods, leather can also be carved using the appropriate materials. However, you still need to be careful, there's only a particular type of leather that you can carve and that is full-grain vegetable-tanned leather.
The reason behind this is that some types of leather don't saturate well and do not hold the carved pattern clearly after dying.
To start carving, you need to rub-down the leather first and let it saturate for several minutes. After that, you can head on and start the carving process. This technique is not as simple as the others since it requires a lot of time and precision. If you want to try DIYing, better practice in another material than starting with leather.
Perforation
While others use it for a different purpose, leather perforation can create some interesting designs. This method means you are punching small holes into the leather to increase its breathability. In addition, these holes can be made in specific positions and orders to produce various patterns and images.
This technique is rarely done by individuals who enjoy crafts. Usually, it takes an immense amount of precision and time needed to do it by hand. This is why perforation is better done by machines because no human has the patience to sit all day for a few months to punch holes. Most would have given up after half a day or less.
While most leather can handle perforation, they are not often used for clothing accessories because of the subtlety of resulting designs.
Embroidery
Like other fabrics, leather is also an ideal material for any embroidery project. Only requiring a few specialized tools, this can be considered as one of the most user-friendly engraving techniques. Embroidery is simply using a needle to stitch a pattern or image on a piece of material either by hand or using a sewing machine.
The best type of leather to use when you're doing embroidery is the softer varieties tanned with chromium salt or tannin. Fortunately, this is the same type of leather that's used for clothing so if you have a leather jacket that you wish to personalize, then you can easily do this technique.
How do you engrave leather by hand?
To engrave leather by hand you'll need some tools like a puncher, chisel, and a mallet. Using a leather mallet, you will strike the chisel to engrave the design that you want onto the leather. This will require patience and practice so if your first try does not pan out as you expect, you can continue practicing until you reach your goal.
Earlier, most of the engraving methods that were described needs a machine. So, if you want to learn how to do it by hand here's what you need to do.
Start by preparing a sturdy work surface, two to four C-clamp, cylinder tool, meatal engraving stamp, a bevel tool, wooden mallet, and the leather where you will engrave. Choose a top grain leather that is suitable for your project. Tooling is done over the smooth surface of your leather.
Cut the size of the leather-based on the size you prefer using leather shears. Then, with damped cloth, wipe the surface of the lather where you will be engraving. The water will soften the leather but be careful not to soak it too much since it will take a longer time to dry.
Clampdown to a smooth, flat, and sturdy surface using a C-clamp. Put your pattern paper side down on top of the leather and position it so that it's exact with the leather. Trace the design and remove the paper.
Punch some holes using a chisel or a leather puncher, then, use a mallet to strike the chisel. You cannot use a regular hammer since it will drive the chisel too hard. This part needs some practice before you get the right pressure to apply. Repeat so you can create the pattern or the letters that you want.
Sticking the engraving stamp will splice the leather and you can stop the engraving here with the edges cut into the leather or you can continue with the next step to make your work more interesting.
After your done creating the shapes, use a bevel tool and work around the edges of that you created earlier. This will make the cuts look more angles and the edges raised and more finished. If you're using unfinished leather, add a leather stain to complete the look.
After that, you're done! You can do this with leather wallets or other leather goods and accessories that you want to personalize as a gift for your family, friends, and relatives. With this DIY, they'll surely feel loved since you're the one who spent some time engraving the gifts. So, if you're on the lookout for a sweet gift idea, this is a good one.