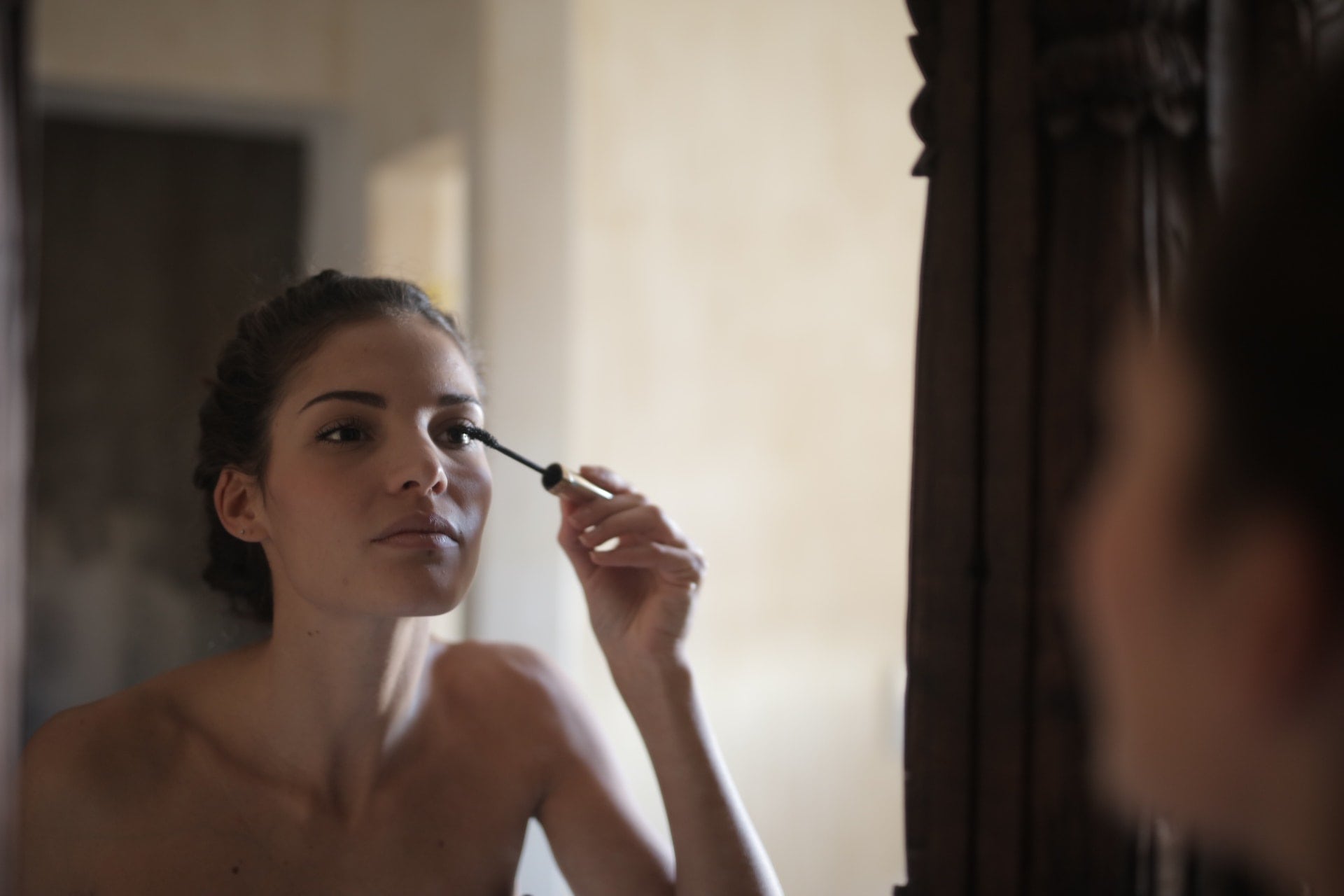 When you do your make-up, which do you put first? Eyeliner or Mascara? If you ask a professional's stand about it, they would say that eyeliners should be first. Why? Well, if you put your mascara first it's going to get in the way while applying your eyeliner. It's also going to be difficult to line the roots. If you apply your eyeliner first, it can serve as a guide on how much mascara you need to apply.
Want to know more about the common mistakes people make when using eyeliners? Your wish is our command! Here are some of the common missteps you might be doing when applying your eyeliner.
First, is tugging your eye to have a smooth canvas when applying your eyeliner. Many of us are guilty of doing this. It's easier to draw a line on a flat surface, right? But if you do this, after you release your eye, it's going to bounce back. Together with it, your eyeliner. Instead of having a flawless finish, there's going to be bumps. Instead of tugging, use your finger to act as an anchor on the top lid.
Second, skipping lining the upper lash line. You may have thought that the best way to do it is lining both your upper and lower lash line or only the lower lash line. That is incorrect. The ideal way is to line the upper lash line only. If you line only the bottom lash line, it'll look unbalanced and drag your eye down. If you want to line your bottom lash line, go with a lighter shade.
Third, closing your eyes when drawing the cat eye. Who among you here has tried doing a cat eye? It adds attitude and drama to the entire look, right? How do you do it? Normally, we close our eyes but did you know that's the wrong way of doing it? If you want to have a perfect balance, you need to see it. When you close your eyes, you won't be able to see where you should draw.
Last, not smudging your eyeliner. After perfecting your eyeliner, the last thing that you want to do is smudge it. Well, that's where you're wrong. To make your eyeliner look more natural, you need to smudge it. Just remember to clean the brush after smudging so that you won't be smudging all over your face.
How do you apply eyeliner and mascara perfectly?
Have you heard the saying that the eyes are the windows to the soul? If not all, most of us have heard of it. So, what better way to highlight that window than to decorate it with eyeliner and mascara. For beginners, applying eyeliner and mascara can be difficult. One wrong swipe and your whole eye makeup is ruined.
There, there, we know it's hard. No one starts as a pro so we understand what you're going through. To help you out a bit, here are a few tips and tricks that will help you ace your eyeliner and mascara.
Tip #1: For a doe-eyed look, use a pale pink liner
If you want to achieve a wide-eyed, young look, brighten your waterline with pale pink eyeliner. This is better than using white or beige eyeliner when creating an illusion of bigger eyes. For a better glow-up, apply some on the brow bone and inner corners of the eyes.
Tip #2: Use dots for cat eye
Create a guide by drawing a dot midway along the lid close to the lash line. Then connect the dots to create the base. For the flick, grab a mirror and mark where you want it to end. Make sure that they are symmetrical. To create a better flick, use a Q-tip. You can also use it to clean up mistakes.
Tip #3: Mascara cocktailing is the way to go
Have you heard of this? To create the best lashes, you need to use more than one mascara. There are several types of mascaras, each formulated to enhance your lashes. You can start by lengthening the top and the bottom lashes. Then, curl it with a curling formula to lift the lashes. Last, add volume and tease out your lashes.
Tip #4: Dodge the mascara stains on your lids
Mascaras are the last step in our makeup routine. If your careless, you'll probably have a mascara stain on your eyelids. Have you ever spent hours perfecting your eye makeup only to be ruined by a mascara mark? Makeup hack: there are makeup tools that you can use to help dodge this problem. They will shield your eyelids from marks when you're applying your mascara.
Tip #5: Mascaras have different kinds of black
Not all black mascaras are formulated equally. Go for one that has a carbon black finish. This gives an extra definition.
Tip #6: Use blue as an alternative for black mascara
If you think blue mascara is for costume parties only, think again. Navy blue mascara is the perfect alternative for black during the daytime. It still gives the definition that black mascara does. But the difference is that it's softer and brightens your eyes. This is perfect when you're trying to hide your tired eyes.
Tip #7: The sizes of your mascara wands matters
Like makeup brushes, different mascara wands have different functions. For short lashes, a skinny brush is the best choice. It gets deep into the roots allowing a better grip for lengthening and coverage. To lift and curl your lashes, use the curve wand. This is best for people who have long lashes that get in the way. For extra volume, use the bigger and bolder brush.
Tip #8: Curling is a must to make the most out of your mascara
Make sure that your curler is in tip-top shape before using. Get as close to the lid as possible. Then, gently squeeze and hold it for 15 seconds then release. Don't pump the curler since it can break your lashes. You don't normally curl after applying mascara. But if you know that your lashes can handle it, do a 2-second squeeze after it dries.
Tip #9: Always remove your eye makeup before going to bed
It's a must even if you're tired to clean your face before going to be. For waterproof eyeliner or mascara, use an oil-based cleanser. Grab a cotton pad and soak it with the cleanser. Then hold it over your eye for 20 seconds before wiping to loosen the eye makeup. Keep the rubbing and tugging at a bare minimum to avoid premature aging in the eye area.
When applying eye makeup what goes on first?
What is the first thing that you notice when you see someone in full glam makeup? It's the eyes, right? It's a small part of the face yet the details in creating perfect eye makeup are very complex. Have you tried doing smokey eyes or shimmery eyes? We can agree that perfecting this look is not as easy as it seems.
If you've been going by intuition when you're doing your eye makeup, check this out. Here's a simple step by step process that you can bank on in creating perfect eye makeup.
Step #1: Concealer
You'll want to start with a good canvas. Even out the color around your eyes by applying concealer. If you don't have any eyebags or bluish or purplish parts around your eye, skip this. Avoid using concealer under your eyes. If you put too much concealer, it'll lessen the depth of your face. Put dots and start dubbing from the inner corners. Remember to only dab, not rub or tug.
Step #2: Primer
Since you're already priming your face, include your eyes. Priming your lids will give you a smooth base and your eye makeup will last longer. Also, it will help in keeping your eye makeup in place for hours.
Step #3: Eye Shadow
Now, it's time for the best part, eyeshadow. During the day, avoid using dark shadow and opt for lighter shades. To give it a bit of drama, use a three-toned pallet and start applying from the eyelids to the eyebrows. The key is to blend them properly. First, the lighter color that matched your lids. Start by applying it to the eyelid then move towards the browbone. Second, apply the medium color across your eyelid only. Third, use the darkest color on the crease. Blend everything and you're done!
Step #4: Highlighter (Inner Eye)
Apply your lightest eyeshadow on the corner of your eyes. It will instantly brighten not only your eyes but your entire face. You can skip the brush for this. Just dab some eyeshadow on your finder then press it against the inner corner of your eyes.
Step #5: Eyeliner
For a natural look, you can either skip this or use a light shade of eyeliners to line your eyes. By doing this, it will make your eyes pop. Remember to bend it so it'll look more natural. You can either use eye pencils or liquid eyeliners but some use dark eyeshadows. Using eyeshadow instead of the usual liners looks neater.
If you want to try this, wet a slanted brush and dab it in the shadow. Line your eyes close to the upper lashes. Start from the inner corner going to the outer. Use the line of your eyes as your guide. To finish it off, smudge it using a cotton swab to fade the harsh line.
Step #6: Highlighter (Brow Bone)
Use the same eye shadow that you used on the corner of your eye. Dab it onto your browbone starting from the mid-brow outwards. Then, like all everything else, blend.
Step #7: Eyelash Curler
If you have a full and long eyelash, you can step it up a notch by curling it. Beauty tip: heat the curler using a blowdryer for a few seconds. This will make your lashes curl better. Remember to be careful because you don't want to but your lashes.
Step #8: Mascara
To finish the entire look, tie it together with mascara. Place the wand at the bottom of your eyelash. Do a few sweeps using different types of wands for a fuller look. Don't forget to apply some to your lower las as well.
Which eyeliner is best for beginners?
It's easy to get lost in all the makeup products that are available to us today. If you're a newbie, you'll think that you need to get it all. Don't not everything will work for you. It's always a trial and error when finding the perfect products that will suit you. To give you a hand, here are some eyeliners for beginners that you can check out.
Kiki Precise Liquid Eyeliner Pen Set
Yes, liquid liners are hard to control if you're a beginner. But if you want to experience the smooth gliding effect of a liquid liner, you can start by using this product. The chunky felt tip applicator is easy to control and evenly distribute the formula. Also, this formula dries fast so you don't have to worry about bleeding or feathering.
NYX Cosmetics Mechanical Eye Pencil
Eye pencil is the best for beginners. It's easier to control, they don't smear, and is not messy. This eye pencil has a thick and pointed tip that allows an accurate and easy to control application. It lasts all day without smudging and has a mechanical feature that allows you to adjust the length.
Maybelline New York Unstoppable Eyeliner
If you're looking for an eyeliner that doesn't budge, try this. This is an unstoppable product since it's waterproof, smudge-proof, and dull-proof.
e.l.f. Cosmetics Cream Eyeliner
As beginners, if you're avoiding liquid liners, then you must be running away from cream liners. It's more difficult to control and apply. If you're a total novice, it can create a whole lot of mess. Well, e.l.f. got your back. Although it still requires a lot of patience to apply, this can be your starting point. It has a smudge-proof formula that is soft which will allow you to scoop the amount that you need. No need to worry about flaking. Also, it comes with a small angled brush that eases the application process.