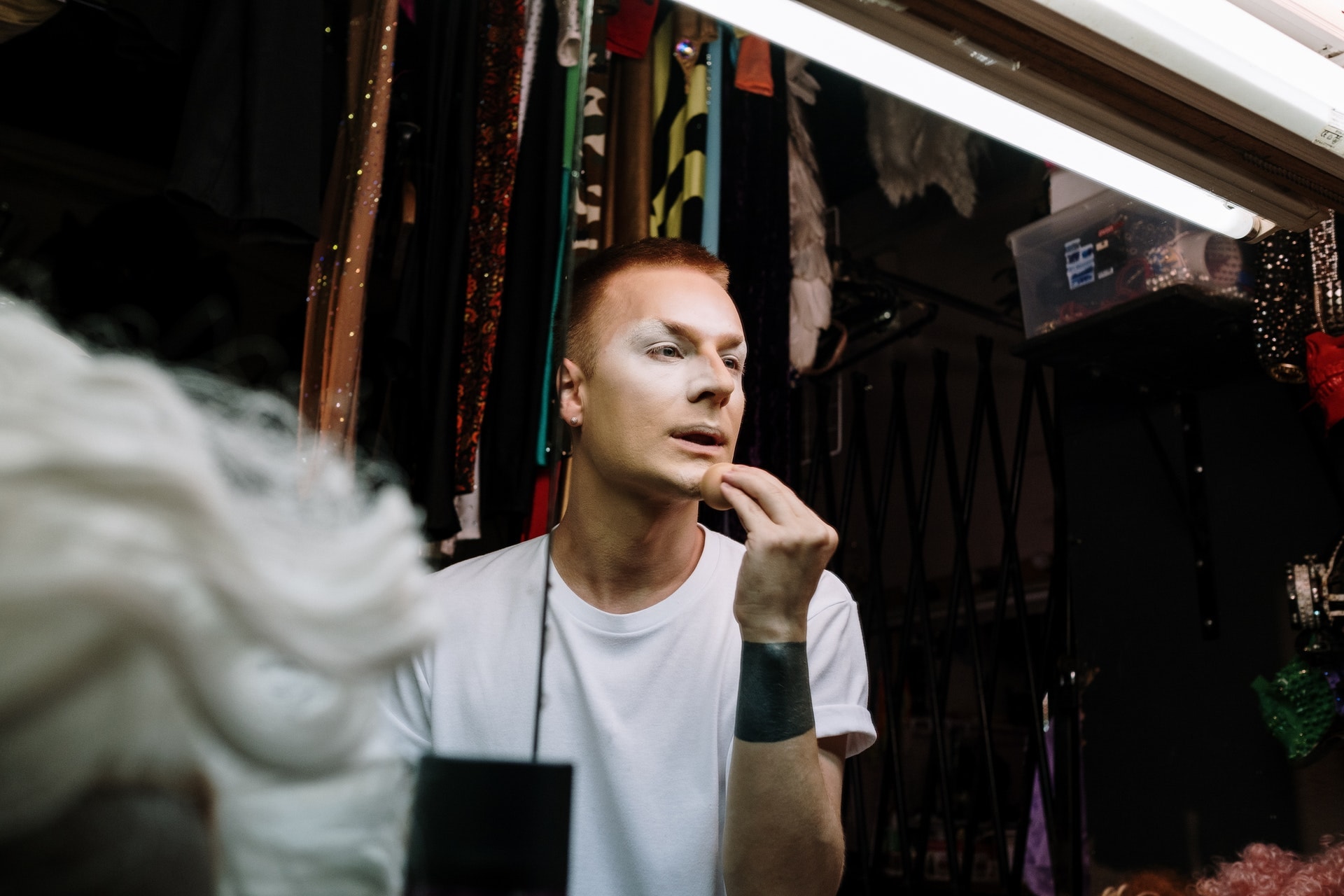 You can use a lighter shade of foundation as a concealer if you only need to brighten the area under your eyes. However, foundations have a lighter formula than concealer. So, if you're looking for full-coverage this may not work.
Foundation and concealer have almost the same consistency. The main difference between the two is the coverage. Yes, some foundations offer full coverage. But that does not beat the concealing power of concealers.
Foundations are meant to provide an overall smooth finish that evens out the skin tone. Concealers, on the other hand, has a slightly thicker formula. This helps hides the dark undereye area, blemishes, and dark spots. You're most likely to use less concealer than foundation.
Should my concealer match my foundation?
The concealer that you'll be using for your undereye should be one to two shades lighter than your natural skin tone. On the other hand, the concealer that you'll be using on your faces should match the shade of your foundation.
We all want our makeup to look like the ones we see on billboards and catalogs. We want to have a flawless finish that does not appear cakey. To achieve that, we need to invest in finding the best concealer. How can you distinguish the best? Top-notch concealers should be able to cover discoloration and hide blemishes. Also, they should be able to lighten dark areas and work with your foundation to achieve an even skin tone.
Using a poorly formulated or improperly using a concealer will result in making the blemishes look more prominent. It will highlight problematic areas. Also, it will create a white cast under the eye and around dark areas. Pro tip: you need to know which type of concealer to use and how to apply it.
How to choose the right concealer?
Like any other skincare or cosmetic product, the first thing that you need to do is identify your skin type. Also, distinguish the concerns that you want to address. If you know that you have dry skin you shouldn't use a liquid concealer that has a matte finish. It will highlight the dryness.
If you have enlarged pores with oily skin, avoid using creamy or stick concealers. These kinds of textures will clog the pores and amplify their appearance. These are the basic principles when choosing a concealer but many people tend to get it wrong.
Here are a few guidelines that you need to know:
Minor skin discoloration – Use a concealer that has a light to medium coverage.
Under-eye area – Select a shade that is one or two shades lighter than your skin tone. This will prevent the appearance of white circles under the eye.
Face – Choose a concealer that is the exact match for your foundation. Avoid shades that are too pink, white, peach, yellow, or copper. It will be too noticeable through the foundation. This will create a very unnatural look.
What are the different types of concealer?
Liquid Concealer
Ideal for normal, oily, sensitive, combination, and acne-prone skin
Buildable coverage from light to full
Available in satin, dewy, matte, and radiant shimmer finish
Liquid concealer among all the other types of concealer is the most versatile. It works for almost all skin types except the very dry ones. It has buildable coverage and is very easy to apply. This concealer is best for covering pimples because it's less likely to be cakey. You're not as much to be at risk for clogged pores than using creamier concealer.
This concealer is ideal to use on wrinkled areas. It has a thin consistency it will not tend to crease during the day. Well, it's still unavoidable that some may slip through the lines. Matte finish concealers can last longer than satin finish concealers. Also, they won't melt throughout the day.
Satin finish concealers are more ideal if you want a natural look. It has more movement so it's best for dry skin. Shimmer radiant finish on the other hand is best for the under-eye area. It can highlight as well as cover that area which adds a soft glow.
Stick Concealer
Ideal for normal, sensitive, and dry skin
Buildable coverage from medium to full
Available in satin and powdery matte finish
Stick concealers have a semi-solid texture. It has a creamy thick consistency and a rich pigmentation. You can use this concealer by dotting it on or swiping it across the target area then blending. Blend it in a stippling motion with your fingers or with a concealer brush.
You just need to take note that the ingredients used to make the concealer in stick form may clog the pores. This is why it's not recommended for people with oily or combination skin types.
Creamy Concealer
Ideal for normal, dry, sensitive, and combination skin
Buildable coverage from medium to full
Available in creamy and satin finish
Creamy concealers are usually packaged in small containers, compact, or palette. This provides a buildable medium to full coverage and is best for the under-eye area. Creamy concealers are the best option for masking discolorations.
This type of concealer can be applied in a stippling motion using your fingers, a concealer brush, or a sponge. Just watch out for formulas that have a creamier finish. It can slip through lines and wrinkles. You need to set this with powder after blending.
How to apply concealers?
Step 1: Prep your skin
Before diving into your makeup application, you need to make sure that you have a clean and fresh canvas. Incorporate an exfoliator when you double-cleanse. This will help remove the dead skin and dirt that's clogging your pores. This will even out your skin tone and will ensure a smoother and flawless finish. After you exfoliate use a moisturizer to keep your skin smooth and hydrated. Even oily skin needs moisturizer before makeup. Having SPF in the moisturizer is a plus because it will protect your skin from the sun during the day.
Step 2: Apply your face makeup
To keep your makeup from budging, start with a face primer. A good primer will have a good grip on your foundation and concealer. Next, apply your foundation, CC/BB Cream, or tinted moisturizer. You can apply your concealer before your face makeup. However, makeup artists suggest to apply it after the face makeup. Applying your face makeup first will give you a blendable and smooth base before you start concealing.
Step 3: Apply your concealer under the eye area in an inverted triangle
For this, it's best to use a specialized undereye concealer. Instead of directly swiping the concealer under your eyes, draw an inverted triangle beneath each eye. This will help brighten the face. If you just apply it directly under your eye, it will highlight the area instead of hiding it. If you want to cover your eye bags, this is the last thing that you want to do. After you draw the triangle, dab, and blend using a concealer brush or your fingers. Never swipe or smear since it will create creases that can result in cracking.
Step 4: Apply concealer on spots with blemishes
Go for a full-coverage concealer for covering blemishes. Choose something that won't smudge throughout the day. If you also want to cover up any redness, go for a green color-correcting concealer. Apply concealer on your pimples individually. After, use your ring finger or a concealer brush to blend.
Step 5: Apply concealer around your nose or red areas
Make sure that you dab the concealer around your nose and not swipe it. Focus on its creases and any redness. Dip a damped sponge on a loose powder to seal the concealer in place. This will help it last throughout the day.
Step 6: Set the concealer with powder
Setting powder will not only seal your concealer in place but it will also prevent it from creasing. Once you're satisfied with the coverage, lock it in with powder. Spray a setting spray to make sure that your entire makeup is in place.
What is the best under eye concealer?
Not all concealers will do the trick. Especially when covering those dark circles under the eye. So, to help you with the searching we listed some of the best concealers that you can find!
e.l.f. 16hr Camo Concealer
This is the best concealer if you're on a budget.
It is highly pigmented that's why a small dot can cover up the entire undereye. It will give you a perfectly smooth base.
It has a matte finish that can stay for quite some time. But it does create a bit creasing by the end of the day.
Available in 26 shades
Uoma Beauty Stay Woke Luminous Brightening Concealer
This concealer is the best for even skin tone.
It has a creamy formula that is easy to apply and blendable. It's packed with pigments but does end up being cakey. It has a satin finish so it's good to pair with a lightweight foundation.
Can last almost the whole day without creasing.
Available in 19 shades
Armani Luminous Silk Concealer
This is the best concealer for intense brightening.
This is super lightweight but still has good coverage. It's silky and is very easy to blend yet it does not crease.
It lasts the whole day without budging.
Available in 20 shades.
Fenty Beauty Pro Filt'r Instant Retouch Concealer
If you need a wide range of shades, this concealer has a lot of variety.
It has full coverage and a non-creasing consistency. It's worth a try if you're having difficulty finding your match.
It can withstand sweat, rain, and whatever substance that may come into contact with your face. It's known to be one of the best concealers there is.
Available in 50 shades. This has the widest collection of shades available.
NYX Professional Makeup Can't Stop Won't Stop Contour Concealer
This is the best type of concealer if you want to have crease-free makeup.
This concealer can withstand the heat during the day with only minimal touch-ups. Just remember to use an eye cream before using this concealer in that area. It tends to have a dry matte finish.
Once you apply it, it won't budge.
Available in 24 shades.
Shiseido Synchro Skin Self Refreshing Concealer
This concealer is the best at fading the texture of the skin.
It's formulated to have a blurring coverage and a dewy finish. It hides imperfections perfectly and creates a natural look.
It does not budge throughout the day.
Available in 16 shades.

Too Faced Born This Way Super Coverage Concealer

This concealer is the best when it comes to providing coverage.

It is formulated with hyaluronic acid and coconut water. This gives this product a dewy and fresh finish which is perfect for the undereye area. Also, it is great with covering dark circles and can be a spot concealer if you lock it in with powder.
Can last for more than 8 hours.
Available in 20 shades.

Kevyn Aucoin The Sensual Skin Enhancer

This is the best type of concealer if you're looking for a dewy finish with full coverage.

It provides amazing coverage that looks natural. It can also double as a foundation if you mix it with moisturizer. Even though it may be a bit pricy, it's known as one of the best concealers you can find.
It's not long-lasting because it has a dewy finish. That is the only downside if you want a natural finish.
Available in 14 shades.

NARS Soft Matte Complete Concealer

This is the best concealer if you're looking for buildable coverage.

It starts as a light coverage that is good for layering. However, it's pigmented enough to correct and cover blemishes. Though it has a matte finish, it's not cakey at all.
It lasts throughout the day.
Available in 16 shades that cover almost all types of skin tone.