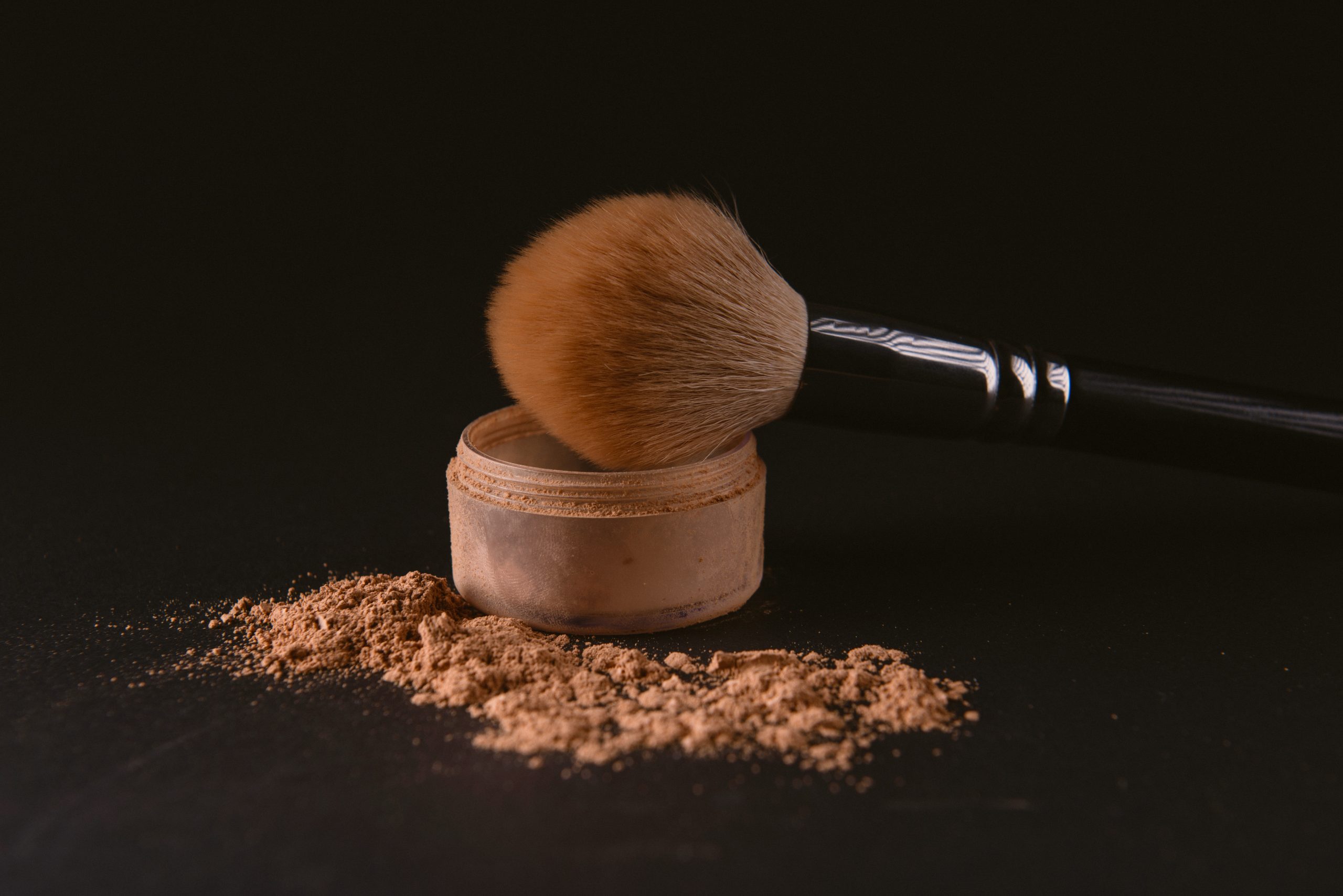 The difference between a bronzer and a highlighter is that bronzers add depth to the skin while highlighters add glow to the skin.
Differentiating the two is easy because they have their specific roles to play. Like mentioned before bronzers add depth to the skin. Some varieties of bronzers include liquid, compact, matte, shimmer, and mineral. If you want to add a little color for the summer, you can use matte or liquid bronzers for a sun-kissed look.
Highlighters, on the other hand, as its name suggests, highlights certain parts of the face. You can use it to add glow to your nose, cheeks, and under your eyebrow. You can even use it as an eyeshadow in case you forgot to bring one. A highlighter is either compact or liquid but both do the same job so you can choose which you prefer.
How do you use bronzer and highlighter for beginners?
Bronzers are used to define, sculpt, and contour. It helps in creating a sun kissed glow. Highlighters are used to highlight and glow. It helps in brightening the face.
Highlighter and bronzer are can be a challenge to use for beginners. Too much of each will make you look like a kid who decided to draw on their face. So, you need to know the basics and the principles.
Some people ask, can I wear bronzers and highlighters together? The answer is 100% yes. That is the best way to do it if you want to get an A+ on your finished make-up look. Now, how do you begin?
Start with a bronzer to shade and contour your face. To do this, make a fish face and apply bronzer using a flat brush. Target the hollows of your cheeks, below the cheekbones, and follow the angle of your jawline. Make sure to bend it properly so there won't be any harsh lines. The trick is to get a bronzer that is 2 shades darker than your skin tone.
After the bronzer, you can now proceed with the highlighter. But if you want to add a little bit of flush, you can swipe some blush before you apply your highlighter.
After the bronzer and the blush, you can now go with the highlighter. Apply the highlighter on your upper cheekbone right above the blush. Also, dab some on the middle of your nose, inner eye, cupid's bow, and above the brow. Pro-tip for highlighter, dust it on the high points of your face to brighten your features. For a full-body glow, apply some highlighter to your neck and collarbone.
Does a highlighter make a difference?
Highlighters can make a difference by improving the glow of your face. It also adds shimmer to the skin that makes it look healthy.
You might have wondered what's the use of a highlighter? Well, aside from the glow that you get from your skincare routine, a highlighter can add more shimmer. If you use it correctly, you can brighten and lift your face. It can also give you the famous dewy look that everyone's been talking about.
The only problem you can encounter is if you add a tiny bit more than the right amount, it'll look too much.
So, to avoid looking like a disco ball, here are a few things that you should watch out for.
Your highlighter is in the wrong shade
Highlighters have different shades. It's not a one size fits all. There are different consistencies and shades that you need to choose from. What you need to do is find the right formula and shade that works for your skin tone and skin type. Choosing the wrong shade will make you look like Casper the ghost.
To get the perfect shade for you, choose a highlighter that is two shades lighter than your natural color. You can also find the right shade through your undertone. A warm undertone goes well with bronze and gold shade. Silver and pearl white shade is a good match for cool undertones.
You're putting highlighters in the wrong areas.
Highlighters must fall into the right place. You don't want to highlight a part that you need to recede right? So, here are the places that you need to add some shine.
Cheeks: Apply it above the cheekbones, not under.
Nose: Apply it straight down the bridge of your nose to make it look slimmer.
Eyes: Apply it at the inner corner of your eyes to make you look more awake.
Lips: Apply it on your cupid's bow for an illusion of bigger lips.
You're putting too much highlighter
It's not always the more the better especially when it comes to highlighter. You need to stop yourself from adding too much. If you don't you'll end up looking like fairies threw pixie dust all over your face. A dash of highlighter is enough to achieve that instant glow up.
You're using the wrong tools
Sometimes we make do with what we have. But using the right tools makes so much difference. Not using the right brush to apply your highlighter will prevent you from making the most out of it. The best tool for this product is a fan makeup brush. This brush will help you dust the right amount of highlighter to get the results you're looking for. If you're using a cream-based highlighter, use a sponge to blend it rather than a brush.
You don't take lighting into consideration
Remember, know where you're going before you pick the type of highlighter that you'll use. You need to take into consideration the lighting of your destination. If you're going somewhere with dim lights go amp up your sparkles. On the other hand, if you're going somewhere bright and sunny, tone it down. Go for something subtle because it's going to look harsh in the sunlight.
You're not syncing your highlighter with your foundation
The key to perfect makeup is matching the formulas. If you're using a powder base foundation, go with a powder base highlighter. Not using the matching formulas will throw off the balance of the product. So, if you're having problems with your highlighter, this can be one of the reasons.
You're not coordination shades
This is a bit obvious; shade mismatch will create chaos in your finished look. You need to make sure that your contour, blush, and highlighter are on the same page. You need to get a shade that will compliment your undertone. Never try mixing cool-tone bronzer and blush with a warm-tone highlighter. This will not look pretty at all.
Can you wear bronzer alone?
Wearing bronzer alone is fine especially when you're going for a certain look. It does not matter if you don't use blush or highlighters but keep in mind that bronzer alone can look a bit bland.
Bronzer is the easiest and cheapest way to achieve a summer tan. It can also define and reduce certain features of your face. But, of course, if you go over the top with your bronzer, you'll end up looking orange. So, how do you go about this product?
Step 1: Choose a bronzer that matches your skin tone.
Make sure to choose no more than 2 shades darker than your skin tone. Bronzer also comes in different undertones, yellow, peach, and pink. So that means, you need to find a bronzer that also matches your undertone. For you to be able to identify it, hold the bronzer against your skin, or go to the department store and try out some. Remember that you need 2 shades of bronzer, one for winter and one for summer.
Step 2: Choose the right formula.
If you have oily skin, go with powder bronzer and apply it using a short fluffy brush. If you have dry skin, go with a gel or cream-based bronzer and apply it using your fingers or a sponge. The secret to using a liquid bronzer is to blend it properly. You don't want to risk looking like a clown, right?
Step 3: Prep your skin properly.
Bronzer should be at the finale of your makeup routine. Start with foundation, then concealer, then blush. You can also use a bit of powder before applying your bronzer. This will prevent the creamy consistency of the foundation from mixing with the powder bronzer. If you don't pay attention to this, your make up will look blotchy.
Step 4: Apply bronzer.
The best areas from bronzers are areas where the sun naturally shines. Go for your temple, cheeks, chin, and nose. So, the start of with the cheeks going up in a "C" formation to the temple. Make sure to blend it properly. For the nose, you can avoid having a brown stripe by gently touching the sides vertically and blending it. For the neck, apply a light layer and blend it in.
If you only use bronzer alone, it can look dull for some. To create a dewy look, dab some cream blush on your cheeks. Bronzer and cream blush is perfect for each other. So, don't hesitate to play around until you're satisfied with your look.
Makeup artists say that bronzer looks best in a minimal make-up look. Use a small amount of foundation and stick with mascara, a bit of eyeshadow, and a splash of color on your lips.
Is bronzer the same as contour?
Contouring and bronzing are often interchanged but the two are distinctly different. Contouring means defining and shaping the face's structure. On the other hand, bronzing means warming up the skin as to where the sun naturally hits.
Makeup artists say that contouring adds symmetry, structure, and dimension. As for bronzing, it adds a natural sun-kissed look. Another thing about contouring is it's used to slim down the features.
To achieve the perfect contour, you need to consider two things. First, you need to be mindful of how much bronzer you're using. We've mentioned this several times but you should always remember not to overdo it. Second, make sure you have the right products. Getting the best products does improve your makeup. The best products are not always the most expensive. You just need to find what works for you.
Contouring is mimicking shadows so a matte bronzer is essential. Professionals would recommend using either a cool-toned, super matte bronzer, or a blendable cream bronzer. Have you heard of Kim Kardashian's KKW sticks? It has a wide range of cream-based, blendable shades that makeup artists love. So, to make a natural contour, blend it under the cheekbones, creases of the eye, and along the nose. Also, don't forget under the jawline and the temple.
So, how do you bronze? To create a warm glow look, go for products that are a bit shiny. Opt for something lighter than the shade you used for contour. Another good option is a bronzer with a peachy tone. To create a natural tan look, dust over the high points of the face. Go for the top of the cheekbones, slightly across the forehead, and down the nose bridge. Pro tip: apply bronzers as how you'd apply a highlighter. Think of it as a warm version of a highlighter.
Over the years, contouring has become a trend that people are raving about. Makeup artists predict that as products become more accessible, the longer this trend would stay. On the flip side, bronzing has been a staple makeup look and is considered a classic. Well, whatever it may be, these two are a driving force in creating what makeup artist calls a chiseled glow.
What bronzer is best for contouring?
Beginning your journey with contouring can be a bit tricky. Finding the right bronzer can be confusing with all the available variations today. To help you with this non-stop searching, here's a list of the best bronzers you can find for your skin tone.
Dark Skin Tone
The best bronzer for this type of skin tone is those packed with a metallic shimmer. It will bring out the light from inside.
Product Recommendation:
Sun Stalk'r Instant Warmth Bronzer
O!Mega Bronzer Coconut Perfect Tan in Tantalize
Sunswept Bronzer Duo in Sunglow/Sungaze
Tan Skin Tone
For medium to tan skin tone, go for something with a coppery undertone. It will give warmth to the skin without being too harsh.
Product Recommendation:
Warm Glow Bronzer – Summer Glow No.04
LORAC PRO Contour Palette with Contour Brush
Terracotta Bronzing Powder
Medium to Light Skin Tone
For this type of skin tone, look for something with gold or taupe undertone. Avoid bronzers that will look too orange or brown.
Product Recommendation:
Hoola Matte Bronzer
Diorskin Mineral Nude Bronze Powder
Fair Skin Tone
If you're on the lighter side go for a rose or light tan undertones. Don't go over two or three shades darker.
Product Recommendation:
Hoola Matte Bronzer Lite
Les Beiges Healthy Glow Luminous Colour
The Sculpting Contour Powder in Medium