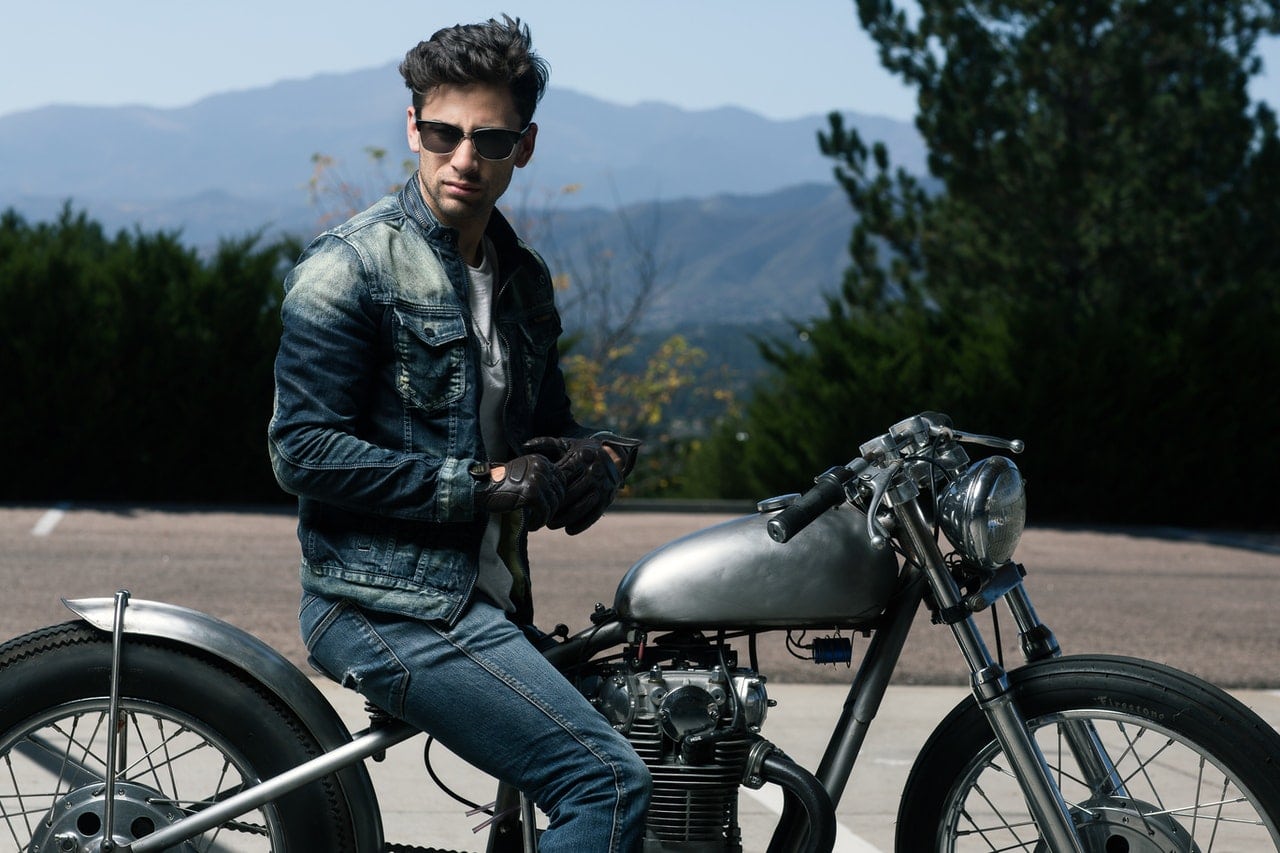 When buying a leather jacket, it should fit a bit snug on your shoulders and through the waist and chest area. If you're struggling with your size and are thinking of getting a smaller or bigger one, go for the smaller one. If what your buying is a good quality leather jacket then it will expand over time.
Leather jackets are another type of jacket that has become very popular today. It looks classy, edgy, and cool. When buying a leather jacket there are many things that you need to consider. What color will you get? What style suits your personality? What is the right fit for your body type? If you're getting confused with everything, remember, clothes should make you stand out. It should not be them sanding out on their own.
Since leather jackets are timeless pieces of apparel, you should invest in something that is a perfect fit. If not, then you just wasted your money. You need to make sure that your jacket fits like a glove and will look as if it's tailored for you.
What are the types of leather jackets?
Before you go to the measurements you need to identify what style are you looking for. It can be overwhelming given that there are tons of different leather jacket styles. To make it easier here are some of the common styles that you can choose from.
Double Rider – This style will give you a bad boy/girl vibe. It should fall right at the waist. It's a good choice for those who are tall or short. Make sure that you keep tabs on the size so that it would fall where it should be.
Bomber – This style was originally made for flight crew associates. Also, it is one of the most common styles today. It is a waist-length leather coat that fits almost all body types. This style is the best when it comes to warmth. The only downside to a bomber is that it does not hug the body and is a bit loose. Not an ideal option if you want to look slim.
Racer – Among the three, this one is the dressiest. It has a sleek and minimal design making it look classy and sophisticated. If you're looking for a slim-fit leather jacket then this is the one for you. This type of jacket is meant to fit the wearer and leave not much space between your body and the jacket.
How to take your measurements for leather jackets?
After considering the style that you want, the brand where you'll buy, and the type of leather that suits you the best, it's time for the measurements. This is important especially if you're aiming to get the perfect it. You can ask either ask someone to help you or you can do this by yourself.
Step #1: Chest
To measure, you need to stand up straight and relax your arms. After, wrap the tape measure around your upper chest. For this, you might need someone to help you to make sure that it is accurate. Don't forget to jot down your measurements or you might forget.
Step #2: Shoulders
The shoulder length of your jacket must fit right. It should not be too loose nor too tight. If you're taking your measurements alone, grab a jacket that has the perfect fit on you. Then measure from the seam of the right shoulder going to the left. If you have someone to help you, measure your back starting from one shoulder to the other. Again, make sure that you jot down the measurements.
Step #3: Body Length
To measure this, place the tape measure starting at the top of the shoulder. Then go all the way down to the top of your thigh. Again, jot down what you get.
Step #4: Sleeve Length
If you want to have a polished look with your jacket, you need to make sure that the sleeve length is on point. To get this, start by putting you are on your hip. Then start measuring from the center back of your neck. Continue along your arms to your wrist.
Now that you know all of this, it will be easier for you to get the right leather jacket. You don't have to worry about your money going down the drain. Just make sure that you remember all of this and carefully plan before you buy.
Is a leather jacket a good investment?
Leather jackets are a good investment, especially authentic ones. Not only is it functional, but it also lasts a very long time. Furthermore, it becomes more beautiful as it ages.
Leather jackets, especially those made of real leather are a bit expensive. That is why so many people are asking if it's worth it. If you were to decide, which will you choose? A jacket that is cheap but only lasts for months or an expensive jacket that lasts for years? If you weigh your options, buying an expensive but durable jacket is the best choice. It's a good return on investment compared to cheap and poor-quality ones.
To convince you in investing in a leather jacket, since we know that they are indeed pricy, here are some benefits that you can get.
Reasons to Invest in a Leather Jacket
Timeless Piece
Leather jackets never go out of style. It's been around since the 1920s and its popularity never goes out of the ranks. This is one of the best jackets for people who do not pay attention much to style but wants to look on point.
Creates an Edgy Vibe
When you think of leather jackets, you would often associate them with motorcycle riders. If you describe them, one word that would pop out is dangerous and edgy. That is why wearing a leather jacket adds that edge to the outfit making it look cool.
Versatile Garment
Leather jackets go well with almost everything. You can wear it over a suit and tie. If you're on the more casual side, you can pair it with some graphic tee and jeans. No matter the vibe that you're going for, there's always a leather jacket that would fit your style.
Provides Warmth
If you are tired of the usual trench coats or puffer jackets for the winter season, you can switch it out with leather jackets. Not only is it stylish, but it also provides warmth that is essential for cold days. Well, it is made of animal skin after all so it is only natural that it provides adequate warmth. Even though leather jackets are perfect for cold days, you can always wear them in different climates. You can just toss it on your shoulders if ever it gets too hot.
Variety of Colors
If you're thinking that leather jackets are only available in black and brown, then think again. Now, you can get a leather jacket in different colors whether it's bright or pastel. We would still advise that you stick with the traditional black, brown, and red. But if you want a splash of color then we're sure that you'll find one that fits your preference.
Maintains Value
As long as you take care of your leather jacket, then you can probably sell it as close to the price that you bought it. Since leather jackets are timeless pieces, it's very easy to sell them as long as you maintain their condition. To erasure that it in tip-top shape, make sure that you condition it often and only use saddle soap for tough stains. Also, store it properly and add a protective seal if it does not have any.
Easy Cleaning
Leather jackets are fairly easy to clean if ever you accidentally spill on them. Most often than not, you'll only need a damp cloth to wipe them off. Just make sure to attend to it immediately.
Have a Pleasing Smell
Authentic leather jackets have a distinct innate smell. That is why if you're wearing one, people will swoon over its fragrance.
Fits Almost Every Occasion
Whether it's a formal event or a casual gathering you can always sport your leather jacket. It fits almost every kind of occasion so you don't have to worry about it aging at the back of your wardrobe.
Lazy Fashion Piece
There are days when your just too tired to think of an outfit but still, you want to look chic. If that happens, throw over a pair of leather jackets, and you are done! Little effort but still 100 points in style.
Durable
If sturdiness is what you're looking for in a jacket, then leather jackets are what you need. They do not unravel like other materials. Instead, the fibers used are fused to create a natural solid material. Leather jackets are so sturdy that it is sometimes made into a family heirloom. Some even withstand different generations. Even a punctured leather jacket can be brought back to life with the help of a professional.
How can you tell if a leather jacket is of good quality?
You can tell that your leather jacket is of high-quality if you feel that the material is soft and comfortable to wear. Additionally, high-quality leather jackets use the finest full-grain leather.
When you have decided to splurge on something you want to get the best, right? If you are finally investing in a good-quality leather jacket, do not rush. Make sure that you inspect every detail. You know what they say, perfection takes time, so be patient and meticulous.
Not all kinds of leather jackets are made of the same quality of materials and craftsmanship. You'll want to avoid getting a poorly crafted leather jacket since you're planning to use it in the long run. Now, help you identify the best quality from the poor ones, here are some of the signs that you need to watch out for.
Fool-Proof Signs of a High-Quality Leather Jacket
Made of genuine leather
Not everything that looks like leather is made of real leather. Some of them are faux leather. They come from synthetic materials instead of animal skin. You need to check the labels or research the brand itself if they use genuine or faux leather. You need to expect that genuine leather jackets will be pricier compare to faux ones. But it is still a worth it investment. If you see that it is not genuine leather, look for a different one.
The texture feels like leather
When you touch the material, it should feel like leather. When you slide your fingers across the surface of the material it should glide smoothly. It should not bunch up or crumple. Low-quality leather lacks the smoothness of real leather. Instead of feeling a smooth texture, you'll notice that is a bit rough. Furthermore, when you rub it, it creates crunch noise.
Nothing else but leather
When you are shopping for a leather jacket make sure to check the tag and see its composition. Some leather jackets have polyester since companies do this to cut down on the production cost. In this case, you'll end up losing the chance to have a good quality leather jacket. If you're buying a high-quality one, make sure that when you check the tag, it is made of nothing else but leather.
Check if there are pockets
Having pockets is a sign of a good-quality leather jacket. How so? Well, there is a certain craftsmanship skill that you need to apply to make pockets in a leather jacket without puncturing the material. That is why having pockets is a good indicator that the leather jacket is of high-quality. This is something that you don't see in its poor-quality counterpart.
Uses full-grain leather
Remember the types of leather? Among all the types, full-grain leather is the best of the best. Compared to others, it's unaltered and natural. It does not undergo the process of sanding and buffing. Moreover, it's a softer and higher quality when you compare it with the others. If you see that the leather jacket is made of full grain leather then you in the right track.