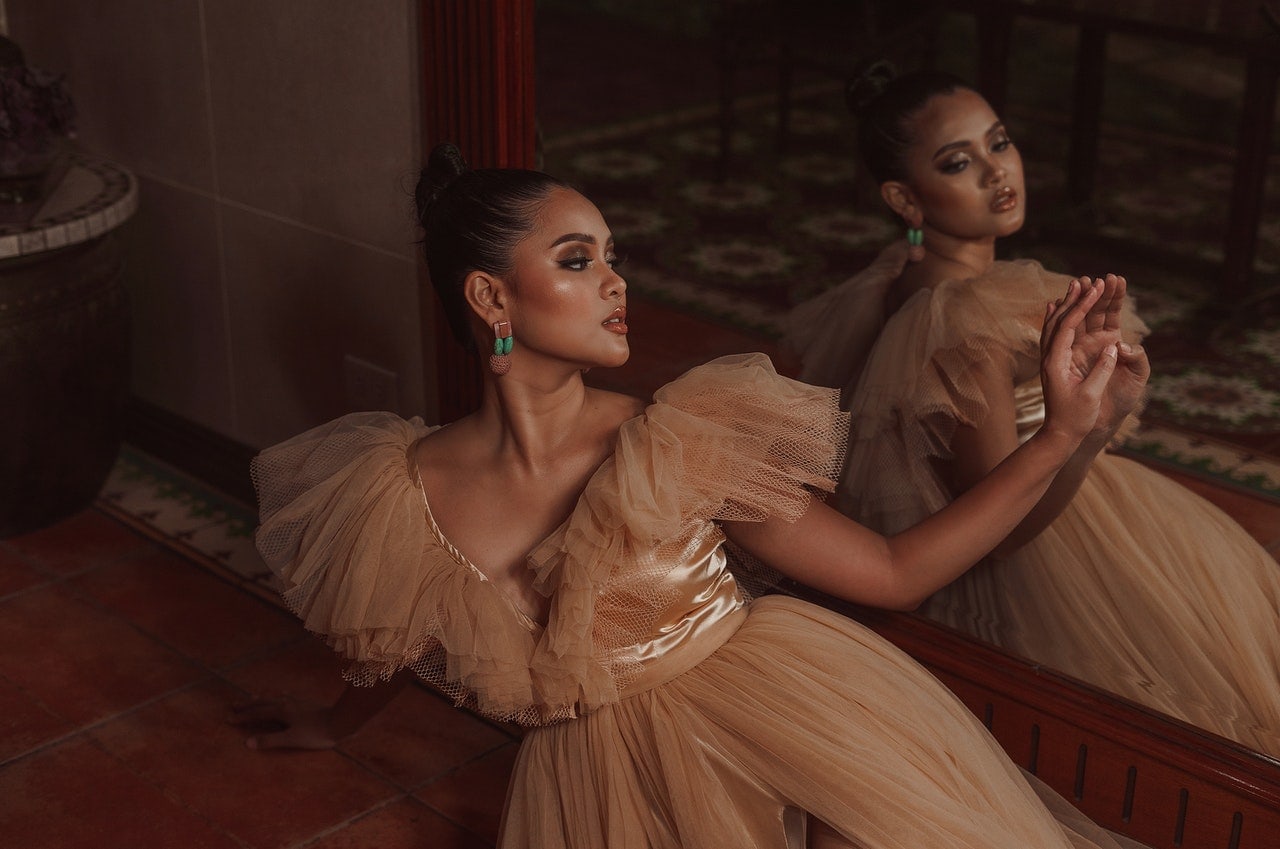 The term "gown" is often used for formal clothes that are used for proms, weddings, debuts, and balls. The term "dress" is used for any one-piece clothing with a skirt no matter the length is. Dresses can either be used for formal or informal occasions.
Gowns and dresses are often interchanged but they are not the same at all. Most people get confused because all kinds of gowns are considered dresses but not all dresses are considered gowns. So, how are they different?
What is a dress?
When you picture a dress what pops into your mind? If you're thinking of a short miniskirt or a long maxi for the summer, it's all considered dresses. Those A-line one-piece outfits that you pair with a blazer is also considered a dress. Depending on the occasion and the material used, you can differentiate a gown from a dress. A cotton maxi dress can be a go-to beach outfit. But, when you switch the material to chiffon, then, it can be a gown for a formal evening dinner.
What is a gown?
This time, when you think of gowns, what comes to your mind? Most definitely, not those miniskirts that you wear to the mall, right? When we mention gowns, we would always picture formal wear for weddings, awards night, and dinner parties. Wedding gowns are not the only type of gowns that you'll see at a wedding. The outfits that maid of honors wear is also considered gowns.
Wedding Dress VS Wedding Gowns
So, when do you wear a wedding dress and when do you wear a wedding gown? This does not mean that when you're a guest you're allowed to wear a wedding dress. That is a big thumbs down unless you want to be hated by the bride.
Wedding dress and wedding gown, the same principle applies. If you decided to have a casual beach wedding, it's better to get a wedding dress. Wedding gowns are beaded with a brocade corset with lining and use an expensive material. Although it is shorter, an A-line chiffon wedding dress is a better fit for the venue and the vibe of a beach wedding.
What are the types of dress?
There are several types of dress, each with its function and style. There is midi, off the shoulder, bodycon, A-line, maxi, and more.
Do you believe that there's a dress for every occasion? Well, with all the types of dresses we have now, we're sure that you'll find one that hits the mark. So, to give you an idea, here are some types that you can look into.
Midi Dress
A midi dress is a type between a mini and a maxi dress. This is your best bet if you're unsure whether you're going to a formal or casual event. This style has different kinds of necklines and sleeve lengths. That is why it's great for different body shapes. Pair it with some thighs and ankle boots for the cold season. For summer, grab a pair of sandals and a straw hat, and you good for an afternoon picnic.
Shirt Dress
If your one for loose-fitting dresses, this is the right one for you. This type of dress has a button-down front and a shirt collar. Imagine wearing a very long dress shirt. Shirt dresses come in different lengths. While most are loose around the waist, some are nipped. It's very easy to dress up and down. Just pair it with some sneakers and you're ready for a casual weekend. To dress it up, pair it with some ankle boots.
Shift Dress
This style was in trend back in the 1960s. Dresses in this type are mostly sleeveless and short that hangs from the shoulders. If you have a lean body shape, it's a good fit since it will appear straight. You can pair it with a mid-length duster jacket and some slingback heels. If you want to go back to the 60s, you can pair it with some knee-high boots. The shape of this dress is the best for print details or color blocking.
Bodycon Dress
Have you ever tried wearing a skin-tight dress? That's called a bodycon dress. It accentuates your figure and assets because of its tight-fitting nature. Most bodycon dresses are made from stretchable materials and are perfect for a night out. If you have an hourglass figure, this will make you look incredible.
Off the Shoulder Dress
If you love off the shoulder blouses, here's an off the shoulder dress. This type of dress helps you showcase your shoulders but still have sleeves around the biceps. If you want to highlight your shoulders but don't want to go full-on strapless, this is a good option.
A-line Dress
A-line dresses hug the hips and flairs out near the hem. This makes the dress looks like an A or an inverted V. Dressing up and dressing down in this type of dress is easy. If you have a pear shape body, this is a perfect match for you. It will highlight your shoulders and add a feminine vibe towards the end.
Mini Dress
As the name implies, mini dresses are short and are a great way to capture attention. If you want to flaunt your gorgeous legs, wear this. The world will stop and turn your way.
Wrap Dress
To wear a wrap dress, you'll be wrapping one side of the dress to the other side and tying it at the back or by the waist. If you have an athletic body shape, try this type of dress. It will create an illusion of an hourglass figure even if you don't naturally have it.
Maxi Dress
Want to look stylish and chic at the beach? Grab some strappy sandals and pair them with a maxi dress. This type of dress is best for a casual setting. But, it can also give the impression of being dressed up because of its length. If you're having a lazy day, wear a maxi and you'll look effortlessly gorgeous.
Halter Dress
If you're looking for a summer outfit, halter dresses are perfect for this season. It has a sleeveless or strapless upper half with a tie around the neck area. Some styles of halter necks do not have a ribbon but a fabric securing it around the neck. If you're the type that has a sculptured shoulder, this is the type of dress to show it off.
Sheath Dress
This type of dress has no visible seams and is form-fitting. Also, it has a straight cut and is nipped in the waist area. Sheath dresses are ideal for business events since it sits at the knee or just above it. It will make you look professional, elegant, and classy. If you have the perfect hourglass shape, this is another dress that will highlight your curves.
Peplum Dress
If you looking for something playful, a peplum dress can be a perfect fit. The added details can be below the waist, around the hip, under the bust, or at the shoulders or neck. The shape and fit of this dress are inspired by the Greeks' ancient style. This dress can work as a day outfit with some flats and a night outfit with some heels.
High-Low Dress
Do you want something different? Try a high-low dress. This type of dress is asymmetrical that is mostly longer at the back and shorter at the front. This style can work in both casual or formal wear. You just need to find the right material that fits the occasion. It's best if you pair this dress with high-heels or platforms to make sure that the back does not drag on the floor.
Sweater Dress
If you're looking for a dress during the sweater weather, try getting a sweater dress. This type of dress is knitted that can either be loose or form-fitting. It also comes in a variety of lengths so it's perfect for all types of body shapes. You can pair it with some sneakers for a casual look or a pair of thigh-high boots for an edgier vibe.
Pencil Dress
Another type of dress that highlights your curves is a pencil dress. If you're buying a little black dress and you're not sure what style to get, try this. It's perfect for date nights and will give you a sophisticated vibe. It hugs the waist and falls straight below the knee. You can go for a bit of a plunging neckline or a turtleneck.
Smock Dress
If you're late and need to head out pronto, throw in a smock dress. This type of dress is loose-fitting, comfortable, and gorgeous to wear. It's also very versatile, some having long sleeves while some are strapless. If you want to have a major fashionista vibe, pair it with stylish ankle boots and a leather jacket.
What dress length is most flattering?
The dress length that is the most flattering are those that fall just above, just below, or at the knee. Although, depending on your body type, the best dress length may differ.
Before, going out in miniskirts would raise browses and disdain. However, we've come a long way and hemlines are designed to cater to the fast-changing style of the world. Dresses, for modesty's sake, would cover the ankles. Because of the war, resources were depleted and textile was harder to acquire. For this reason, the hemline of dresses we cut shorter to about 17 inches. In 1970, mini, midi, and maxi, hemline became popular.
Hemlines are a good way of creating an illusion for your body's vertical proportion. Depending on the lengths, you can elongate or shorten your entire body's visual proportion. Remember, when it comes to picking the right hemline, you need to take note of where it will end. Not every length works with every body type. So, your task is to identify what lengths fit you well.
Tips on picking a hemline
When you're fitting your dress, sit down to see how high it will ride up. A-line dresses ride at least an inch high while fitted hemlines ride at least two inches high.
If you're working with dull colors, go for an asymmetrical hemline to add some depth.
If you're traveling or going to church, your hemline should be no more than an inch above the knee.
If you want to look taller, the hemline should end at the narrowest width of the area.

Maxi – Just above the ankle
Midi – the narrowest part of the shin
Knee-length – At the bottom of the knee
Mini – below your finger
Hemlines for your body type
Maxi
For a maxi dress, the hemline should be just above the ankle and not sweeping the floor. It fits perfectly for every body type whether your curvy, slim, tall, or petite. This length helps in creating an elongated vertical proportion. That's why it's still flattering despite your height or size. If your petite, this hemline will help you look taller and give an illusion of longer legs.
Midi
This hemline is known to be a tea-length because back in 1920, ladies would wear this hemline at tea tables. Well, this was rather a very trick hemline to style. It usually falls a few inches below the knee and you end at the largest part of the calf. That is why, if your tall, this hemline is a perfect match as it will define your height. If your petite or a bit curvy on the bottom, better to stay away from this hemline. But, if you have no other choice but to wear a midi, pair it with shoes of the same color or nude. This will give an illusion of height.
Knee-Length
This hemline, as the name entails, ends around the knee. This is your safest option for work, family gatherings, or any kind on occasion. This is another hemline that fits perfectly for tall people. But, if you're on the petite side, better avoid this. If you need to, go for the high waist option because it can add some height.
Mini
Mini hemline would often end inches above the knee. They are considered to be one of the most flattering hemlines. Also, it's a good option for showcasing your legs. The only downside is that it may not be appropriate for formal occasions. If your petite or curvy, this hemline is suited for you.