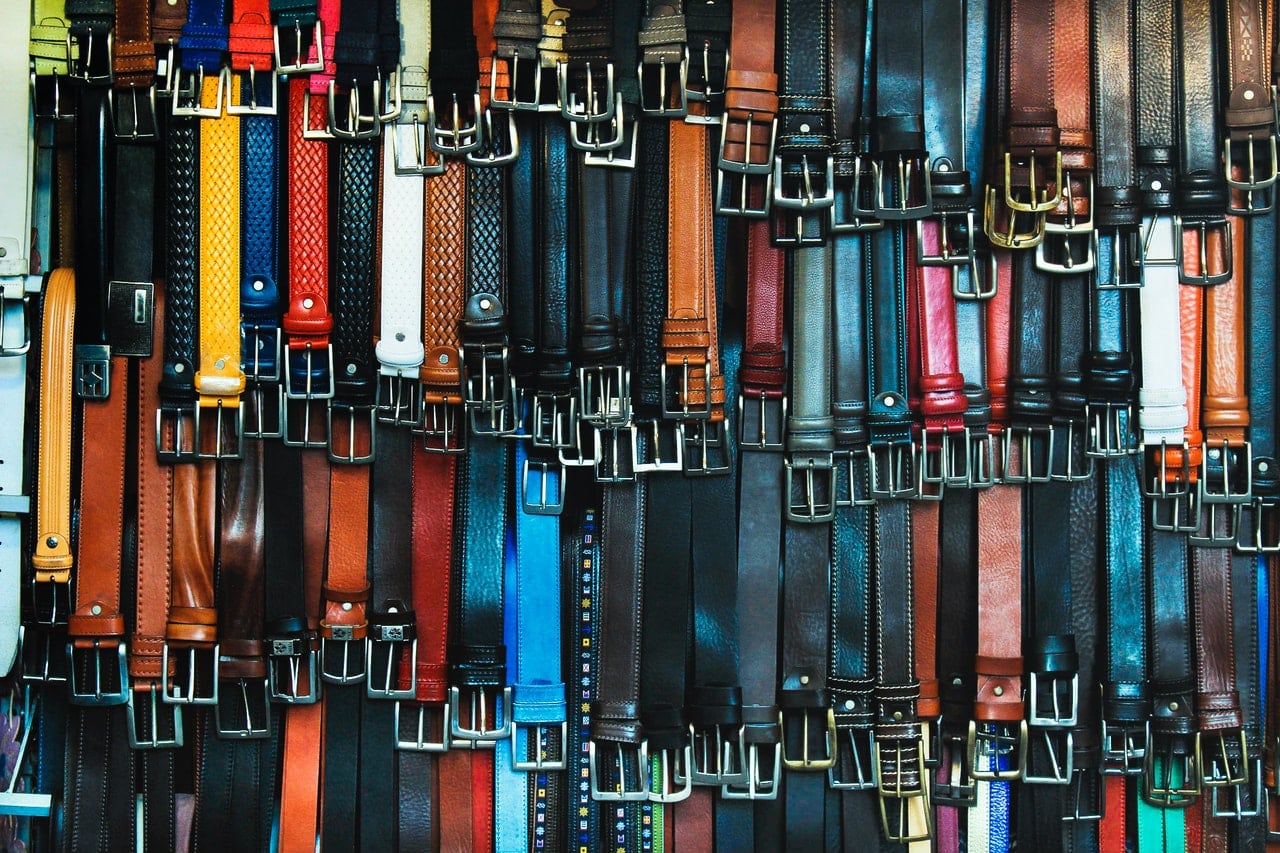 The best color of the belt that you can wear with a navy suit is brown. To complete the look, pair your belt with matching color shoes and a white button shirt.
Do you wear belts often? Do you think it's a necessity or an accessory? In the context of suits, do you need to wear a belt? Does it make you look better wearing one?
In the fashion world, there has been an ongoing debate whether or not belts are needed when wearing a suit. Why are they debating about this? Technically, when you want to look sharp and neat, you need to wear clothes that fit you perfectly. You should not need anything to help you fit into something. Belts are an accessory and you should not need them to make your pants fit. Since it is not a necessity, it becomes a choice. With that, it comes down to the preference of the wearer whether they want to use a belt or not.
From the perspective of professionals, belts tend to disrupt the vertical plane of an individual. As a result, you'll end up looking shorter and wider. If you remove this disruption, you'll have a better perspective of a person's vertical plane making them look taller and slimmer.
So, what can we learn from here? Belts are not an excuse for you to wear baggy trousers. If you have been wearing pants that go down without a belt then it is time to give them away. But do not get us wrong, belts are still a good accessory to complete your outfits.
Belt Sizing
If your someone who just loves wearing belts then knowing the different belt sizing will be beneficial to you. So, how would you know? To start, take your size from your pants' waistline size. Then, add one size up. Also, most belts have the standard five holes. One thing that you need to remember is the third button should be the one that you'll use.
Matching your belts with your outfits
Now comes the matching. How do you do it? Simple, just make sure that the color of your belt matches the color of your shoes. For example, a brown oxford should be paired with a brown leather belt. Better not to risk breaking it or you will look weird. If you are wearing a navy suit, the best color of the belt to match it is brown. So, if you're pairing it with a brown belt, what color should your shoes be?
Dress Belt or Casual Belt?
Now, how do you determine which belt to use if you are going on a corporate meeting or a casual movie date? First, if your belt has an oversized buckle or it has a unique design then that is automatically a casual belt. Usually, a dress belt is around 1 ¼ inches wide. Also, it has a single buckle and a plain strap. If you go wider than that, then that is already considered a casual belt.
When it comes to the leather of a dress belt, it is often made with calfskin with a smooth finish. If it's made of fabric or a flashier patterned leather like ostrich or crocodile, then that falls in the middle. You can either wear it with a suit or a dressier casual outfit.
If you need a reliable guideline, choose a single-color leather belt with a brass or silver buckle. Just keep it simple and classy and let the other parts of your outfit standout.
Any color of the shirt goes well with a navy-blue suit. The only exception is green and mustard yellow. Some of the best colors that you can pair it with are light blue, white, black, and pink.
It is considered one of the most versatile suit colors that you can have. A navy-blue suit is perfect for both winter and summer and is fit for casual and corporate. Because of this, it has become a popular color choice for men.
Choosing the right colors to match your navy-blue suit can be a pain. Will it look good with brown shoes? Is a white shirt better than a black one? We know, you have a lot to think of since it is not your conventional black suit that is fool-proof with anything. If you do not think about the combination that you are going for then you might mess it all up and can end up looking like a clown.
So, to help you a bit, here are some rules that you can follow.
Rules when wearing a navy-blue suit
Go for a white or light blue or pink shirt. This will create a contrast with your dark suit making it more prominent.
If you're adding a tie then as a safe option, choose navy or black. But if you're looking for something bright then go with burgundy, red, and green.
For shoes, you can wear either black or brown shoes. When it comes to style, you can go for loafer or lace-ups.
If your suit is more fitted and is shorter, then you can wear a polo shirt and sneakers for a more casual look. This is also a good look for summer.
Suit Shopping: What to look for when buying a navy-blue suit
Look for a good quality fabric
Stay away from a shiny finish
Avoid polyester
Cotton and linen suits go well with summer while cashmere and wool are best for winter
If you're looking for something different than the ones you own, try looking for a patch pocket suit jacket
Almost every shirt that you have matches a navy-blue suit. The only ones that you should avoid are green and mustard yellow. If you want something flashy, you can wear polka dots or small subtle stripes.
White Shirt
One classic combination that does not fade away is a navy-blue suit and a white shirt. This combination is a no-brainer. Just make sure that your white shirt fits you well and a bit of the cuff can be seen. If you chose to leave out the tie, having a wide collar will help keep the blazer lapels tucked.
Blue Shirt
Another winning combination is a navy-blue suit and a blue shirt. This combination complements each other giving dimension with the contrast of light and dark. For formal occasions, you can wear some cufflinks. But if you are planning to wear this for the office, you can just go with buttons.
Pink Shirt
Pink is not just for the ladies but also for the men. If your someone who likes to wear something bold then the navy-blue and pink combo are for you. Since navy is already dark and muted, you can go for a light pink or a brighter one. Just make sure that only one piece in your outfit stands out at a time. To finish the look, seal it with a blue or purple tie.
Black Shirt
Nothing goes wrong with black. If your want to look sleet and sharp for an evening event, then this is the right combination for you. Furthermore, if you're unsure of what goes well with what, then this is a fool-proof option.
Black, cognac, and navy are the best shoe color for a navy suit. With this combination, you'll have the perfect office look. If you're looking for a sleek and elegant appeal, then pair it with black shoes.
The best outfit that you can wear if you want to exude a confident and powerful look is a suit. Simple, stunning, and classy. This is a timeless piece that you need to have in your wardrobes. Usually, suits are made with one color tone only. That is why the color of the accessories that you'll be wearing is important. They are the ones who will give your entire look the attitude you're going for.
What color or shoes should you pair with your suit?
Corporate Business Attire
The winning suit color for this attire is navy-blue. It's an unbeatable choice for a corporate set-up. So, what color of shoes goes well with it?
Black – To create a sharp ensemble, pair your navy suit with black shoes. If you don't like thinking about clashing shades and color, then this is the most straightforward choice.
Cognac – If you're looking for something to break the monotony, then cognac is a good choice. It a richer shade of brown that is not over the top making it suitable still for a corporate set-up.
Navy – Pair navy with navy. This is also a safe choice since there won't be any contrasting element. To add more depth to your outfit, make sure that your navy shoes are darker than your suit.
Classic Business Attire
For this look, you'll need to grab a black suit. If you're going for this, you're probably aiming to create a polished and professional vibe. To compliment your black suit, here are the best shoe color you can try.
Black – For an effortlessly elegant look, pair your black suit with black shoes. Just break the monotony with a brighter shade of shirt or tie.
Dark Brown – If you don't like black on black, then go for a dark brown shoe. It is very low-key and will not clash with your suit.
Deep Red – This color maybe a bit of a stand-out. But if that is your goal then go for it. It's a good way of showing personality but still looking professional.
Smart Casual Business Attire
If your office has a more casual vibe then a grey suit would fit this category. It easy to mix and match with some of your casual pieces but still keep that professional vibe. What shoe color will work best with this?
Black – black is a standard for almost everything. This will complement your grey suit well and keep that classy and casual vibe going. If you like a minimalist look, then this pairing is perfect.
Dark Brown – If you're going to try this pairing, make sure that the shade of your brown shoes matches the shade of your grey shoes. For a dark grey suit, pair it with a dark brown shoe.
Casual Business Attire
It is not bad to want to look sharp even if you have a casual workplace. The best choice for this is a blue suit. What complements this?
White – White shoes are extremely popular nowadays. It a versatile piece that works well with a blue suit. It'll give you a clean look that is perfect for the workplace.
Navy – Monotone if done right, looks sophisticated and polished. So, if you're going for a blue suit, pair it with navy shoes and you'll get a relaxed tonal look.
Warm Season Business Attire
For the hot season, it is best to avoid dark colors and go for light. The perfect suit color for this is light blue. As for the shoes go with navy or black.
Navy – Light blue and navy look great since the contrast between the shades will add diversity to the outfit. Even if both are from the same family, it still creates distinction and depth.
Black – The tendency of wearing a light suit is that you'll look casual. To keep it professional, wear a black suit. Black is a staple business color that is why if you need a summer business attire, this is the look that you should go for.
Does your belt have to match your shoes exactly?
If you're wearing dress shoes, then your belt should match the color of your shoes. If you're wearing casual shoes, rather than matching the colors of your shoes and belt, make them coordinate.
Matching belts and shoe color is not always the case. But you'll need to be well-versed in fashion if you want to pull this off. Rule of thumb: the dressier the outfit, the more essential it is for your belts and shoes to match. If you're sporting a suit, your belt should match your shoes not only in color but also in finish and texture. This will give you a polished and elegant look.
For a casual look, rather than going for a match, let your shoes and belt coordinate. For this, you need to consider your outfit and the look that you want to achieve. You can experiment with this since there is no standard category of what casual shoes are. Just never pair your casual shoes with dress belts.