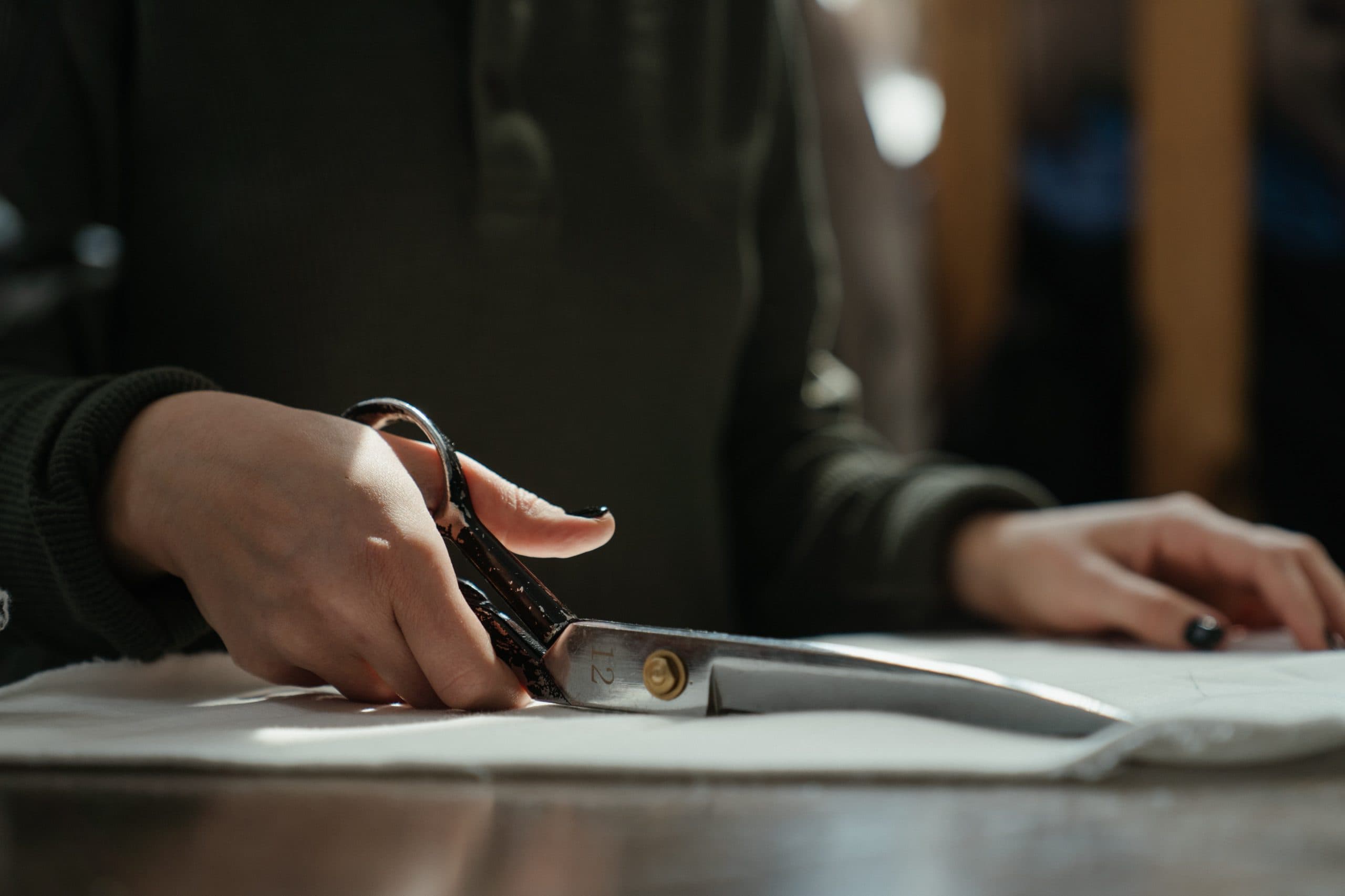 We all have fashion inspirations that we look up to. We scroll through their pictures trying to re-create their looks. What makes them look so gorgeous? How do they pull-off those kinds of clothes? If I wear that top would I look as beautiful as her?
The best types of clothes are those that are a perfect fit for you. Wearing pieces that are either too big or too small is unflattering. You don't want people thinking that you're wearing your dad's shirt because you don't have any. Let's get real, customized clothes are the best but it can be expensive if you want a custom-fit wardrobe.
One of the best alternatives can be by asking a tailor or a dressmaker to make alterations. Tailors and dressmakers are both professional in customizing garments to fit your needs. Say goodbye to those ill-fitting trousers. Tailors and dressmakers are here to save the day!
Most people don't know the difference between a tailor and a dressmaker. That's why they often misuse the terms. They both have almost the same line of work. But the major difference is their clientele. A tailor's specialty is customizing clothes for men but they can also work with women. But, dressmakers specialize in customizing clothes for women only.
Not all fit the universal small, medium, large, and extra-large. And finding the right fit is difficult if your body type is unique. The best way to have those cuts that are perfect for you is by asking a tailor or a dressmaker for a trim. Wearing tailor-fit garments will make you look sharp, stunning, and gorgeous.
What is the meaning of dressmaking and tailoring?
Earlier, we've already established that a tailor and a dressmaker custom-fit clothes. Tailors service male and female while dressmakers service female only. Now, let's dive deeper and get to know the two.
A dressmaker makes clothing that women wear like dresses, evening gowns, and more. In history, people call them mantua-maker but in modern times they are also known as a modiste. Some notable dressmakers are Coco Chanel, Christian Dior, and Cristóbal Balenciaga. From this line-up, you'll already have an idea of how amazing dressmakers are.
A tailor is a professional who alters, repairs make clothes particularly for men. But others accommodate women as well. In the late 1800, tailors concentrated on making men and women's suits, trousers, coats, and the like.
In the UK, they have a traditional style of tailoring called bespoke tailoring. In this kind of tailoring, every single suit they make is original and unique to the customer. Usually, there would be a pre-existing pattern that tailors use to make the garments. But a bespoke tailored garment is for one person only.
What I can do in relation to dressmaking?
Do you have a lot of time, creativity, and determination? Are you interested in fashion design? If you do, you might have a future in dressmaking. Imagine being the next Coco Chanel or Christian Dior. Think about all the clothes that you'll be making. It makes your heart skip a beat, right?
If you're considering pursuing a career in dressmaking, here are a few steps that can help you prepare.
Step 1: Learn how to sew. Sewing is the foundation and the most basic skill for dressmaking. If you don't know how to, attend a sewing class. You need to lean a lot of different sewing specialties. Some examples are hemming sleeves, making a neckline, attaching zippers, and more.
Step 2: Experiment and create your patterns. It would take some time before you'll develop this skill. Identifying which patterns compliments each other can be difficult in the beginning. Don't fret. Keep trying and soon it'll become easier.
Step 3: Update yourself with the latest trends. If you want people to patronize your clothes, you need to give them what they want. Knowing the latest trends will help you get a grasp of the market.
Step 4: Keep a journal of all your ideas. To keep track of everything, compile it in a journal. Write your design ideas, all the fashion trends, colors, prices of materials, and others.
Step 5: Advertise your works. You're only starting and the best way to advertise your works is by wearing them yourself. You can also give them as presents to your friends. If you keep wearing them, sooner or later people will start to notice. From there, word will get out.
Step 6: Make your first creation. Set your budget, draw your pattern, and choose your fabric. For a cheaper option, buy clothes from thrift stores. You can deconstruct them and work your magic.
What is the importance of dressmakers?
The fashion industry has always been glamorous and fast-changing. And those who keep the ball spinning are dressmakers. We know them as trendsetters, fashion leaders, and game-changers. They're the reason why the fashion industry as we know continuous to transform and elevate.
So how important are dressmakers to the fashion world?
Dressmakers are creative giants. They can give life to dull and simple clothing. They can transform something that we see as trash into something magnificent.
Dressmakers are leaders of the fashion world. They set the trends that fashion moguls follow. Nothing is weird in fashion as long as you can pull it off with confidence. Dressmakers see to it that they always produce new and unique pieces.
Dressmakers are thinkers. Because they set the trends, the need to think out-of-the-box. They think of ways to keep the public interested. They're never mediocre and always go all out.
Dressmakers are like fairy godmothers. Do you have that dream dress that you've wanted ever since you're a kid? Dressmakers can make that dream dress a reality. They have the skills and knowledge to make any type of garments.
Dressmakers are make-up artists for the body. They know all the fashion dos and don'ts. They can make clothes that will highlight your assets and elevate your entire look.
What is done in tailoring?
Tailoring has a very rich history. Tailoring is the process of designing, cutting, fitting, and finishing the clothes. The word tailor comes from the French word tailler which means "to cut". This term made its debut in the English language during the fourteenth century. In Latin, they translated tailor as sartor which means "patcher or mender".
In the early Middle ages, tailor guilds are prevalent in major European towns. Before the suits and coats, tailors during this time creates linen armors. They would fit men with padded linen undergarments that protect their bodies. Later, tailors transitioned into making plate armors.
Over the years they formed guilds like the Taylors of Oxford and Guild of Taylors and Linen Armorers. The tailoring industry has always been male-dominated. But as we progress, more women tailoress are learning the art.
In the 16th and 17th centuries, tailors were in charge of making different kinds of outer garments. They use materials like rough, stiff linen, and canvas to give them shape. Because of the way it's structured, their garments can hide their client's even uneven body shape.
Before, you can learn tailoring by traditional apprenticeship. There were no written manuals. Only a master passing down the skills to their apprentice. They published the very first English manual in 1796. It was called The Taylor's Complete Guide.
Today, tailoring has completely transformed. Before, tailored suits were only popular with the British elite and aristocracy. Now, it has expanded including Hollywood. Designers like Giorgio Armani, and Alexander McQueen, incorporated tailoring principles in their designs.
Is tailoring a good profession?
You're very interested in tailoring. You also have the skill set to back you up. But you're hesitating because you're not sure how to start. You're in luck! We listed a few deatils that can help decide whether you should pursue a career in tailoring.
For most jobs, there's a degree that will teach you the basic things that will help you compete in that industry. For tailoring, there is no specific degree that specializes in that topic. That is why there is no prerequisite degree that you need to have to become a tailor.
Do I need to have a certain amount of experience before I pass? No, you can receive informal training while working for a tailor. Also, there are rare instances where an experienced tailor accepts apprentices. If you happen to come across one, grab the opportunity.
The most important skills that you need to have as a tailor is a keen attention to details. Also, you need to have good customer service skills. Most tailor shops have a limited number of employees. You would have a more competitive edge if you know how to communicate with your customers. Having the skills to decern what they want and what they need is a plus.
In 2018, tailors, custom sewers, and dressmakers earn an average of $31,000 per month.
What are the types of tailors?
You've decided to take on the challenge. You're now sure that you want to peruse a career in tailoring. The next thing you need to decide is what type of tailor are you going to be. There are three types of tailors: local tailors, traveling tailors, and distance tailors.
The most common of the three are local tailors. Local tailors have a shop of their own and they settle in one location. Their customers go to their shop and brings the clothes that need adjustments. If you don't want to move from one place to another, set up a shop, and be a local tailor.
The next type of tailor is a distance tailor. Here, they provide out-of-town services to their clients. The client will do the measurements themselves. Then, they will send it over to the tailor together with the other specifications. From there, the distance tailor will make the garment and send it back to the client.
Last but not the least, traveling tailors. Traveling tailors provides a more personal touch. They would travel from one city to another to offer their services.
Is tailoring hard to learn?
It's never a walk in the park every time you start to learn something new. You will struggle to hone the basics and struggle more mastering different techniques. But if your passionate about the things that your learning, you'll feel fulfilled.
If you want to take the path of tailoring, here are a few tips that you can keep in mind.
Tip 1: Get a high school diploma and take fashion design courses in college. There is no educational need for tailoring. But having a high school diploma is important if you're targeting large companies. Also, knowing design and pattern making will help you widen your horizon. It will open more doors of opportunity.
Tip 2: Most tailors are self-employed. To help you run your business, you might need to consider taking business classes. It will be beneficial to you if you're planning to start your store. You'll know what your responsibilities will be and be able to prepare in advance.
Tip 3: There is no one-stop course on tailoring. The best way to learn about its ways is through apprenticeship. You need to find someone that has been on the business for years. The more established the better. It's a golden opportunity to learn straight out from a master.
Tip 4: Apprenticeship is not as practiced as before. That is why finding a tailor that accepts an apprentice is difficult to come across. An alternative you can do is to work with a tailor or in a tailoring department. It's will not be as detailed as having someone to teach you but you'll still learn a lot.
Tip 5: Practice being a salesman and customer service. It will help you enhance the way you communicate with people. One of the most important skills a tailor must have is interpersonal skills. Remember, you'll be measuring your clients. You need to be able to communicate with them to make them comfortable.
Tip 6: You need to keep practicing and polish your skills. The best preparation that you can do is to practice, practice, and practice. The more refined your skills are, the more edge you'll have. Be sure to know how to use all the tools and equipment that you'll use in your line of work.
Tip 7: Decide how you want to proceed. Do you want to work with someone or are you planning to start your own? Either way, both have pros and cons but everyone is different. If you're confident that you can do it on your own, go.
Tip 8: Make your portfolio as you go along. Having a catalog of all your best works will help you get more clients or find a job at a bigger tailoring firm. You need to have the credibility to convince people to work with you. And one of the best ways is by showing them your works.
Tip 9: Join an organization of professional tailors. Even if you decided to start your shop, its best to have an organization that will help you along the way. From organizations, you'll have more resources and leads.