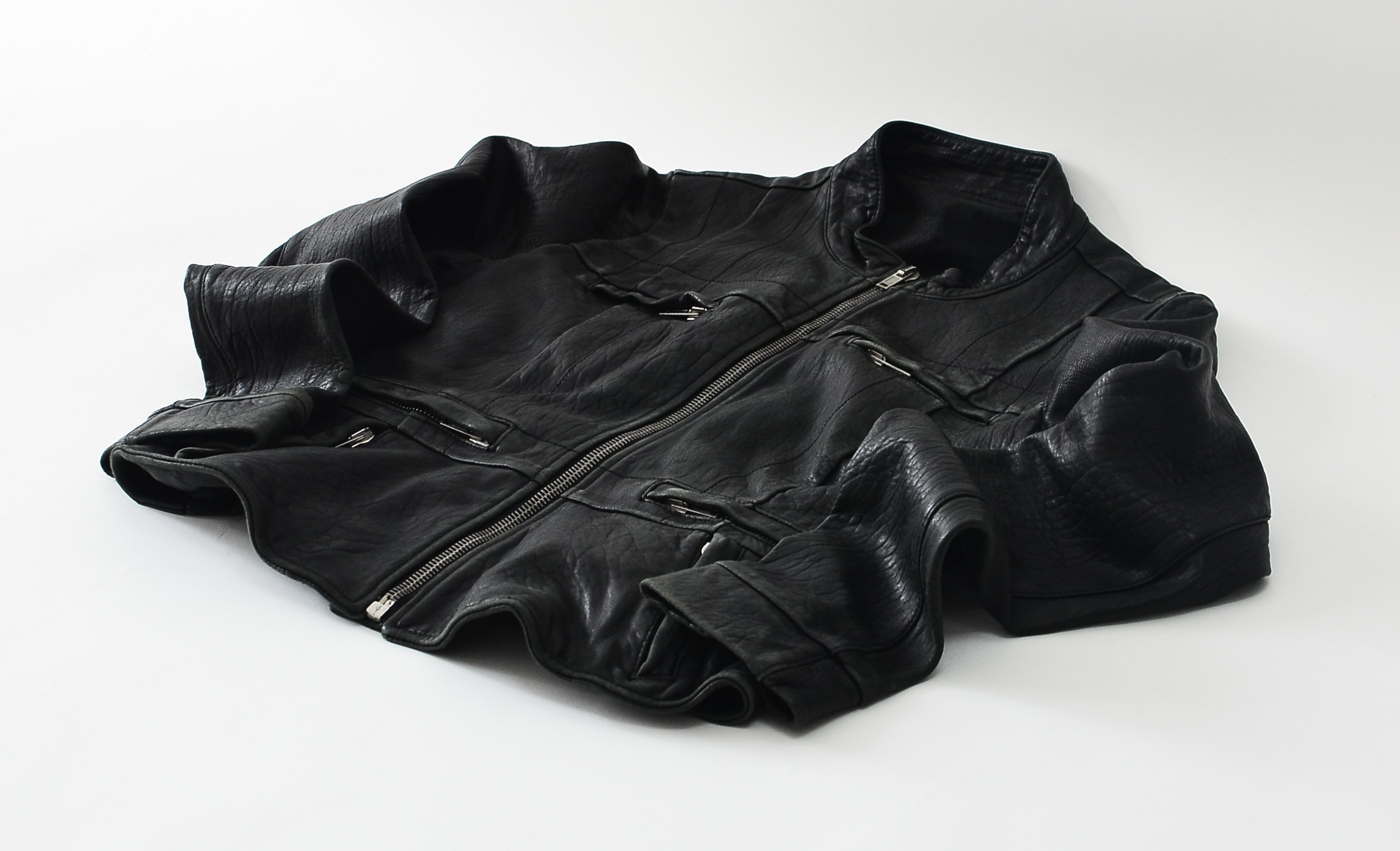 Keep your leather jacket looking like new. Ask questions. Identify the products and stores that can help you with the maintenance of your jacket. Store the jacket right. And finally, know what products work well with your leather jacket.
So, you bought yourself a new leather jacket.
Lucky you.
But before anything else, you should know that the purchase comes with tender loving care.
Leather is absolutely one of those materials that need your focus. One must not wane in the amount of attention they give to leather garments to retain their quality.
And this is a great investment. It is durable. You just need to know how to care for them.
And so, if you are planning on getting a new leather jacket, here are a few things you need to know.
Questions?
Before buying a leather jacket, ask a bunch of questions.
We know you have already asked a lot. And that's fine. But you really should think more of what else you should ask.
Here are a few things you need to discover before buying your leather jacket.
– Ask about the materials used for the leather jacket.
– Ask if the leather is actually sealed.
– If the leather is not really sealed, ask about the type of waterproofing that they would like to recommend. This is for you to treat the jacket with before you start wearing it.
– Ask about the type of cleaner they suggest that you should use.
– Ask about the type of conditioner they would prefer you use on the jacket.
– Ask if the store offers repair services.
– If not, ask if they have a leather repair shop they can recommend if you need it in the future.
Asking these questions would help you out in choosing the kinds of products that you could buy.
These questions should also give you an idea of shops that you could visit if you need repairs in the future.
Familiarize Yourself with the Leather Care Products
The market is full of leather care products. Choosing one can become overwhelming.
In fact, all of these products tell you they can provide the best care possible. But you would never know until you have tried and tested each one of them.
Here, we give you tips on how you can choose your leather care products well.
Protectors
Some leather jackets do not come pre-treated with a protective seal.
When this is the type of leather jacket you have, you should apply the protective seal yourself.
Remember that on the day you bought the jacket, you should ask questions. And this is something you should not be shy about.
Ask the salesperson. What type of protector would they recommend?
Do not forget this aspect. Do not be shy either.
But if you forgot and/or were too shy to ask, we can recommend it. Try AquaSeal.
They're great.
Saddle Soap
Don't fret about why they call this as such.
Saddle soap is exactly that. It is a type of soap that you use when cleaning leather saddles.
And this is something you should be familiar with in case you need this in the future.
Saddle soaps are what they use to clean soiled leather that comes heavily soiled. This is also something that you can use to remove stubborn stains.
If there is one thing, you should know, however, a small amount of this goes a long way.
You only need a little bit of this soap to clean your leather jacket.
To use this, you need to rub a damp rag on the soap. The soap comes in a tin so you can rub it in a circular motion. That is just the most sensible way of doing it.
Continue to rub until you can form a lather. The lather is the one that you will use in cleaning your leather jacket.
Once done cleaning, remove all the soap residue from your leather jacket. And this is pretty important.
To do this, you can rinse the cloth well. Make sure to wring out all the excess water.
Your goal is to have a damp cloth. This will be the one you use in wiping the soap away from the leather.
One word of caution.
The saddle soap is something you use when your leather jacket badly needs a deep cleaning. If this is just regular cleaning and maintenance, go with a leather conditioner.
Leather Conditioner
There's one thing you need to do. And that is to buy a leather conditioner on the same day you purchased your jacket. You will thank us later for this.
When you own a leather garment, leather conditioners will become your best friends. They can do a lot of amazing things for your hides. This includes the removal of dirt and grime that builds up with everyday use.
In simple terms, consider the leather conditioner as a body lotion. The body lotion keeps your skin from getting dry. Leather conditioners have the same purpose.
Similar to saddle soap, you only need a small amount of leather conditioner for your jacket.
When using, use a skinny coating of the leather conditioner on your jacket. Try using a soft cloth, buff the conditioner. Work your way well into the hide.
This should make your leather jacket look new in no time.
Store it Right
How you store your leather jacket is also as important as the other factors.
When storing, there are specifications when it comes to the environment. There is a requirement with the packing and even the type of hanger you use.
First and foremost, make sure that you don't just use any type of hanger.
A padded hanger is a perfect choice when you have a leather jacket to use it with. Another ideal choice would be a wood hanger.
Now, there are wire and plastic hangers.
When storing your leather jacket, avoid these types of hangers.
They are not sturdy enough for your leather jacket.
If you must know, leather jackets are heavy types of garments. They are much heavier compared to shirts, blouses, and such.
When you use a wire or plastic hanger to hang your leather jacket, it can damage the garment. This would be specific to the lining of your jacket. Such damage can result in the shoulders altering their shape.
Also, when you are trying to store your leather jacket, make sure to follow these.
For some of us, we may not be using the leather jacket for quite some time. And so, if you are storing your leather jacket for a long period, make sure to use a nylon garment bag.
Of course, you can always store it without a bag. But if you have to use a garment bag, only use nylon.
Some of us make the mistake of using plastic garment bags in storing leather jackets. This should not be so.
Leather has to breathe. Storing them in plastic garment bags will not allow this as it restricts air circulation. This would result in the leather jacket's damage in the long run.
A Professional at your Beck and Call
Yes, you can care for your leather jacket on your own. And it is that easy, especially if you have the products to apply to care for your leather jacket.
But certain circumstances need the expertise of a professional. These are for instances when you need to clean them or, hopefully not, to mend them.
In such cases, you need to have a professional in mind. That store should be able to make the necessary repairs when you need them.
Remember when we advised you earlier to ask questions?
This should be one of the important questions you can ask the store. Ask the store if they provide repairs. And if they do not provide repairs, can they recommend somebody else who could?
Have their contact details on speed dial.
You would thank us for this later on.
How do I keep my leather jacket from getting fungus?
Fungus is a result of moisture that stays in your leather jacket. Leather sprays prevent fungus from growing. The same is true with wax or even vinegar mixed with water. Storing them in a warm and dry place also prevents fungus from growing.
The leather material is something that requires regular maintenance. The level of maintenance may not be that much. But consistency is something that it needs.
This is especially true during the rainy or wintry seasons.
During these parts of the year, the humidity is much higher compared to other months.
Because of the high level of humidity, your leather jacket may not be able to dry completely. This results in the formation and build-up of molds and fungus.
But fear not. We are here to help you out with that.
One of the most important things that you can do to avoid fungus is regular cleaning.
This does not have to happen every day. But cleaning should be a regular part of the leather jacket's regimen to not have fungus and molds.
Remember, however, that before you clean, always try the cleaner on your leather.
Try it on an inconspicuous part of the leather. Check if the cleaner is compatible with the type of leather that you have.
This should prevent you from having a leather jacket with faded color.
If you choose, you can go with leather sprays.
Leather sprays are actually made for leather goods. And they are available in stores everywhere.
This helps protect the leather from accumulating moisture. Know that moisture is the main reason why there are molds and fungus.
And so, without the moisture, there will be no mold. There will be no fungus.
Wax is also a helpful agent in cleaning and ensuring your jacket does not grow molds. If you can, make sure to apply leather wax on your jacket once per week.
The other item you can use is vinegar.
As you know, vinegar contains antifungal properties because of its acidic nature. Wiping your leather jacket with vinegar once in a while prevents molds and fungus.
A cup of water and vinegar mixed together can do the trick. Use a microfiber cloth to wipe your leather jacket with.
And as always, do this regularly.
Finally, how you store your leather jacket is also important.
As discussed earlier, leather is a material that needs to breathe.
Because of this, always make sure that your leather jacket is in a dry and warm place.
When you have a soiled jacket, make sure to wash it right away and air dry.
Before putting it inside your cabinet, your leather jacket should be completely dry. This should prevent fungus and molds from growing on their surface.
How do I make my leather jacket look new?
Cleaning your leather jacket on a regular basis can retain its spark. You can clean with a mixture of either dish soap or vinegar and water. You can also use baking soda, cornstarch, or toothpaste to get rid of stains. Finally, make sure to condition the leather.
Leather jackets are great investments. But they require some regular cleaning and maintenance as well.
But if there is one thing about leather jackets, you don't easily wash them in the washing machine.
Fret not, though. You can still clean them at home with a few common items.
First of all, let's give you the items you cannot use on leather jackets.
Ammonia is one of them. Never use these to clean your jackets. The same is true with bleach-based cleaners.
These chemicals can result in damage to your leather jacket. The leather jacket can dry or even crack later on.
Another is that you cannot use too much water in cleaning. Too much water can stain the leather.
When you have spills or stains on your jacket, immediately wipe them off using a soft cloth. The reason is that leather is a porous material. Liquids, when in contact with leather, will get absorbed by the material.
This will also result in stains forming.
Another reminder is to keep sharp objects out of the leather jacket's way. Leather easily scratches, that's why.
When cleaning leather jackets, use warm water and mild dish soap. Dip a soft cloth and wring it until just damp. Then wipe.
We discussed the vinegar mixed with water as well. You can also do that. Whether you are using dish soap or vinegar, make sure the jacket is completely dry before storing.
When there are stains, the following items can be useful.
Toothpaste
Squeeze in a small amount of non-gel toothpaste on your finger.
Rub the toothpaste gently. Use a soft cloth. Do this until you get rid of the stain.
Reminder: do not scrub. This will scratch the leather. This will also result in discoloration.
Finally, wipe the toothpaste off. Use a damp cloth.
Cornstarch or Baking Soda
Oil and grease go away with a little sprinkling of baking soda or cornstarch.
Once sprinkled, rub gently using a damp cloth.
Wait for a few hours. You can also literally sleep on this. Wait overnight. This is a better option.
The baking soda or the cornstarch can absorb the oil on your jacket. Once done, wipe them off with a soft cloth.
Dry the jacket as well afterward.
Once cleaned, make sure to condition. There are a lot of leather conditioners in the market. This should prevent the jacket from drying.
Remember that leather is just some creature's skin. Just like our skin, it needs some moisturizing. A leather conditioner can do that.