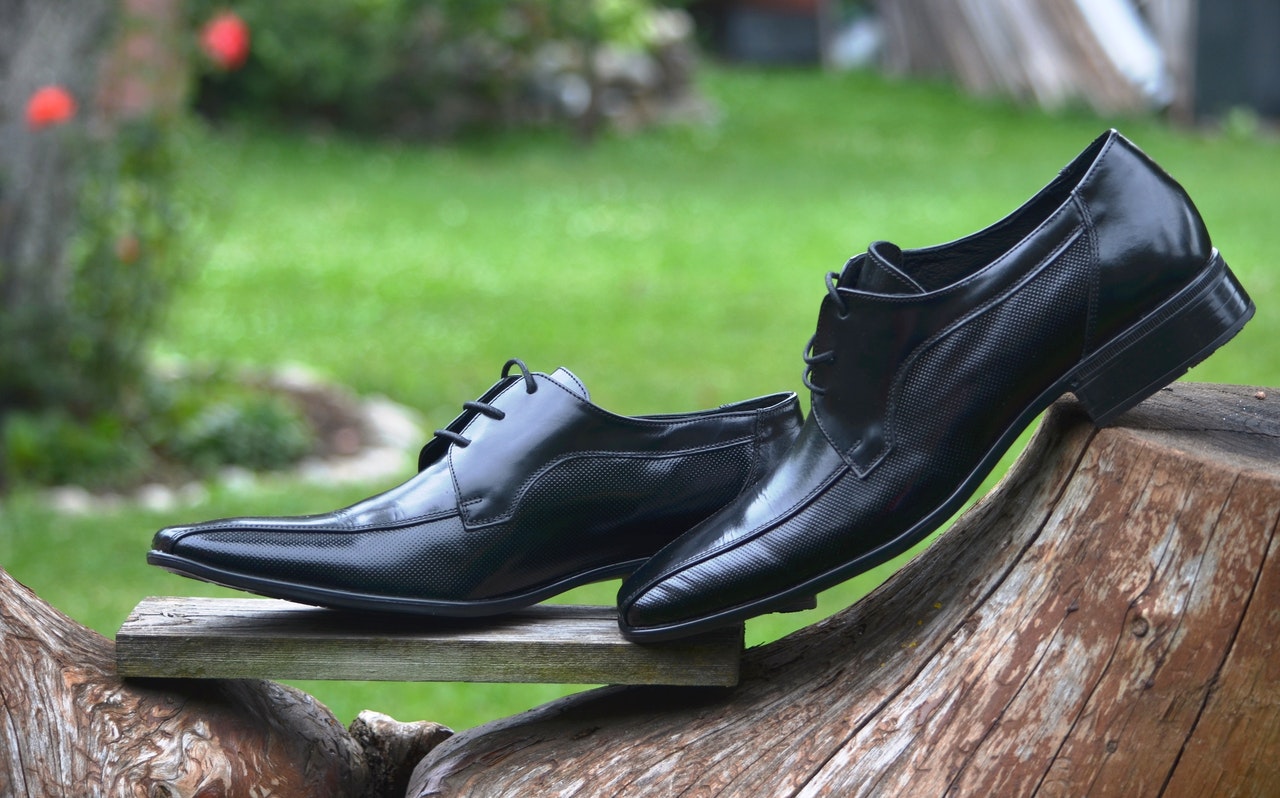 There are a few simple ways by which you prevent your leather shoes from smelling. It's more about hygiene and wearing the proper socks. The fit of your shoes also matters, as well as using certain disinfectants to kill those bacteria.
We already know that smelly shoes have bacteria to blame.
You see, these tiny organisms live in your feet. They adore the damp and dark areas. And when we say damp and dark, we mean the inside of your sweaty leather shoes.
We also know that bacteria breed in the fluid. In this case, your sweat.
This means that if you don't wear socks, the bacteria in your shoes would certainly have a party.
Here are a few ways which can help you prevent smelly shoes, leather or otherwise.
Hygiene
Good hygiene always helps.
Make sure to wash your feet daily.
Also, when it comes to washing, we prefer you scrubbing your feet. This is a better option compared to just letting the shower wet your feet.
Finally, make sure to dry your feet after every shower.
The Right Socks
Your feet need to breathe.
This is why, when choosing socks, you have to go with breathable materials.
Cotton and some types of wool are great options. The same is true with special knits. These materials can absorb your sweat. They will also allow your feet to breathe.
Make sure to wear fresh socks every day.
The Perfect Fit
In the name of breathability, know that your shoes should also perfectly fit.
When you wear shoes that are too tight, chances are your feet will sweat more. Tight shoes also tend to trap the sweat (and moisture) inside. This will then become the breeding grounds for bacteria.
Rotate
It is always useful to have a spare pair of leather shoes.
Rotate your shoes.
Do not wear the same pair of leather shoes three days in a row. If you can, you can wear a different pair every day.
Ensure that your leather shoes get to breathe and dry out for about two days before you wear them again.
Disinfect
In case you get a whiff of an awful smell coming from your shoes, disinfect it right away.
Also, you may want to use antibacterial soap specifically for your feet.
Do Not Share
For some reason, some of us tend to share shoes. If you are doing this now, you need to stop.
Aside from the shoes, stop sharing towels that you wipe your feet with.
When you do this, either you share your bacteria with the others or be the other way around.
What causes leather shoes to smell?
Leather shoes smell because of bacteria. When there is moistureleft on the leather shoes, it breeds bacteria. It spreads to your feet and socks. They make themselves comfy in your leather shoes. Then, they start emitting bad-smelling toxins.
It does not matter how long you have been wearing them.
Whether it is just for a couple of hours or for the whole day, your leather shoes can smell if you don't do things right.
Smelly shoes can be embarrassing. And there is a reason why they smell.
Even for the most hygienic of us, leather shoes can smell if we are not careful enough.
In this section, we explain why they emit these foul-smelling odors. And later on, the section after this will provide you a few tips on how to avoid shoes from smelling.
Next time, you can take your leather shoes off in front of people with confidence.
Why They Smell
A smelly pair of leather shoes will always be a nuisance. Whether it is when you get home that you smell it. Or when you run into friends and colleagues somewhere. Shoes that smell will always be an embarrassment.
But why do they smell in the first place?
The culprit that we have here is bacteria.
And let us give you a little bit of trivia.
Did you know that smelly armpit and smelly shoes are actually caused by the same type of bacteria? Now, you know.
Our feet, as well as our hands all, have sweat glands. Studies show that a pair of feet has about 250,000 or so sweat glands. All of them produce a lot of sweat daily.
But if there is one thing about sweat on your hands, it is that they evaporate. If they don't, you usually wipe the sweat on your hands with a towel.
But with the sweat on your feet, this is a different story. The sweat on your feet gets themselves trapped in shoes as well as socks.
And just like any other living organism on earth, bacteria need fluid to survive. The sweat from the glands on your feet provides the bacteria the fluid that they need.
What you should know is that skin is actually covered with bacteria. This includes bacteria called micrococcus and Corynebacterium. And this is something you don't have to worry about. This is normal.
But when your feet sweat, these types of bacteria will do their job. They break down the sweat and turn them into fatty acids.
The fatty acid, called isovaleric acid, is the one that causes the shoes (and the feet) to smell.
You have to know that sweat trapped in your shoes provides the moisture for the bacteria. This creates a perfect breeding ground for them. And then the stink comes.
How do you get rid of the smell from your leather shoes?
There are a few simple ways to get rid of the smell. One is to use vinegar and baking soda. You can also use black tea bags. Or you can use sprays. Aside from these, properly storing them can also rid your shoes of that awful smell.
First of all, one should understand why leather shoes smell.
Let's start with your feet. It is important to know that they should be able to breathe.
Let's review what we discussed earlier. One crucial aspect is the fit of your shoes. The other is the material of your socks.
In summary, your shoes should have a perfect fit to allow your feet to breathe. Your socks should also be of breathable material for the comfort of your feet.
When the shoes don't fit, your shoes will smell when the socks are not breathable. The material of the socks and the lack of ventilation of the shoes result in smelly shoes.
As you can see, even just a little bit of sweat remains inside your shoes.
The sweat gets absorbed by the leather. Bacteria grows. The shoe smells.
That, ladies and gentlemen, is why leather shoes smell.
But in case your shoes already smell, how do you get rid of the stink?
Here are a few simple ways.
Storage
The most basic way of all is simple. You need to store your leather shoes right.
As you already know, once your leather shoes finally absorb sweat, you don't easily get it out. Because of that, you have to ensure that you store your shoes right.
The storage should be warm and dry. It should not be humid, musty, and dank. If your cabinet has these characteristics, chances are your shoes will keep the smell.
Air it out.
Vinegar and Baking Soda
You can also get rid of the smell with simple items at home.
You can combine white vinegar with water and tea tree oil. This should be ½ cup of vinegar to ½ cup of water and about five drops of tea tree oil (optional).
Also, don't use apple cider vinegar. They can result in the discoloration of your leather shoes.
Mix everything in a spray bottle.
Spray into a soft cloth to dampen. Make sure that the cloth is just damp, not wet. If you sprayed too much, wring the extra mixture out of the cloth.
Also, make sure to use a white or undyed cloth. Dyed cloth can result in your leather shoes' discoloration.
With the damp cloth, wipe the inside of the shoes. Include the insole as well as the part on the front of the toe box.
You can also remove the laces to make things easier for you.
Finally, dry your shoes using another clean cloth. Wipe the shoes well. Make sure that you wipe the cleaning solution dry. Your goal is to ensure that the inside of your shoes is not damp. It should be dry. Otherwise, this can either result in smelly shoes or damaged shoes.
Once dry, sprinkle your shoes with baking soda. Use about one teaspoon for each shoe. Check if the baking soda is enough to cover all corners of the inside of the shoe. Feel free to add more as needed.
This is critical because baking soda absorbs bad odors.
Let the shoes sit overnight. About eight hours would be fine, but overnight is better.
By about eight hours or more, the vinegar may have already evaporated.
You can treat your shoes as many times as you like. Vinegar and baking soda are natural ingredients. They will not damage your leather shoes.
Black Tea Bags
The first thing that you have to do is to steep the tea bags in hot water. Do this for about five minutes.
Remember to use one black tea bag for each leather shoe.
Now, you might ask. Why do I have to steep the tea bags?
The reason for this is because black tea contains tannins. These work as natural disinfectants. When you steep them for about five minutes, you activate the tannins. This method will not work if you skip this step.
Once the five minutes is up, remove the teabags from the hot water. Let both tea bags cool.
Most of the tea bags come with strings. It would be easier for you to pull them out of the water. But if they don't have strings, use a fork.
Once cool, place one tea bag on each leather shoe. Put each tea bag at the center of the inside of the shoe. This allows the moisture to reach all of the parts inside.
One reminder is NOT to squeeze the teabags. Just let it sit.
Leave the shoes with the teabags inside for about a couple of hours. Remember not to move the shoe during this time.
Two hours would be enough for the tannins to disinfect the shoes and remove the odor.
Once the two hours are up, take the teabags out of the shoes and throw them away.
By this time, the inside of your leather shoe may already have a bit of moisture in them. This is because of the teabags that have been sitting inside for two hours.
Take a dry cloth. You can also use a paper towel.
Use a dry cloth (or paper towel) to wipe down the inside of each shoe. Be careful and make sure that you remove all the moisture inside the shoes. Otherwise, moisture left inside can cause odors.
Using Disinfectants
The first thing you have to do is check and make sure that the spray is safe for leather.
When you find that the spray is good for leather boots, you can use that. Anything safe for leather boots can also be safe for leather shoes.
Commercial shoe cleaners are everywhere. You can get them from shoe stores. Drug stores and department stores also sell them. You can even find them online.
And what is great about them is that they specify that they are safe for leather shoes.
Other disinfectants are only great for cloth sneakers. Using them on leather shoes can stain or even damage the leather.
Once you already have the spray, use it on the inside of your leather shoes.
Make sure to spray on each shoe. Hold your shoes upside down.
The nozzle of the spray should point down into the area of the toe. This should ensure that the spray will cover all corners inside.
Spray for about three to four seconds. This should be enough to cover each shoe fully.
Most disinfectants dry after a few minutes.
When they are finally dry, smell your shoes. If it still smells, respray it. Let it dry again.
When spraying disinfectants, you can use them as many times as you want.
You just need to make sure the shoes are dry before spraying again.
Will putting shoes in the freezer get rid of the smell?
Putting your leather shoes inside the freezer may be an unusual method. But this works in getting rid of the smell. The extreme cold kills the bacteria that causes the shoes to smell. But before putting them in the freezer, put your shoes inside a plastic bag.
We are aware of the many ways by which we can remove the smell from our shoes.
But aside from wiping with different concoctions, we have other methods as well.
Here, we tell you about the extreme cold. It appears that the bacteria that causes shoes to smell don't like the extreme cold that much.
The Extreme Cold
One of the most unusual ways to get rid of that smell from your shoes is to put them in the freezer.
This may be something unusual. But let us tell you that this is effective.
The extreme cold will eventually kill the bacteria that causes shoes to smell.
One word of caution, however. Before putting it inside the freezer, put your shoes in a plastic bag. This ensures that you do not contaminate the contents of your freezer.
Leave them inside the freezer overnight.
Now, we understand the hesitation. But this is just an option.
Another option you can choose is leaving them outside.
If your area experiences freezing temperatures, you can also leave your shoes outside. And just like the freezer method, put your shoes inside a plastic bag.
This will prevent your shoes from getting all wet from the snow.
And before wearing them, make sure the shoes are 100% dry.