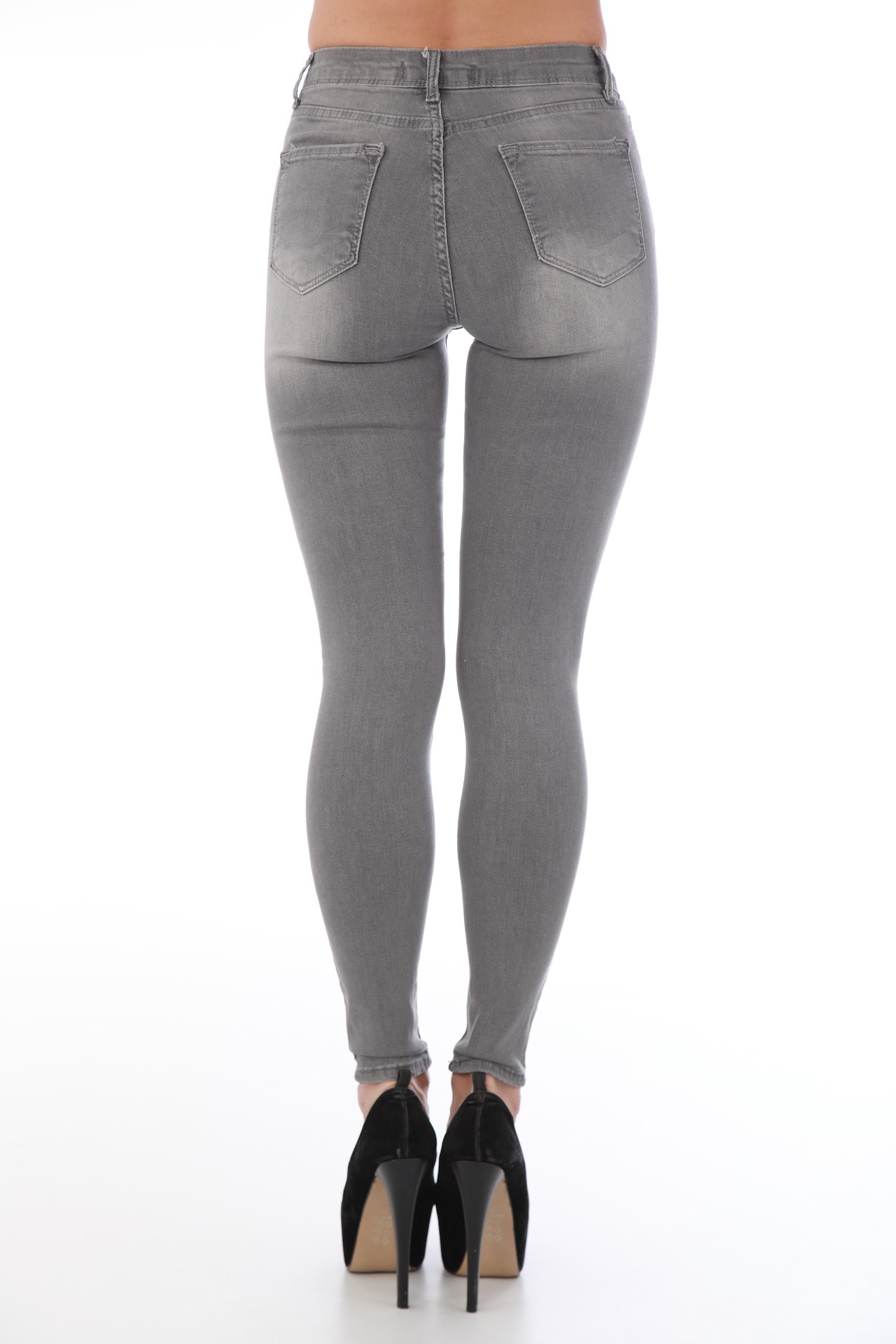 Go through all the pants in your closet. What colors are there? Of course, you have the usual, blue denim, black slacks, khaki, white pants, and grey slacks. Everyone is bound to have pants in the color grey. It's neutral and easy to pair with everything. Black, white, and grey are the must-have color in your wardrobe. Casual, formal, smart casual, anything that you can think of, grey pants will always be present.
Here are some facts about the color grey. In psychology, grey symbolizes detachment, indecisiveness, and compromise. Why compromise? Well, grey is neither black nor white. It is the transition of white going to black or vice versa. Darker shades of grey are more secretive and dramatic. Lighter shades of grey are brighter and livelier.
Grey also is a symbol of stability. It can create a space of serenity in a chaotic place. It also means reserved and subdued. It does not energize, rejuvenate, and stimulate.
In colors, grey means depressing, conservative, and drab. It is not the color of glamour but is a symbol of elegance and formality. Grey is the color of maturity and reliability. When you see someone old with grey hair like your grandparents, you feel that your safe, right? You feel that you can rely on them and you are assured that they know what they are doing.
The color grey is never the star of the show. If you want a safe outfit choice, you'll always reach out for your trusted grey clothes. Too much of this color creates a sad and depressing environment. Did you notice, some movie portrays a mundane life using this color?
What color goes well with gray pants?
Do you like playing with roulettes? When you see the wheel spinning you feel ecstatic to find out where it will land. What random thing will you end up with? Finding what color goes well with grey is like a game of roulette. It is a versatile color, so wherever the wheel stops it will still be a perfect fit. Why don't you give it a go? The next time you decided to wear your grey pants, spin the wheel. No matter how random it is you'll be surprised by the combination you'll get.
Your grey pants are perfect with soft pastel colors like light blue or blush. It also makes a great pair with reds like burgundy and scarlet. If you want something fresh and relaxing combine it with greens like lime and emerald. It's amazing how well your dark grey pants go with lime or gold-colored tops. A modern working woman? No problem. Ivory and cream tops plus grey pants are the way to go.
There are many pallets that this color belongs to. You can look it up online. Search grey and you'll see a bunch that features this color. Choose what suits you best. If your planning to revamp your closet, this is the best way to coordinate your outfits.
So, you already have an idea about the best color combinations and the palettes that you can play around with. Now, it's time to put those concepts into your outfit. If you think your grey pants only suit a corporate setting, think again. This pair can also work in casual and other settings as well.
Outfit #1: Office Set-up
In a corporate setting, grey pants win. Aside from the usual black pants, grey is another most worn article in the office. If you want to play it safe, pair your grey pants with a navy blazer and white blouse. To make a more interesting look, try pairing your grey pants with a textured red jacket. If you want to add more texture and volume to your solid flat grey pants, pair it with a tweed jacket. You can wear a matching grey top and bottom to make your colored jackets pop.
Outfit #2: Casual Set-up
What is your first pick for a casual look? Denim jeans and a shirt or a hoodie, right? Well, there is such a thing as grey jeans. If you want to add a new color to your usual blue and black jeans, try adding grey. Like the two, grey jeans make a great pair with a lot of different colors, textures, and patterns.
Outfit #3: Smart Casual Set-up
For a dressier version, try switching from grey jeans to grey silk pants. You can pair it with any type of blouse that you have. To finish off the look, accessorize with a classy belt.
Outfit #4: Seasonal Set-up
Winter: Grey, navy, black, and white are on display for this season. You have a variety of combinations that you can go for with just these colors. For colder days, pair your grey pants with a wool jacket in a pretty color.
Spring: To have a fresh look, pair your grey pants with pastel-colored tops and peep-toe heels.
Summer: Light grey is the best for this season. You can pair it with a sleeveless top and strappy sandal.
Fall: Pair your grey pants with a lightweight trench coat or a stylish hoodie. Low cut flats or knee-high boots look good with grey skinnies.
What color of shoes match with grey pants?
Summer and spring are the seasons of bright and pastel colors. These are the seasons where your grey pants shine the most. No matter what shade of grey you have, there is always a corresponding color that is perfect for it. You'll never run out of varieties if you have these babies!
Yes, grey goes well with everything. But out of all these choices, there will always be a standout best. So, what color of shoes are the top matches for your grey trousers?
Black
Grey pants and black shoes are a symbol of elegance and simplicity. This pair shines the brightest for formal occasions. If you want to look sharp and modest try this.
Burgundy
This combination will make you look like you're an heir to a million-dollar estate. Pair grey pants with a blueish undertone and a burgundy colored shoe. The red in the shoes will complement the blue in the pants.
Light Brown
What pair screams handsome? Light grey pants with light brown shoes! This combo works well in a casual setting or a formal setting. P.S. this is a pair for the warmer season. If you try this during the cold season, instead of looking handsome, you'll look pale.
Navy
This is a perfect pair for the office. Light grey trousers and navy shoes are a great way of spicing things up.
Purple
Find it unusual? Well, purple and grey is a flawless match for a casual weekend get-together. Next time you go out for lunch, give it a go!
Beige
If you want to keep it casual, try the beige and grey combo.
Can you wear different shades of Grey together?
Do you know what minimalist fashion is? Well, for starter its main principle is keeping things simple. It does not mean that you can't wear cute and stylish pieces. It more of using pieces that work with different outfits. Statement jackets are a rare find for this kind of wardrobe.
So how do you build a minimalist wardrobe? This is where neutral colors come into play. Black, white, cream, brown, and grey are the usual picks. So, is it okay wear different shades of grey in one outfit? How about black? Is brown okay as well? The answer is yes, yes, and yes. Wearing different shades of one color is okay. It creates a clean and simple look.
Since we're talking about grey, let's focus on this color. If you're doubtful about mixing grey with grey, don't be. It does not make you look gloomy. It's the same as wearing all black. Nobody thinks that an all-black outfit is for funerals only.
The monochrome look is one of the trendiest styles right now. If you go through Instagram or Pinterest, you'll see a lot of monochrome outfit inspiration. The color grey has so many different shades that you can work with. Find the right patterns and fabrics that can work well together. You can have an amazing minimalist look without looking dull and boring.
Who looks good in gray?
Have you ever experienced wearing a certain shade of grey that makes you look washed out? For some, they stopped trying to wear grey because of that one experience. That should not be the case. Yes, there will be certain shades that will make you look pale. But other shades will complement your skin tone. The key is knowing the shade that works best with you.
The first topic on the agenda is knowing your undertone. To know what shades match you, you need to know what your undertone is. It's quite easy to know since there are only two undertones. Look at the color of your veins on your wrist. If you see blue or purple that means your cool-toned. If it's yellow or green then your warm-toned.
Here are the shades that you can wear depending on your skin tone.
Fair Skin Tone
Lighter skin tones tend to look paler in lighter shades. For this type of skin tone, you need to go with medium shades of grey. If you have a warm undertone in this skin tone then grey is a perfect fit for you. You'll want to stick in the middle because lighter shades will wash you out while darker shades will be too dark. The medium shade will pop against your skin tone without looking too overwhelming.
Medium Skin Tone
For medium skin tone, opt for lighter shades of grey. Choosing the right shade depends on your undertone. Grey and silver are the best for cool-tone medium skin people. The key is finding the shades that will enhance your complexion.
Olive Skin Tone
Olive skin and grey are a match made in heaven. All the shades compliment this skin tone. You will not have any problems shopping for this color. Usually, olive skin goes well with any colors or shades. Lucky you, you can mix and match different shades without any problem.
Dark Skin Tone
Same with medium skin tone, this complexion is best with lighter shades of grey. The closer you are with your skin tone, the less flattering it will be. Cool colors tend to highlight grey undertones. Trust us, you don't want that to happen.
Can you wear black and grey together?
Neutral colors are becoming more popular today. With the rise of minimalist fashion, people are going for neutral and basic shades. With black, brown, white, and grey you'll have no problem choosing your outfit.
Here are some neutral combinations that you need to check out.
Neutral Combo #1: Grey and Black
Remember grey is a transition from white to black that's why it's no doubt that these colors work well together. Try pairing your black fitted pants with an oversize sweater. To finish the look, go for black ankle boots and a tote bag. This look is perfect for fall if you want to break away from an all-black outfit.
Neutral Combo #2: Black and Brown
Before black and brown is a fashion don't but we all know fashion breaks its own rules. If you do this right, you'll be surprised by how chic the two in an outfit can be. Pair your high wasted black jeans with a brown sweater. Then throw on a brown teddy coat for a trendy twist. Seal the look with black ankle boots and a handbag.
Neutral Combo #3: Grey and Camel
If you're keeping up with the trends, you're bound to know this combination. These two colors in one outfit give a classic and chic vibe. Camel coats are a must-have winter or fall piece. So, if you're shopping for a new coat put this on the list. You can pair your camel coat with grey pants and a light grey sweater. For shoes, grab a pair of beige sneakers, and you are done!