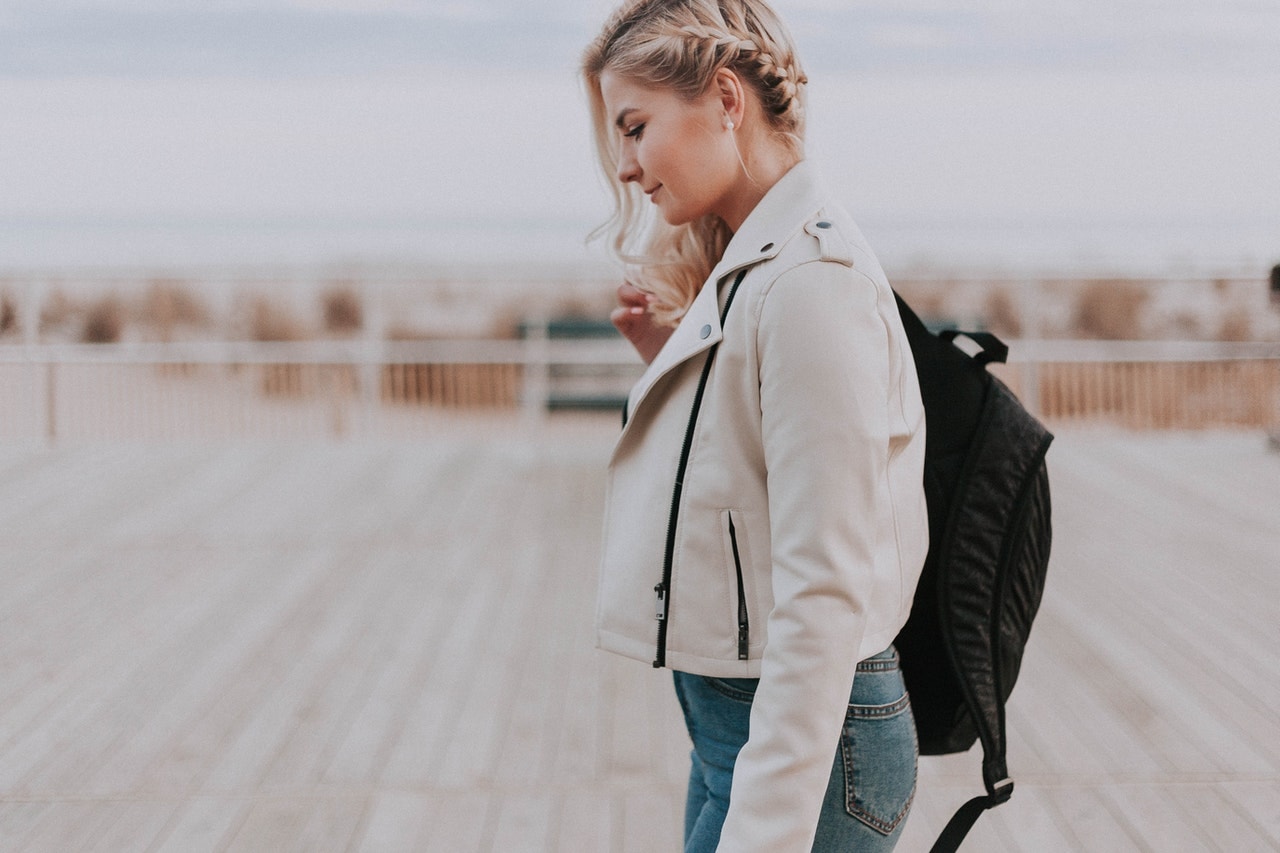 A jacket is too small if it bites in the shoulder area. If the front portion pops when you close it then it's too small. Also, if it's too short then, that is small.
One thing that can mess your entire outfit is an ill-fitting piece. You may be wearing the most gorgeous dress but the suit you paired it with is too long or too big. Instead of looking glamorous, you'll look as if you borrowed that suit and it does not fit you very well.
Looking sharp always equates with wearing tailor-fit apparel. You need to know what is the right fit for specific clothes. Knowing this will give you an idea of how to proceed and pick the right size.
Let's focus on one area, jackets. Jackets have a lot of different varieties. There bomber jackets, varsity jackets, denim jackets, and more. But one of its most popular types is suits. When it comes to suits, you can easily identify which ones fit wrong. Wearing an ill-fitting suit in a business meeting can leave a bad impression. You don't want to look sloppy in front of potential investors, right?
So, how do you know if the fit of your suit is correct?
Signs that you're wearing a poor-fitting suit
The shoulder area sag or bite
When you're in the market for a new suit, the first thing that you need to look at is the fit in the shoulder area. There are two signs that you should watch out for. Does it sag or does it bite? If your answer is yes to one of them, then look for a different size. This happens when the shoulder of the suit does not match the shoulder of the wearer.
When the armhole of the suit is too tight, you could get a clump on the arm towards the back of the sleeves top portion. This occurrence is known as a bite. On the flip side, if the shoulder is too wide for the wearer then you'll get a sag.
Your suit should fall perfectly on your shoulder with a bit of shoulder protruding beyond the armhole.
How to fix this? Aside from changing sizes the moment you see a bite or a sag, you can have it custom fit. To some degree, a tailor can adjust your suit. But, for harder mending, it might cost you more.
The front button stance is too high or it pops
While it was a debated topic in the men's fashion scene, many suits today, have a mid to high button stance. This is particularly for contemporary Italian manufactures. A higher button stance can look trendier and more casual if you're able to wear it properly. But if it becomes too tight, then you'll see a horrible result.
A higher button stance will make the torso look shorter. Yes, it looks fine if you on the shorter side and wants to create an illusion of longer legs. But for the opposite, it may look off-balance.
To know if the button stance is just right, the top button of a two-button suit should sit between 1-3 fingers above the belly button. Also, depending on the look you are aiming for, when the suit is done up, it should pull sightly. If the button stance is too high or too tight, then it will pop unattractively.
One way of fixing this is to size up or down. You can also consider selecting a different brand or style. If you're not satisfied with any, try going for a custom-cut.
The suit is too long or too short
Yes, we know that short suits are on trend but don't go too far. Also, if you're still wearing a suit that goes beyond your fingertips then please it's time to let it rest. Remember this, a suit should cover about 80% of your bottom and crotch.
The edge of the bottom of your suit should fall between the two knuckles on your thumb. If you're wearing a more casual suit, then this can be pushed up a bit. Casual suits tend to be shorter compared to formal ones.
If you're thinking that visiting a tailor to help you lengthen or shorten your suit then prepare a back-up plan. Most of the time this is not possible. Get the right size or try sizing up or down. Then consult your sales personnel if the suit can be tailored or if it is better to have it customized.
How do you stretch out a jacket?
One thing that you can do is soak the jacket in cold water and leave it for 15 – 20 minutes. Let it sit until it's completely saturated. Allow all the excess water to drain as you leave the jacket lying flat on a towel or table. Then carefully pull both sides of the sleeve and the body to stretch it out.
It is common for us to encounter shrinking clothes. It can be because of the manner of washing or simply the size that we bought is smaller than we thought. Fortunately, fabrics can be stretched one way or another. When it comes to this, there are different methods used depending on the fabric.
Among them, the easiest to stretch are cashmere, cotton, and wool. You can just soak them and pull the fabric then air dry.
Methods in stretching a garment
Method 1: Baby Shampoo and Conditioner
Step 1: Fill the basin with warm water then add around 80ml of baby shampoo or hair conditioner. For wool garments, use a capful of mild detergent. Remember that this is recommended for cotton, wool, and cashmere materials. It's because they're easier to shrink and stretch.
Step 2: Let it soak for 10 minutes. Let the fabric relax and make sure that is fully submerged. If the garment is thick let it soak longer for about 20 minutes. Never leave it soaking for more than 2 hours.
Step 3: Drain the basin and gently squeeze the garment. Don't wring it since it may change the shape.
Step 4: Lay the garment flat on top of a clean towel. Then starting from the bottom edge, roll it upwards. This will help the towel to absorb some of the moisture. Now, your garment should be damp and not wet.
Step 5: Trace a larger garment on parchment paper to serve as a guide when you pull.
Step 6: Place the damp garment on top of the parchment paper and start pulling towards your guide. Be careful not to tug it too much or it can rip.
Step 7: Now, pin it down with a heavy object. Leave it until its dries completely.
Method 2: Vinegar and Baking Soda
Step 1: Add 2 tablespoons of baking soda into two liters of hot water. Don't submerge your garment until the baking soda is completely dissolved.
Step 2: Submerge the garment into the baking soda mixture. Then pull it out and gently squeeze the water out.
Step 4: Carefully stretch the garment in all directions. Make sure that you do this gently or you might rip the fabric.
Step 5: After stretching the garment, submerge it again in the baking soda mixture. Leave it to soak for an hour before draining.
Step 6: In a separate basin, mix one liter of warm water with 0.25 liters of white vinegar. Pour this mixture over the garment that you stretched and soaked. The combined effects of the vinegar and the baking soda will help the fabric soften and stretch.
Step 7: Lay the garment on a flat surface and let it air dry.
Method 3: Stretching denim jeans using water
Step 1: Lay your jeans flat on a clean and dry surface. Make sure that the pockets are empty. Then smooth it out to make sure they are flat.
Step 2: Spray on the parts of your jeans that are too tight. This can be the waist or the calves. If the whole jeans are tight then spray over the entire surface. Make sure that you cover both the front and the back.
Step 3: Stretch your jeans in all directions to make the fabric loosen. Pull it from the left to right and then the top and bottom. Give more attention to the areas that are the tightest and pull it out more to add flexibility. Repeat this for several minutes to make sure that the fabric is reshaped.
Since denim jeans are sturdy, you don't have to worry about the pressure you are putting when you pull. If your jeans have gems or rhinestones, avoid stretching them too much. Also, for ripped jeans, be careful of the tattered parts of you might destroy them.
Step 4: Now that you have finished stretching the jean out, let them air dry. Do not put it in the dryer or else you'll be back to square one. Dryers tend to shrink fabrics such as jeans. Lay them flat on a surface to make sure that the new shape sticks.
Are oversized jackets in Style?
Oversized jackets are the king of the catwalks in last year's fashion shows. Now, it's still on-trend and is taking over major brands and fashion houses.
We all love wearing a trendy oversized jacket. Whether we go to the grocery or attend a social gathering, we can always grab a jacket to complete our look. Yes, a tailor-fit suit is still best for looking sharp and classy. But if you're on a more casual note then sporting an oversized jacket is the one for you. Now, what styles should we make sure to have in our wardrobes?
Belted Jackets
If you are looking for a jacket to highlight your hourglass body, then this is the one for you. Belted jackets are perfect for winter and fall and styling them is very easy. If it too hot and layering is not an option, you can wear a thin camisole underneath the jacket and attached the belt. Additionally, you can also pair it with a lightweight turtleneck.
Boyfriend Blazers
This blazer is boxier, larger, and more oversized than your regular blazer. If you want to look chic and upgrade your look, then this is the best piece to add. Owning a boyfriend jacket will give you more outfit combinations. This is because this jacket is very versatile. You can pair it with ripped jeans, biker shorts, or trousers.
Plaid Jackets
Plaid is a must-have pattern for the fall and winter seasons. You just got to have it. There are a lot of different colors, hues, and styles that you can choose from so you will not run out of options. Whatever style you're looking for, this pattern will always be present. You can style it by going all out plaid with matching pants. Another option is to pair it with a plain and simple white turtleneck.
Puffer Jackets
Don't miss out on the chance to have a warm and stylish winter. Puffer jackets have become a trendy staple for the cold season. Now, a lot of gorgeous colors and designs are coming out. Why don't you try going all out this year with a bold color or a fun design? Make sure that your warm and on-trend this winter with a puffer.
Shearling and Sherpa
Whether it's a Sherpa accent on a jacket or a full Shearling coat, this trend will surely be then this cold season. If you are thinking that this trend is too much to handle, well, there are a lot of ways to wear it without looking too bold. You can start with a jacket with some shearling details as a start. But if your very comfortable with this style, then go all out with a full Sherpa coat. This will give you maximum warmth and coziness during the cold season.
Corduroy Jackets
Corduroy is a fall and winter favorite. From pants, skirts, to jackets, this fabric is essential if you're going for a chic and retro vibe. This trend is perfect if you're going for a cute and casual outfit for the season. You can pair it with a graphic tee and mini skirt or high-waisted jeans and turtle neck.