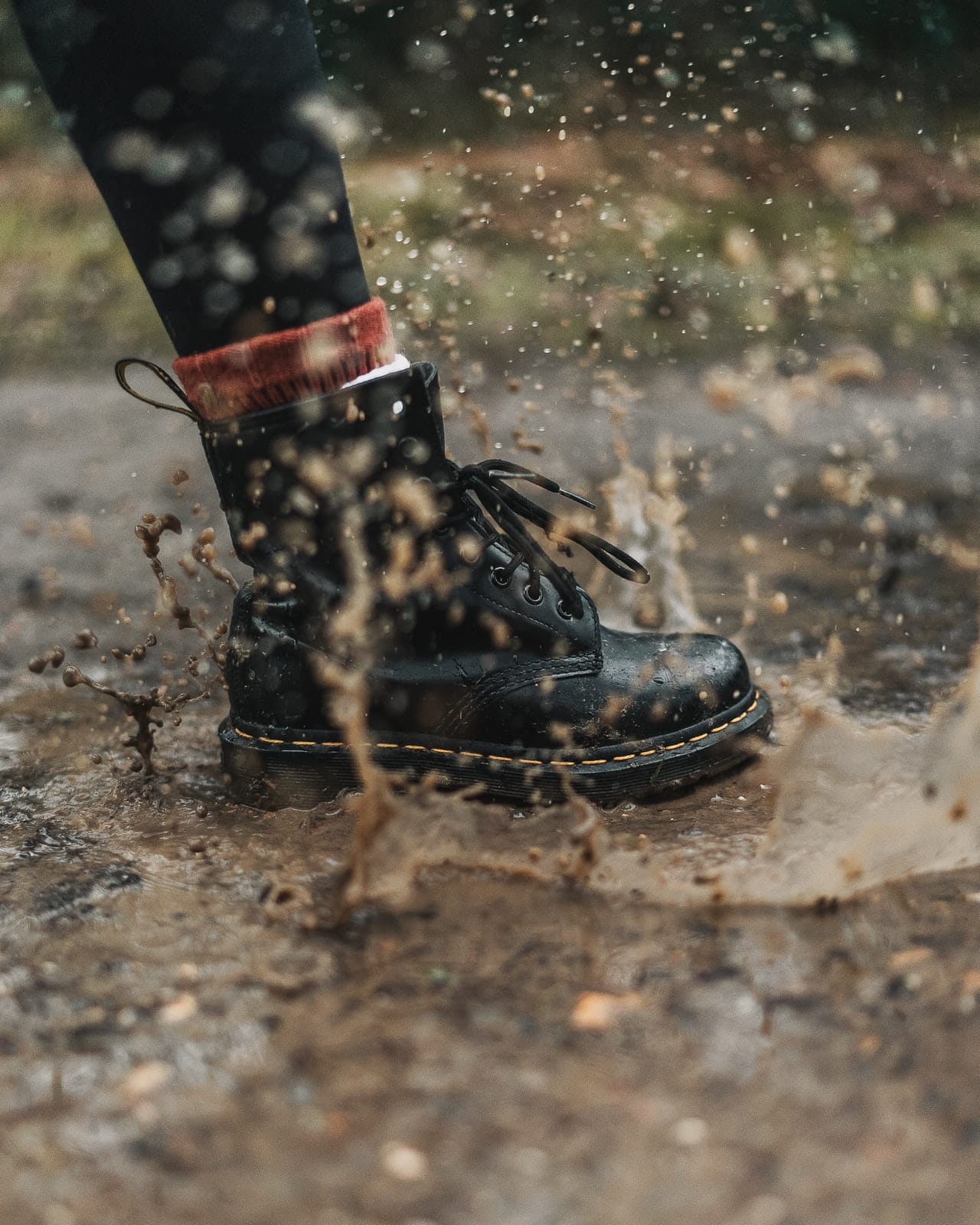 Leather is one of the world's most popular materials. It could be for footwear, belts, or even clothes. Whatever it may be, leather is famous for its durability and quality.
But when it comes to shoes, one of the things people worry about is their usage. This is especially true during the winter or rainy seasons.
We all know that too much water can ruin one's leather shoes. But this does not mean you have to keep these leather footwears inside a cabinet because of the rain.
Fear not. We're on it. We are here to put your worries to rest.
The Reason
Leather is a porous material. As such, it absorbs water fast.
When the water dries out, it leaves behind cracking and a lot more damage to the material.
But when you compare it with other materials, leather is the strongest. It does not wrinkle as fast as the others.
But then again, no matter how strong it is, the time will always come for leather to come to ruin. And that can be because of water.
Save your Shoes
For now, we all know that to avoid ruining your leather footwear, all you need is to avoid water. But things happen.
It can immediately rain when earlier today, it was just as sunny.
Here are a few things to remember on how to protect your leather shoes.
Keep it Clean
We know there are waterproofing treatments available in the market. Before you go with the waterproofing methods, make sure to clean your shoes.
Rid your leather shoes of all kinds of dirt. A stiff shoe brush can do the trick.
If your leather shoes are too grimy and dirty, use a damp cloth. Wipe (or even rub) away from the grime.
If there's one thing to remember, it is to always keep the shoes clean before the treatment.
Weatherproofing Methods
There is one thing to remember about weatherproofing leather shoes. No matter how good the treatment is, it will never last forever.
One of the most popular ways is to rub in a layer of wax on the leather shoes. This prevents water from seeping into the leather pores, hence, protecting the shoes.
But as time goes by, the wax's performance wanes.
It is thus important to repeat the process at least once every 15 days. Or the frequency also depends on how much you use your leather shoes.
Waterproof Covers
Some areas get more rain than others. If you are in any of these areas, it would be useful to have a waterproof cover always handy.
Keep a good pair in your car. Or you can always have one handy in your bag.
A waterproof cover would be able to protect your shoes from getting wet when the time calls for it.
At the end of the day, these are expensive shoes. Why should you not invest in waterproof covers just to protect them?
What to Do When the Leather Shoes Get Wet?
Dry Them… Quick!

Should you get your shoes wet on your way to somewhere, always make sure to dry them at the soonest possible time.

And when you get heavily-drenched shoes, remember that these affect the fit as well. Make sure to put in some balled newspaper inside. This should keep your shoes in shape while it dries out.

Also, avoid putting the drying shoes near a heat source. Doing so would crack the material.

Moisturize

Once the leather shoes dry, go with the colorless leather conditioner. This should be able to restore the shoes' flexibility in the fibers.

Doing so would also prevent your shoes from getting cracks.

Before applying the conditioning agent, remove the shoelaces. Also, remember that you should only use a small amount of the conditioner.
Leather shoes are OK in the rain.
In fact, a pair of leather shoes look good in the rain. Just make sure to take extra precautions before you drench them.
How do I waterproof my leather boots?
The easiest way by which to waterproof leather boots is by silicone spray. But while it is the easiest, it is also the least durable. Depending on the frequency of use, it can degrade in a day to a week. Then, it's time to spray it all over again.
Winter is coming. And with the coming of winter comes snow and rain. The weather may be cold. Precipitation can absolutely ruin your leather shoes.
But how do you protect them? And what should one use?
Don't worry about this. You can protect your boots.
One of the things you can start with is to make sure you break in the boots. The other thing to remember is to ensure these shoes are clean.
These are two important steps to do before applying the treatment.
No amount of dirt or mud should be in the shoes before the waterproofing process. Otherwise, you will end up with dirt unmercifully-trapped in the leather. This gives it a permanent dirty look. And this is not good.
The next step is to ensure the footwear is dry before the waterproofing process. This ensures that the shoes are in great condition before the waterproofing treatment.
The Two Varieties
There are two types of waterproofing treatments for leather footwear.
The first method is wax sealing. This is the old-school method that brings with it many advantages.
For starters, wax sealing is more holistic. It is mainly suitable for the shoes as a whole, except, of course, for the newly-resolved pairs.
Should this be the case, you can opt for the other method – the silicone spray method. We'll talk more about this.
Let's go back to the wax waterproofing treatment. This method involves massaging the wax into the leather.
Imagine finishing a hardwood floor. Or think about waxing a car. This is how things go when waxing waterproof leather shoes.
In this method, you can add a single coat. Or it is also possible to add many thin coats.
The wax waterproofing method is the more durable of the two. Although depending on the frequency of use and exposure to water, you may have to do this again very soon.
If there is one thing about wax waterproofing, it has more benefits than the other method. This specific method nourishes and protects the leather material well.
There is another method by which you can waterproof your leather shoes. It is by silicone spray sealants.
This method is ideal for new boots. This is also perfect for re-soled leather footwear.
This is because it does not get wax in the welting, which is a problem with the previous method.
But if there is one thing to note about this method, it is the darkening of color. In time, the leather gets to darken with this method.
As you already know by now, silicone spray is the easiest. But this is the least durable of the two methods.
When using silicone spray sealants, one needs frequent re-application. This is because the coating tends to degrade in about a week or two. This is especially true when using leather shoes every day. One cannot help but notice the wearing off.
The thing about silicone spray is that you can easily pair this with the use of a seam sealer.
The seam sealer is a urethane sealant that works well with leather footwear. When using the seam sealer, one can run a small amount around the welt seam.
This ensures that no amount of water can enter the leather footwear through the seam. This is the most common culprit in leather shoe deterioration.
Waterproofing Leather Footwear
Before you start, make sure also to remove the laces. This is a very important aspect of the waterproofing treatment. Regardless of whatever method you use, you should always remove the shoelaces.
Another thing to remember is this. The seam sealer (if you decide to use it) comes first before the waterproofing treatment.
You should also make sure to have the seam sealer cure completely. This is before the waterproofing process starts.
One of the ideal moments to waterproof your shoes is on sunny days. This ensures that the sun can warm and cure your leather footwear before the process.
From there, decide on your waterproofing method.
Should you decide on a silicone spray, make sure to follow the instructions well. Also, make sure to apply an even coating on the leather boots/shoes.
Another reminder is to choose a well-ventilated area. This is to ensure that the fumes do not get inside your homes or your room.
Make sure to dry the leather shoes in a well-ventilated area. Make sure that the area is free from moisture. As much as possible, choose a warm location. If you can, leave the shoes to dry overnight.
In this process, you have to allow the spray to cure. Let the leather absorb the chemicals. Once done, wipe away the excess. Use a lint-free cloth.
The other method, as we all know, is waterproofing by using wax.
This is the more durable of the two methods and is ideal for footwear more regularly-used.
Before applying, make sure to warm the wax. You can place the wax in a warm place for a time.
One thing to remember is that the wax should not be in liquid form. But it should be able to spread with less effort.
As much as possible, use your fingers in spreading the wax. Of course, you have to wear gloves. Or you can also make use of a lint-free cloth in rubbing the polish to the leather shoe.
Make sure to make it a bit thick. But also ensure that you apply an even amount of wax to the leather shoe. Cover the welt up until the top of the shoe or boots. Make sure also to wax the tongue.
Once you can do this, place the boots in a warm location. Allow it to dry.
Leave it for a few hours, overnight if possible.
While drying, make sure also to inspect the shoes. While checking, you would easily find the parts where the excess wax is showing. Scrape them off.
Should there be a need, you can also go with a second or third coating.
No matter which method you use, there is one thing important to remember. And that is to ensure the waterproofing is fully-cured before using it.
If, upon touch, it feels sticky, this means there's an extra wax (or silicone) that you can wipe away.
Do that.
The Treatment Frequency
How often do you waterproof your leather shoes?
That would have to depend on how frequently you use it.
Once you see the layer of finish breaking down, it's time for another waterproofing treatment. And again, before applying another round of treatment, make sure you have a clean and warm pair of shoes.
And we should emphasize. Too many silicone sprayings can darken the shoes. But how do you know when you need another spray?
It is when you see that some areas are now becoming moist. This is when you would find that the shoes have already lost their waterproofing. The moisture that you see means that the shoes are starting to absorb moisture again.
Just do another round of spray. Allow curing for a few hours to overnight.
For one to identify whether the shoes need another waxing or not, look at the top layer scuffs.
The leather should start looking like it's a little bit dry. That is one sure sign that the top layer of the wax is starting to bid goodbye.
When this happens, just follow the same steps. Apply a new layer of wax, let it cure, and wipe away the excess.
The silicone spray method should last for a few days to a couple of weeks. This should depend on how much you use your leather shoes.
The wax waterproofing method should last for about the whole winter season. Of course, this should also depend on how much you use your boots during this time.
Can I use Vaseline to waterproof my boots?
Yes, you can. But remember that Vaseline should be a temporary fix. Clean your leather shoes before the application. Coat the leather shoes with a layer of Vaseline. This should do the trick, although temporarily.
The application of petroleum jelly will soften the leather. This should also help the leather from cracking.
Aside from shoes, this should also work well with other leather items. It could be bags, belts, or whatever garment is made of leather. Just make sure it is not rawhide leather. Vaseline will not work with that.
When using Vaseline, make sure to use a lint-free cloth.
One can always make use of leather shoes or boots during the rain. The prospect of the rain getting into and ruining our leather shoes should never bother us at all.
Just make sure the leather shoes are well-protected. There will always be no reason why these beauties cannot go out into the rain.