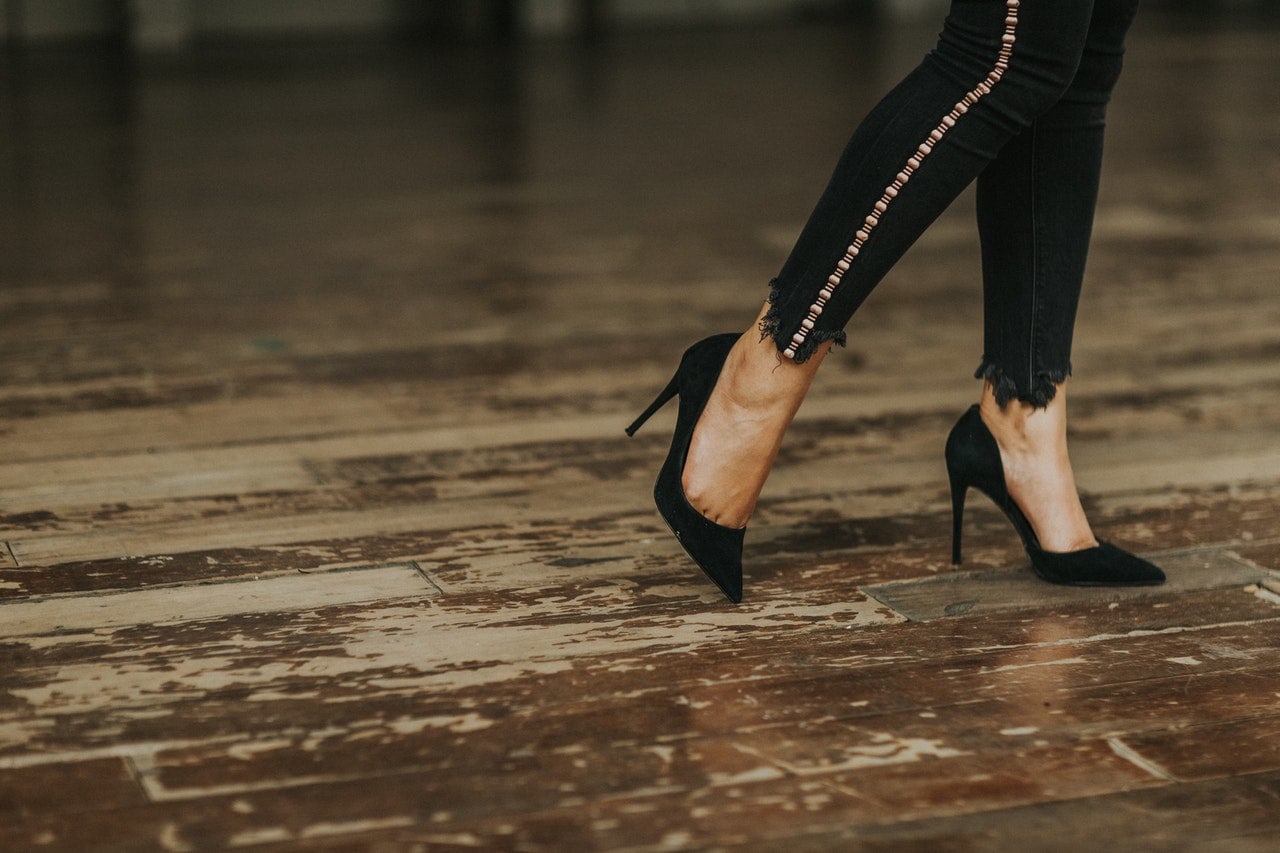 The purpose of high heels is to make the wearer look taller, create the illusion of longer legs, and accentuate the muscle tone in their legs. There are a lot of different types and styles of high heels that you can find around the world.
High heels, what do you think about them? Are you a fan or do you prefer flats and sneakers? How often do you wear them and when do you usually wear them? When you go to the mall or while strolling in your neighborhood, there is a high chance that you'll see two or three people wearing high heels.
If you think about it, this kind of footwear is not the most practical and functional among others. You wouldn't wear high heels when you're going for a long wall or a hike. It can be very uncomfortable and straining. So, what is the purpose for it?
Did you know that high heels were not invented originally for women? Back in the 10th century, horse ridding men were the first to utilize heels for their riding boots and shoes. The heels keep their feet from any kind of stirrup while riding. Have you noticed that cowboy shoes have heels? That is for this reason. This means that men rather than women are the first to use heels.
When heels became popular throughout Europe, they developed a profound meaning. If you are wearing heels, it means that you own a horse. What does it imply? You are a person from the upper class.
Beginning of high-heels for women
It took a few eras before high-heels became a woman's best friend. It was only during the 18th century, where it transformed into the heels that we know now. The old design of cowboy shoes became sleeker, slimmer, and pointed. It's now more decorative, leaning more into fashion than function.
Before, high-heels are still not used to accentuate style. Women wore them to make their feet look smaller and daintier. As heels continue to penetrate the women's market, they slowly diminished from the men's market. Men started to see the impracticality of heels and lost interest. It slowly faded and until now, it is not as prominent form when it was introduced back in the days.
Why do women wear high heels now?
We all know that even though high heels are attractive there are repercussions to wearing them. So, why are many of us still drawn to this type of shoes?
It makes our walk stunning. Compare how you look when walking wearing flats and heels? Which is better? When we wear heels, you will see a significant change in gait. You will notice more rotation and tilt in the hips and fewer strides. This means that you're not simply walking but you are strutting.
It makes us look more feminine. When you wear heels, even if you're not wearing a dress, you feel more ladylike, right? There's an attached feminine feeling when you wear heels.
It gets you more male attention. In an experiment done by a professor, he found out that men tend to respond more to women wearing heels than flats. Not sure why, but they do. So, you know what to do if you in the lookout for some male attention.
It symbolizes power. Heels, until now, still is a symbol of power. If you go through a business magazine and a female CEO is featured, would you see her in flats? No, right?
It levels the playing field. While we have tall female friends, most of us are on the shorter end of the spectrum. That is why heels are there to boost us up to the same level as men. Not only that, but it also gives women the confidence to stand proudly in a male-dominated society.
What are the benefits of wearing high heels?
One of the benefits of wearing high heels is that it improves your posture and gives you confidence. Also, it adds more height and displays your toned figure.
There is no reason for us to use something that does not add value to our lives. That is why when we buy things, we make sure that there are benefits to enjoy from them. The same principle applies to high heels. If you're not a fan of this shoes you might not notice the benefits it gives. But for those who use them day in and day out, they know the benefits of wearing them.
So, to enlighten us all on the benefits of high-heels, here they are:
Advantage No. 1: Supplementary Height
The easiest solution to have the same height as your favorite supermodel is to wear heels. It's the most obvious and most common reason you'll hear why ladies wear heels. Why is height important? Well, it creates a certain illusion of power, elegance, and dominance. That is why you'll notice that women wear heels in the office. Also, during formal events, they pair their evening gowns with pumps of stilettos.
Advantage No. 2: Boost Confidence
Even if many do not understand, high heels just give you more confidence. If you pair them with a smashing outfit, you'll feel more assertive, and your self-esteem increases. Confidence does wonder to a person and we love everything that boosts it. If you need a little push with your self-esteem, maybe a pair of heels will do the trick!
Advantage No. 3: Enhance Posture
Maintaining proper posture can be hard for most of us. So, if you're looking for a way to enhance it, try wearing high heels. When you're wearing these shoes, you are more aware of your movements. The heel on the shoes will automatically straighten your back so that you'll be able to maintain balance. Once you fix the posture of your back, other parts of your body will follow. Simple and easy, right?
Advantage No. 4: Draw Attention to Yourself
If you love basking in the attention of people, a good pair of high heels is what you need. Both men and women appreciate gorgeous-looking heels. Men find women wearing heels attractive and tend to be drawn to them. Alternatively, women admire other women who wear heels. Good quality heels instantly improve the outfit, grabbing other people's attention.
Advantage No. 5: Display a Toned Figure
Working out may not be meant for everyone. But if you want to have a toned figure, high heels might give you what you want. They give you an illusion of a streamlined body making it look like you lost a few pounds. Not only that, it helps you show off your toned calves, enhanced bottom, and long legs. Since heels accentuate your calves, you'll look longer and more toned. Who would not like that? Instant hourglass body shape!
Is it OK to wear heels every day?
While heels have amazing benefits, wearing them every day is not ideal if it is more than two inches tall. It can cause mayhem to your body. One of the most common issues women experience when wearing heels regularly is lower back pains.
Anything that goes beyond the recommended number of uses can cause you harm. This principle also applies to wearing high heels. Yes, wearing them can make you look stunning. But not watching out how much you wear them may cause some unwanted consequences. Remember, heels tend to stress your ankle and legs.
Regularly wearing heels that are one to two inches high is not bad. The problem starts when you go beyond that. Heels that are four to six inches high can cause you some serious medical disadvantage.
How long can you wear heels safely?
If your wearing super high heels every day then after a few days you may already start experiencing back pains. But for the worst-case scenarios like shortened Achilles' tendon then that may take a few years. Can you still wear super high heels? Yes, you still can. Wearing them for special occasions and ever so often will not cause some serious harm.
What is the short-term effect of wearing high heels?
The most common short-term side effect of wearing heels is pain. What heels do is takes the relative weight off the back of the foot. Then it pushes it to the front. So, the most pain that you'll be feeling is concentrated on the foot and the toes. If your heels are those who are on the tighter side then you might develop some bunions. So, make sure that your heels are comfortable enough to wear.
What is the long-term effect of wearing high heels?
One of the most surprising side effects of wearing heels is the shortening of the Achilles Tendon. This happens because the tendon grows accustomed to the elevated heels making it hard to go back to the ground. If this happens, even if you are wearing flat shoes, you might feel uncomfortable.
Another long-term effect of wearing killer heels every day is Lordosis meaning a curved spine. When you're wearing heels, you curve your lower spine to make sure that you're in balance. This puts a permanent strain on the back.
Furthermore, too many heels can shorten your back and calf resulting in more pain and muscle cramps.
How to prevent bad side-effects of wearing heels?
If you're contemplating on throwing your favorite heels into the trash, don't. Yes, there are consequences if you abuse the wearing of these shoes. But if you take into consideration some of our suggestions then you can freely enjoy your gorgeous heels. Here are six easy ways to prevent your body from hating high heels:
Choose the right heels. If you want to enjoy wearing heels for a long time, limit the height to one to two inches only. If you don't choose wisely, instead of having more time looking stunning in heels, you end up having more years of pain.
Keep track of time and activities. If you know that you'll be running around, walking for miles, or standing for a long period, do not wear heels. This will quicken the deterioration of your body. If it is inevitable, make sure that you take short breaks often to relieve some of the stress in your feet.
Stretching is the key. You'll be amazed how flexibility helps in reducing the pain of wearing heels. Doing a regular yoga session can help extend your range of motion and enhance your balance. Make sure to stretch out your feet muscles and calf regularly too. For a fast stretch, concentrate your weight on the balls of your feet. Then extend your heels off the edge of a step. After, drop your heels down and slowly go back up. Repeat this a couple of times. Another trick that you can do to help you stretch is picking up a pen or pencil off the floor using your toes.
Test different supports. Gel cushions are a great support in absorbing the shock. When you're wearing heels, put a gel cushion on the bottom of your shoes. Now, the weight that you thrust down the balls of your feet, won't come into contact with a hard surface but the gel cushion. Unlike gel cushions, arch support is not that helpful. You're not distributing the weight equally to your foot which stresses certain parts.
Make sure that you have the right size. Wearing small shoes is already painful. Imagine how much more if your wearing small killer heels. Like with other types of shoes, getting the right size of heels is important. Make sure that your feet are not sliding forward or that you can move your toes.
Buy heels with straps. The straps in high heels do not only make it stylish but also provide extra support to your feet. Additionally, they make sure that pressure is not focused on one area. They help in stabilizing your ankles which prevents you from twisting them. This also prevents painful and embarrassing falls from happening.