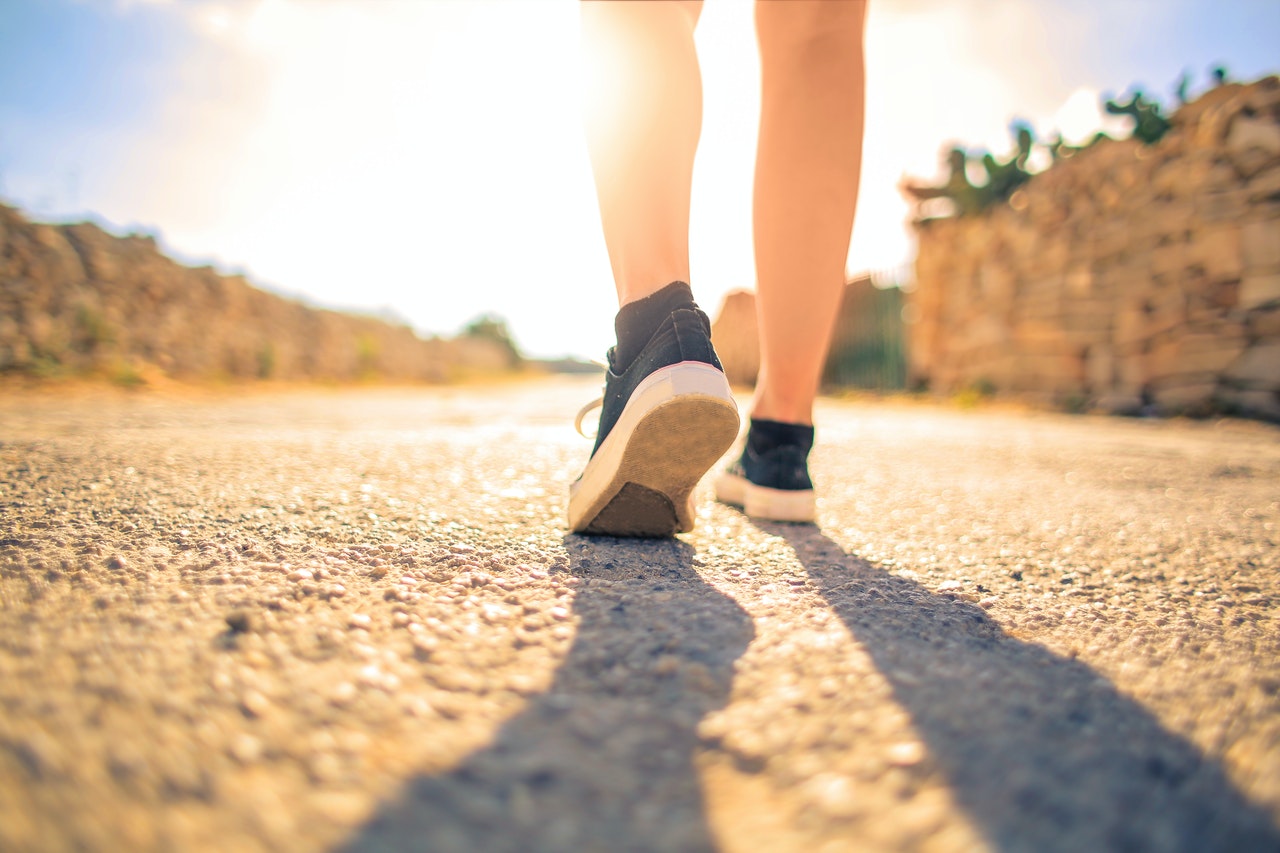 Generally speaking, there is no difference between sneakers and walking shoes because sneakers are considered walking shoes. Furthermore, many people would recommend wearing sneakers for walking since it provides comfort and enough support for long walks.
When you're out for a walk, you're always looking for a shoe that will give you the comfort and support that you need to keep you up and about even if it's going to take a few blocks. So, if you're asking what kind of shoes can you wear during these walks, then we would recommend wearing a good-fitting walking shoe.
So, what is a walking shoe? A walking shoe provides you with good arch support. Plus, it gives you more cushioning compared to other types of shoes. If you have a high arch on your feet, then you have less resistance to shock thus you need more cushioning. On the flip side, if you have a flat foot, you are more prone to joint and muscle stress because you have less support. With this, you'll also need a lot of stability.
So, with these specifications on walking shoes, what kind of shoes comes to your mind? That's right, sneakers! Sneakers can give you support, comfort, and stability that is ideal for walking. If you're wondering if there's a difference between sneakers and walking shoes, the answer is none! Sneakers are considered walking shoes!
Walking Shoes vs. Running Shoes
Walking shoes and sneakers are two peas in one pod but walking shoes and running shoes are a whole different story. How do the two differ? For starters, running shoes are more lightweight than walking shoes since they need more speed when running. Alternatively, walking shoes prioritize stability and cushioning that's why they're heavier.
Here are four main differences between the two:
Sole: Walking shoes are more flexible and bendable while running shoes have a stiffer sole.
Heels: Walking shoes have more oblique heels while running shoes have thicket wedge heels to give ample cushioning. If you're walking with a thick heel similar to running shoes, it may cause you more harm than good. You may experience tendinitis, shin splints, or you can end up tripping frequently.
Motion Control: Walking shoes provide less stability compared to running shoes because it's not necessary. With running shoe stability is essential because there is exaggerated foot motion when running. That is why running shoes are integrated with motion control to keep the feet neutral.
Weight: Walking shoes are not heavy but compared to running shoes, it weighs more. As mentioned before, running shoes are lighter because of their design and the materials used to make them. Its goal is to make the runner feel light on their feet and not hinder their speed.
So, whether you run or walk, your primary goal is to keep your feet healthy. The best way of doing that is wearing the right shoes that will support your activity.
What type of shoe is best for walking?
Some of the best walking shoes are carried by the brands Ryka, Asics, Adidas, New Balance, and more.
It's not a secret that exercise is an important part of your lifestyle to keep you fit and healthy. But for those who don't like HITT training or strenuous weightlifting, the simplest and one of the healthiest forms of exercise that you can do is walking.
However, before you head out for a morning walk, you need to make sure that you're equipped with the right shoes! You'll need something that will keep you comfortable all day, supports your arches, will cushion your heels, and looks lovely.
With all the available options now, it can be hard to determine the best shoes that would fit this activity. So, to narrow down your list, we gathered some of the best walking shoes that you can try!
Top Overall Walking Shoes: Asics's Gel-Quantum 180 4 Sneakers
These walking shoes are comfortable, provides support, an excellent fit, and well-cushioned. They are available in 11 colors ranging from black and white to bright colors. Plus, they are incredibly stylish so, you won't have any problems incorporating them into your outfit. This shoe is ideal for people with flat feet as it provides support and stability
Most Affordable Walking Shoes: Tiosebon's Athletic Walking Shoes
These slip-on sneakers provide excellent comfort and are incredibly lightweight. It feels as if it's padded with several memory foams. It's one of the cheapest that you'll be able to find as it's only around $20 on Amazon.
Most Lightweight Walking Shoes: New Balance's FuelCore Nergize v1 Training Shoe
These shoes are the most lightweight walking shoes you'll find. They provide excellent cushioning and gives you a comfortable feeling. Because of the mesh front, you'll have more freedom of movement. Plus, they are breathable and comfortable for people with bunions
Most Cushioned Walking Shoes: Adidas' Ultraboost 19 Running Shoe
These shoes have cloud-like cushioning and provide ample support. It has extra air pockets and high foam levels adding cushion to any impact. Furthermore, they are perfect for people with joint arches because of their comfy midsole.
Most Preferred Walking Shoes for Travel: Allbirds' Tree Runners
This walking shoe is your perfect travel companion since it's easy to clean after travels. Its design and materials allow this shoe to survive a trip to your washer. Additionally, they offer absolute comfort and style. You'll be able to walk in them for hours and you'll have no problems mixing and matching them with the clothes you bought for the trip!
Most Liked Shoes for Walking All Day: Ryka's Devotion Plus 3 Walking Shoe
These shoes are designed to perfectly fit a woman's feet. They provide excellent support and traction while keeping your feet comfortable. This shoe is perfect for hard surfaces and is ideal for all-day walking.
Most Recommended Walking Shoes for Hikes: Merrell's Range AC+ Sneakers
This shoe provides great support, traction, and cushioning. They have a soft and stretchable upper and a rubber toe cap and sole. This provides you traction and protection through rough paths. Moreover, they help in developing leg and ankle stability.
What are the worst shoes for your feet?
One of the worst shoes for your feet is high heels because they put your feet in an unnatural position. Worst case scenario, you might sprain your ankle or may end up with a fracture.
If you've seen a list of the best shoes for your feet, then there's bound to be a list of the worst shoe you should avoid wearing. What are those?
High Heels
Number one on the list is high heels. Whether you're wearing super high heels or not, this shoe can cause pain at the back of your heel. The rigid material of these shoe presses on the bony area of the heel which causes blisters, bursitis, swelling, and pain in the Achilles tendon. With orthotics, ice, and heel pads, you may relieve the pain but it's better to avoid wearing them if not necessary.
Ballet Flats
Although ballet flats maybe you go-to shoes since it's stylish and easy to slip on when you're in a hurry, it does not provide any support to your feet. Since these shoes are flat, there is no arch support preventing your feet from moving properly. This may lead to knee, back, and hip problems, and without regular arch support, you may also develop plantar fasciitis. If you like wearing ballet flats daily, you should consider adding arch support or a heel pad.
Flip Flops
If you're living in a tropical country, then flip-flops are a must. Plus, they never run out of new and exciting designs and colors to spice up your summer outfits. While they may look great and stylish, they do nothing to help your feet. Like ballet flats, flip flops offer little to no arch support which can lead to knee, hip, and back problems, as well as plantar fasciitis. Because of the open design of the shoes, you cannot add anything to make them better for the feet.
Platform Shoes
Even if you're only a 5'1″, you'll be able to achieve your much-desired height with a platform heel. They are also excellent in elongating and slimming your legs. However, platform heels and wedge heels do not provide any support to your feet and position them in an unnatural way, similar to high heels. This may aggravate existing joint pains around the lower part of your body and you can develop some feet, hip, and knee pains.
Pointed Toes
If you're wearing pointed shoes, you'll know that they squeeze the front of your feet. Because of this, you can develop a blister, bunions, nerve pains, and hammertoes. Additionally, the constant pressure that the toes experience because of these shoes can cause bruising under the toenails. It's always best and healthier to go with shoes that have round tips that position the toes naturally.
Do shoes ruin your feet?
Wearing shoes that are too big for your feet may cause some problems. The arch support will be placed on the wrong part of the feet will cause bruising to the muscles and will leave the feet in an unnatural state.
Aside from wearing high heels and flip-flops, there are other factors that cause damage to your feet. If you think about it, your feet are not fragile and can withstand pressure and weight. But, too much pressure and disregard on this part of the body will cause them to crumble. You don't want your feet to be rendered useless because of the things that you do, right?
To know how to stop it, you need to root out the cause. So, here are some practices that you need to stop so you won't ruin your feet.
Going barefoot. We understand how liberating it is to go barefoot. It gives you freedom since the binding feeling you get from wearing shoes is gone. This practice is not entirely bad because it allows your feet to stretch and breathe. But, constantly going barefoot can cause some serious repercussions. Without the right arch support, the arches in your feet would flatten over time. This could lead to flat feet and worst, plantar fasciitis.
Not exercising. Weight gain is a major problem for the feet since it carries the entire mass of the body. Remaining inactive the worst thing that you could do to your feet since a little extra weight will cause flat feet and plantar fasciitis. Doing some light exercises can go a long way in preserving your overall health as well as keeping your feet healthy. There are a lot of walking shoes or running that can accompany you on your healthy lifestyle.
Smoking. One of the reasons for bad blood circulation is the blockage in the arteries that smoking causes. This can lead to some painful never damage and the first target in the list is your feet. If you quit smoking, you'll not only improve your heart's health and lower the risk of lung cancer, but you'll also improve your circulation promoting healthier body health including your feet.
Wearing shoes that are too tight. Similar to wearing pointed shoes, stuffing your feet in a shoe with a narrow toe box can cause deformations and toe injuries like bunions, hammertoe, and Morton's Neuroma. Some of them are impossible to correct and are extremely painful.
Wearing shoes that are too wide. Many have grown accustomed to wearing shoes that are bigger than their actual size. Well, if your mom would often buy you shoes that are bigger because you'll grow into them, it's no wonder why you're used to this. Because of this, you'll feel that shoes in the right size feel restrictive and tight. Although you may think that it does not matter, the truth is it poses a lot of problems:
The arch support is placed in the wrong part of the feet that causes muscles to bruise.
The rubbing of the heel can cause blisters.
If the shoe is too big, you're prone to tripping.