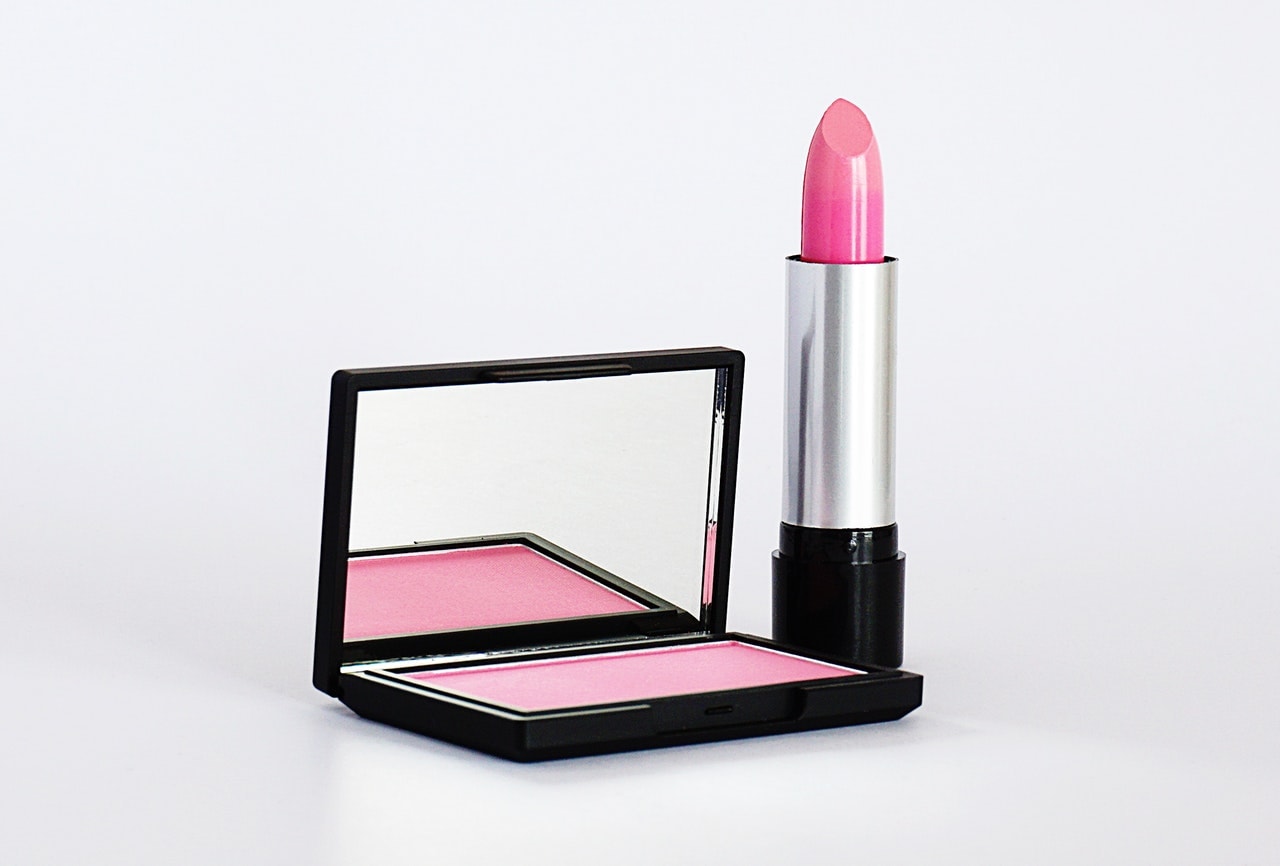 A blue dress works well with different colors of lipstick. It pairs nicely with nude, some shades of pink, peachy red, or coral. But if there is ultimately a shade we love the best with a blue dress, it is velvet pink. It is something you can wear in blue at any time of the day. This is the most ideal of all shades.
So, we are getting rid of the black dress. God knows we have seen enough of that over the years.
Now, what we have on our list is a blue dress. Simply because this color is trending, it is warm and vibrant. And it's something new on the horizon.
But the challenge with a blue dress is on the color of the lipstick that goes well with it. There would only be a few shades that go well with blue. As such, it is vital that you pay attention.
With the color blue being bright, you have to make sure you pick something that compliments it.
And so, if you want your lips to pair well with the dress, take note of the following shades you can use.
Nude Shades
This is ideal, especially when you are wearing a dark or royal blue dress. Keep your pout as simple as you can.
Nude shades are your best options when it comes to lip colors. This shade would perfectly blend with the blue dress.
There are different shades of nude. Just make sure to opt for the one that matches the color of your skin.
Peachy Red
Aside from nude shades, another color that would be perfect for your blue dress is a peachy red color. This should suit you well, especially if you have a dusky skin tone.
This shade should come across as a strong red with a hint of peachy shade mixed in. This lipstick color is sure to match well with your blue dress.
Pale Pink
This shade goes well with almond, caramel, or olive skin tones. As the name itself implies, this should be of pinkish shade. And this is the perfect lipstick for dark or light blue dresses.
Complete your look with smoky eyes and a nice contour. You sure would turn heads.
Coral
This is something new these days.
Now, if you are wondering how this looks, this looks pink. Or this is more of a color that gives a hint of pink.
Coral lipstick colors can be in different shades. There is pale coral; then there is coral pink. There are also other coral shades available and are great worn during the day.
Velvet Pink
This is another great option when it comes to lipstick colors that you can wear during the day. This shade pairs well with blue dresses.
Not only is this something you can wear during the day, but this is also perfect for night events.
Make sure to keep your makeup as simple as possible. The velvet pink lipstick will look good with your blue wardrobe.
Royal Red
Now, this color is great for those with fair and yellow tones.
The color should suit this type of skin tone. It would also pair well with a blue dress.
What makeup should I wear with a blue dress?
In general, blue is a cool type of color. This means that a warm blush would pair well with the color blue. If you use a pink-toned blush, your cheeks will look rosy like that of a baby's. If you prefer something warmer, go with a plum-colored blush. Either way, it would look good with a blue dress.
Do you really want to wear that blue dress but don't know which type of makeup to go for? Well, you can go with the usual makeup you go for. But why not surprise them with something striking and elegant?
There are a lot of options to choose from when it comes to looks. These can enhance your features and exude class through the makeup that you wear. Read on to find out more about the type of makeup that goes well with a blue dress.
Play with the Colors
The first thing that you have to put to mind is to familiarize yourself with the color chart. You have to know which colors complement each other.
When you wear a blue dress, you choose a color that is the counterpart of blue. For example, reds and oranges are colors that are complementary to the color blue.
This means that you can always play around with the colors. Of course, that depends on its compatibility with the color blue. Just make sure that the colors also match your complexion.
The Base
The base, in other terms, is the makeup on your bare face. This would have to depend on the kind of look that you want.
Start by scrubbing and moisturizing your face. This should ensure that you maintain your fresh look all through the day.
If your dress is of the cooler shades of blue, warm colors like deep red would pair well with it. The same is true with the color orange.
If you want to know more about the cooler and warmer shades of blue, there is a slight difference. The cooler shades lean towards having more green in them. The warmer blue leans slightly into being more purple.
If you want to go for a warm look, start with your concealer. This should cover all your blemishes and dark circles. Next should be your foundation. It needs to be one shade darker than your skin tone.
This would result in your skin having a healthy and warm glow.
If you have a nice tan, skip the foundation. Go with tinted body butter. You can also use a moisturizer.
Finally, seal the base with a puff or two of mineral powder.
The Cheeks
If there is one thing you have to remember, your cheeks should not be the main focus of your overall look. But they're also important. So, don't ignore them.
You can make sure to have a coordinating color for the cheeks and lip color.
As we mentioned earlier, blue is a cool color. So, if you are wearing something blue, go for the warm blush on your cheeks.
Blush in pink tones or plum colors would work well.
The Eyes
When doing your makeup, you have to make sure to focus as well on your eyes. The eyes should speak the loudest when dressing up.
What works for blue dresses would be metallic and smoky eyes. Wingtips or cat eyes would also do well with blue dresses.
But if you want to focus more on your eyes, try to tone down on your cheeks and base. This should ensure that you do not go for the costume look.
Finishing Up
Finally, to complete your look, seal everything with a makeup sealer. This would make sure that your makeup lasts for a long time.
If you have with you a mineral powder sealer, you can use that. This should give you a shimmery effect.
Now, with all of these tips, we know you can sport a blue dress and do your makeup right.
Just make sure not to overdo everything. You'll be sure to be the star of the night with your blue dress and spot-on makeup.
What color of jewelry goes with a blue dress?
When wearing a blue dress, what pairs well with it are gold accessories. The color blue is a great backdrop for the glitz and glamor of gold. When in a field of blue, gold would certainly stand out.
Gone are the days when women wear black dresses because blue feels awkward. In fact, blue dresses these days are the IN thing.
Now, whether the event is formal or semi-formal, that's not to say you cannot attend in style. You can always don yourself with accessories and pieces of jewelry that could make you stand out.
Here are our top picks when it comes to accessorizing a blue dress.
Silver Jewelry
To be honest, this is actually one of those classic accessories that will never go out of style. This is, of course, as long as you know how to use it.
Sometimes, silver pieces of jewelry can come with precious stones. Some pieces of jewelry are also plated with silver.
Whatever the silver accessory may be, it can really help you stand out. With silver, you can easily create an elegant and understated look.
When you are aiming for an understated look, get that plain silver accessory. You can choose the small to medium-sized ones.
A blue dress is beautiful. But when worn without accessories, some can find it boring to look at. To stand out, you can accessorize it with silver. A few simple ones can add detail to the dress.
On the other hand, if your goal is an extravagant silver look, go for the larger one. Larger silver accessories can come with precious gemstones or crystals.
This is where the dangling earrings come into the picture. This is where you wear larger necklaces. This is when you don your silver-plated belts.
But, remember that if you are going extravagant, make sure to dress appropriately.
If you are attending a birthday party or a wedding, you may want to be careful not to upstage the celebrants.
Gold Jewelries
The thing about gold accessories is that it stands out against a dark blue background.
When silver compliments, gold is made to stand out.
The amount of gold you wear should depend on your goal. How much of a standout would you aim to be? Is a simple brooch enough? How about earrings and a hair clip?
Bigger necklaces can undoubtedly make heads turn. But just like silver, you have to be careful.
Too much gold would look gaudy. Make sure to keep it simple.
Coral Accessories
Sometimes, gold may be too bright.
If this is the case for you, try the coral accessories. This should provide a warm effect to the overall look.
The color is still eye-catching. It is still bold and can stand out against that blue dress. But it may not be as bright as gold. But it is not as simple as silver either.
When you wear this properly, it will create a beautiful and majestic effect on the look.
Why don't you try coral earrings? Or how about a coral necklace? You can even opt for a coral-colored bag if you have it with you.
The color coral may not be as striking as the other options. As such, you can add another neutral color. Silver or a little bit of gold would do. This should add a little bit of a formal look at certain events.
Pearls
You can never go wrong with pearls when you want to look formal. And yes, even with a blue dress, pearls would really look good.
Imagine Princess Diana. Think of Jackie Kennedy in a blue dress donned with pearls.
We know that you know this image has actually been in many magazine covers in the past. In fact, this look has become iconic for many women who aim for a formal and elegant look.
As we already know, pearls do not shine like gemstones. But its whiteness brings with it a subtle sense of elegance. It has this whiteness that catapults women into a higher platform of glam.
When it comes to looking elegant, pearls are great options. And they look good against blue, too!
And when it comes to options, pearl necklaces are the most common there is. But you can't limit yourself to this alone. You can go for pearl earrings or brooches. You can also go with pearl hairpieces or other accessories made of pearls.
Pearls can come in many forms. And there are hundreds of options for you to choose from when it comes to accessorizing yourself with it.
We don't know it, but there is just something about pearls that make it a timeless beauty.