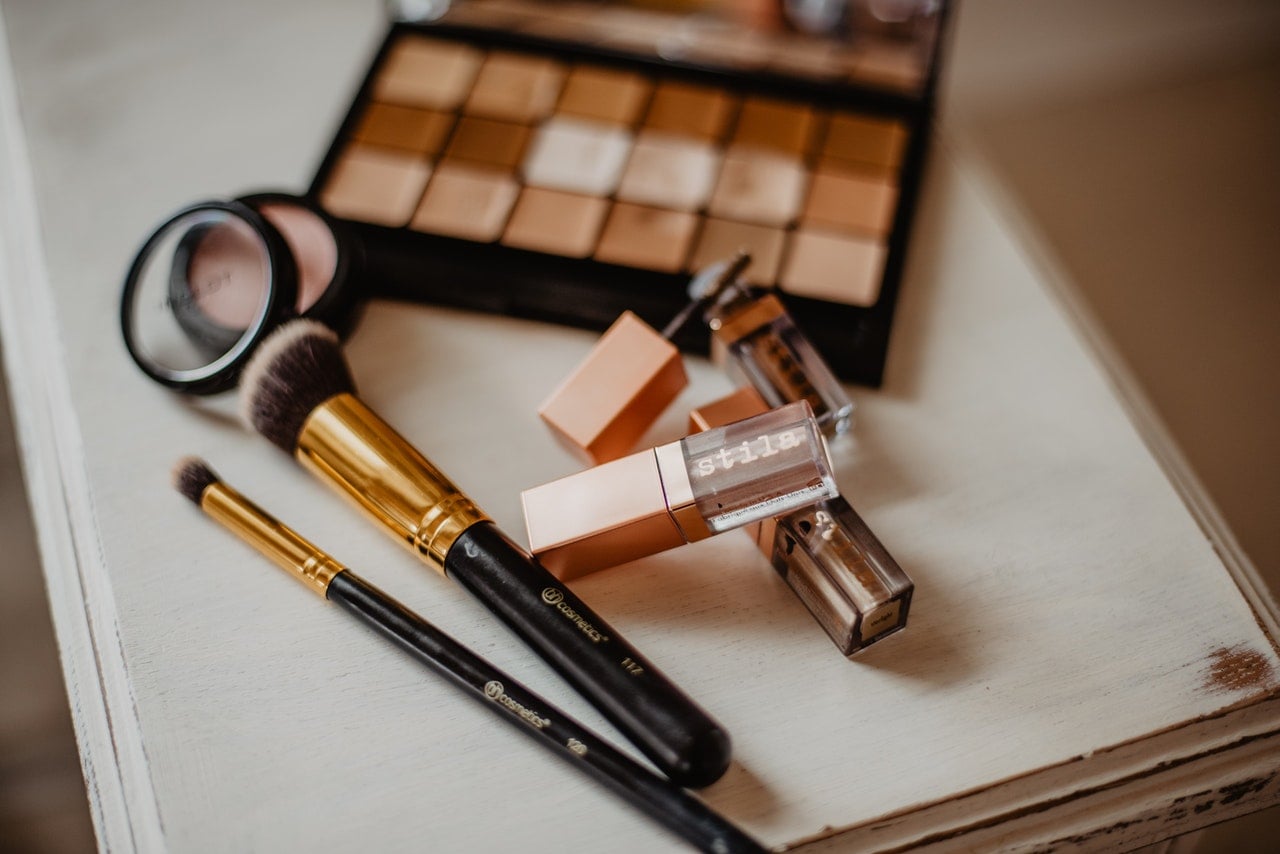 Well, this would have to depend on a lot of things. Some would take about 20 minutes on average to do makeup. This would already include the primer, the foundation, and the powder. This would also include blush, eyebrows, eye shadow, and eyeliner. There are mascara and lipstick already. This is fast for a semi-formal event. But for more formal occasions, doing makeup may take longer, up to an hour.
So, you are going to put on your makeup. How long does it usually take to finish?
First, you put on your lotion. This usually has salicylic acid. You use your hands. You let it sit for about a few minutes. Then, you use a pore eraser with your hands. After which, you put on a color corrector. This, you do with a brush.
The next step is to put on your foundation and concealer. This, you can use with a beauty blender. Then, there is the baking powder with a blender. You let the powder sit. There's a primer on your eyelids with a blender. After which, you do your eyeshadow. This takes about three to six brushes; it depends.
Now, depending on how long it takes to blend your eyeshadow, you can either dust off the baking powder. This, you can do with a brush. Or you can also fill in your eyebrows using a brush as well as a spoolie.
There are a lot of steps. But you are not done yet. You then put on the translucent powder that you used for baking. This should cover the concealer.
You put the blush on. You can either use a brush or a blender. Or you can use your hands, depending on which you want to use. Then, on to the mascara.
And if you still have time on your hands, do the contour.
Now, these are a lot of steps for makeup alone. And this takes 20 minutes or more. Of course, for most women, this takes more than 20 minutes. In fact, for some, it can even take an hour.
But if you feel that this is way too long, you can actually shorten it.
Try a tinted moisturizer. You can use this instead of putting on the foundation. Then, you use your pinkie in applying your eyeshadow.
You fill in your eyebrows the same way. Then, you use a roll-on blush. Once you have rolled it on your cheeks, you can now blend it with your fingers.
Finally, you put on the mascara.
And all these take about 10 to 20 minutes. For some, it may even take less than 10 minutes.
There is no such thing as a standard length of time in putting on makeup. Some would be able to put on makeup faster than others.
Some women can finish their makeup in 20 minutes. Some can complete a simple look in an hour.
Is it better to get hair or makeup done first?
Just like the chicken and the egg, which comes first? Is it the hair, or is it the makeup? Most would say the hair would have to come first. This is because the tools they use for hairstyling can be too hot. This would eventually cause perspiration which can be bad for the makeup. And You can eventually remove hair over sprays from the skin.
Now, here we discuss more formal hair and makeup.
One of the things most would ask is if the hair comes first. And the answer is yes. The hair should go first.
Styling the hair first provides for a lot of advantages than the other way around. And we will talk about this later on.
But before that, let's discuss a few more things.
For sure, on formal occasions, it is not just your hair and makeup that you would go after. There are other considerations as well.
How about your nails? Or where will you be doing your makeup? Let's talk some more.
Nails
Indeed, on formal occasions, you would be most likely do your nails.
If you plan on a manicure (or a pedicure), make sure to do this the day before the makeup.
The reason for this is because nail polish brands have different formulas used. The nail polish can take a while to harden completely.
For most brands, it may already look dry. But, even if they look dry, some can get dented when you touch them. This means that these nails should be untouchable until they harden.
Now, some dry faster than the others. There are fast-drying brands in the market.
But if you are unsure, you can save yourself from getting frustrated if you do it the day before.
And don't forget to set aside another bottle of the same color. This is in case you would need it for whatever reason.
Hair First? Or is it makeup?
In an ideal setting, the hairstyling would happen first. There are a lot of reasons for doing so.
One primary reason is that hairstyling uses tools that can get hot along the way. The heat from these tools would cause the skin to sweat. This is why hair styling should come first. Because once you already have your makeup on, you are not supposed to perspire just yet.
Another reason why hairstyling should come first is because of overspray. During the course of the hairstyling, hairspray can get into the skin. And so, imagine if you are already done with makeup, then the artist gets overspray on your skin. How would you be able to get it off?
But once in a while, there are occasions when hair and makeup are sometimes done continuously.
This is possible. Just make sure that you do not get a shine product sprayed too close to the face or the skin. This is especially important when the makeup is already done.
Also, as much as possible, the hot dryer or hot curling iron should be as far away from the face as possible. This should avoid or at least minimize perspiration.
The Time to Do Your Hair and Makeup
The ideal time is to make sure that hair and makeup are completely done at least an hour before the event. This should leave you with enough time to get dressed. This should also provide you with ample time to gather things and tidy them up.
Of course, whatever the occasion may be, there need to be photos. Finish hair and makeup at least an hour before the event starts. This should ensure that you have enough time even to take photos.
Once in a while, an hour before the event is more time than you actually need. This is OK. In fact, this is better than finishing 5 minutes before the event. That would be too rushed.
The time it Usually Takes
We mentioned this earlier, and we will say this again.
The time it takes to do makeup depends on you. It also depends on the occasion.
Because obviously, you would have an easier and faster way of putting on makeup for work. Compared to attending weddings or formal occasions, this would be shorter. Formal events require a lot of work when it comes to putting on makeup.
If you have a makeup artist, this would also depend on the artist.
Most would take about 35 to 45 minutes to finish makeup for formal occasions. Primping and styling the hair can take any time, from a few minutes to an hour. The more intricate the hairstyle is, the longer it would be to finish.
When doing hair and makeup for formal events, we suggest you overestimate the time you need. This way, you would be able to have enough time before the formal event.
Having enough time means you will not be rushing about it. Having enough time means you can have room for minor mistakes and interruptions.
Some stylists would bring another stylist. If this is the case, the hair and makeup will take faster.
The Perfect Location for Hair and Makeup
As much as possible, do your hair and makeup besides the window. The reason for this is natural light.
Remember that natural light is best for makeup.
Make sure that when doing your hair and makeup, besides the window, there is a table. Or there should be a place for makeup and styling tools to place on. There should also be a power outlet. Also, make sure that the temperature is comfortable. It would be no use if it is winter or it is at the peak of summer.
And most important of all, there should be enough space. This should give your artist enough space to maneuver around. This should give him or her enough space to check your makeup from all angles.
If you are doing the hair and makeup yourself, make sure to have a mirror so you can check yourself at all times.
How long am I supposed to have makeup on my face?
So, you already have your makeup on. You attended a party, or you went to work, depending on why you have makeup on. How long do you let it stay? Can you just go home and sleep without taking it off? Makeup is something you can wear the whole day, as long as you don't have sensitive skin. But at the end of the day, you have to take it off. After taking it off, wash your face.
The use of makeup is something that enhances the beauty of men and women. Not only that, but it also brings to the wearer newfound confidence that may not have been there before.
The wearer of the makeup looks and feels their best. This is how you feel good about yourself.
And so, this brings to the surface the importance of wearing makeup. This also brings to the spotlight the amount of time you should allow the makeup to stay on your face.
When you have enough understanding of these things, you would be able to avoid skin problems. Understanding these would rid you of acne and other breakouts related to makeup.
So, how long?
Technically, you can wear makeup all through the day. You won't have any problems by doing that. This is, of course, as long as you do not have sensitive skin.
If you have sensitive skin, you can opt for brands that are made for sensitive skin. If you have that, you can wear this makeup throughout the day.
Once you are finally done with your day, you can clean your makeup. At night after work, clean off the makeup. At home, after the party, take time to clean your face.
This should prevent you from accumulating oil and dirt on your face. This accumulation of oil and dirt will eventually clog the pores of your skin. Once it is that clogged, it can cause acne breakouts in the long run.
One of those that we recommend the most is using oil-based makeup removers. These are natural oils that do not harm the skin.
There is also oil blotting paper that minimizes the amount of oil and dirt on your face.
But overall, we recommend oil-based makeup removers. There are a lot of brands available in the market.
Once done removing makeup from your face, make sure to wash your face with soap and water. Removing makeup from your face is one thing. Washing your face with soap and water after it is another.
How to Minimize the Bad Effects of Makeup on your Skin?
One of the most important things to do is to invest in high-quality tools and makeup. Make sure only to get those that are gentle to your skin.
Aside from natural oils, you can also clear up makeup with milk. Moisturizers would also work. Although, we still believe makeup removers from natural oils do better than any other.
After removing the makeup, make sure to wash your face. No matter how heavy or light the makeup is, washing the face is essential. Before you go to sleep at night, make sure you have a clean face.
Finally, ensure that you have tools that are regularly sanitized.
You can wash your makeup brushes regularly. You can do it daily. Use lukewarm water when washing, then towel-dry your tools. You can also use a clean piece of cloth.
—
Putting on makeup is one of those that can enhance not just the face but also the confidence of a person.
This is the reason why most would take the time to put on makeup – whether it is 20 minutes or one and a half hours.
But at the end of the day, the makeup has to go. Remove it from your face with makeup removers.
Wash your face.
This should ensure you have bright and healthy skin. That should be more than enough than perfectly-applied makeup.