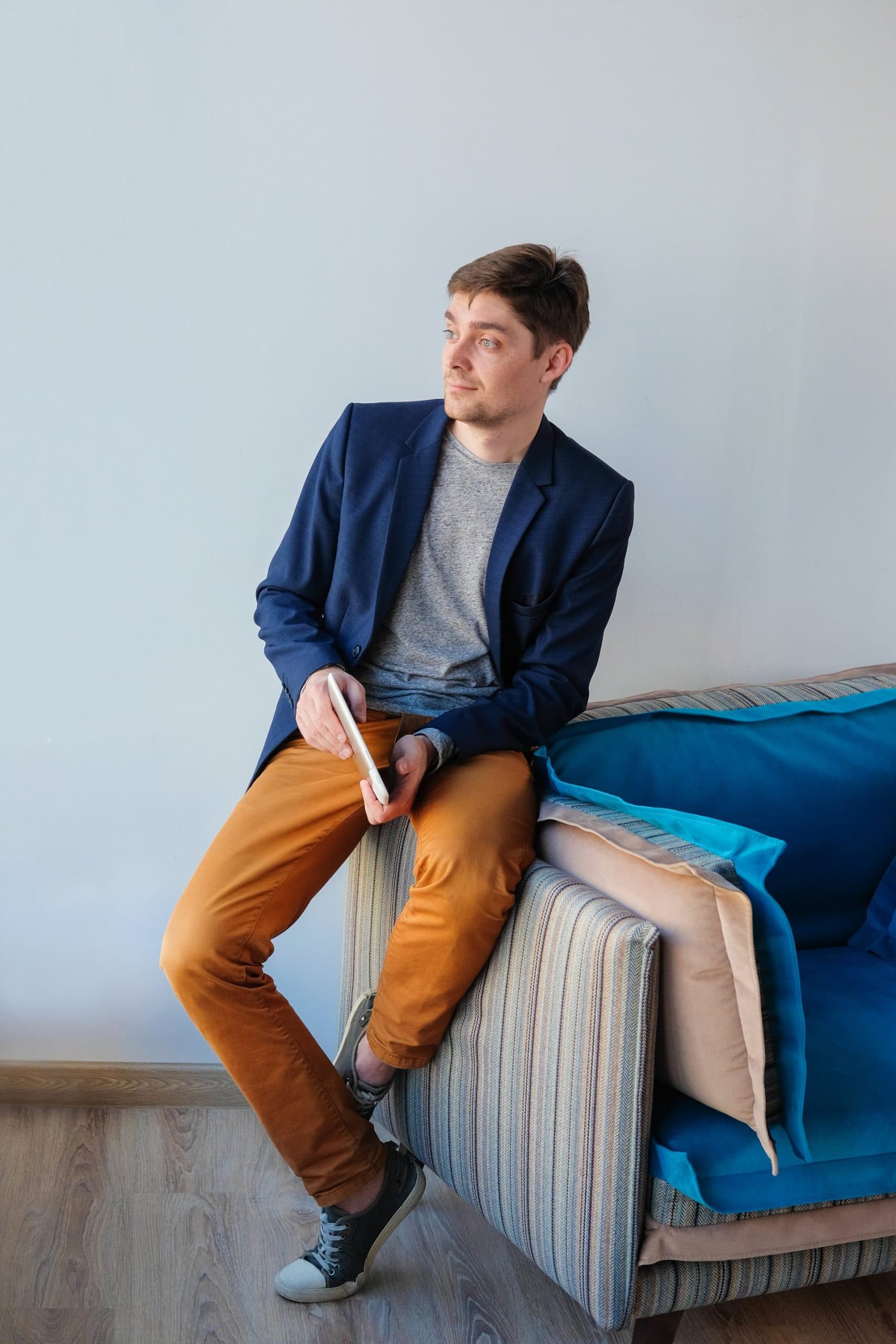 One of the basic foundations of fashion is color. Before we learn how to mix and match khaki as apparel, let's study the color. Khaki means earth-colored and its original name is sandy beige. The term Khaki was first used in 1848. During this time, they made the US military uniforms using this color. From one division it made its way to various military divisions. Soon Khaki has entered the mainstream fashion industry.
Color combination is important if you want to have a five star in fashion. Although it is basic, many people are having trouble finding the right color. Lucky for us Khaki is a neutral color that goes well with almost everything. The same with black and white, khaki is a good base color for your outfits.
I'm wearing khaki pants, what color should my shirt be? There are so many colors and fabrics that you can choose from. Black, white, and grey are a hundred percent match since the four goes well with anything. If you're going on a date and you want something bright go for teal, purple, and red. If you want darker shades try navy blue or maroon. Green and Pink are also a good match with khaki.
What should I wear with khaki pants?
Khaki pants have been around for a long time. In the '90s and the early 2000s, we've seen celebrities wearing low-rise khaki pants. They would pair it with a shrunken tee and belts. Today, we can style khakis in different ways other than looking like your dad's golf clothes. With the right combo, you can make the preppy looking khaki pants into a signature fashion style.
Style Tip #1: Stay inside the family
If you're not sure what colors to mix, stay within the same spectrum. Pair it with members of the brown family like beige and chestnut. With this, your style will look polished and elevated.
Style Tip #2: Go full-on preppy chic
Khaki is a preppy look staple. Embrace the preppy look but spice it up to give it some edge. Instead of wearing normal knit sweaters go for cropped ones.
Style Tip #3: Try the military look
If you have a camouflage jacket that you don't know how to style, grab a pair of khakis. Green and khaki mix well together. This look is both cool and edgy.
Style Tip #4: Why not be casual
If you want a casual look with your khaki pants pair it with hoodies. Be sure that the colors don't clash. Upgrade your casual style with this look.
Style Tip #5: Add leather into the mix
This is an unusual pair but ends up looking the best. With the right type of khaki pants, this can become your statement look.
Style Tip #6: Toss in some denim
These two are one of the best partners in crime. Denim and Khaki are a combination that you should try once in your life. The contrast of their colors and material makes them attractive.
Style Tip #7: Be sexy
Sheer tops in the colors that match khaki add a little twist to your look. This style shows that khaki can be sexy.
What color of shoes go with khaki pants?
Khaki pants are versatile and you can dress them up or dress down. There are many hues and styles that you can play with. Also, there are many combinations that you can try. Creativity is always the key so let your imagination go wild. You never know, maybe your next outfit can be your ticket to the fashion world.
Here are some of the best shoes that you can wear to style your khakis.
Outfit #1: Summer Chic
Going for a summer date? Pair loose khaki pants with a white summer top and a pair of brown sandals. If you want something extra on your footwear, try studded sandals.
Outfit #2: Office Crush
If you want to look cute and feminine in your office outfit, try the khaki and blush. Pair your khaki trouser with a blush blouse or blazer. Finish the look with a brown leather mule.
Outfit #3: Girl Next Door
Khaki is the best because you can pair it with your favorite espadrilles. This look is perfect for casual dates, movie nights, or barbecue.
Outfit #3: Classy Fall
High heels give off a classy vibe even if you intended to look casual. You can pair your khaki pants with a white vest and wedge heels. This is a cute outfit for a getaway during fall.
Outfit #4: Animal Print Goddess
The best way to boost your plain outfit is with a statement piece. One of those statement pieces is animal print shoes. You'll look like a log if you wear khaki and its family from head to toe. Break the monotony with cheetah print shoes.
Outfit #5: Preppy
If you like the preppy look, pair your khakis with oxfords. Play around with layers that would go well together. This is a classic, comfortable, and cute outfit.
Are khakis formal?
To know whether khakis are formal or not, we need to know the categories and the spectrum of each. For you to understand this, you need to know what falls under each classification. What are the details and how do you classify?
Colors
Bright colors fall under casual and somber colors are formal. Is khaki bright or somber? Look at the colors that you wear in summer. Most of them are casual colors since they're bright. In a corporate setting, most of the time you'll see black or navy suits.
Texture
Most of the time, shiny and smooth fabric are for formal wear while textured fabric is for casual wear. Corduroy suits are not the usual go-to outfits of CEOs and businessmen. On the opposite note, you don't see shiny silk pants in groceries. So, are khakis smooth or textured?
Patterns
This area is a bit subjective. Although some would say that patterned suits and trousers are less formal, they still can. Yes, solids are the safest choice if you're attending a formal event. But if you want to spice it up a little bit, some stripes or checkered won't hurt. Do your khaki pants have patterns?
Structure
The more structured your suit is, the more it fits the formal category. Casual jackets or blazers lean more to the casual side since they're easier to pair with sneakers or jeans.
Now that you know what formal and casual is, where do you think khakis fall under? The answer is both. There are a lot of different kinds of khakis that you can wear depending on the occasion. Muted colors can also fall under formal. Some khakis have more structure and are smooth. Although, the most that you'll see khaki is in a business casual setting.
Can I wear a black belt with khaki pants?
You already have your outfit picked, now it's time for the good part, accessory. Accessories finishes off an entire look. Too much will make you look like a Christmas Tree. Too little or none will make you look plain. One of the best not-in-your-face kind of accessory is belts. Almost everyone has them and it's very functional.
Aside from keeping your pants in place, belts can make the whole look complete and polished. So, what kind of belt do you wear with khaki pants? How do you choose the right belt for your outfits?
Black or brown? For most men, that is their most frequent question when choosing a belt. Will this match my khakis? What color is best for my grey pants? Should I use brown for my jeans? Most leather belts for men comes in the color black or brown. It is also available in varying shades of brown. To broaden your choices, you can choose between matte and gloss finish. Also, there are different styles and texture. This includes flat, embossed, pebbled, braided, and more.
One way of having a cohesive look is matching your belt with your shoes. If you are wearing black shoes, then go for a black belt. If you're wearing brown shoes, go for a brown belt. Easy breezy, right? It's quite noticeable if you don't coordinate your colors.
So, what goes with khakis? Well, khakis are tricky. There are various shades of these pants and depending on it your choices can change. If you're wearing the original khaki color, go for brown. You're already in the same shade so keep it simple and uniform. For darker khakis, go for black. If you want to add more color, try colorful woven belts for casual khakis.
What's the difference between khakis and chinos?
Khakis and chinos is a terms that we often interchange. They almost have the same look, same color, and same fabric. This is the reason why most people do not see the difference between them. Try looking into your closet, do you have khakis or chinos?
Khakis are thick and have a straight cut. Most khakis have pleats and at the bottom it has cuffs. They are sturdier and the stitching is visible. Chinos are usually tapered and lightweight. Usually, they are flat-fronted and can be either cuffed or uncuffed. It also has hidden stitches giving it a more finished look. This is the reason why many consider chinos to be dressier than khakis.
So, which one should you go with? That depends on what you need. To help you decide, here are a few characteristics of the two.
Chinos are available in more colors than khaki. Well, khaki is a color in itself so different hues are your only option. Whereas chinos today have deviated from the traditional tan, cream color. It is now available in more shades and colors. This gives you more variety when styling for the season.
Pockets are noticeable in khakis but hidden in chinos. If you're going for a formal, dressy look, go with chinos. But you can also find wrinkle-free khakis that you can try.
You can dress up or down both depending on the situation. Khakis and blazer or chinos and blazer. These are the best business casual outfits compared to jeans.
To help you further understand, here is a glimpse of history between the two. Khakis are first worn but British military officers in the mid-19th century. Khaki means dust and it's used to describe the color of the uniform. Chinos are first worn by the military a well. It was during the Spanish-American War in the Philippines when they are first seen. The inspiration for the lightweight uniform came from the early khaki uniform.
Today, both khakis and chinos transformed and became a staple for both men and women. Which one do you prefer the most? Khakis or chinos? Bottomline, both are diverse and will stay on trend for a long time.
Are khakis okay for an interview?
Rule for interview dress code, dress based on the dress code of the company. Are they casual? Business casual? Formal? If you have an idea about their office culture, it's easier for you to decide what to wear. So, will khaki pants be okay? Yes, they are. Khakis are versatile and come in different shapes, fabrics, shades, and styles. What would matter is how you put your look together.
It's an unwritten rule for interviews to dress one level nicer than the usual work outfits. Because khakis are universal, you can step up or down a notch depending on what you think is best for the company. Khakis are acceptable but if you're interviewing for a high-profile position, skip it. A matching suit and tie are more appropriate.
Khakis tend to show more wrinkles than darker shades of pants. So, if you're going to an interview, make sure to iron them out. Wrinkled khakis in an interview makes you look informal and unprepared. You have a lesser chance of getting the job if you look like this.
So, how do I style my khakis depending on dress codes? If you're going for a labor or retail position, you can go casual and pair your khakis with a white polo-shirt. For an office position, wear something nicer and tuck-in a button-down shirt. Finish the look with a tie and coat.
If you're not sure whether to go casual or formal, opt for the latter. They would expect you to show up looking the best version of yourself. Khakis, a dress shirt, tie, and coat are the best way to go.