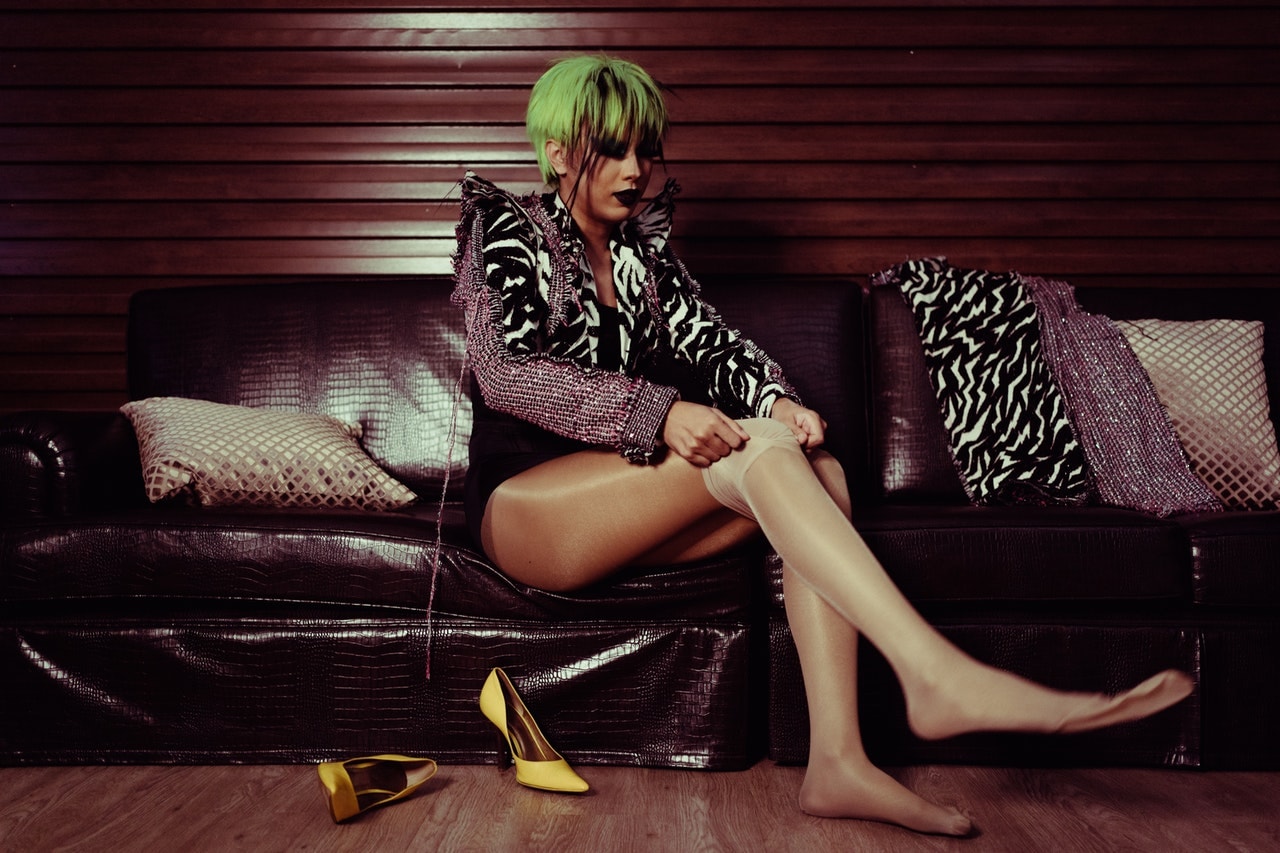 Some girls would wear pantyhose over and some would wear it under. For those who wear it under the bodysuit, their reason is to keep the pantyhose from sliding down. Whatever you prefer, both are acceptable.
If you think of the Kardashians and their fashion sense, bodysuits will probably come out. Have you ever tried wearing one? For starts, getting on with this trend can be confusing especially when it comes to styling them.
What can you wear with it?
Wearing bodysuits with tights or pantyhose
Depending on what is comfortable for you, you can wear it over the bodysuit or under. So, you don't have to worry and you can play around with it.
Pairing bodysuits with pants
If you plan to pair your bodysuit with pants, get pants that are mid or high-rise. You can also pair it with low-rise pants but make sure that the thigh cut is not too high on the bodysuit.
High-Waisted Pants
What is the best pair for bodysuits? You guessed it! It's high-waisted pants. The two are like peanut butter and jelly sandwich or like cookies and cream. No more bulky tuck-ins since bodysuits are made for this style. Also, this pair creates an amazing silhouette that you can build your outfit on.
Bodysuits as stand-alone tops
You can wear bodysuits as a stand-alone top. If you're planning on doing this, make sure that you get a bodysuit with a neckline that you want. Then, throw in a pair of jeans and you're done. Remember, bodysuits and skinny jeans would make a tight silhouette. This might not be work appropriate. So, to balance out the tightness of the bodysuit, pair it with a bootleg or tapered pants.
Adding layers
When you add layers to your bodysuit, it can transform the entire look. Also, adding layers will create more bulk to the tightness of the suit. Start by adding carves, jackets, or cardigans for colder days. For hotter days, add a light scarf or a sheer top. For a more work-appropriate outfit, pair it with a blazer or a sharp jacket.
Full or A-line Skirt
Have you ever tried styling a full skirt? So little options to pair it right? You can only go for a crop top or tuck in a shirt. Well, to make things simpler, why not pair it with bodysuits. It will give you the balance that you need and you don't have to worry about your top being untucked. If you're planning to wear a printed skirt, choose a solid-colored bodysuit.
Layering under a warm top
We usually layer during the cold season and one of the problems we arrive at is bulkiness. Bodysuits can provide a secure base and it will not be untucked. Also, some bodysuits have thicker fabrics and long sleeves. You'll have a perfect outfit you can wear when the temperature drops.
How to wear them?
What to wear underneath a bodysuit? Normally, underwear and bras are worn underneath. However, some bodysuits are thicker and padded. So, you don't have to wear a bra, especially when you're layering over it. For cheaper versions, it might be a bit sheer so you might have to wear a cami underneath.
What's the point of a bodysuit?
As we all know, bodysuits are one-piece clothing like a swimsuit or a leotard. It covers the torso and hips and is often connected with hooks and eyes or snaps at the bottom area.
Bodysuits are made with almost any type of style. You can find it in cotton or lace, long sleeves or sleeveless, plunging or turtleneck, open back or laced up. Often, bodysuits are made of a sung, form-fitting, and stretchable material.
What is the purpose of a bodysuit?
If you're thinking of the purpose why bodysuits are made, we'll you might have guessed it right. One of the main reasons for the existence of bodysuits is for a cleaner and secured tuck. No more bunching or shifting and only a seamless look.
Pros of wearing a bodysuit:
One of the biggest pros is a perfect tuck-in. It was designed for this so this is a no-brainer.
Because they are attached underneath, it has a seamless and smooth look. Bodysuits are still different compared to tucking your tank top. Sometimes it is still bunch and shift. But with bodysuits, it stays snug and sleek.
If you want to look sexy, a bodysuit is the key to achieve this. If you're going to a party, glam up a low-cut bodysuit, and your good to go.
Bodysuits are great for coverage. You can wear it under a sheer top or dress. Since it's skin-tight, you don't have to worry about it bunching up. It lets the sheer layer shine on top and does not show more than what you intend.
Bodysuits are the best for layering. Since it's tight-fitting, you don't have to worry about looking bulky. This is the best when layering under a low-cut armhole or a plunging neckline.
Since bodysuits are popular right now, you won't have difficulty finding a variety. There are a lot of styles, colors, and materials to choose from.
Have you worn a romper or a jumpsuit? Remember the horror of going to the bathroom? Well, you don't have to worry about that when it comes to bodysuits. It has a snap bottom that makes trips to the bathroom easier.
Cons of wearing a bodysuit:
One of the problems that you can encounter is the length. If you have a long or a short torso, you'll have difficulty finding a perfect fit. You can get a bodysuit with stretchable material but the risks of experiencing a wedgy are high.
While the snaps or hooks at the bottoms make it easier to go to the bathroom, they can also cause some discomfort. This usually happened when you buy the cheaper ones.
Because bodysuits are designed to be snug and tight, it shows every little bump. Some might consider this as a good thing. But if you're not comfortable with it, go with a bodysuit that is a bit drapey at the top.
Another major downside of bodysuits is the sizing. If you have a mainstream body type, this won't be an issue. But, if your curvy, tall, petite, or anyone that is not part of the mainstream body type, it's hard to find the right size.
Many bodysuits do not come with bust support. You'll have to wear a bra underneath if you need support.
Are leotards and bodysuits the same thing?
Leotards and bodysuits look almost the same that's why most of us cannot find the difference. One of the major differences between the two is that leotards are a one-piece skintight garment that covers the torso but the legs are exposed. Whereas bodysuits are a formfitting one-piece garment that covers the crotch and the torso.
What is a Leotard?
What is a leotard? As mentioned before, leotards are a one-piece skin-tight garment that covers only the upper body but leaves the legs exposed. Because of this, leotards are in the same category as swimsuits. Performers who require an overall body coverage and flexibility use leotards when they do their routine. So, who would commonly wear leotards? On top of the list would include gymnasts, ballerinas, acrobats, and contortionists.
In the 1800s, French acrobat performer, Jules Léotard, first introduce leotards. Now, you know where the name of the garment was derived from. Initially, leotards are meant for male performers. However, in the 1900s, it became popular with women as a swimsuit.
Today, leotards are available in different colors and materials including spandex and lycra. You can also find it in different sleeve lengths and necklines.
For gymnast and circus performers, the audience must see every detail of their movements. This is made possible with the use of leotards because of their tight-fitting nature. A lot of dances prefer using leotards to fancy costumes because of their simplicity. It does not divert the attention of the audience from the performance.
What is a Bodysuit?
Throughout this article, we've already described what a bodysuit is. It's an article of one-piece tight-fitting clothing that covers the upper body and the crotch area. It has its similarities with swimsuits and leotards. However, one of the key differences between them is that bodysuits have hooks or snaps at the crotch. Although bodysuits are available in spandex and lycra, it's not considered athletic wear or sportswear.
Bodysuits are a progression from leotards. Claire McCardell, a fashion designer, first introduced them in 1950. It was a fashion item that became popular with men and women in 1980.
Now, bodysuits are mostly worn by women and are usually paired with a skirt or a trouser. You can wear it on casual or semi-formal occasions depending on the layers that you add.
How are bodysuits and leotards similar?
Both leotards and bodysuits are a one-piece tight-fitting garment.
Both leotards and bodysuits do not cover the legs.
How are bodysuits and leotards different?
Leotards are commonly used by gymnasts, dancers, contortionists, and athletes. Bodysuits are a fashion piece that is paired with skirts and trousers.
Leotards are unisex. Bodysuits are used by females.
Leotards were introduced by an acrobat performer in the 1800s. Bodysuits were introduced by a fashion designer in the 1950s.
Are bodysuits bad for you?
Some types of bodysuits can be dangerous for your health. The pressure coming from the garment can lead to acid reflux. For those who are already experiencing acid reflux, bodysuits can induce the symptoms.
When we see celebrities like Selena Gomez, Kendal Jenner, and Elle Fanning sporting a bodysuit, it makes you wonder, should you try one? Bodysuits are on the racks in our favorite boutiques. When you see the variety of designs and styles, you will be very enticed.
Compression bodysuits are a hot item right now. Many women refuse to leave their house without wearing them underneath. Well, who wouldn't like to have a flat stomach and a trimmer waist? Imagine you have a perfect curvy body that turns heads!
Well, before you start shopping for compression bodysuits for your holiday parties, there is something that you need to know. Some bodysuits can bring danger to your health. You know what they say, not everything that makes you beautiful is good for you.
A medical professional's opinion on bodysuits
People in the medical field have said that compression garments can harm your health. They said that the pressure that comes with wearing a bodysuit can result in GERD (acid reflux). For those who are already experiencing it, bodysuits can induce the symptoms. It can also lead to stress incontinence because the pressure is applied to the bladder. Moreover, women are less likely to go to the bathroom leading to water retention.
You can still wear bodysuits but at a regulated time. Experts say that women should limit the wearing of bodysuits from four to six hours only. Also, they need to ensure that have regular bathroom breaks.
If you ask us, that's a lot of time for parties and events. Also, you don't have to wear compression garments and bodysuits all the time. Yes, we understand that you want to look beautiful and sexy but don't take your health for granted. If you aim to look hot, there are other styles that you can try. Bodysuits and compression garments are not your only option.
It is unlikely that you'll develop a long-term medical problem with bodysuits and compression garments. However, if your body is sending negative signals you need to makes sure that you respond to them. If it's saying that you need to give up wearing bodysuits or compression garments, do it. You don't want your body giving up on you, right? When you start experiencing symptoms of acid reflux, abdominal pain, or urinary symptoms, better give it up. Love your body as it is or you can work out and start a healthy diet.