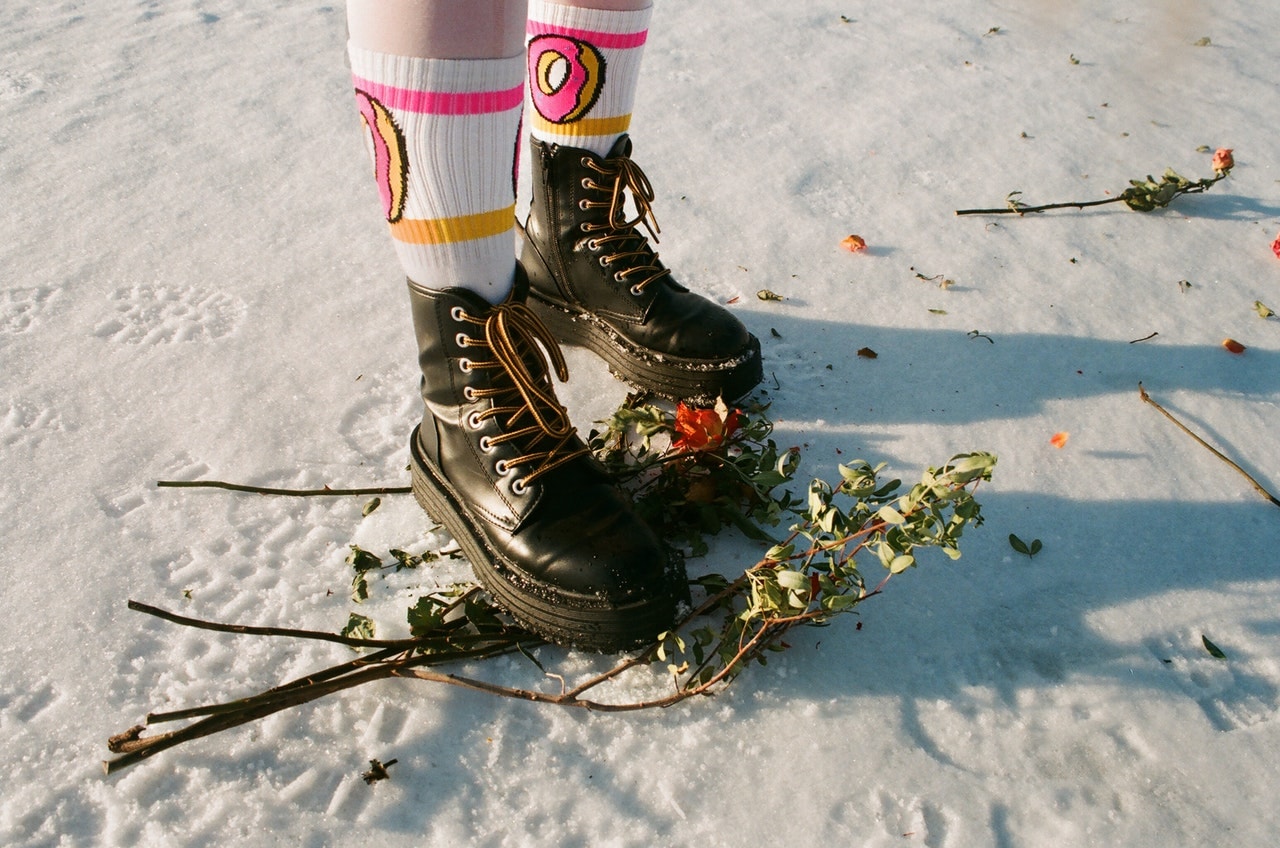 If there is one thing you should know, snow, cold, and salt are bad for leather boots. These three may conspire and work together to destroy the leather boots that you have. All these three can result in the leather of your boots drying out. It can result in cracking. And when it does, repairing it will be a bit of a challenge. So, if I were you, I'd rather choose for my boots and snow never to get acquainted.
Leather boots are amazing footwear during fall. But once the seasons' transition into winter, one may find the choices for footwear to be a bit tricky.
Then comes the question. Will your leather boots remain in good condition in all that snow?
Well, this is a common question. And you are not alone.
Technically, leather is something you can wear when it's snowing. The risk, however, is that upon frequent use in snow, the leather tends to dry out. Aside from that, it can also crack eventually. When it does, repairing it would be hard to do.
But that does not mean you cannot go out in the snow in your leather boots. You always can.
You only need to remember a few simple steps and a few easy tricks. By then, you would be able to maintain your leather boots. Once mastered, you would be able to wear your leather boots no matter the weather.
As previously mentioned, snow has bad effects on leather boots. And some would learn this the hard way.
For us to keep our favorite leather boots intact even during winter, here are a few tips.
Follow them, and you will be assured to wear these leather boots the whole year-round.
Weatherproof It
Before stepping out the door, one of the best things you can do is to get that waterproofing sealant wax. Sometimes, it comes in cream form.
But no matter, waterproofing would ensure that the shoes are actually protected.
There are many waterproofing sealant waxes or creams on the market. Be careful of the brand you choose. Some can alter the color of the leather.
But some don't.
Water and Vinegar
Sometimes, your leather boots can get snow salt stains on them.
Removing them is easy. All you have to do is to mix equal parts of water and white vinegar. Use a clean cloth and dip it in the mixture. Swirl it over your leather boots, prioritizing the stained area.
Do this until the stains are gone.
Tissue or Newspaper?
Let's say you just walked into the door after trudging through that snow in your leather boots.
Naturally, your boots will be wet.
The solution to this is simple.
Immediately fill your boots with either tissue or newspaper. These two can absorb the moisture that is in the boots.
One common mistake is to have the boots sit by the fireplace. This is a huge mistake.
Make sure not to do this. Remember, extreme heat causes leather to dry and crack. And yes, it can happen even to your favorite leather boots.
How do you further protect your leather boots from the snow?
There are ways by which you can protect your leather boots from the harsh effects of snow. One of them is doing regular cleaning. You can also use a waterproof sealant once per week. And at every start of winter, you can provide your leather boots with a protective barrier. The matter is simple. You only need to clean, moisturize, and seal your boots. These should be enough to prevent stains and take care of your leather boots.
It is that time of the year when the weather gets chilly cold. You start seeing the bright lights of winter. Coffee shops start selling their winter bestsellers of peppermint and everything chocolate.
The next thing you know, snow is all over the place.
Magical.
But yes, no matter how magical this is, snow can destroy some of your favorite things. Some of these would be leather boots.
It would always be easy just to head on out and take a walk in the snow. But before you do so, make sure that your boots are actually ready and prepared for the season.
Leather boots can handle almost anything life throws at them. But not snow.
It is thus important that proper maintenance and care are actually given to your boots.
We managed to put up a few tips for you to follow. Here they are.
Regular Cleaning
One of those things we do not want to happen to our boots is for them to lose their shine. This would be the time when you find your leather boots to have dried out and eventually cracked.
In winter, this is common.
During the snowy weather, one can easily find pavements covered in snow and salt. And there's slush too.
And if your boots happen to come into contact with any of these, stains may be inevitable.
You can try to wipe them away.
But when it comes to salt, it can stain your boots. It leaves a white film on any leather. And you don't want that to happen.
We know water and vinegar can remove them.
But aside from this, is there any other?
Try using baking soda. All you have to do is to soak a cloth in water. Dip it into a cup filled with baking soda. Then gently rub this on the salt stains. And off they disappear!
After doing such, don't forget to leave your boots to dry.
But some stains have always been there for quite some time now. They can be hard to remove. Should these kinds of stains be on your boots, let a brush and a leather cleaner do the job for you.
There are different types of leather cleaners around. But no matter which brand you choose, always make sure to put a small amount on the affected area.
Finally, use a leather conditioner. This should put back the leather's natural oils and bring back its luster and shine.
Consider your leather boots like your skin. Just like your skin, it has to be moisturized and nourished. It also needs regular cleaning. This is the same as leather.
A leather conditioner will bring back the leather's flexibility. It will be able to prevent your leather from getting cracks in the future.
Now, how do you condition your leather boots?
Here are a few simple steps.
– Remove the laces. This is to avoid the laces from getting stained in the process.
– Air dry your boots. Do this before applying the conditioner.
– Apply a small amount of leather conditioner into a cloth. A sponge will also do well.
– Using the cloth (or sponge), apply the conditioner all over your boots.
– Leave your boots overnight. Allow the conditioner to seep through the leather. During this process, do not ever think of wearing it.
– Wipe off excess leather conditioner. You can use a soft towel for this.
Another way to care for your leather boots is also to apply a waterproofing wax or seal. This would ensure that your boots are water-resistant. And this is important during winter.
Because at the end of the day, wet socks and damp feet inside leather boots are awkward and uncomfortable. Aside from that, water would eventually destroy your boots in the long run.
When it comes to waterproofing compounds, there is a lot you can choose from.
It can be any of the following:
– Wax-based polishes
– A spray-on waterproof product
– A specialty waterproofing compound
There are a few things to remember when using waterproofing compounds.
One of these is always to test the product. This is the most basic of all steps. When testing, one only has to ensure that there is a watertight barrier in the leather boots. This should give you an idea of whether the waterproofing compound works or not.
Also, remember never to apply the compound on wet boots. Always remove excess water first. You can use a towel to wipe the water off. Once dry, you can apply the waterproofing compound.
Regular care of your boots ensures that it is well protected from the snow.
The steps are simple. You only have to clean, moisturize, and seal.
Aside from leather boots, what kind of boots can I wear in the snow?
Aside from leather boots, snow boots are also perfect when it comes to using in snow. Of course, you can also wear hiking boots. But that's reserved for hiking. Snow boots are the most preferred during wintertime.
One of the most common misconceptions is that hiking boots are the greatest when it comes to snow. It may suit well, yes. But it is not the best option there is.
Can you wear it in the snow? Of course!
But the question is, should you wear it in the snow? Well, that should depend on a lot of things.
Actually, hiking boots can withstand the elements. But this is actually not the perfect pair for hiking in the snow. This is if you trudge through fresh now.
So, what then is the ideal pair?
Read on to find out.
The Best Pair
Most people wear winter boots during winter.
A lot of people failed to realize that there is a difference between winter and snow boots. And we love snow boots.
Winter boots are great for everyday use. But when it comes to flexibility of use, a high-quality pair of snow boots would do well.
Snow boots can keep your feet warm. It will also be enough to keep your feet dry and insulated. This is perfect for when you have long walked in the snow.
Now that you have identified the difference between snow and winter boots, how do you choose? Which factors should you look at before you buy your footwear?
Here are a few details to remember.
The Material
The first thing to know is to avoid snow boots made of cloth. Naturally, snow will seep through the material. This would make your feet wet.
There are boots with tops made of nylon or leather. This should be able to provide enough insulation. It should also be enough to keep your feet dry.
And oh, this is waterproof as well.
The Outsole
Another factor to consider would be the outsoles.
One thing to always remember is that this part should be 100% waterproof.
Most rubber soles fall into this category. In addition, they can also protect your feet from the elements. And they're quite easy to clean too!
The Cuff
There are two major options in this aspect.
One is the fleece cuff. The other option is to go with a drawstring closure.
Both of these are fine. Both would be able to keep the snow out, your feet dry.
Boot Length
One other important consideration should be the boot length.
The ideal boot length should extend above the hem of your pants. This should be the minimum requirement.
And if you live in a snowy location, it would work well if you go with a much higher length.
The Comfort
Finally, you always have to make sure that you are comfortable in the boots you get.
This is an obvious factor one should always consider. But we feel we should mention this. There are always a lot of people that choose a stylish design over comfort.
Prioritizing style over comfort is impractical. Because at the end of the day, you will be walking and hiking in these boots. Your comfort should be your utmost concern.
It is always possible to keep the same type of leather boots all year round. But when you do, there are repercussions.
And for you to get rid of these repercussions, you have to take a few simple steps. These steps would save your leather boots from deteriorating.
Otherwise, if you are not up to the maintenance tasks, you can go in snow boots.
Snow boots are practical. They are warm. Plus, they can also protect your feet the whole time.
And when you finally decide to buy a pair of boots, just follow the guidelines above. They should guide you on how to choose a pair of boots that is perfect for you.