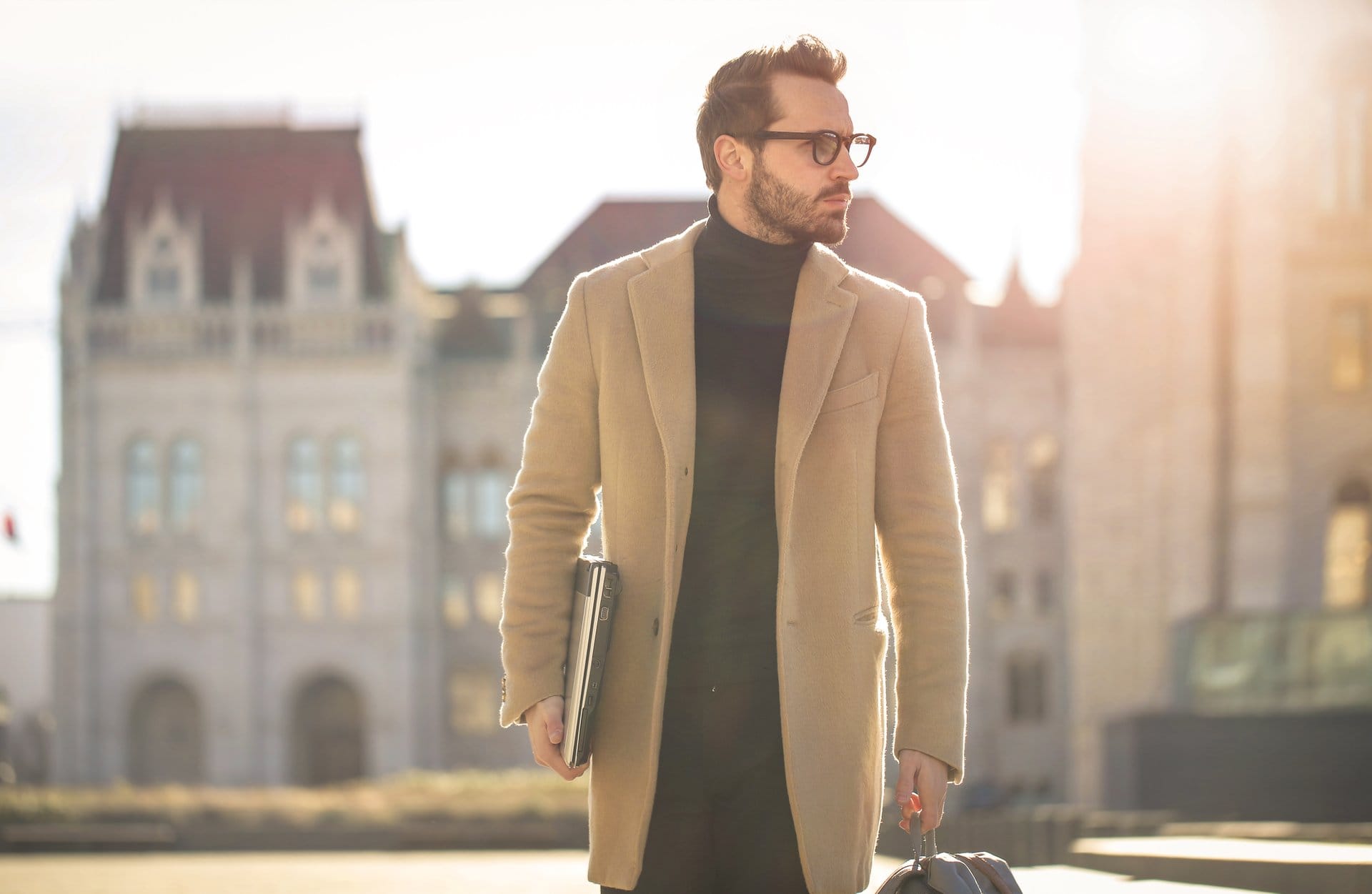 A jacket or a coat. A coat or a jacket. Are they the same? When the chilly weather arrives, prepare for which one? Nothing is more necessary than outerwear to keep you from freezing. Outerwear brands make sure you pick a new one every year. Year after year, we see these classics on display. But is a jacket and a coat the same?
It is not every day that we come up with these questions. Yet knowledge about these gender-neutral fashion staples can benefit the young and old. What is more necessary for these two?
Is a jacket and a coat the same thing?
For people coming from warmer countries, we tend to use these terms on a non-exclusive terms. But for knowledge sake, it is important to note that we only use jackets during colder months.
A jacket can be a suit jacket while a coat referred to as an overcoat or greatcoat. The two are not the same. A jacket can refer to outerwear used for chilly night outs or rainy mornings.
A coat may be much thicker, outerwear. It's one you wear for winter's cold or chillier temperatures that you need your whole body covered.
Some of the best examples of coats are:
Trench Coat. A Trench coat is a classic staple for fall and winter season. A camel colored trench brings in elegance to your outfit. It elevates and complements your best looks.
Overcoat. An overcoat is the winter version of a Trench Coat. It is as classic and as necessary addition to your wardrobe. It makes for your winter fashion a true statement.
Parka Coat. A parka is your best friend for the winter. It can handle a temperature range of -40C to a -60C.
Pea Coat. This is the Jackie O coat. Designed for sailors and navies, this coat is now a fashion staple.
Wrap Coat. This looks akin to a robe cinched by a belt. Best reference to date was the coat Meghan Markle. She wore this coat for her Engagement Announcement with Prince Harry.
Chesterfield Coat. This is a tailored overcoat that long with very little emphasis on the waist. It is the "sack suit" for clothes. A good reference is Donald Trump's long coats.
Military Coat. A remake of the traditional military coats. This is usually long with brass-button details.
Cape Coat. This type of coat is more common in Europe. This was recently worn by Meghan Markle and Melania Trump.
Cocoon Coat. This is a roomy, cozy overcoat. Sleeves are not full length. One can say this goes nice for a warm cuddle.
Toggle Coat. With a toggle closure and often comes with a hood. It's material is usually of wool.
Duffle Coat. The Duffel Coat originated in Belgium but the most common style is that of British style. Made from duffle, a coarse, thick, woolen material where its name originates.
Bracelet Sleeve Coat. This coat can be long or short. Its sleeves end between the elbow and the mid-forearm.
What counts as a jacket?
A jacket is an outer garment that goes down to the waist or hips. It provides coverage for the mid-stomach-length garment for the upper body. The material is lighter, with a tighter fit, and is less insulating.
A jacket is a cropped coat; a short coat. It is a shorter length garment compared to a coat.
Some good examples of jackets are:
Varsity jackets. Also referred to as Letterman Jacket, this is a baseball-styled jacket. Worn by high school and college students in to represent school and team pride.
Denim Jacket. Also known as Jean or Trucker Jacket, this from denim materials. This is a casual piece of clothing introduced in the US.
Bomber Jacket. Also called a Flight Jacket, this was first designed for military pilots during the war. This jacket is now part of the pop culture often worn by hiphop artists.
Quilted Jacket. This type of jacket has visible quilting. It contains little pockets separated by stitching. It comes with an insulation that can be external, internal or both.
Cashmere Or Wool Jacket. This jacket is from soft wool fabric woven from Kashmir goat hair. The material is very lightweight and soft making it one of the more expensive options for a jacket.
Faux-Fur Jacket. Faux fur or fake fur is a type of jacket made from pile fabric. It imitates the appearance and warmth of an animal fur.
Puffy Jacket. Also called a down jacket. This is a quilted, padded, and filled with down feather for insulation.
Why are jackets important?
Jackets make you warm and cozy. It keeps away the cool breeze and keeps you comfortable. It allows you to be fashionable without exposure to the elements. It protects during harsh weather. Yet it is a fashion statement when you feel like you need a functional accessory.
What is the difference between a sports coat and a suit jacket?
Sports coat is a patterned jacket that coordinates with the trousers. It is not made of the same fabric or have the same pattern.
But, a Suit jacket has a pair of pants made from the same fabric/ pattern as the coat.
In a posh setting, a sports coat is a patterned jacket that coordinates with the trousers. They are not made of the same fabric or have the same pattern.
This was first created for sporting purposes. This type of outerwear has many options and uses different styles. Fabrics, colors, and even patterns may also differ. Because this was for sports activities, thicker fabrics such as corduroy is available. Suede, denim, leather, and tweed are also other materials common to this jacket.
Over time, this outerwear became formal enough that this became a staple. It's worn for those attending events for formal occasions. Today, this has also evolved into school uniforms.
Is it OK to wear a suit jacket with jeans?
Yes, it is an option to wear a suit jacket with jeans. Make sure they're a classic dark blue. You want to dress the jacket down but jeans that are too casual will create too much of a contrast.
This styling creates a very well put-together option for you when dressing up. It's sophisticated and practical. It can be an attractive and smart combination of an outfit should you consider dressing up this way.
How do you do a jacket thing?
Jackets have come a long way indeed. Now, a Youtube craze has circulated on the internet. It shows teenagers funnily wearing jackets which their audience gets a kick at.
One instance was a girl putting her legs and arms on the armhole at the same time. This made the girl look like a spider in a cute way.
How many coats should you own?
It's a question for the ages and one every fashionista has encountered their whole life. Is it ever enough? How many coats should you own?
Well, that depends on many aspects. Below are some questions you might consider when investing in outerwear:
How often do you use your coat? If you have a job or that if your life demands it, go buy more. Should you be out often on cold winter nights, then, by all means, invest in your outerwear. It is a wise investment of your money. Knowing that your life may depend on it is reason enough.
How much can you afford? For the typical fashionista, it can also be a difficult question to answer. How many is enough? This can be very personal. Since this isn't about practicality, it should be how much can you afford to keep? You should make sure your investments are worthy and will serve you for years.
How much can you take care of? This is also an important question. Buying coats equates to taking care of them as well. That takes your time, your money, and your effort. Will you be able to do it? If you can then, by all means, feel free to choose the one you want.
How much can your space allow to store? When you live in a city with limited space, you must consider storage for your items as well. This is because it will not only make your living space crowded, it can also damage the item.
For a regular person, here are a few tips you might want to consider:
Invest in coats with durable materials, one that can serve you for years. This is always a wise and sound consideration to make. When buying pricey items such as outerwear, consider the mileage of the item. A mileage of an item can depend much on the material used to make it.
Choose the one you will love the most. If you must choose only the best, then by all means choose the one that going to love you the most and you in return. Sounds like a true love story! Because it is. When buying coats or jackets, always make sure that you can use it for the long-term.
Look for classic cuts. Classic cuts make each piece timeless. It makes it more versatile and open for more styling options. Be on the lookout for minimalist designs. That way it is easier for you should you dress it up with layers.
Choose one that can flatter your figure. Of course, a silhouette of a coat can be very general. Look for one that highlights your shoulders and that gives you a heightened look.
Can you wear a jacket under a coat?
The layering of outerwear is, of course, always welcome if the weather calls for it. To get added insulation, you can opt to layer your clothes and your outerwear. This option helps give you the warmth you need.
Layering is a way of dressing up for a cold, harsh winter. You must always consider doing this should the temperature calls for it.
To layer outerwear and be stylish about it, choose pieces that complement each other. Choose classic colors such as grays, browns. Any earth tone color should work well with layering.
Can you wear a leather jacket in winter?
One of the most iconic types of jackets that we see around is the leather jacket. Any James Bond, The Matrix, or a Mission Impossible movie fans knows. They can attest to the cool factor that this jacket can brings to a scene.
Myself included, am a great fan. Nothing brings an action scene to come to life more. In the most crucial street fight scenes, characters wearing leather jackets is a must. There is something so fluid about them. It makes the characters almost look invincible.
Leather jackets also make the bad guys look more villainous in a street fight. Nothing makes them look more "badass" than when they are wearing a leather jacket. It is this idea that has made leather jackets its notorious appeal.
But not only that, leather jackets can be a good source of warmth. During cold weather, fall, and winter seasons one should wear it. They are an effective way of insulating the body. They protect against extreme cold should you go out on a chilly winter night.
But is it just for the winter? No. Other countries with much cooler temperatures find using leather jackets all year round. It is necessary so they can brave the cold in any given day.
I say, lucky them.