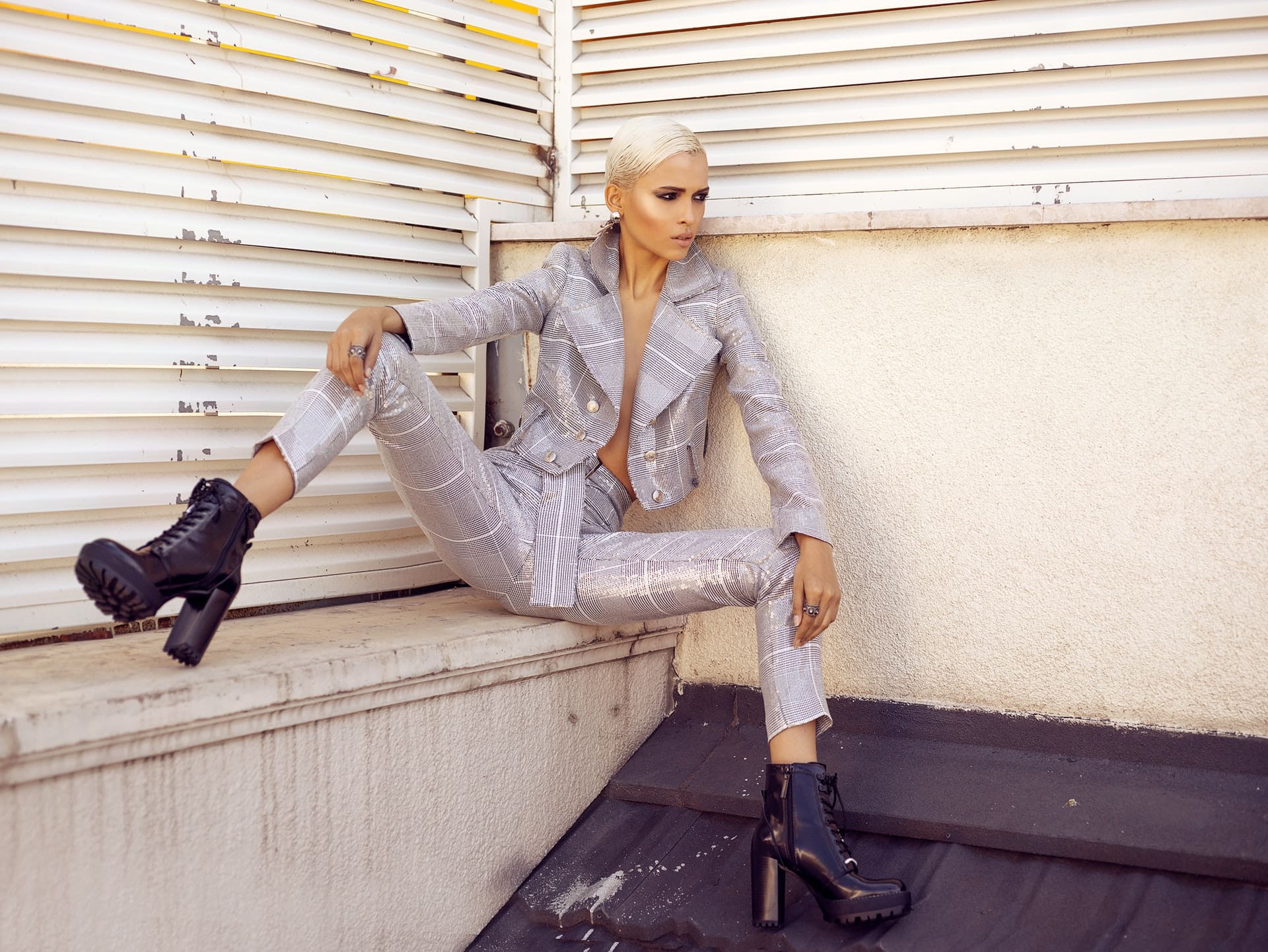 A "fashion victim" is one who falls from the graces of fashion's good taste. They are people seduced to follow it with all their hearts. And yet only to become slaves to the materialistic proclivity which it stands for.
With fashion's grip on entertainment and media, this is easy to imagine. These formidable forces influence even the most remote person unaware. Do you think your decisions on what to wear daily is innocent? Think again.
These choices go back to the decisions made by the people who run the fashion industry. They orchestrate the fads. They make sure what they consider as acceptable becomes the next "big thing". These decisions then get amplified by the entertainment and the media industries. And then, it reaches you.
How do you spot a fashion victim?
A typical fashion victim almost always shows some common signs.
They morph from one style to another. To feel relevant, these people want to be a "style chameleon."
They take on contrasting styles. You name it, from being sublime or to the point of being ridiculous. Yep, constant experimentation defines it.
They use branded clothes to reflect financial success. Yep, these people value brand names and flaunt them. They think these brands stand for sophistication and impeccable taste.
They spend beyond their means on clothes and accessories. To get validation, these people often spend too much on everything. They try to replicate the glamorous lifestyle in fashion.
Are we victims of fashion?
The psychology of fashion victims differs. Some do it to show off success. Others want to portray the upper-class lifestyle. Still, for others, they like the attention it brings.
Fashion showcases the evolution of man. It shows a long history from the primitive to the modern thinking we see today. Fashion in itself has evolved. From the single fig leaf used by Adam to the scraps of animal skin for covering. To becoming an armor for protection during a war; to being an art form and a status symbol.
So, what does fashion represent today? For designers & artists, it's a beacon of hope for creativity and self-expression. It allows them to create masterpieces often worn by people who are part of the upper society.
Today, it's also a starting point of introducing ourselves to the world. Clothes are our packaging. It showcases our identity and personality.
Fashion flatters us in ways only the best fitting clothes can. It makes us feel good. This comes from knowing that we look presentable and attractive because of what we wear.
The use of attractive models on the runway for glamour and high-life seduces people. It makes them think that they can also be that every day.
But how does this affect us? Oftentimes, our realistic expectations on how we look get blurry. Our choices are too influenced by what's around us that we fail to control our impulses.
What do you call a person who is fashionable?
Fashionista is a word we often hear. It describes people who follow fashion trends that are on point. They are the people who love fashion and look good doing it. Oftentimes, they inspire what goes into the fashion industry.
Who are the known fashionistas? There is a handful worth mentioning.
Royal families are formidable figures in fashion for ages. Who can forget Princess Diana's wedding gown? Or that revenge dress she wore when she danced with John Travolta?
Recent Royal fashion figures include Kate Middleton, Queen Rania, Queen Letizia. They know how to use fashion for good. Used often as a statement for diplomacy, their styles convey the best aspect of the fashion world.
First ladies among nations are in vogue in a fashion that complements their spouses. The French first lady Brigitte Macron has her sartorial choices. Melania Trump brings her fashion A-game.
Politicians prefer to be serious than sartorial. But the impact of fashion on politics is notable. The importance of well-chosen outfits before rallies is not overlooked. It sends the right message to the voters and their audience.
The music industry benefits from fashion. Fashion cements a music star. You know it when a star is born when a little-known starlet transforms into a fashion powerhouse. Think of Madonna or Taylor Swift to get the picture.
Since the movie industry imitates life, fashion is also key. Meryl Streep transforms herself into a character to another with the help of costumes. Memorable movie productions include an elaborate take on these character costumes.
Some celebrities are also influential fashion figures. Victoria Beckham, Amal Clooney, Blake Lively are a few.
But how does fashion affect real people where it matters?
Schools adopt uniforms for identity and ease of preparations. Some designers are responsible for putting together practical uniforms for various professional use;
An applicant's outfit on a job interview portrays the applicant's seriousness. It allows the applicant to convey an unspoken intent for the job on hand;
Weddings are especially memorable with the right gown for the bride. A complementary look from the groom seals them a lifetime.
Enjoying the beach also needs its specific wear;
Working out at the gym needs special clothing;
Even lounging at home needs special clothes to be more comfortable.
As a whole, even countries promote national costumes to emphasize culture and history.
What do you call someone with no fashion sense?
Utilitarian best describes people with no fashion sense. They wear clothes for practicality. People with these inclinations choose clothes that are simplistic and practical.
Is it so important to have a fashion sense? They say clothes are clothes.
Glamour has nothing to do with it. Aesthetics is not a necessity.
What do you call a guy who loves fashion?
Metrosexual describes an urban man who appreciates fashion. This description has nothing to do with sexuality. It is about a male's personal preference. It describes looking impeccable and living an upscale lifestyle.
Some worthy individuals fall into this category. They are the late John F. Kennedy, Jr., David Beckham, and George Clooney. They represent themselves well in their fashion game.
Gay men also have a sharper fashion sense than most. They appear poised, put-together, glamorous, and well-accessorized.
How do you describe a stylish person?
Chic, classic silhouettes, neutral tones can conjure the most elegant of fashionistas. Smart, streamlined, tailored cuts also fall to most put-together people.
A true sense of fashion transcends time. The most fashionable and stylish people collect fashion items over the years. They have a habit of piling up fashionable items. To these people, fashion is an investment.
Audrey Hepburn is an example of a classic stylish person. She can be in an evening gown, in denim pants, in sneakers. Audrey manages to look sharp, crisp, and classic. Her sense of style is as relevant today as it was in the '60s.
Do you need to copy Audrey? Of course not. Individuality matters in fashion. Your style should express you, not another's.
What does slavishly mean?
Behind the glamour and the utilitarian push, lies a dark side often unacknowledged. Today, fashion's culture is ruthless. The cliche of "one day you're in, the next day you're out" is discriminating. It pushes people to adopt impossible standards.
Psychological and physiological issues such as anorexia, bulimia are rampant among the young. Yet, more and more people slavishly follow the dictates of fashion.
Enter social media, a playground for the narcissists. It is the runway for the every day. To be famous, glamorous, and successful is the life many young people can only dream of.
Yet social media enables this life. Fame, fortune, and influence come easy to those who make it big on these online platforms. The more followers you have, the more relevant you are.
The fashion industry feeds on this reality. They tap the most popular influencer. They provide access to various events allowing bloggers to become more influential.
They provide the clothes necessary to spruce up a person's look. They sensationalize an influencer's life through various media so more people will follow.
Product placement is a common practice. It allows the influencer to use free products from fashion merchants. This gives marketing exposure to those products. This exposure gives a positive impression of the product.
What is the impact on all this? The reality today is that people have become walking billboards. People become slaves of fashion. Slavishly following trends mean that we follow what we see without much thought.
This newfound power makes fashion fast-paced, irresponsible, and wasteful. Fast-fashion is the reason many clothes end up in many dumps. Thus, the dark consumerism that haunts us today.
How do you stop being a fashion victim?
With the many new designs coming out, how can one resist the fashion temptation? Here are some ways to stop being a fashion victim:
Find your inner peace. Trends come and go. What matters is the inner peace that you have knowing that you are not attached to material things.
Commit to a specific style. You may be the glamorous type, the girl-next-door, the outdoorsy, or the introvert. Be self-aware so you can streamline your choices.
Express your individuality. This allows you to pick clothing items that are best for your personality. This makes you want to keep wearing the clothes that you buy because they will feel "more" you.
Buy only what you need, not what you want. Buying the things you want leads to the habit of hoarding. Buying things out of necessity is practical. It allows for more mileage for your buy.
Focus on saving. For a piece of clothing you buy is money out of your pocket. In general, items once bought tend to lose their original value. Which means you are throwing away your hard-earned money.
Set a budget. But if you must buy, set a budget so you can track your spending. The goal of fashion is to sell. It is a business. Season after season there will always be something new to catch your money.
Do not keep up. Fast-fashion is a strategy. Do not fall for it. Sales, mark-downs, and discounts are there to catch you. The fashion industry makes sure that the next item available will always be cuter than the other.
Forget about branding. Did you know that branding is a marketing tool designed to entice consumers? The most cohesive branding allows the merchant to tap upon an item's price way beyond the item's cost. Brand recognition and loyalty is a secret strategy that merchants want you to fall for.
Find a bigger goal. Learn to save and spend your money on bigger goals. Goals such as buying a house or saving up for business investments will benefit you more in the long run.
Donate to charity. If you think you have excessive money to spend on fashion, then why not donate to charity instead? That way you see your money used for a good cause. And oh, you might even realize that you don't have that much money to go around. Actually.
Conclusion
The advancements of fashion can, of course, be a positive experience. We can not go on blaming the fashion industry. Behind the glitz and glamour reveals hard-working people who work to earn a living.
If they excel in what they are doing, they must deserve it. If the fashion industry is growing by leaps and bounds because they worked for it.
The excitement that fashion brings with any bargain will always be priceless. The happiness when we see how attractive we are upon trying on a new outfit is also worth the price we pay for. If anything, fashion is fun!
Also, it doesn't hurt to look and feel good. It's not so bad that people might admire you for it. Why must we need to feel miserable to feel worthy?
The fashion industry is as important as any. It provides millions of countless jobs to those who need it. It is also a driver of the economy.
Opportunities brought in by the fashion industry is enumerable. They can pick a person up from total obscurity to stardom.
With the onslaught of the pandemic, we come to value every sector of society. We begin to realize the importance of each one.
We must also support fashion. It is up to us to know our boundaries and restraints. All in all, everything in life is about balance.